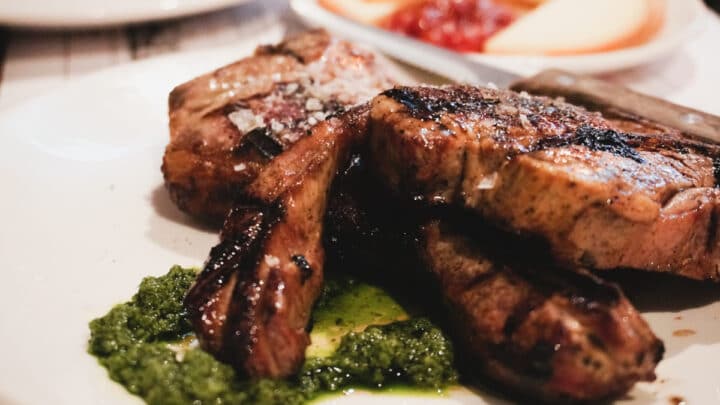 Looking for the best restaurants in Old Street? Get ready to try all the unmissable spots that the area has to offer.
It's not exactly a well-kept secret that Old Street has a lot to offer in the food scene. It's especially popular with the post-work crowd – and that's most likely why there are so many restaurants to choose from.
We've rounded up all the best places to eat in Old Street, so all you have to worry about is what delicious food you want to order. From Peruvian to Italian and Korean cuisine, these Old Street restaurants are a feast for your tastebuds.
Ready to satisfy your cravings?
The Best Old Street Restaurants
The Clove Club
£££
Shoreditch is well known for its wide selection of restaurants, but The Clove Club is a cut above the rest.
Set inside the historic rooms of the Grade-II listed Shoreditch Town Hall, we love the contrasting decor here. White-washed walls stand out against the dark wooden floor paired with blue chairs and a tiled bar to match.
Headed up by Chef-Patron Isaac Mchale, The Clove Club's seasonal menu is modern and elegant. The best way to experience it is to feast on the tasting menu. It's only served on certain days and times and it's ever changing, so make sure you check ahead.
Right now you'll find Cornish Lobster with Jamaican 'jerk' yoghurt – the imagination for dishes is impressive.
Gloria
££
Gloria really pushes the boat out with its full Trattoria-style restaurant on Old street. This all-day Shoreditch spot is a 70's Capri-style Italian restaurant run by 85 energetic and fun people from Bel Pease and Naples.
The sun is always shining here and there are smiles all around with diners tucking into hearty Italian classics. Neapolitan pizzas in the gigantic Marna oven and cheesy aromas waft through as you're patiently waiting for yours.
Something else that's impressive about Gloria is the entire exterior is dressed in luscious greenery. Inside is just as inviting, comfy sofas and booths are dotted around the space with wisteria-draped from the ceiling.
Blacklock Shoreditch
££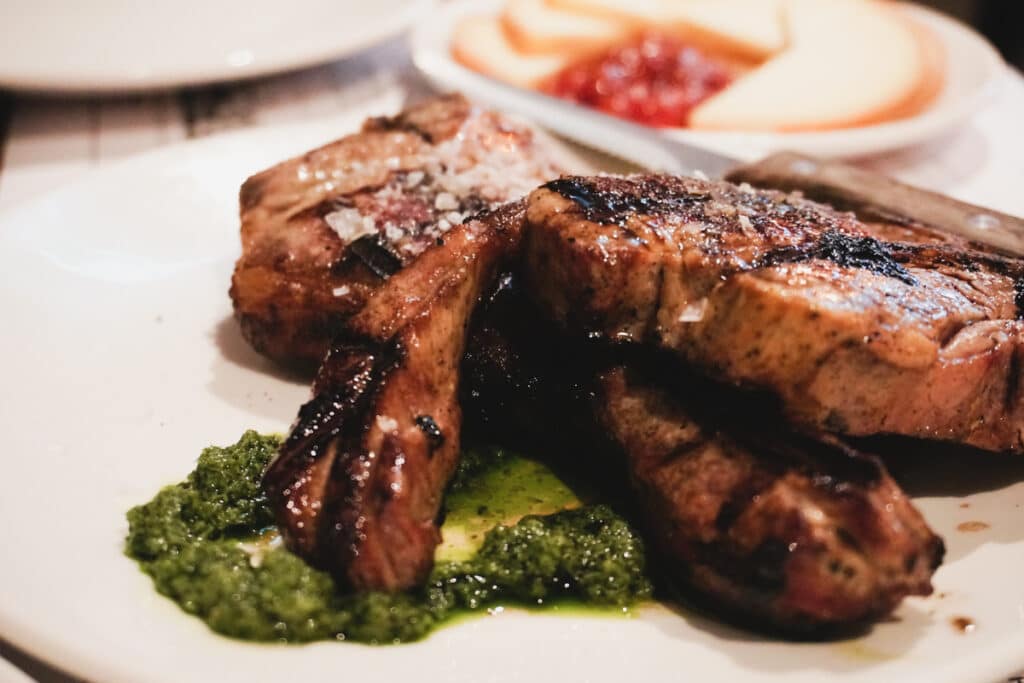 Tucked away down one of the back alleys, highly featuring as one of the best restaurants near Old Street station, is Blacklock Shoreditch. Its industrial feel tells a story of its furniture factory past.
Once a hive of British industry and handmade crafts, now an East End quirky hangout with grass-fed meat simmered over a charcoal grill.
You should head here for chops and steaks, two of Blacklock's specialities. 55-day dry-aged steaks are succulent and juicy and the chops are inspired by Joe Beef, served blushing pink.
Hangout at the bar for pre or post-dinner drinks.
Cocktails are made using every last drop of fruit to limit waste and there's always a special cocktail scribbled on the board to sample.
Officina 00
££
We can never say no to authentic Italian food, and Officina 00 has all of that and more. The Italian restaurant and workshop space keeps things fresh with a seasonal menu that's always based on what's tasty from regions of Italy.
This Old Street restaurant is intimate and attentive – it really makes you feel like you've stepped into an Italian eatery.
Handmade pasta dishes include Beef Short Rib Ragu, Truffle Carbonara and Lamb Shank Genovese. We know exactly what you're thinking, how will you order only one?
Then there's a big decision with desserts too, both tiramisu and cannelloni are on the menu.
Pachamama East
££
Just a short walk from Old Street station, Pachamama East screams East London with its industrial ceiling, tiled floors and half-finished wood.
If you've ever been to its sister Marylebone restaurant, then you'll already know why this is an Old Street must-visit.
Lip-smacking Peruvian food is what this place is all about. It tells a story about the tasty relationship between Chinese and Peruvian food, one you'll want to listen to again and again.
Every meal should start with Padron Peppers and Sichuan Fried Chicken, an unbeatable combination. The menu follows treats from the sea, soil and land and it's recommended you order three to four dishes per person. We can absolutely get on board with that.
On The Bab
££
If spicy food is your thing, you must try the dishes at On The Bab. This Korean spot on Old Street combines all the stuff we love about hip East End cafes with Korean street food.
We're so happy that On The Bab landed in London, and you will be too when you've tried the Pan Fried Dumplings – chicken or shrimp, they're both little fried balls of goodness.
But, you can't visit a Korean restaurant and not try fried chicken. Coated in crispy batter with crushed peanuts and dipped in soy ginger – we think that's finger-licking good.
Bone Daddies Old Street
££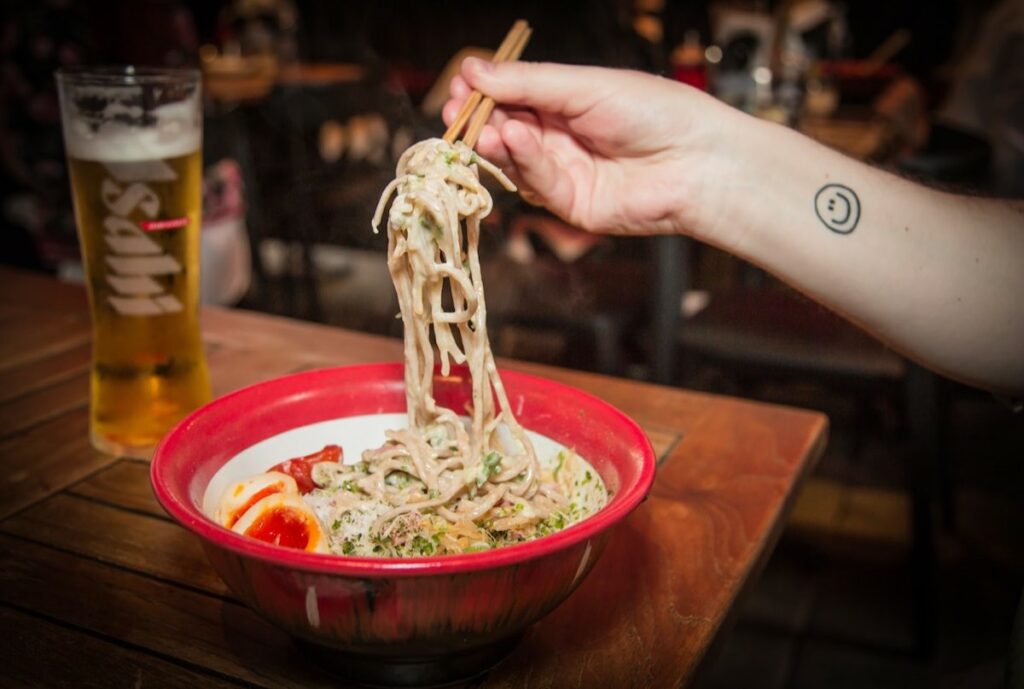 Fancy a big hot steaming bowl of slurping Ramen? Bone Daddies Old Street has got you covered.
You'll also be pleased to know that it's open til late and, let us tell you, that it makes for the best post-drinks meal. It feels distinctly like an authentic Ramen eatery with moody lighting and wood cladding from floor to ceiling.
Slurp up a big bowl of Tonkotsu ramen to the sound of an old-school rock playlist with a side of Crispy Duck Buns. And a pint of Asahi to wash it all down.
Busaba Hoxton Square
££
Just a short stroll from Old Street is Busaba Hoxton Square, a dimly-lit Thai restaurant.
Visit here for a Bangkok cuisine fix – we're talking Crispy Duck Noodles and Massaman Lamb Shank. Both should satisfy your cravings.
Most dishes are made to share, just like in Thailand, so this place is perfect for your friend group dates.
Unlike most Thai restaurants, Busaba's menu is mostly plant-based. With a strong focus on the soul, body and mind you're sure to leave here feeling refreshed and content… With a full belly to prove it.
Daffodil Mulligan
££
With a name like Daffodil Mulligan it must be an Irish restaurant, right? Yes, you guessed it, this modern-Irish restaurant is just a stone's throw away from Old Street station.
Headed up by Head Chef Richard Corrigan, the top Irish chef who's also behind Bentley's in Mayfair. The food here is internationally influenced but Irish charm and mischief can be found all around this Old Street hotspot.
Monkfish, Smoked Bone Marrow, Octopus and Chorizo Kebab are just some of the inventive dishes on offer at Daffodil Mulligans. When you're done swooning over the food, head downstairs to the vibrant Gibney's for drinks and live music.
Better yet: The 60-cover airy restaurant includes a 10-seater oyster bar and basement saloon if you're looking for an intimate dining experience.
The Posh Burger
££
Who doesn't love a seriously good burger? The Posh Burger is an Old Street restaurant that focuses on just that.
You'll find the finest gourmet burgers on the menu here. And, with names like the Posh Burger, The Swanky Burger, and The Flame-Buoyant, they pretty much seal the deal.
We think that good excellent burgers are made of many different and equally important parts. Which is why you can choose cheeses, sauces, toppings, and garnishes. We'll take absolutely everything, please and thank you.
Other Places to Eat in Old Street
Nusa Kitchen
£
Nusa Kitchen is a family-run eatery with only a few chairs that serves mostly take-out boxes to hungry passers-by.
This cafe brings you flavours from the far-east in the form of soups, rice and noodles bowls. You should try the Szechuan Chicken Noodles – that is, if you can handle the spice – they're ridiculously tasty.
Practical Tips for Exploring The Best Old Street Restaurants
Old Street boasts so many brilliant independent restaurants that it would be a CRIME to visit a big chain. If you've only got time to visit one spot, we recommend The Clove Club.
Old Street Restaurants: Map
Old Street Restaurants: Read Next