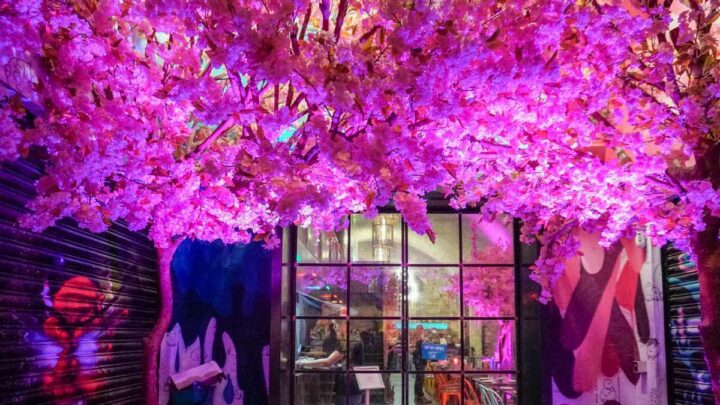 Looking for the best restaurants in Waterloo, London? We've got you covered=.
Lucky for you, there are some incredible high-end and affordable restaurants near Waterloo for you to try. Whether you are visiting London's free attractions during the day or going out for an evening of entertainment, there are plenty of delicious places to eat in London's South Bank.
We break down the best restaurants in Waterloo, London and share some fun places to eat below.
Best Restaurants in Waterloo
Skylon
£££
Visit Skylon for a meal or simply to enjoy a fabulous cocktail in the stunning centrepiece bar.
After a cruise along the River Thames, pop into Skylon for a modern take on various British meals. With floor to ceiling windows overlooking the river, it is hard to beat this restaurant's location.
Positioned on the third floor of the Royal Festival Hall, it features an interior design reminiscent of the 1950s.
Ping Pong
££
As one of the best Chinese restaurants in Waterloo offering dim sum, Ping Pong is the perfect escape for a lunch break. While you may have a more authentic meal in nearby Chinatown in Soho, the convenient location and clean, modern interior make this restaurant worth visiting.
With delicious buns, gyoza, and dumplings, you will be pleasantly surprised by your meal at Ping Pong in South Bank's Festival Terrace.
Banh Bao Brothers
£££
This modern Vietnamese restaurant serves fine dining food and has a vibrant interior. The colourful venue is within Leake Street Tunnel – a renovated archway covered in street art.
The art-filled venue and delectable dishes make it one of the more exciting restaurants near Waterloo station.
Consider visiting the Banh Bao Brothers for delicious Pan-Asian tapas. Or simply enjoy a cocktail to get your evening started at one of the fancy restaurants in Waterloo.
Mamuśka
£
This unpretentious restaurant and bar is one of the more affordable places to eat near Waterloo.
While you may never have stepped foot in Poland, you can experience the country's popular dishes and beers at this spacious venue. If you are curious about the Polish drinks but can't decide, try the Soplica with hazelnut.
Mamuśka's large servings may be the ideal solution if you arrive for lunch in Waterloo with an insatiable appetite.
Hannah Japanese Brasserie
££
If you are looking for a convenient meal to eat on the go, Hannah restaurant's Bento Box menu is ideal. The takeaway menu includes a 20% reduction in price so you'll save a bit of cash too.
This Japanese restaurant in Waterloo offers incredible charcoal-grilled wagyu in a clean-cut venue. The menu's Omakase tasting is a scrumptious way to eat sushi specific to the season. The dishes arrive on decorative plates and make this a memorable experience.
Wahaca Waterloo
£
While Wahaca Waterloo's food is similar to each of the Wahaca groups' other 24 locations, the restaurant's interior is brilliantly unique.
With market-style food and a great cocktail menu, this Mexican restaurant in Waterloo is a perfect location to share a meal before a show at The Old Vic theatre. The brand focuses on sustainability through employment and its supply chain.
Anchor & Hope
££
This wooden-floored gastropub is hugely popular and offers a modern British menu. It has a cosy atmosphere supported by dim lighting.
You can enjoy a great selection of beers on tap at Anchor & Hope, and if the weather permits, make the most of the outdoor seating. The food changes with the seasons, making this an exciting restaurant to return to.
Crust Bros
£
If you are looking for a simple wood-fired pizza menu, this Italian restaurant in Waterloo may be the option for you.
Offering a delicious Neapolitan pizza, it is one of the Waterloo Station restaurants you need to try.
The restaurant does have something of a sense of urgency, but that's no bad thing. The locals love it for its quick turnaround time and the pledge to plant a tree for every pizza sold.
This commitment to improving climate change is highly commendable. You'll leave with a feel-good sensation after each delicious pizza from Crust Bros.
Ristorante Olivelli
££
If you are searching for an authentic regional Italian or Sicilian dish in Waterloo, give Ristorante Olivelli a try.
This relaxed restaurant opposite the Young Vic Theatre serves Sicilian specialities and delicious Italian dishes – all with a smile.
While the Olivelli family name is associated with go-to restaurants popular in London since the 1930s, Ristorante Olivelli in Waterloo first opened in 2000. It focuses on fresh ingredients and sustainably sourced fish and meat from local suppliers.
Brasserie Blanc
££
Visiting the National Theatre? This upscale French restaurant in Waterloo is within walking distance. It is a perfect pairing for your evening meal, with each dish served under the watchful eye of celebrity chef Raymond Blanc.
You can expect only the best outcome for an evening that starts with cocktails from their happy hour menu.
Brasserie Blanc also has covered outdoor seating, making it a suitable spot for a meal on a warmer evening.
Sticky Mango
££
If you hope to visit a Thai restaurant in Waterloo for an easy-to-share meal, then Sticky Mango may be the place for you.
With an impressive Loire Valley wine list and delicious dishes, this restaurant is possibly the best-kept secret in Waterloo.
Chef and owner Peter Lloyd takes great care to create modern interpretations of South-East Asian cuisine. The restaurant spans three floors of a historic building with a stylish cocktail bar welcoming you on the ground floor.
Gail's Neo Bankside
££
Gail's Neo Bankside is the place to go for a quick breakfast or sandwich throughout the day. This bakery is one of the best places to enjoy breakfast in Waterloo before visiting the Tate Modern.
The cute café offers freshly baked bread, coffee, cakes, and a made-to-order menu. Walking through the doors in the morning, you'll quickly find your appetite, thanks to the tantalising smells coming from the ovens.
Masters Superfish
£
This no-frills fish and chips shop is a great lower-priced option for an evening meal in London's South Bank.
While the restaurant's interior looks more like a canteen and is nothing to write home about, the faultless food has kept Masters Superfish in business. The fish is fresh from Billingsgate and is deep-fried in a tasty traditional batter.
This is a great place to pick up a more affordable meal. If the weather is pleasant, head to the nearby Waterloo Millennium Green to enjoy your takeaway in the fresh air.
Cubana Restaurant Waterloo
££
If you need some colour in your life, this cute restaurant is one of the most vibrant places to eat near Waterloo Station. Sip on a mojito before tucking into the Cuban-themed cuisine beneath the tropical parasols.
If you want a restaurant with live music in Waterloo, visit Cubana for a drink or meal on a Friday or Saturday evening.
Balance
££
While Balance serves animal proteins and is not strictly vegan, it does offer an impressive number of vegetarian and vegan dishes.
If you are searching for vegan restaurants in Waterloo, you are in luck! This restaurant prides itself on serving fresh produce that is locally sourced.
The laid-back café is spacious inside and is one of the best brunch places in Waterloo. You can enjoy superfood salads, hearty breakfasts and an ever-changing menu.
Other Places to Eat in Waterloo
Are you still feeling unsure about where to eat in Waterloo? If the weather is sunny and warm, you may want to grab a takeaway meal that you can eat outside.
With many great bars in Waterloo to visit, grabbing a quick bite to eat from a food vendor might suit your schedule and budget. We dive into two popular areas to eat outdoors below:
KERB at the National Theatre
Are you heading to a show this evening? During summer, there are street food traders and outdoor seating options outside the theatre.
KERB has brought a high level of catering to various fun food and drink spaces, all within walking distance of the National Theatre.
In addition to perusing the street food vendors, you can conveniently grab a drink at one of the six theatre bars.
Between the Bridges
Between the Bridges is a riverside venue along Queen's Walk offering food and drinks outdoors. If you are looking for an entertaining evening, check the website for upcoming events.
Entrance to the food and beverages stalls is free, but events hosted in the outdoor tent may require a ticket.
With vibrant food vendors offering burgers, pizzas, grilled meats, hotdogs, Latin American cuisine, and even Mac and cheese, you won't need to bring takeaways to this venue.
Practical Tips and Map for Exploring The Best Waterloo Restaurants
The following practical tips are about restaurants around Waterloo in London:
You don't want to miss out on a sunny day in London. Check if the weather is suitable before choosing one of the above Waterloo restaurants with outdoor seating.
Wear comfortable shoes. While the restaurants listed in this article are near public transport, there are many things to do in Waterloo easily accessed on foot.
If you like a deal, search the social media pages of the top three restaurants of your choice for any drinks specials.
Waterloo Restaurants: Map
Looking for More Waterloo Guides