Have you heard of the Tyburn Tree? Here's what you need to know about one of London's grisliest secrets.
Next to Hyde Park, Tyburn Tree was an infamous hanging site for thousands of prisoners throughout the 16th and 17th centuries. Whether the crime was treason, murder, or even petty theft, plenty of people met their miserable end surrounded by cheering crowds in the centre of London.
But what exactly was Tyburn Tree? And why was it built? We've done all the gruesome research for you and we're about to reveal all.
Fair warning: This is a horrifying slice of British history. Read on if you dare…
What is the Tyburn Tree?
Ok, we'll spare you the suspense. The Tyburn Tree wasn't actually a tree.
Alright, what was it then? It was, in fact, a huge wooden gallows where a huge number of convicted criminals were hanged to death in the 16th and 17th centuries.
You can still find the remnants of this gruesome period of history in London today – the first Tyburn Tree plaque was laid in 1909 at the intersection of Marble Arch and Oxford Street. This plaque was replaced by the current plaque in 1964 and, in 2019, it was given a deep clean to restore it.
Tyburn Tree has also featured in popular literature throughout the last couple of centuries, most famously in Shakespeare's Love's Labour's Lost, in which the playwright wrote:
"Thou mak'st the triumviry, the corner-cap of society, The shape of Love's Tyburn, that hangs up simplicity."
– we'll leave you to decipher those words.
The History of the Tyburn Tree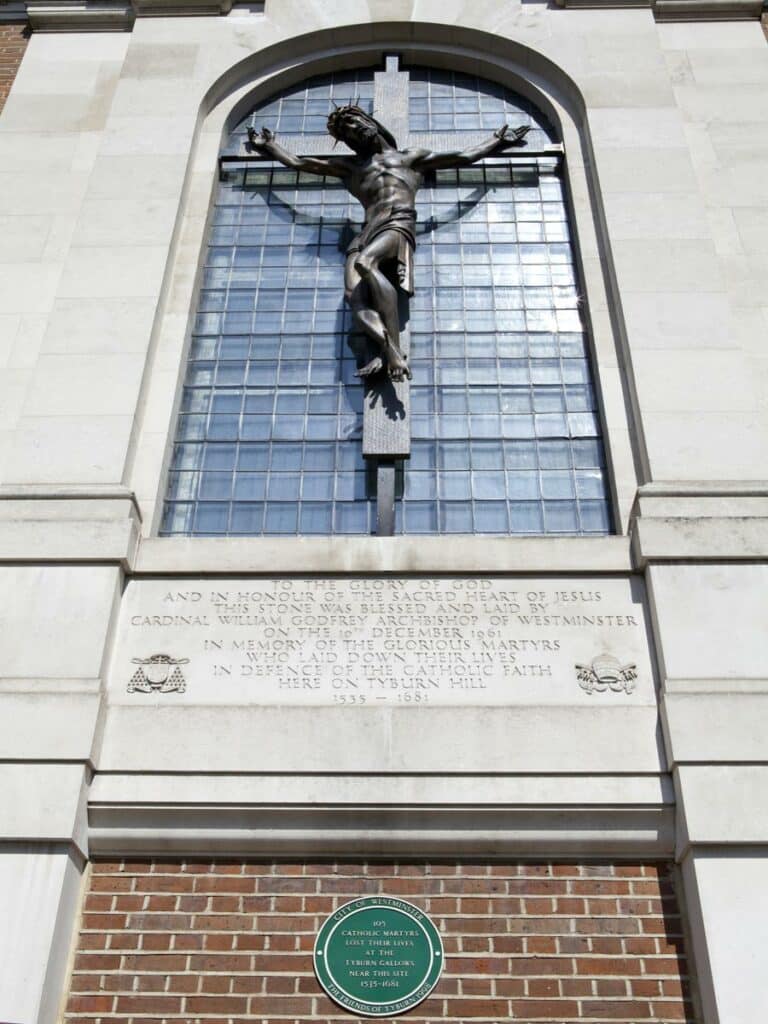 Public hangings were all the rage in the 16th century, but it wasn't until Queen Elizabeth I strengthened the Treason Act of 1571 that a brand new mega-gallows was built in the capital.
This huge wooden contraption was known as Tyburn Tree and was located smack-bang in the centre of Edgware Road, Bayswater Road, and Oxford Street, right next to the leafy Hyde Park.
And Tyburn Tree did not mess around – it could hang multiple criminals at a time, making the death penalty easier and quicker to enforce than before.
As public hangings were incredibly popular, they were treated as public holidays with joyous celebrations and fun to be had by the entire family.
Pssst… Did you know that the word 'Hangover' is believed to have originated from these days? Public hangings were filled with booze and celebrations, which led to many people feeling incredibly rough the next day.
The Very First Hanging
The very first hanging at Tyburn was a Catholic MP named John Story. He was accused of treason in 1563 (which was about the most serious crime you could commit in those days) and placed in a debtors' prison.
Story decided to make a break for it and escaped to Flanders shortly after, where he went to seek help from King Phillip II, the Governor of Spanish Netherlands. But, while he managed to lay low for 7 years, he was eventually tricked into boarding a boat back to the UK, where he was taken to Tyburn Tree to be hung, drawn, and quartered.
After plenty of pleading, he was executed on 1th June 1571 – though he was later pardoned by the Pope.
The Hangings at Tyburn Tree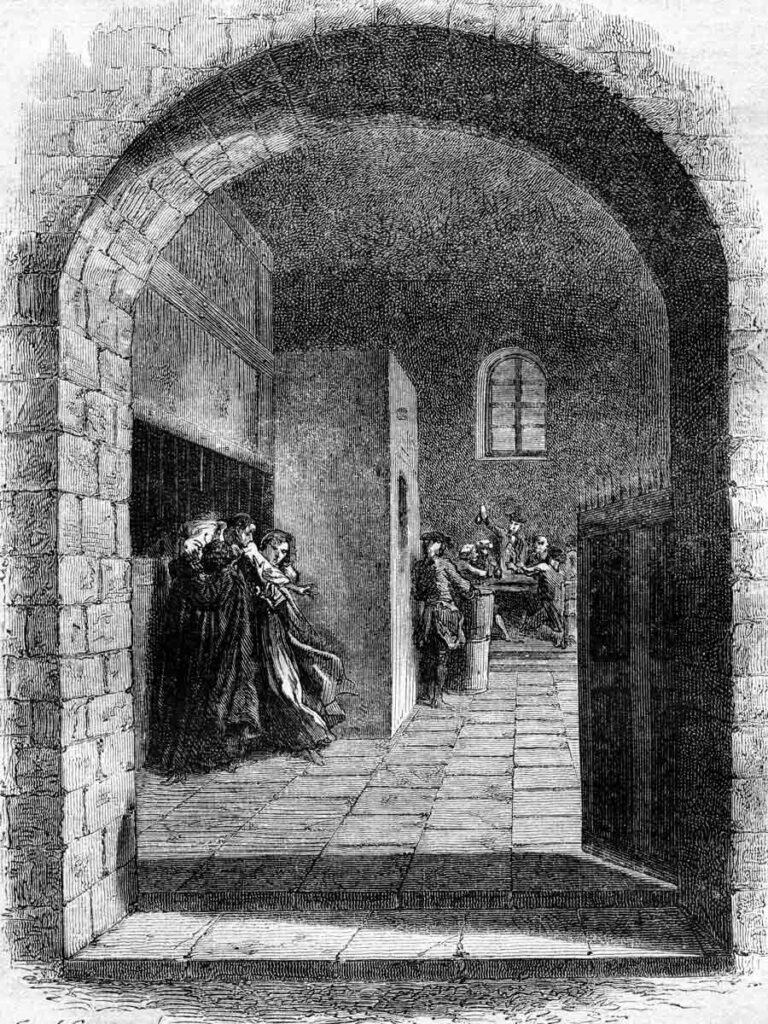 As we've already mentioned, to say that London LOVED a public hanging would be a little bit of an understatement.
There would be approximately 12 hanging days a year, and they would often take place on Mondays – it was pretty common for workers to bunk off.
That said, special cases were made for murder. Hangings would have to take place two days after conviction. Judges even tried to time these cases for Friday so that everyone could have Monday off (Sundays were a no-go hanging day – the Sabbath and all that).
When it came time for execution, prisoners were taken from Newgate Prison to the Tyburn hanging tree, and the entire 3 miles would be lined with rowdy crowds.
Just before being hanged, the prisoner would be allowed to address the crowd – some would take this opportunity to plead for forgiveness, while others would rant about the Government and church.
Tyburn Tree was the site of approximately 1200 hangings over a period of 188 years.
It was even believed that this tree could hang 24 people at a time – this was recorded in 1649, when 23 men and 1 woman were transported to the tree in one session.
The End of the Tyburn Gallows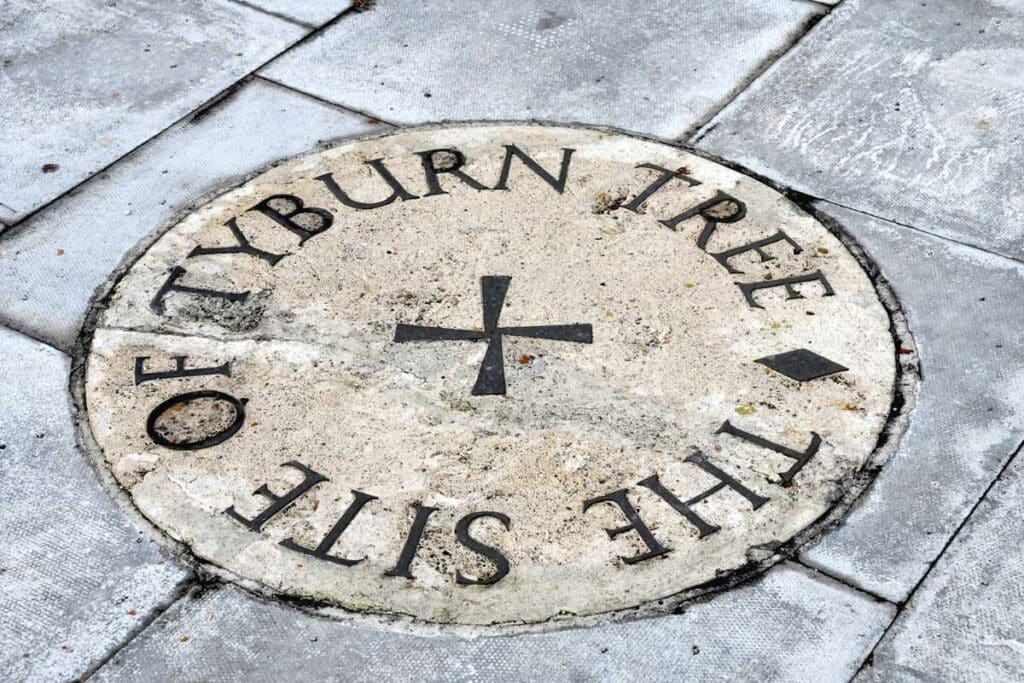 Surely Tyburn Tree was eventually taken down once the public realised how cruel it was, right?
Not exactly. Things only started to change once good 'ol gentrification of the area took hold. An increase in prices for houses near Hyde Park led to an influx of posh residents moving in – and it was these people who complained about the traffic and noise on hanging days.
So, after plenty of pressure, the tree was taken down and replaced by one that could be easily wheeled in and out of the area.
The last person to be hanged on the original Tyburn Tree was actually a female prisoner, Catherine Knowland. She was convicted of highway robbery in 1759 – it was believed that she approached wealthy men and asked for the time, only to snatch their expensive watches from them.
In fact, by the time Catherine Knowland's D-day arrived, they had already started taking the wooden structure down as she was being hanged.
And, if you head down Bayswater Street, you'll find the Tyburn Convent. It was set up in 1901 as a way of praying for the souls of the 105 Catholic martyrs who were executed. While you can't go inside, you will be able to spot another plaque dedicated to those who were hanged outside.
Practical Tips for Visiting Tyburn
The easiest way to find the Tyburn Tree plaque is by taking the Tube to Marble Arch. From here, turn right and walk along the outside edge of Hyde Park until you reach the intersection of Bayswater Road and Edgware Road – the plaque sits on the island in the middle.
Tyburn Tree: Map