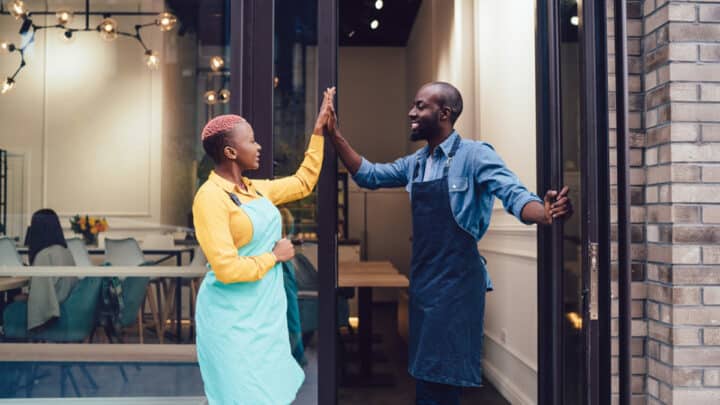 A handy guide to some of the best Black-owned businesses London has to offer.
Shopping at Black-owned businesses is a great way to do your bit in addressing the wealth inequality gap in your area. It's also often a good way to support local businesses, both noble causes.
We've put together a guide to some of our favourite Black-owned London businesses. It's an eclectic mix, and we reckon there's something in there for everybody. Whether you're looking for a good bar or restaurant, a place to grab a gift for that special someone, or even have your ear wax removed, you'll find it below.
Read on for our guide to Black-owned businesses in London.
Best Black Owned Businesses in London
Dark Sugars
Looking to satisfy that sweet tooth? Check out Dark Sugars. Run by Nyanga, a lady on a mission to bring the sweet notes of African chocolate to London, they make a feast of scrumptious chocolate products from Ghanaian cocoa.
They've bounced around London over the years, adding to the snaking queues in Borough Market, before finding a more permanent spot on Brick Lane. They've also got a four-story cocoa house in Greenwich that any chocolate lover would do well to check out.
As for the chocco itself. We can't walk down Brick lane without a cup of their hot chocolate.
Simply Gorgeous
South Hampstead
Simply G, as it's known by its patrons, is North London's go-to place for hair treatment of all kinds. From weaves, braids, and cornrows to straight-up wash and dry, they do it all. The salon is run by a Black mother-daughter duo with quite a story.
It begins when the mum cut all her daughter's hair off as a child. Little did she know she'd spark a lifelong obsession with using her as a means of expression. All those years later and they'd decided to go into business together. We can assure you the mum's techniques have improved since then.
Peckham Palms
Peckham Palms opened its doors in 2019 as an all-purpose Black beauty parlour. Like Simply G's you can get all your hair-dos taken care of, but at Peckham Palms, you'll also have options for skin care too.
They're big into the Black business world and take their position as a Black-owned business seriously. Off the back of that, they've become a bit of a cornerstone of the community in Peckham, and set the bar for what good urban renewal looks like.
Frank Horn
Brick Lane
One of our favourite Black-owned businesses in London is Frank Horn. They specialise in bespoke leatherwork. Think beautifully-crafted leather satchels, bags, wallets and money clips. Perhaps with your initials engraved in them, if that's how you like to roll.
Frank Horn's name packs in the history. Francis was the name of the owner's father and grandfather, and the owner's middle name. Why the Horn? Well, before this guy was working leather, he used to make things out of horn. The business' name represents the unity of the man, and the material.
All the hand-crafted items are sleek and stylish without sacrificing on functionality. We love them.
Blank Coffee
Blank Coffee may be Black-owned and Brixton-based, but their horizons are much further than just south London. They import their coffee beans from Jamaica and New Zealand, and roast them fresh, making for a very delicious cup of joe.
They don't stop there. A menu of brunch dishes and their welcoming, relaxed environs mean you'll probably have to stick around for a bit of food too. Our recommendation is the pancakes – they're pure greatness.
Young Vegans
Muswell Hill, Tottenham Court Road, Bethnal Green
Young Vegans is a Black-owned restaurant that does some really rather sumptuous vegan food. Nothing fancy here, expect pies with pastry as flaky as any that's been loaded with butter and pizzas good enough to turn even the most ardent cheese-lovers.
They've got a couple of locations around the city but, unfortunately, the pizzas and the pies can't be found together. For the former you'll need to head to Bethnal Green, whereas if it's a pie you're after they've got restaurants in Muswell Hill and on Tottenham Court Road.
Black History Walks
Citywide
Supporting Black businesses doesn't just have to be about where you spend your money. It can also be about learning the history of the culture. With Black History Walks though, you can do both.
They offer walking tours of London on a wide range of topics and locations. You can take tours of museums, riverboat cruises, or just choose to be guided around a neighbourhood hearing about how the Black community has shaped the places we all call home.
And don't just take it from us. These tours come so highly rated they've even been featured on BBC history programs. Oh yeah, and Channel 4's. And ITV's. They're basically famous.
Elite Evolution
Black-owned gyms can be a little harder to find than other types of businesses, but if that's what you're looking for, look no further than Elite Evolution in Hackney. It was founded by three born-and-bread Hackney boys who share a passion for fitness.
They opened Elite Evolution after finishing university with an aim of addressing the health inequalities that exist in their community. Their gym is open 24 hours a day and offers workout spaces, massages, fitness classes and sports training for kids.
Trailer Happiness
Portobello Road
It's not just for being a Notting Hill institution and a proud Black-owned business that Trailer Happiness does so well. It's also for the quality of their cocktails. They've been sweeping up awards for their tiki cocktails across the board.
Over the near two decades of their history, they've seen some of the best bartenders in the world man the cocktail shakers at their bar. The drinks here never lack for flash and may likely be served on fire.
That doesn't stop their lounge being a sophisticated place for letting your hair down.
New Beacon Books
Finsbury Park
Looking to up your knowledge of African and Caribbean literature? New Beacon Books is your one-stop shop. They've been in business since 1966 when New Beacon became the UK's first Black publishing house.
They don't just stop at the lit either. New Beacon Books regularly holds nights of talks and lectures about Black culture, literature and holds classes to educate young kids about the matters that are closest to their heart. Good on them.
Prick
It's not just for the very tongue-in-cheek name that Prick is our favourite plant shop in the capital. It's also for their stellar selection of plants, and the fact that their shop is a joy to behold.
These guys specialise in cacti and other succulents. They were also the first shop in London to do so. You'll find all manner of crazy-looking cacti, and things that you didn't think could exist outside a sci-fi movie, as well as some of the stuff you need to take care of the prickly green bad boys.
If you like your plants low maintenance, this one's for you.
The Hearing Hub
Citywide
Can you hear us? WE SAID CAN YOU HEAR US? Don't be silly. You're reading. If you're having trouble with your ears though, check out The Hearing Hub.
They're a Black-owned business with several locations around London and Essex that do all sorts for the hard of hearing, and just those with ear concerns.
You can get your ears checked and de-waxed, have earplugs fitted for sleep or swimming, and get hearing aids from these guys. They're super professional and staffed by medical professionals. You don't just want any old chump messing with your ears now, do you?
Practical Tips for Exploring the Best Black Owned Businesses
Ask the owners. A lot of Black-owned businesses are part of schemes or programs tapped into the local community and will have word on what else is going on that you can support.
There are plenty of ways to find out more if you're interested. Search through websites like Black 2 Business and Black Owned, they're excellent sources of information on the subject.
Black Owned Businesses: Map
Black Businesses in London: Read Next