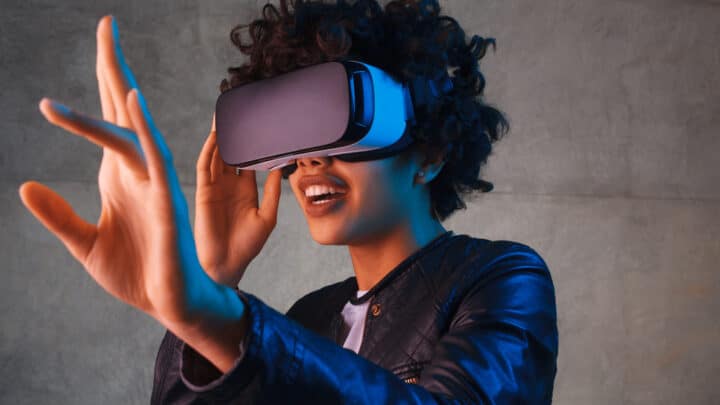 Searching for the best Virtual Reality experiences in London? Don your headset and get ready to enter a different reality.
VR has exploded in popularity in recent years, and it's no surprise that the capital's cool kids have hopped right on the trend – an abundance of spots have opened up to offer virtual reality in London.
From VR Go Kart races to zombie apocalypse worlds that'll see you fighting to survive, there are so many different kinds of games to be played (and so little time!).
Ready? These are the coolest VR experiences in London.
London's Best VR Experiences
Meetspace VR
Wembley
££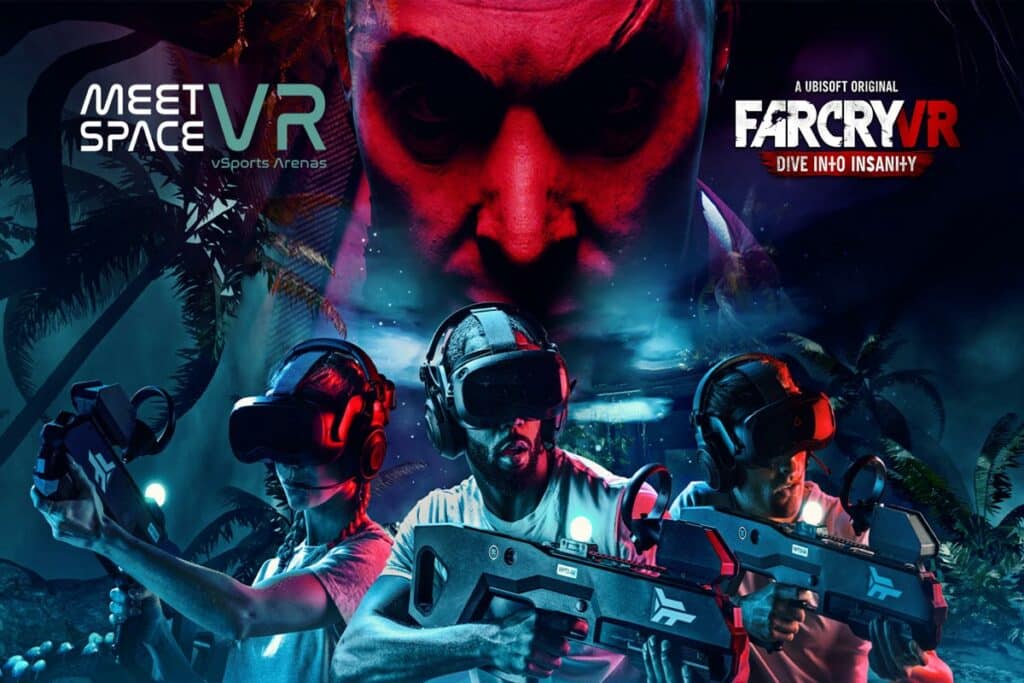 Ready to have one of the best VR experiences in London? Meetspace VR does virtual reality on an epic scale in a cavernous warehouse in Wembley.
You're invited to pit your wits in the Far Cry® VR: Dive into Insanity experience, a free-roaming VR for teams of up to eight players.
Let's set the scene: the location is the Rook Islands and you've been kidnapped by an insane criminal, Vaas, and his team of henchmen. They've taken you deep into the jungle and now it's up to you to battle your way through different environments in a bid to escape their clutches.
Sound thrilling? It is. With tonnes of space and hyper-real visuals, Meetspace drives VR to another level. Beyond that, the space also hosts VR escape rooms and VR arcade games for all day fun.
Book Now

Enter Here to Win Tickets for Your Own Private Immersive Far Cry VR Experience in London (For a Team of Up to 8 Players)
Jeff Wayne's The War of The Worlds: The Immersive Experience
££
Get ready to step into a real martian invasion at Jeff Wayne's The War of The Worlds: The Immersive Experience.
This unique multi-sensory experience transports you back to 1898 to experience the martian invasion. Live actors guide you through the 24 interactive scenes, all set to Jeff Wayne's iconic score.
You'll sneak into a deserted Victorian house before escaping London via boat and sliding down the claw of a Martian Handling Machine. Think you've got what it takes to beat them?
Omescape
Aldgate
££
Burst out of a VR escape room at Omescape, bringing you the world's first team-based VR escape game that'll see you fighting for survival.
Based on the award-winning and top selling VR shooter game, Arizona Sunshine, Omescape's VR escape room forces you and your team to come face to face with deadly zombies and use your instincts to survive.
If zombies aren't your thing then try your hand at one of the other VR escape rooms including ghost busting, fantasy pirate adventures and a selection of Steampunk worlds to explore.
Otherworld VR
££
Otherworld VR is, by far, the most impressive place for VR play in London. It's a virtual paradise that has 16 unique VR pods, and the experience begins the moment you step inside.
The pods contain the ultimate multi-sensory VR experience – feel the wind in your hair and the ground rumble beneath your feet as you're transported into another world. You'll take a turbulent virtual reality journey through different worlds including a zombie apocalypse, dessert, the open sea and a wild jungle.
The best part? You can win in-game tokens that translates to free drinks in the IRL bar. Result.
Navrtar
Ealing
££
Navrtar specialise in futuristic immersive VR experiences, offering group sessions as well as corporate and private parties.
The latest VR experience at Navrtar is Toonstrike, where Altesa is the happiest region in the country. Well, at least it used to be, until its alien neighbours took over. Gather your best adventurers and help save the people of Altesa at Navrtar.
Other VR games here include battling your way through a town overrun by a zombie apocalypse or crawling into the skin of a brave marine on a mission to save humanity from an alien invasion.
DNA VR
Battersea, Camden, Hammersmith
££
DNA VR puts you in the virtual reality driving seat. At this games arcade, boundaries are pushed to the extreme and players navigate their way through worlds of their own making.
There are tons of universes to explore so you'll never get bored here. And, the best part is you can choose between single player games or play with friends in multiplayer mode.
DNA VR also offer off-peak prices, which can save you plenty of cash if you visit during the week.
Hyper Reality
Bethnal Green
££
One of the best VR experiences in London has to be Hyper Reality. This cyberpunk-inspired spot is the best place to escape from this world into the unknown.
Many of the VR experiences at Hyper Reality are exclusive and so, this is the only place in Europe that you can experience them. Pretty cool, we think.
Make sure to check out the Hyper Road Runner Package, which gives you the opportunity to experience the VR arena and board the VR Roller Coaster or Go-Kart. Enjoy all of this with a drink in hand – that's included in your ticket price.
Immotion VR
££
If you're looking for a truly unique VR experience in London, Immotion VR at the O2 has a lot to offer.
At Immotion VR you've got a huge choice of games to play, from Pistol Whip where you'll take a cinematic journey through hell powered by a breakneck soundtrack to the Shark Dive that'll have you swimming with mythical creatures – including some of the worlds largest sharks.
Book Immotion's Heights, Freights and Bites package and you'll get to experience all three VR experiences as well as learn about tiger sharks in 4k detail VR footage filmed by Immotion.
Immersive Gamebox
££
Get ready for a truly unique game experience at Immersive Gamebox– It's best to bring a group of friends to this one.
Explore the motion sensors with tracking, touch screen and surround sounds through a series of games. You'll even get to take part in the popular Squid Game, and every time you lose you'll really lose players (thankfully, not as brutally).
Other familiar games include Angry Birds and Shaun The Sheep – hilarious for all ages, but great if you have little ones. The best part about this London VR experience is your drinks are delivered to you during your game.
Supercharged VR
Leyton
££
Supercharged VR brings you London's first full motion virtual reality racing experience. Full motion platforms are designed to move racers and all the cockpit controls giving you the best immersive driving experience.
Pick your race track and strap into the driving seat, you're going on a first person drive and will certainly feel all the bumps in the road at Supercharged VR.
You'll also get to pick a car to drive that would otherwise be inaccessible for your average Joe, from Road Cars to GT Touring Cars, you'll certainly live out your Formula One dreams here.
Clue Quest
££
Clue Quest in King's Cross might already be well-known for its escape rooms, but did you know there's also a VR mission to embark on?
Immerse yourself in the world of virtual reality and choose from one of three available Ubisoft VR escape rooms. On your uniquely themed immersive escape room mission you'll infiltrate the Black Sheep Professor and destroy mind controlling satellites.
Games here are best enjoyed with teams of up to six players and it's good to know that the VR escape rooms don't have any scary elements, so Clue Quest is fun for all ages.
Practical Tips for Trying London's VR Experience
It's best to book the VR experience online before you go to avoid disappointment. Many places will have online deals, too.
Make sure there are no age restrictions for the experiences.
Check to see how many players you need, if it's a group game experience you're after. Most VR spots in London offer games for up to six players and all offer individual experiences.
VR Experience in London: Map
Virtual Reality London: Read Next