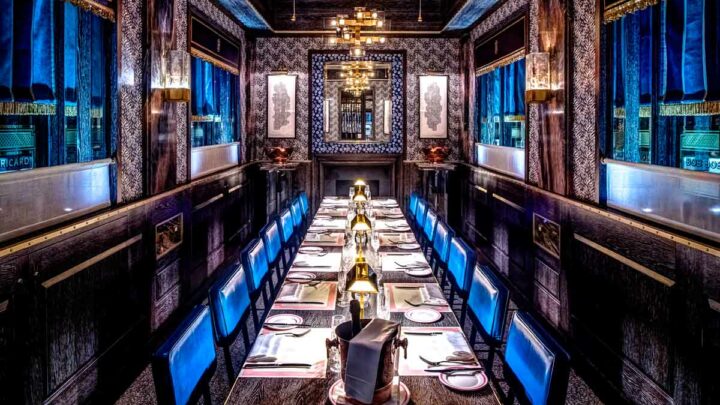 Looking for private dining in London? Here are the 15 best restaurants that offer remarkable private dining spaces.
Whether you're organising a family get-together, a corporate function, or a wedding reception, an elegant private dining room just makes the event so much better.
Wow your guests with some of these amazing places to eat in London, each offering a unique variety of private dining rooms.
The Best Private Dining Rooms in London
Hawksmoor
Multiple locations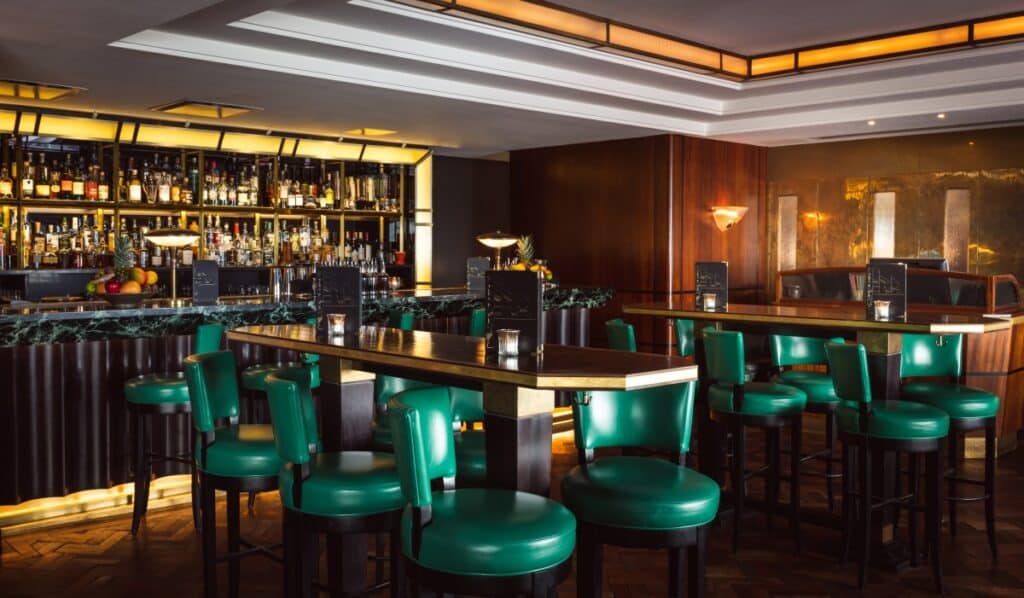 King of the London steakhouses, Hawksmoor, has some very enticing options for private dining at several of their locations around London. They fit the bill all too well for everything from luxurious private dinners to business meetings or all-out parties.
You'll find them at Guildhall, Wood Wharf, Spitalfields and Borough with the latter option even boasting an open kitchen so you can watch the chefs do what they do best – not a bad way to whet the appetite.
The private spaces serve the same world-class steaks, cocktails, sides and sauces that you'd expect from Hawksmoor and also offer dedicated sharing menus for meat-lovers and vegetarians alike to up your experience.
And if that wasn't enough, their front-of-house team has won genuine awards for their service and they'll be waiting on you hand and foot – Probably the perfect way to enjoy a meal so sumptuous you'll feel like royalty.
To book, email privatedining@thehawksmoor.com and their team will handle the rest.
Bob Bob Ricard
Soho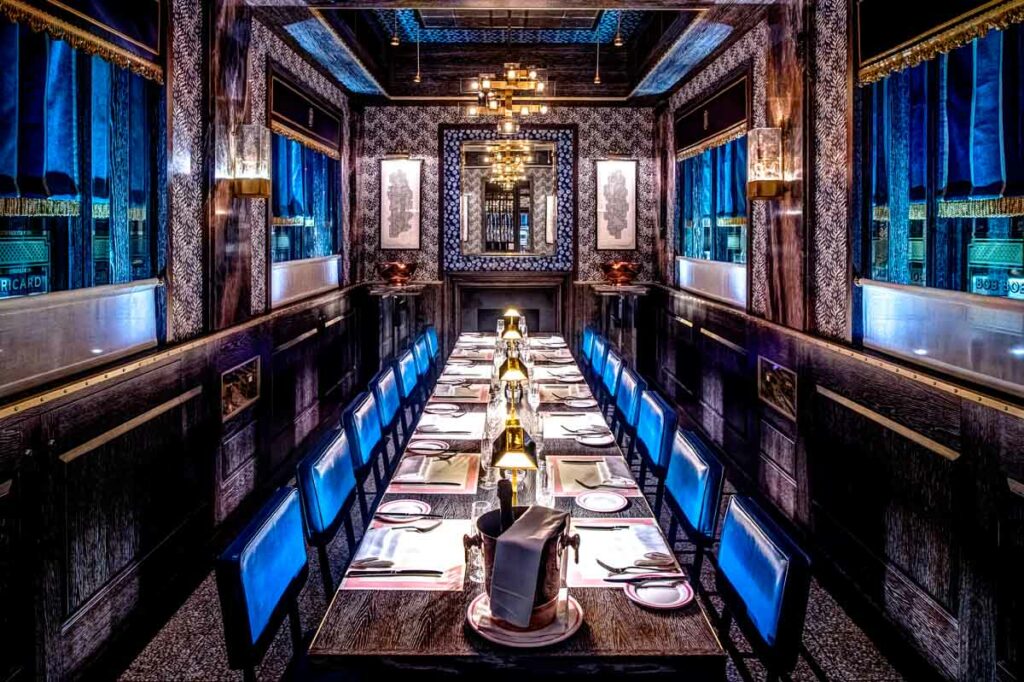 For an absolutely extravagant private dining experience, Bob Bob Ricard should be at the top of your list. This British-Russian restaurant is famous for its "press for Champagne" button, delicious food, and lavish decor.
The private dining room is an opulent affair, modelled after the royal dining carriage of the Orient Express train. It can seat up to 16 people for a full à la carte lunch or dinner.
The minimum spend for the private room is £1000 for lunch and £1500 for dinner, plus service. Read our in-depth review of Bob Bob Ricard for more.
1 Upper James St, London W1F 9DF
Quality Chop House
Farringdon
The Quality Chop House is a modernised 19th-century British eating house in the Farringdon area. They are passionate about providing high-quality meat and wines to their diners.
Their elegant private dining room has a vintage feel and can seat between 6 and 14 guests. The Feasting Menu offers a full-course seasonal meal at £54 per person. The menu is set but can be modified for dietary requirements.
When you make a booking, you can choose from their list of fine-quality wines for your private dining experience.
88-94 Farringdon Rd, London EC1R 3EA
Spring
Covent Garden
Located in the historic Somerset House, Spring restaurant offers a relaxing and elegant dining experience. This restaurant's airy private dining room, situated in an interior atrium, is known as The Salon.
Up to 36 guests can dine in this calm space, with a skylight allowing soft sunlight to fall on the lush surrounding greenery. The à la carte menu changes daily to provide dishes made from the freshest seasonal produce.
The unique Scratch menu focuses on creating simple but delicious meals from organic ingredients that would otherwise have been discarded as food waste.
Lancaster Pl, London WC2R 1LA
Brunswick House
Vauxhall
Step back in time when you enter Brunswick House, one of the best private dining London venues. This restaurant is situated in a Georgian mansion filled with candelabra and vintage furniture.
Chef Jackson Boxer serves modern British cuisine made from only the highest quality fresh produce. The restaurant has many private dining rooms available for hire, accommodating from 12 to 70 guests.
Choose between an intimate study, a lofty parlour, or a grand saloon – all decorated floor to ceiling with antiques.
30 Wandsworth Rd, London SW8 2LG
Sketch
Mayfair
Sketch is a one-of-a-kind restaurant famous for its artistic interiors, ranging from a fuchsia pink dining room to a breathtaking magical forest setting. This restaurant in Mayfair is not just a pretty front but also serves Michelin-starred dishes.
Small groups of up to 8 people can book this extravagantly decorated and fun private dining room in London. Enjoy modern French cuisine while taking in your opulent surroundings at Sketch.
9 Conduit St, London W1S 2XG
The Wolseley
Mayfair
Decorated in monochrome and marble, The Wolseley is an impressive restaurant located on the iconic Piccadilly road. It is open for breakfast, lunch and dinner, serving food inspired by the grandest European cafés.
If you're looking for a restaurant with a private room for meetings, The Wolseley is a popular choice among PRs and media people. The opulent upstairs room with its arched windows overlooking the city can seat up to 14 guests. Booking the room is free, but a minimum spend applies.
160 Piccadilly, St. James's, London W1J 9EB
Daphne's
Chelsea
Daphne's offers delicious seasonal Italian food in a vibrant yet elegant atmosphere. This restaurant's private dining room is known as the Conservatory.
Seating between 24 and 32 guests, the Conservatory is a lovely dining spot no matter the season. Enjoy the cosy fireplace in winter, or the sun shining in through the retractable roof as you sit surrounded by flowers and fragrant lemon trees in the summer.
The restaurant will help you create a bespoke menu for your private dining event, with offerings from their excellent variety of starters, main meals, and desserts.
112 Draycott Ave, London SW3 3AE
The Ned
City of London
If you're looking for an exquisite setting for private dining in the city of London, The Ned has a range of options available. This restored historic Midland Bank headquarters is now the site of luxury hotel rooms, 6 restaurants, and 8 private dining spaces.
The Ned offers classy private dining in central London, with rooms ranging from the intimate Wren room seating 10, to the majestic wood-panelled Tapestry room seating up to 200 people. Two private terraces on the sixth floor provide splendid views of the city, ideal for sipping on cocktails before dinner.
27 Poultry, London EC2R 8AJ
Holborn Dining Room
Holborn
The Holborn Dining Room has a private dining room with a name that already sets your mouth watering – The Pie Room. True to its name, in this dining space you can taste a delicious range of savoury pies, or eat your way through a five-course pie tasting.
By day, The Pie Room is a working kitchen where pastry chef Calum Franklin creates his masterpieces. In the evening, the room is open for a private dining experience.
Taste top-tier pies while surrounded by marble, candlelight, and quaint Victorian-era pie-making tools.
252 High Holborn, London WC1V 7EN
Decimo
King's Cross
For a tantalizing blend of Mexican and Spanish cuisine, visit the Decimo restaurant in King's Cross. Michelin-starred chef Peter Sanchez-Iglesias opened this bold restaurant on the 10th floor of the Standard building.
Decimo's private dining room boasts floor-to-ceiling windows with stunning views of the city. The room has seating capacity for 38 guests and includes its own bar. Try the restaurant's delectable caviar tortilla while sipping on a mezcal cocktail.
10th Floor, 10 Argyle St, London WC1H 8EG
Bourne & Hollingsworth
Clerkenwell
Bourne & Hollingsworth is a stylish yet informal place where people can gather together over a good meal. It is another great restaurant with private dining rooms in London.
Choose The Greenhouse if you want to enjoy your meal surrounded by a variety of trees and trailing creepers, or The Private Dining Room if antique display cabinets filled with boutique spirits are more to your liking.
The five private rooms can seat between 12 and 35 people, and each room has a minimum spend amount. The delightful food and drinks are crafted with seasonal ingredients that are locally sourced.
42 Northampton Rd, London EC1R 0HU
Quo Vadis
Soho
This restaurant in the Soho district has quite a colourful history. Quo Vadis was once a notorious brothel and home to Karl Marx. Nowadays, the restaurant serves regional British cuisine in stylish dining rooms.
On the second floor of the restaurant there are three private dining rooms available, seating between 9 and 32 guests. The airy Marx Room is ideal for private and corporate events. The smaller Blue Room and the Library make for elegant dining in an intimate space.
26-29 Dean St, London W1D 3LL
The Coral Garden
Belgravia
The Coral Garden forms part of the Dalloway Terrace restaurant. This lovely outdoor space sits adjacent to the main restaurant and provides an intimate private dining area.
Relax under the gazebo covering and admire the variety of fresh flowers and foliage around you. The Coral Garden can seat up to 20 guests and is available for afternoon tea, dinner, and cocktail bookings.
16-22 Great Russell St, London WC1B 3NN
Luca
Farringdon
The charming Luca serves traditional Italian dishes with a modern British twist. This is another excellent restaurant with private rooms in London to add to your list of dining options.
The secluded Terrace area can seat up to 18 guests and is a beautiful spot for lunch in the sunshine. The Garden Room and The Pasta Room are smaller private rooms with an intimate and rustic feel.
88 St John St, London EC1M 4EH
Hide
Mayfair
If you're after intimate and small private dining rooms in London, Hide is an enchanting contemporary dining space. This three-storey restaurant with its winding spiral staircase offers four private dining rooms.
The intimate spaces seat between 4 and 20 guests. Each room is uniquely decorated, from the cosy Reading Room booth where you're surrounded by old books, to the Shadow Room filled with playful lighting.
Dine on seasonal produce and a variety of bread, charcuterie and jams made in-house.
85 Piccadilly, London W1J 7NB
Practical Tips for Booking Private Dining in London
Here are a few things to keep in mind when booking a private dining room:
The Season. Some rooms are best suited to either warmer or cooler weather. Keep the date in mind when choosing a room with a cosy fireplace or an open roof.
The Event. For a corporate event you may need a room with a screen or projector, while a room for a wedding reception should be spacious enough for dancing.
The Type of Hire. Some restaurants charge a hiring fee for the room, while others require you to spend a minimum amount on food and drinks.
Private Dining Restaurants London: Map
Looking for More London Dining Guides?