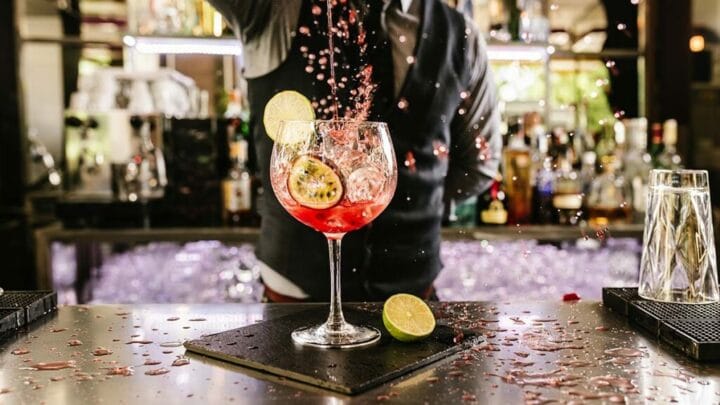 Looking for the best late night bars in London?
We've all been there: a quick drink with friends soon turns into hours of idle chat and before you know it… last orders are being called. The tragedy!
Have no fear – if you're not quite ready to call it a night yet, we've scouted high and low for brilliant bars that are perfect for late night drinks in the capital. No scabby late night drinking holes for you.
Best Late Night Bars in London
Duck & Waffle
Perched on the 40th floor of Heron Tower and with stunning views of London's skyline, it's no surprise that Duck & Waffle tops many late night London lists. If you're drinking in/around Liverpool Street, this is the perfect way to roundoff a night out in the capital.
The drinks menu is ridiculously good – the summer spritz and cherry godfather prove popular, though you'll find us diving straight into the wintery fig sangria. Late night food doesn't get much better than this either.
Why not end a boozy evening here and stay for brunch? It's without a doubt one of the best 24 hour bars London has.
Opening Hours: 24 Hours
Tinseltown
Whilst you won't be able to sip cocktails until your heart's content, if you're looking for some hearty late-night food to soak up the evening's alcohol, Tinseltown is your best bet.
Set out like an American diner and serving up classic burgers, fries, and milkshakes, Tinseltown in Farringdon has long been a favourite spot amongst locals. There are a few locations dotted across the capital, though the Farringdon one – which first opened in 1996 – is the original (and the best).
Cheeseburgers, chicken burgers, nachos are all on the menu… though nothing quite finishes off an evening out like a huge portion of loaded BBQ fries.
Opening Hours: Monday – Sunday, 12pm – 3am
Balans No.60
AKA the big one. Balans Society owns a few restaurants and bars across the capital, but none are as brilliant as the one that sits at No.60 Old Compton Street in Soho.
Food and drinks are served until 5am most evenings – fancy Rendang duck samosa, tamarind lentils, turnips, and Tsukemon plum ketchup at 2am? How about squid ink linguine? No biggie, Balans – aka one of the best late night bars London's got – has it covered.
Wash down with a cheeky cocktail or three, or spend time pouring over the carefully curated wine menu – we're partial to a glass of the Sancerre Rosé.
Opening Hours: Monday – Saturday, 10am – 5am; Sunday, 10am – 12:30am
Bunga Bunga
Whilst we're on the subject of cheeky, it doesn't come much saucier than Bunga Bunga.
This Italian bar worships none other than the controversial Sergio Berlusconi, and you'll find plenty of naughty paraphernalia and photos of the ex Italian PM plastered across the walls. The Late-Night After Party is where things start to get a little bit wild… quiet drinks this is very much NOT.
Drinks are named after Italian icons, take the Fiat 500 (Vodka, Campari, and a slew of fruit juice) for example, and the rum-heavy Leaning Tower of Pisa – which serves six people – is a sight to behold.
Opening Hours: Wednesday + Thursday, 12pm – 2am; Friday 12pm – 3am; Saturday 11:30am – 3am; Tuesday 6:30pm – 12am
Aces and Eights
Tufnell Park
Situated in a handy location next to the tube station, Aces and Eights is a late night dive bar in London with a heavy focus on the 50s and all things rock n roll.
Previously a strongroom for a bank, the basement bar's walls are now plastered with vintage posters of infamous rockers, and the red accents help to create a super swish speakeasy.
Bottled beers and ciders are served in abundance here, with speciality draught beers from the likes of Hammerton Brewery and Fourpure. If that doesn't float your boat, there's always the cocktail list (with upwards of 15 cocktails to choose from) or a hefty selection of wines to see you through to the early hours.
Opening Hours: Sunday – Thursday, 4pm – 1am; Friday + Saturday, 4pm – 2:30am
Nordic Bar
Fitzrovia
Looking for the best late night sports bar London has to offer? Look no further than Fitzrovia's ultra-hygge Nordic Bar.
Scandinavian beers and gins are the name of the game here – take a tour around the region as you sip the likes of Norwegian Bivrost Arctic Gin and delicate craft beers from Sweden.
Whether you're into F1 or football, the sports bar has got it covered – and it's the perfect spot for late casual drinks in a cosy atmosphere.
Opening Hours: Monday – Wednesday, 4pm – 12am; Thursday + Friday, 4pm – 2am; Saturday 12pm – 2am; Sunday 12pm – 10:30pm
The Gibson
Oozing with sophistication, The Gibson is a swanky Shoreditch haunt that never disappoints. By day it feels like just another vintage-themed bar but, as the hours creep by, the evening is when The Gibson really comes to life.
The innovative cocktail menu is divided up into months, so if you fancy a winter warmer in June, that's A-ok (and we highly recommend the shamrock-gin infused 'In the Clover').
Though, ordering The Gibson Martini is a no-brainer.
As far as late night bars in Shoreditch go, this is our top pick.
Opening Hours: Monday – Thursday, 5pm – 1am; Friday 5pm – 2am; Saturday 3pm – 2am; Sunday 3pm – 11pm
Laki Kane
Islington
Thai restaurant slash cocktail bar slash tropical escape: Laki Kane needs no more introduction.
This cheery bar goes hard on the Aloha vibes; lush greenery hangs from the ceiling and tiki torches illuminate your every move. As you would expect, the cocktail menu is filled with rum, coconut, and fresh fruit juice, but there are also some vodka and mezcal options too.
It's not the most spacious of the many late night bars London offers so we recommend booking a table in advance (no spontaneous tiki trips, guys), but what it lacks in size it more than makes up for in atmosphere.
Opening Hours: Monday – Wednesday, 5pm – 12:30am; Thursday 5pm – 1:30am; Friday 4pm – 2:30am; Saturday 12pm – 2:30am; Sunday 12pm – 1:30am
Dalston Superstore
Dalston
We've raved about Dalston Superstore a few times: it's easily one of the best late night gay bars London boasts.
The atmosphere is oh-so-cool, but without an ounce of snootiness – let the rainbow exterior entice you in for an eyebrow-raising cocktail, after hours. The Wh*re's Handbag and Lusty Jenny are crowd favourites.
Expect the music to be loud, with the occasional addition of Drag Queens and karaoke – in other words, this is a late night party bar where the fun doesn't stop.
Opening Hours: Thursday + Sunday, 12pm – 2am; Saturday 12pm – 3am; Monday 4pm – 12am; Tuesday + Wednesday, 4pm – 2am
The Wheatsheaf
Sitting on the doorstep of Borough Market is The Wheatsheaf, a cosy boozer open until late.
When it comes to late night pubs, London isn't lacking. Hipster decor can all too often induce an eye roll from us – though this cool spot treads the line perfectly. Neon lights and colourful lanterns steer The Wheatsheaf away from being too industrial.
It would be a mistake to visit and not get drawn in by the Doughp pizza (get the Piggy Smalls for a no-regrets FEAST). Drinks-wise, you can't go wrong with the Beavertown Neck Oil – a craft beer favourite you'll find dotted around in the capital's pubs.
Opening Hours: Monday 12pm – 12am; Tuesday – Saturday, 11am – 12am, Sunday 11am – 10pm
Polo
City of London
Looking something like a pimped-up British Cafe, Polo describes itself as a "gentrified greasy spoon". Steps away from Liverpool Street Station, this gaff has built up somewhat of a cult following since opening in 1959 as one of the coolest late night bars in East London.
Classic fish and chips, burgers, omelettes, and other traditional dishes make up the majority of the food menu here, while drinks span spirits, beers, wines, and soft options.
If you're feeling particularly bold, opt for the pancake challenge (you'll need to pre-book). You've got 15 minutes to devour the huge stack… and you'll be rewarded with the meal for free and a bottle of prosecco to wash it all down with.
Opening Hours: 24 Hours
The Blues Kitchen
Without a doubt, The Blues Kitchen is one of the best late night bars London has to offer. Southern states are channeled in this bar – and the Shoreditch location is equally as brilliant.
Performances spanning jazz, blues, and rock n roll play late into the night, perfectly accompanied by an extensive whiskey menu. A variety of large and small plates give drinkers a taste of the deep south.
Opening Hours: Monday + Tuesday, 12pm – 12am; Wednesday + Thursday 12pm – 1am; Friday 12pm – 2:30am; Saturday 10am – 3am; Sunday 10am – 12am
Fox & Anchor
Farringdon
Who knew Farringdon had so many late night / early morning gems? We did. Duh.
OK, so the Fox & Anchor is only a late night pub *if* you happen to stay up until 7 in the morning (we're not here to judge). For most people it's an early morning pub – and open early so the traders at the nearby Smithfield Market can stop in for a cheeky pint on their way home… or you can hop in for one last drink after a big night at Fabric.
There's not much to say except it's a traditional British pub (an excellent one, may we add) with a modern twist, open from early morning until late into the evening.
The drinks are better than you'd get from your average Marstons or Sam Smith, too. A long wine menu accompanies a mix of classic and craft beers and ciders. If you're looking for a more pared back affair, Fox & Anchor hits the spot.
Opening Hours: Monday – Friday, 7am – 11pm; Saturday 8am – 11pm; Sunday 8:30am – 11pm
Practical Tips for Visiting London's Late Night Bars
Make sure to double check exactly where you're going and whether it's a bar or a club – it's all too easy to pick a cute spot for chilled cocktails and chats, only for blaring music and its thud thud thud to put a dampener on the mood.
If you're looking to stay in one area, you won't go too wrong in Soho – the area is a hub for nightlife and has plenty of late night bars, as well as brilliant pubs and restaurants to settle your stomach beforehand.
London Late Night Bars: Map
Looking For More Late Night London Guides?