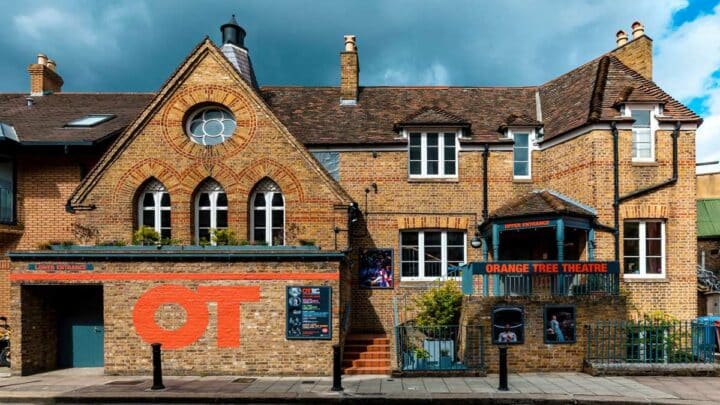 These independent theatres in London deserve a round of applause. Here's where you need to catch a performance right now.
Here at London x London, it's no secret that we love a theatre trip.
Sure, watching highly-adored musicals and West End shows is fun, but supporting London's vibrant independent scene is way more important right now, we think.
But where do you start? No stress – we've written a guide to our fave fringe theatre spots in the capital.
Get ready to discover the best independent theatres in London.
Independent Theatres in London
Southwark Playhouse
Southwark Playhouse might only have two performance spaces (with capacities of 200 and 100 people) but this makes for totally intimate performances. As such, expect to find fresh takes on Shakespeare plays, feel-good musicals, and fringe performances with limited runs on the line-up.
Another reason we love Southwark Playhouse is their fabulous Pay As You Go option – for just £60, you can get five tickets to spend on any performance. Pssst… It also makes a wonderful Christmas present for any aspiring thespian in your life.
Excitingly, Southwark Playhouse will move into two new venues over the next couple of years – an Elephant & Castle flagship and another at Colechurch House in London Bridge in 2025.
Kiln Theatre
Kilburn
Next up: Kiln Theatre – this is one of our favourite indie spaces in the capital.
The space was used for a plethora of companies over the years, though it was eventually transformed into a theatre in 1980 by Shirley Barrie and Ken Chubb. Since its opening, the Kiln's presence has been huge in the local area.
Kiln Theatre is famed for showcasing performances from multiple cultures and topics, curated by fabulous theatre director Indhu Rubasingham.
The programme truly is eclectic, from political speeches-turned-productions to the ever-popular play, The Wife of Willesden, the Kiln has an ever-rotating line-up of pure talent.
Park Theatre
Finsbury Park
Jez Bond and Melli Bond are the directors responsible for the brilliant productions at Park Theatre. Their story is a sweet one; after six long years of searching for the perfect building, they finally found a vacant office block in 2010. And Park Theatre was born.
This theatre boasts two main performance spaces: Park200 is a two tier (circle and stalls) auditorium seating 200 people, while Park90 is a more flexible space and seats – you guessed it – 90 people.
The productions here might be smaller, but they are no less brilliant. Expect everything from dazzling musical performances to gritty dramas.
Tara Theatre
Earlsfield
No guide to the best London fringe theatres is complete without mentioning Tara Theatre.
Telling stories through a South Asian lens, this venue is one of the most important in London. Abdul Shayak became the theatre's Artistic Director in 2020 and has since worked with the team to bring a variety of Asian voices to the forefront of theatre.
What's on? Tara Theatre's programme is as eclectic as the cultures it represents, so expect everything from emotional dramas set in war-torn countries to lighthearted family sitcoms.
King's Head Theatre
One of the top independent theatres London has to offer, the King's Head Theatre sits above a cosy pub of the same name. It's the second oldest operating theatre pub in the UK, which is quite the accolade, we think.
Mark Ravenhill is the Artistic Director and joint CEO of this indie London spot, and he's responsible for bringing some of the capital's top talent to the forefront of the theatre scene.
In particular, the venue is known for showcasing a wide range of comedy, drama, and musical theatre productions – in recent years, Trainspotting, La Boheme, and The Rocky Horror Picture Show have all graced the King's Head stage.
Bush Theatre
Fronted by the immensely talented Artistic Director Lynette Linton, it's no wonder that Bush Theatre is one of the top independent theatres in London.
The venue boasts two main spaces, Holloway Theatre and a smaller studio space, where more intimate performances are displayed. Productions big and small begin their lives here, often going on to grace the West End.
We're really excited about the upcoming production by Lenny Henry (yes, the Red Nose Day man) – August in England tells the story of a family torn apart by the Windrush scandal and will be hitting the theatre mid-2023.
Finborough Theatre
West Brompton
Proving that bigger isn't always better, Finborough Theatre is a teeny-tiny 50-seat theatre that's home to groundbreaking performances.
Led by Artistic Director Neil McPherson, the Finborough Theatre showcases plays and musical theatre with a heavy focus on thought-provoking new writing, as well as a few forgotten pieces from time gone by. Recent hits include Julia Pascal's devastating 12:37 and the Canadian classic, Salt-Water Moon.
Better yet, Finborough Theatre often transfers productions to the West End and Broadway – so you can get ahead of the trend and say you've seen it first.
The Gate
As expected from a Camden venue, The Gate doesn't play by the rules – and that's why we love it. For over 40 years, this London fringe theatre has been showcasing breakthrough plays with a strong focus on representation and community.
Stef O'Driscoll is the interim Artistic Director, though The Gate has a hugely talented team of folks keeping things running smoothly. We LOVE that The Gate even has an Environmental Artistic Consultant – big up Daze Aghaji.
Pssst… The Gate has recently undergone a huge funding cut – find out how you can support them and keep independent theatre alive here.
Rose Theatre
Kingston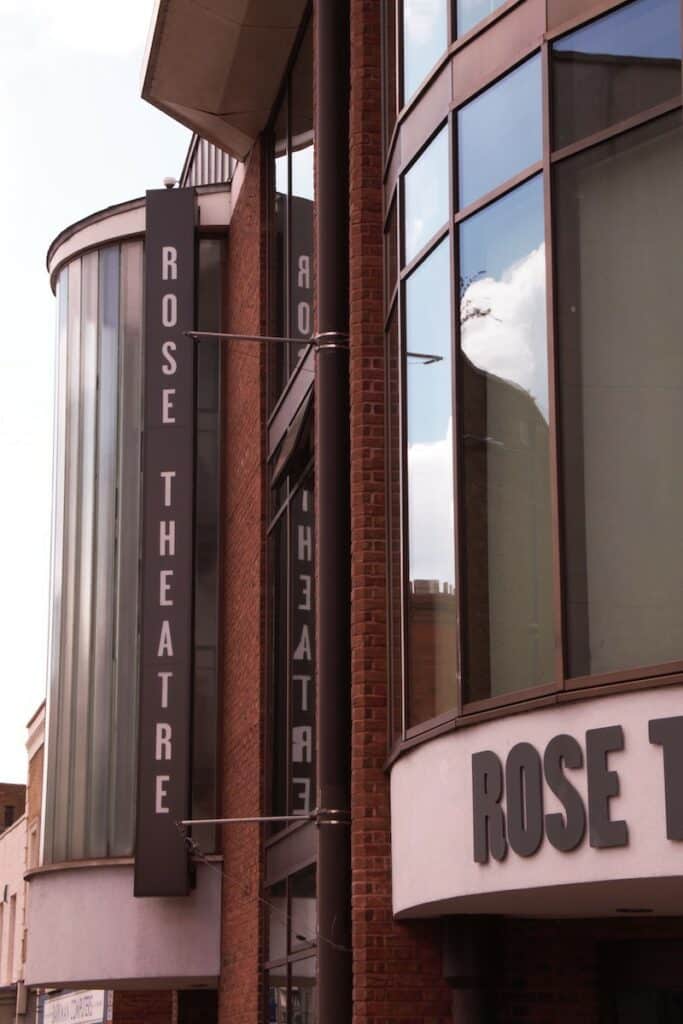 If you still want to support independent theatre, but fancy seeing a more well-known production, the Rose Theatre is the one for you. Sir Peter Hall CBE (1930-2017) may have founded this theatre in 2008, but Christopher Haydon has done an incredible job as head honcho ever since.
Seating 822 people around the thrust stage (if you're confused, picture a stage extended and surrounded by the audience on three sides, and you've smashed it), productions range from the likes of Macbeth and A Christmas Carol to Room on the Broom and Lord of the Flies.
So, as you can see, there's something for everyone.
Arcola Theatre
Dalston is slowly establishing itself as one of the coolest places in London, and we think a huge part of that is down to the Arcola Theatre (and the fact that there are sooo many cool boozers to grab a pre-theatre pint).
Arcola Theatre boasts a pretty eclectic programme: Plays, operas, and musicals all featuring brand new and established talent. Better yet, it boasts two theatre spaces and a cafe-bar – an excellent spot for the aforementioned pre-theatre pint.
Mehmet Ergen is the Artistic Director responsible for the running of this spot, and we're huge fans of the productions his space puts on.
Orange Tree Theatre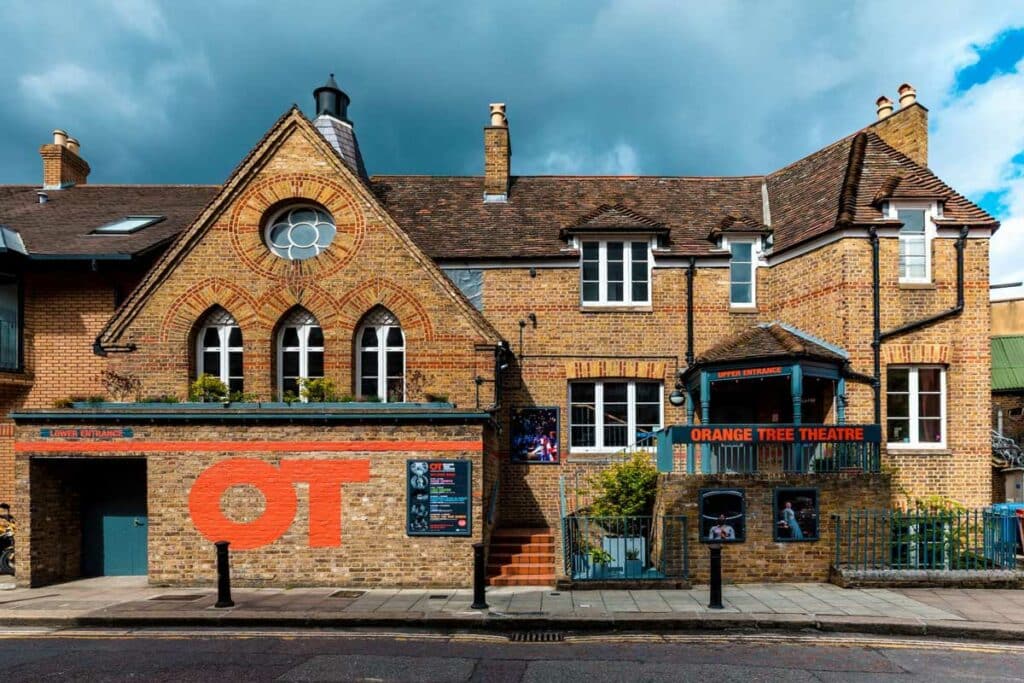 We think that the Orange Tree Theatre might just be the best independent theatre in London (but don't tell the others we said that). Not just because the impressive Gothic building was founded in an abandoned 1867 primary school – but, we suppose that helps, too.
This 180-seat theatre was built specifically to be in the round, which, if you didn't know, is where the stage is in the middle, surrounded by seating.
Paul Miller is the artistic director of Orange Tree, which spits out stellar productions. Expect everything from Shakespeare plays and gritty performances to weird and wonderful psychedelic theatre (yes, really).
Practical Tips for Exploring London's Fringe Theatre Scene
London Independent Theatres: Map