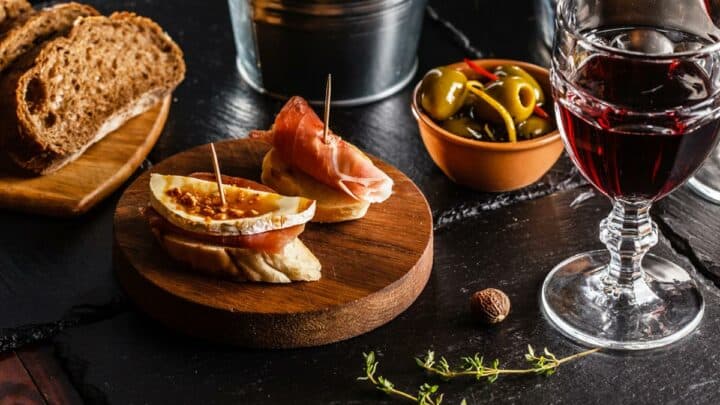 Searching for the best restaurants in Tooting? These ones are sure to hit the spot.
This South London district has been bubbling away under the radar as a top spot for foodies in recent years. But we've long known that it rivals the likes of Shoreditch, Soho, and London Bridge when it comes to epic meals.
From authentic Indian restaurants (lots of them) to Italian, French and Sri Lankan spots, these are the best places to hit up in Tooting for an unforgettable feast.
Best Restaurants in Tooting
Mirch Masala
££
Mirch Masala is a little bit of a hidden gem. But, for those in the know, it's the best Indian restaurant in Tooting.
This Tooting hotspot usually has a queue meandering down the street, especially on weekends.
And it's no wonder, really. The food here is authentic and the staff at Mirch Masala are very warm and welcoming – there's a strong community vibe here.
The menu is packed with curries, rice dishes and everything in between, though each dish is so reasonably priced that we guarantee you'll end up ordering half of the menu. Better yet, this place is BYOB, show up with a bottle of wine and the staff will even put it in the fridge for you.
The Little Taperia
££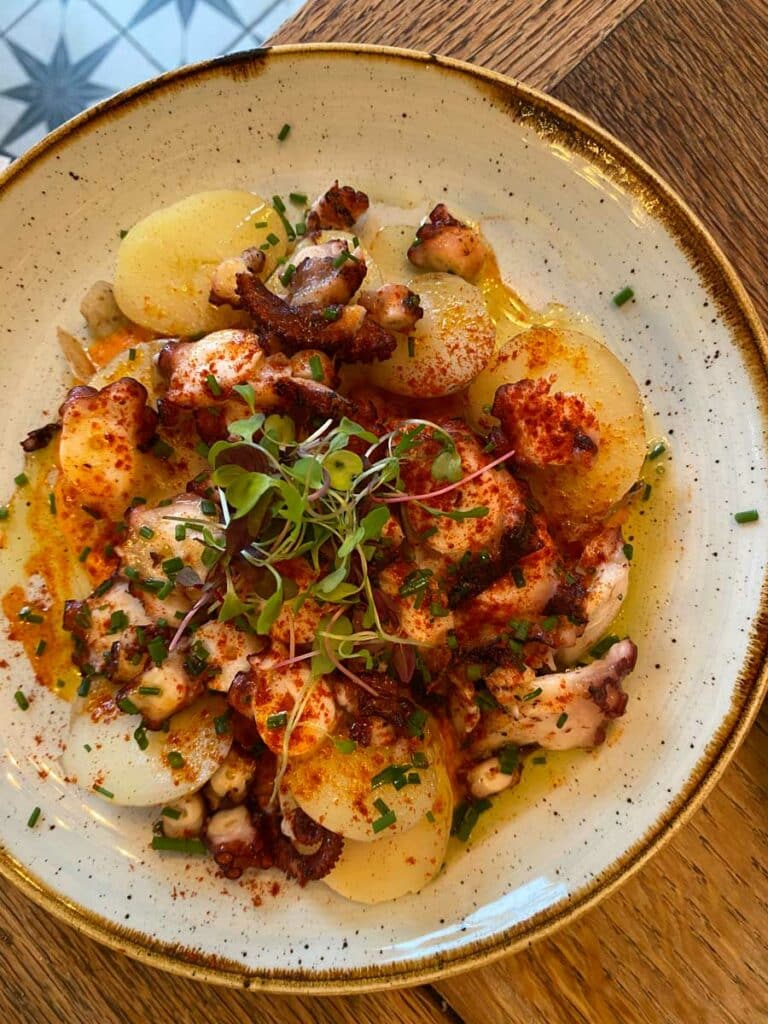 Step inside The Little Taperia and you'll instantly be transported to the sunny Spanish coast.
As its name suggests, this friendly neighbourhood tapas bar is small with a rustic interior and Spanish tiles adorning the wall.
Hikmat Antippa and Madeline Lim aimed to bring a touch of Iberian glamour to Tooting and they did just that. The tapas menu is modern and standouts include the Salt Cod Fritters, Baby Chorizo and Red Wine, and Pork Cheeks and Celeriac Puree.
We're also swooning over the drinks menu. Cocktails take centre stage at The Little Taperia. Whether you go for the Tooting Mule or the Flaming Pornstar Martini, you're in for a real treat. We love the modern takes on simple classics.
Meza
££
Meza is a much-loved Lebanese kitchen in Tooting, known for its authentic food and warm atmosphere.
Get ready to taste the true authentic flavours of Lebanon at Meza. You best come hungry too, portions are on the hearty side. This spot boasts a variety of hot and cold mezes with dishes like Labneh, Tabbouleh, and Soujouk served as small plates.
The Mixed Grill is one for meat lovers, with marinated chicken and lamb that should satisfy the hungriest of bellies. There's also an opportunity to sample European and Lebanese beers at Meza as well as a selection of European wines.
Apollo Banana Leaf
££
Curry-based Sri Lankan restaurant in Tooting, Apollo Banana Leaf, serves up a mouthwatering South Indian menu.
This no-frills neighbourhood restaurant gets pretty busy with Tooting locals, so prepare to elbow your way to a table.
It's well worth it though. The menu is extensive with curry dishes, biryanis, and seafood plates – you must try the Crab Masala: crab meat is marinated in chilli sauce and cooked over a low flame with added spices. It's lip-smackingly delicious.
Bordelaise
££
Located in Tooting's vibrant Broadway Market, Bordelaise is a sleek and charming French restaurant that you need to visit.
Bordelaise is a spot that knows exactly how to serve steak. Choose from Flat Iron or Rump steaks, each served with delicious beef dripping fries and gravy either on a tray or on a baguette (we'll take the baguette for an extra punch of carbs, please).
Other highlights of the menu include the salt and pepper squid and cheese, chutney and bread, and a huge selection of French wine.
Smoke & Salt
££
Smoke & Salt is a Tooting neighbourhood restaurant that has evolved from a supper club to a pop-up before finding its forever home on Tooting High Street.
Now featured in the Michelin guide, Smoke & Salt cooks up seasonal and local ingredients drawing inspiration from around the world to create smokingly delicious dishes.
The dinner menu here features a six-course menu with pescetarian and plant options available. The menus are seasonal, but right now you can enjoy Ricotta and Porcini Dip, Roasted Pumpkin, Crispy Parsnip, and Smoked and Roasted Duck.
Green Choy
££
You'll find Green Choy inside the iconic Tooting market serving classic Korean dishes that have been pimped up using street food techniques.
The restaurant's Korean Fried Chicken is made using only free-range chicken coated in a smokey BBQ sauce, while the Bimibap uses homemade kimchi with steamed Korean rice and a hearty offering of gherkins.
Soju cocktails are a big thing at Green Choy, which is an excuse to try one when you visit. Made with real orange, pineapple and cranberry juice, they're an ultra-refreshing pairing to your spicy meal.
Dosa n Chutney
£
If you've ever tried dosas you'll know exactly why this is one of the best restaurants in Tooting – and if you haven't, you're in for a real treat.
Dosa n Chutney is a South Indian restaurant that specialises in dosas (Indian pancakes), which are stuffed with all kinds of savoury delights. The dosa menu is extensive, but a few must-tries are the Onion Masala Dosa, Chilli Coriander Dosa, and the Paneer Dosa.
Oh, and just in case you haven't had enough dosas, you can also order a Chocolate Dosa which is smothered in melted Nutella.
Mamma Mia! Pasta Tooting
Hidden away inside Tooting Broadway Market is Mamma Mia! Pasta Tooting, a spot that serves up homemade fresh Italian pasta and sauces daily.
This relaxed Tooting restaurant focuses on wholesome yet refined dishes. How it works: Choose plain or filled pasta and then pick a sauce to smother it in. Basil and Pesto is the best classic or, for something a little bit different, Butter and Sage gets our vote.
Now for the garnish. And, by that, we mean cheese. Lots of it.
Tacos + Tequila
££
This restaurant's name does all the talking; head here for all things tacos and tequila.
Tacos + Tequila is a vibrant Mexican restaurant in Tooting. To start, there's no other way to go than the classic tortillas and guac, followed by a selection of tacos.
From Charred Cod and Sauteed Mushrooms to Roasted Duck Breast, there's certainly a taco to suit everyone's taste.
Oh, and don't forget to order one of Tacos + Tequilla's many tequila-based cocktails – there are some rather interesting flavours. We're big fans of the Apple Crumble.
Sea Garden and Grill
££
In the heart of Broadway Market is an outstanding British seafood restaurant. Sea Garden and Grill have seafood delivered daily from St Ives in Cornwall, so you can be certain all dishes are fresh and bursting with flavour.
Better yet, on Wednesdays, surf and turf is 2-4-1 so you can fill yer' boots and chow down on seafood until you're loosening your trousers at the table.
Sea Garden's cocktails are, of course, sea-inspired. The Seagroni is a modern take on the classic Negroni with gin-infused seaweed, and is one to try.
Other Places to Eat in Tooting
Rosa's Thai Tooting
££
Rosa's Thai has quickly managed to establish itself as one of the best places to eat in Tooting. Head here for a chilled-out lunch with your pals (and one too many Lychee Spritzes).
The Thai cafe's menu features everything from street food to sharing platters. We're here for the Popcorn Shrimp and Larb Patties, though Rosa's Red Duck and Pineapple Curry is equally delicious. And oh-so-satisfying.
Good Neighbour
££
When it comes to tasty food in Tooting, Good Neighbour is one of our favourite spots to dine.
This neighbourhood restaurant is the place to be for brunch, lunch and late-night cocktails.
The modern chic decor paired with a menu created by a talented team of chefs makes for the best brunch setting, if you ask us.
In the evening, Good Neighbour is all about sharing plates and cocktails. Absolute must-try dishes include the Braised Lamb Doughnuts and the Burrata with Caramelised Figs.
Practical Tips for Exploring The Best Tooting Restaurants
Be sure to check if you need to book ahead – especially for places like Bordelaise and Smoke & Salt.
We'll warn you: Mirch Masala gets pretty busy on the weekends. It's best to avoid prime dinner time and get there early.
Tooting Restaurants: Map
Tooting Restaurants: Read Next