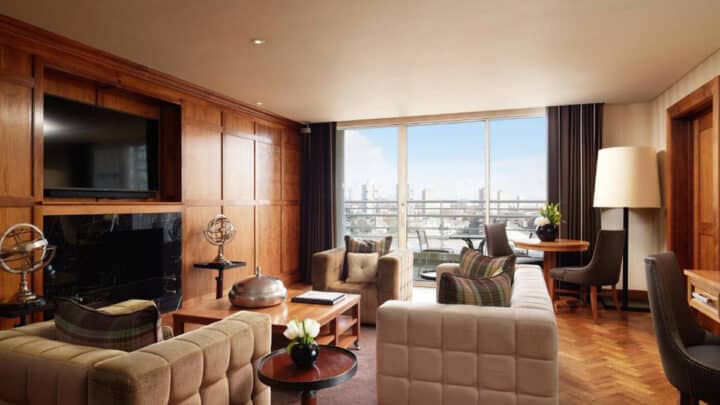 A stunning riverside neighbourhood, Battersea is one of the most popular areas in South West London. Discover where to stay in Battersea with this guide.
Words by John Rogers
With the recent development of Battersea Power Station, and Battersea Park just around the corner, it's no surprise that Battersea is one of the hottest places to stay in London right now.
And, with excellent transport links into central London and being just a short distance from Clapham, Wandsworth, Chelsea, and Kensington, Battersea is ideal, whether you're visiting London for business or leisure.
Planning a trip? Join us as we take you through the finest hotels in the Battersea area.
Best Battersea Hotels: At a Glance
Best Hotels in Battersea
Art'otel London Battersea Power Station
£££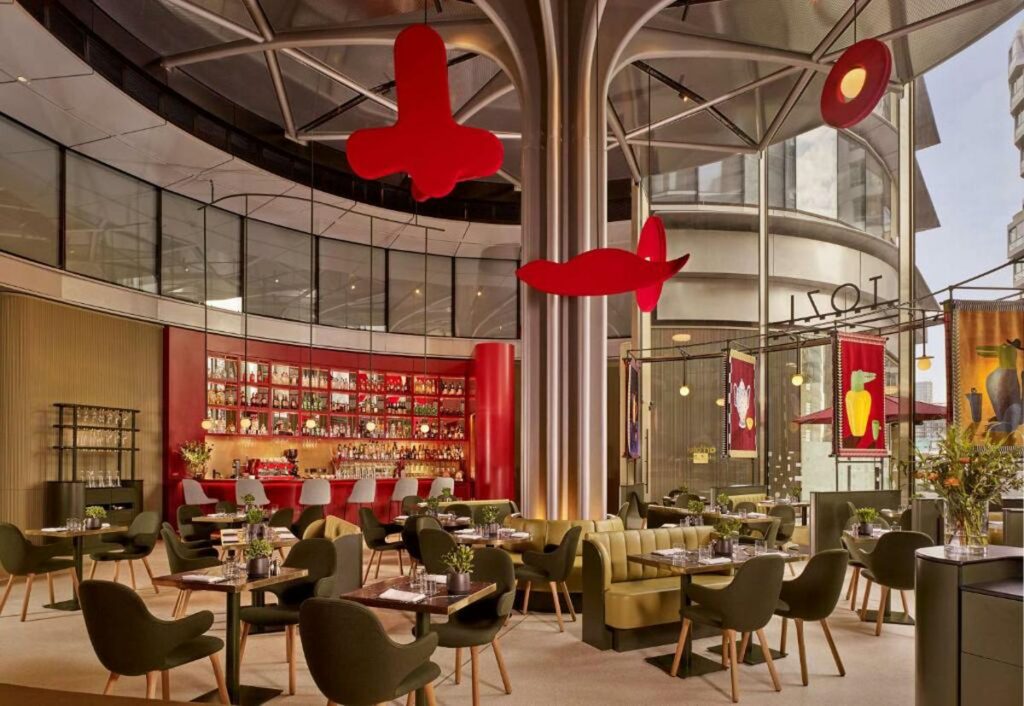 Looking to be wowed? Art'otel is a brand-new hotel by Radisson Hotels located inside the new Battersea Power Station development and features everything you expect from this luxury hotel brand and plenty more.
The views across the river towards the city are unrivalled in this part of London, as is the stunning original architecture of the power station, with its famous white chimney stacks in full view.
Hotel amenities include a rooftop pool, restaurant, cafe, sauna, spa treatment rooms, gym, and even an art gallery! As well as a concierge service, room service, and luggage storage service, you can expect air-conditioned rooms with a minibar, safety deposit box, and smart TV, while complimentary bathrobes and slippers are a wonderfully elegant touch.
See why we think it's the best luxury hotel in Battersea?
Rafayel Hotel & Spa
££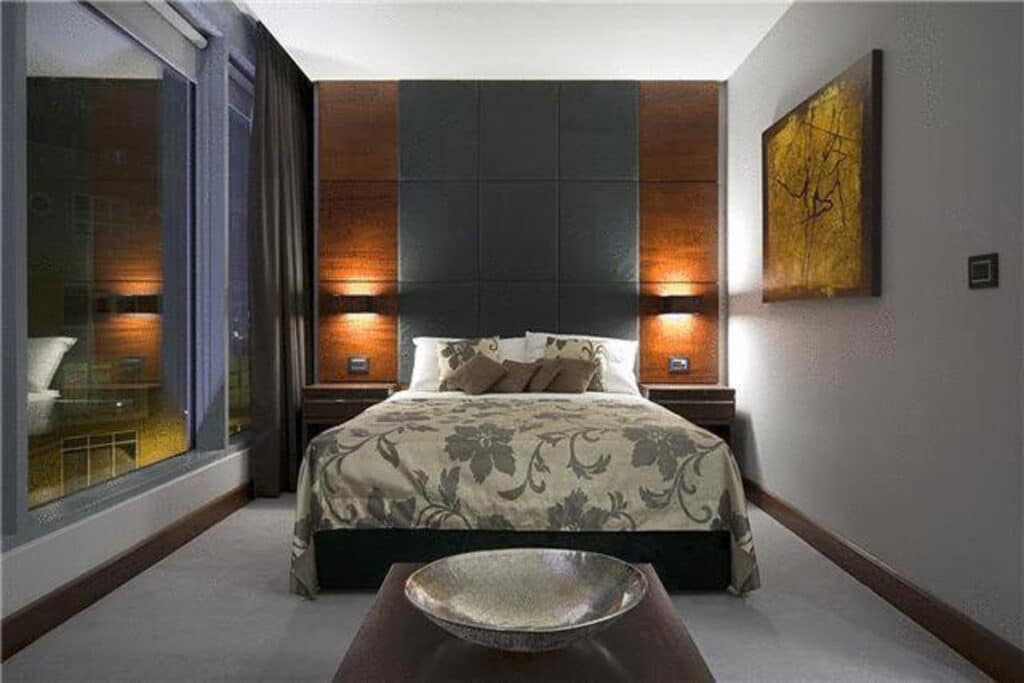 The Rafayel Hotel & Spa is a beautiful spa hotel perched on the south bank of the River Thames. Eco-friendliness is the name of the game at this hotel, as the building incorporates a temperature-regulation design. We're not quite sure what that means but we love the idea.
Each of the individually-designed rooms feature vast and airy floor-to-ceiling windows and state-of-the-art entertainment systems, while some rooms feature Jet Lag recovery lighting technology. Perfect if you're arriving from a far-off land.
You can request rooms with a spa bath and partial river view, although these are subject to availability. Guests can access the hotel's sauna, steam room, and several spa treatments, while the riverside restaurant has a delicious grill menu that will make you drool.
Pestana Chelsea Bridge Hotel
£££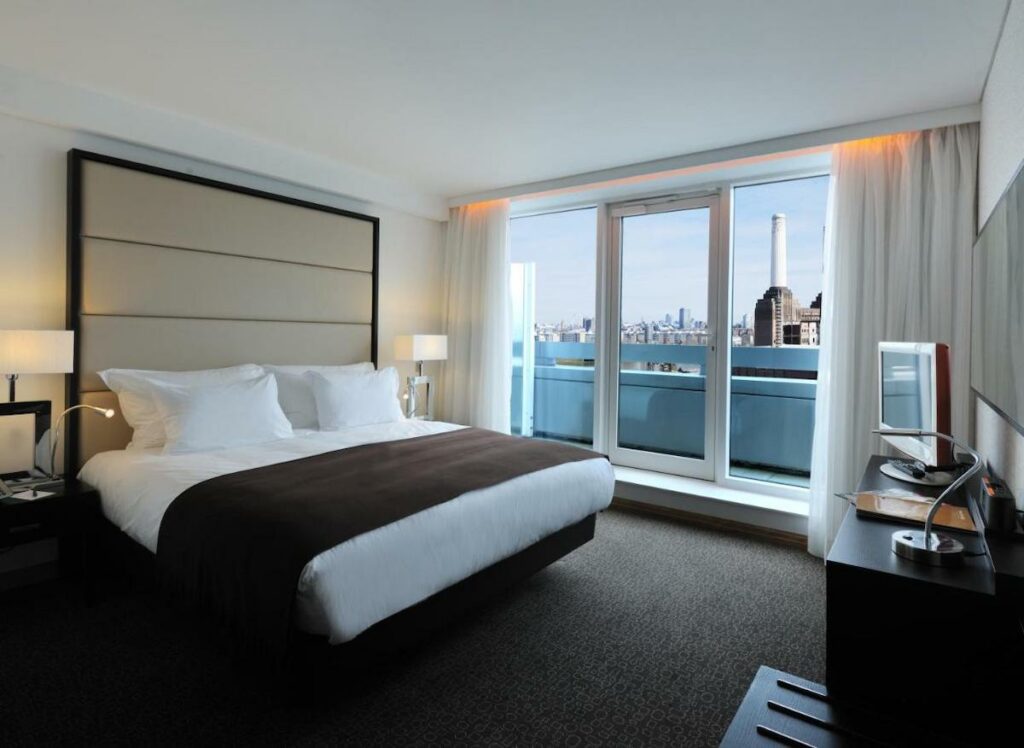 Pestana is a luxury hotel nestled beside Battersea Park and a stone's throw from Chelsea Bridge, offering stunning views across the river towards Chelsea and over Richmond in the other direction.
Each room is exceptionally spacious and bright, making for the perfect retreat after a long day sightseeing or hunched over the laptop. The beds are comfy AF, while the en-suites give you the choice of a separate bath and shower – why not choose both?
Hotel amenities include a bar and restaurant, which serves some of the finest internationally-influenced cuisines in the area.
Spread Eagle Hotel, Wandsworth
££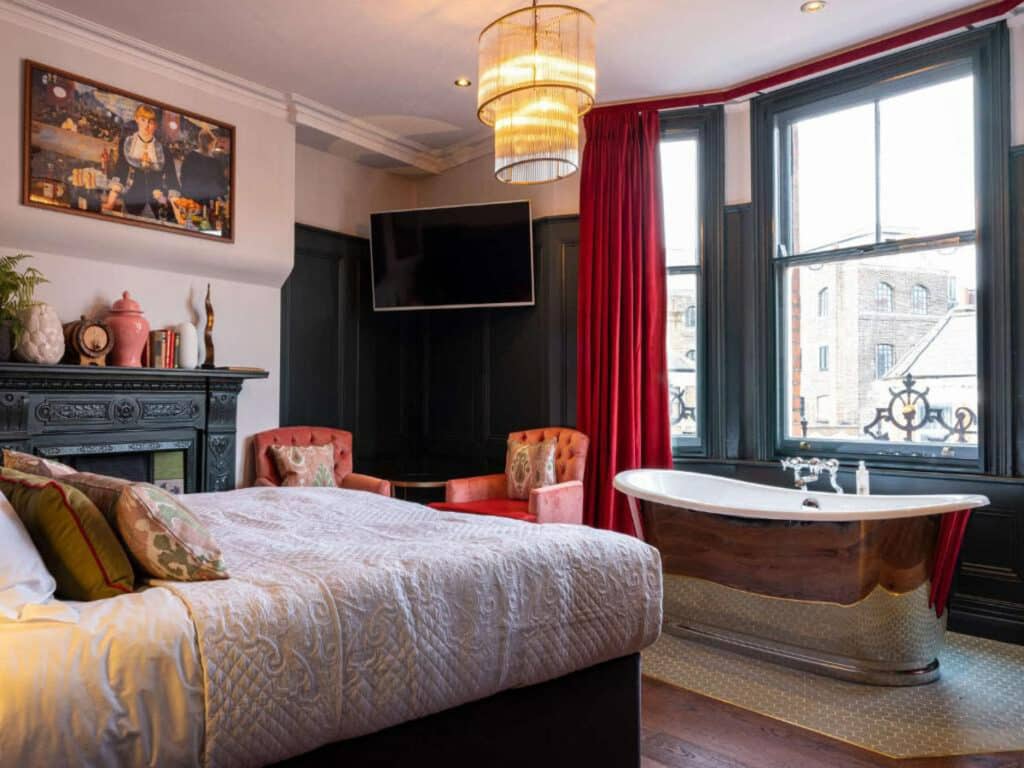 The Spread Eagle, a short walk from Battersea Park, is a stunning restored grade 2-listed building with 21 beautifully designed boutique rooms that remain faithful to the building's vintage charm.
Situated above the Spread Eagle pub, the Spread Eagle caters to family-friendly breaks and has canine-friendly rooms, meaning that you and your furry companions can stay in incredible comfort.
Each individually designed room showcases traditional features, including reclaimed wooden flooring, brass fittings, heritage colors, and the intoxicating allure of a standalone wardrobe that looks akin to the one from Narnia.
Some rooms come with standalone bathtubs, while a curated mini bar is standard in every room – we'll take the lot.
Pub Love @ The Crown
£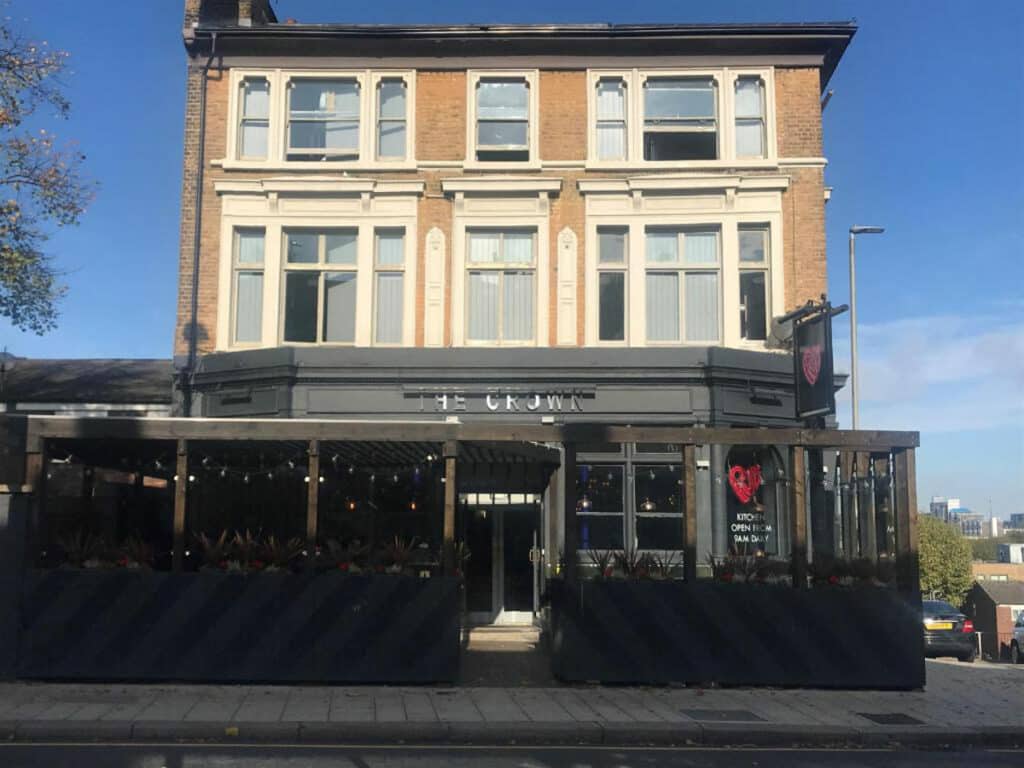 Pub Love @ The Crown in the heart of Battersea is a superb modern hostel above one of the neighbourhood's hippest and most chilled pubs, The Crown.
Hostel beds come in mixed dorms, with free wi-fi throughout and fresh linen, pillow, and a comforter included. Reception is manned 24 hours a day, and the hostel is fully secure, while the bar provides some of the area's best beers, cocktails and spirits.
Guests receive a discount in the hostel shop and bar, helping to make this a really welcoming, comfortable base to explore London from, with plenty of home comforts provided.
Chelsea Harbour Hotel
££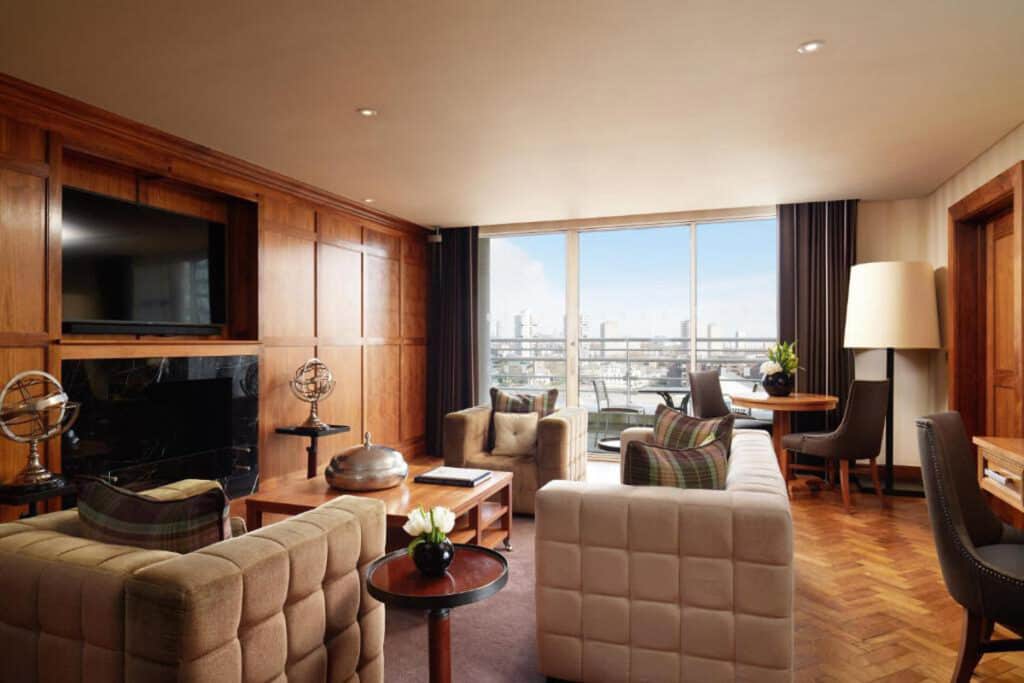 Sitting just across Battersea Bridge on the north side of the Thames is the Chelsea Harbour Hotel and Spa, which overlooks the marina full of yachts and pleasure boats.
With free wi-fi as standard and stunning views across the Thames towards Battersea Park and the renowned power station, all rooms have cable and a well-stocked mini bar.
The Blue Harbour Health Club and Spa contains a gym, a pool with integrated jets, a walk-in sauna and steam room, and six separate treatment rooms, each with their own relaxation room. We also love the Harbour Bar's mix of English and International cuisines.
Chelsea Guest House
£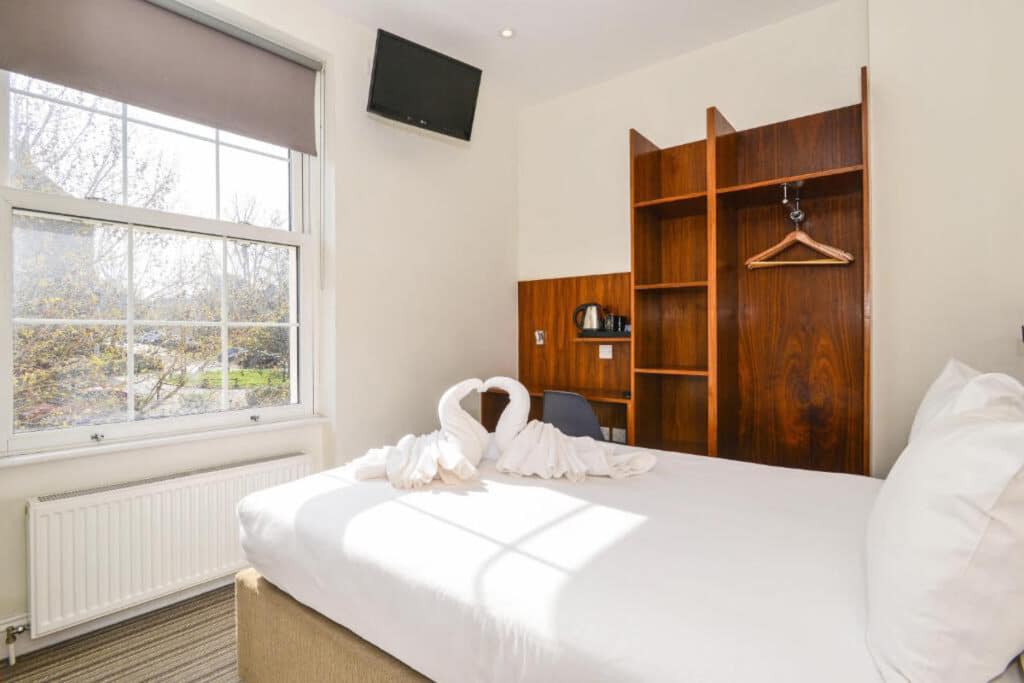 The Chelsea Guest House is a charming boutique guest house in a grade II-listed building within easy reach of the Battersea Power Station development, Battersea Park and Clapham Junction mainline station.
Although offering budget accommodation, it doesn't scrimp on comfort with spacious and well-lit rooms with TVs and en-suites. Rooms also come with tea and coffee-making facilities and workspace for anyone needing to have their noses to the grindstone while away.
This brilliantly located budget hotel is served by regular 24-hour buses into the city and within effortless reach of bars, restaurants, and enticing independent boutique shops.
Premier Inn, Clapham
£
If it's wallet-friendly accommodation you're after, you're never too far from a Premier Inn in London. Premier Inn, Clapham, is located on the edge of Battersea and Clapham and brings all of the expected comfort and excellent service you would expect from this budget brand, with prices that certainly won't break the bank.
Rooms are simple yet always sparkling clean and modern, with a spacious en-suite bath and shower rooms, as well as a delicious breakfast for an extra charge.
The hotel is a beautiful new building fronted by a charming white-gabled entrance that is a world away from the usual, boring box shape many of these budget chain hotels comprise!
Axiom Park Hotel
££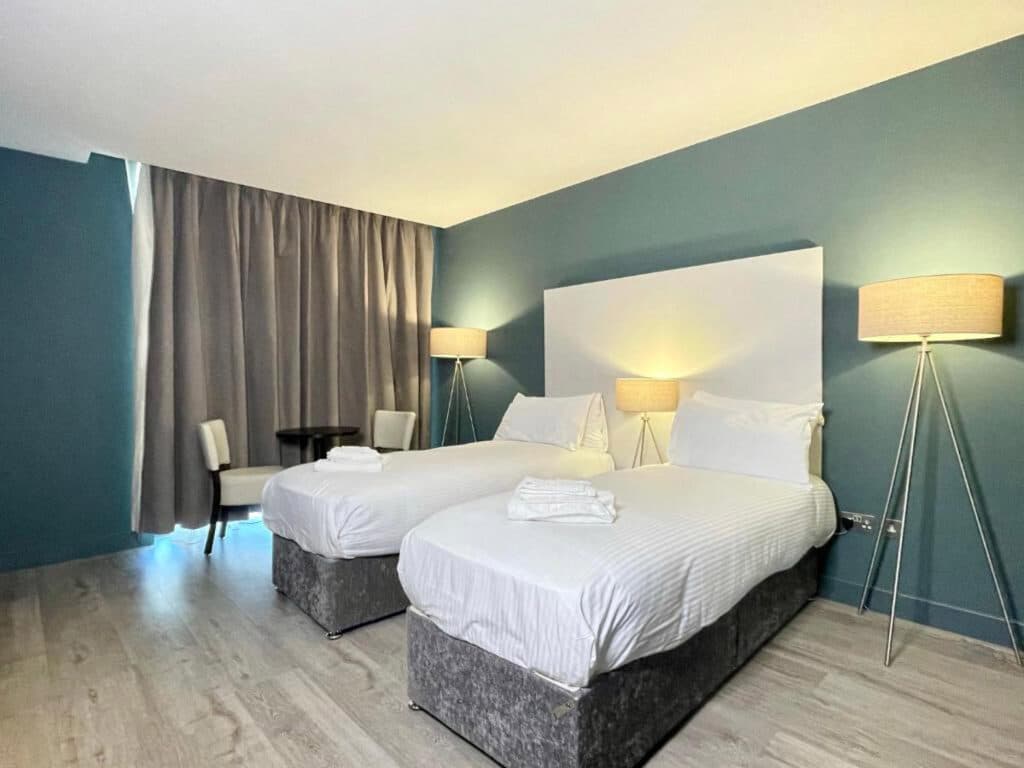 Sitting on the southern fringes of the Battersea Park area is the Axiom Park Hotel. This four-star location boasts modern suites and studio apartments with en-suite bathrooms, free wifi and air conditioning.
Each studio apartment additionally comes with HD TV, a walk-in shower in the bathroom, and a fully-equipped kitchenette to provide self-catering facilities if required. Breakfast is catered for upon request but with an additional charge.
As well as being within easy reach of Battersea Park, the power station complex is a few minutes walk, as are underground and mainline railway stations.
Chelsea Bridge Apartments
££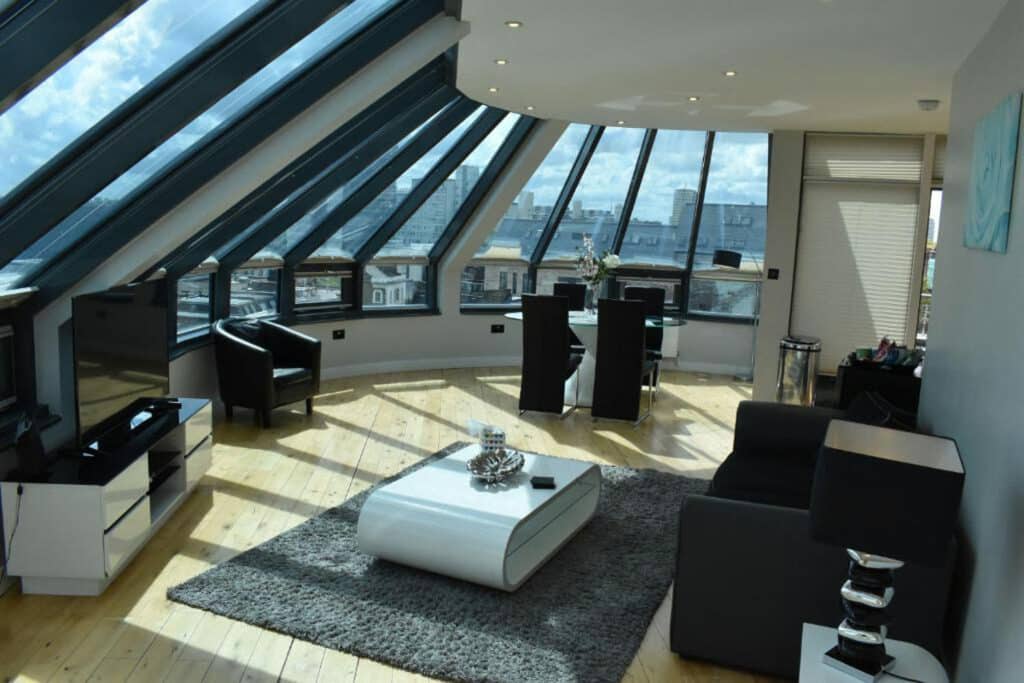 Looking for somewhere a little more private? Chelsea Bridge Apartments are a collection of fully-serviced apartments with free wifi throughout and some stunning views across Battersea towards the Thames.
Each self-catering apartment comes with a fully-equipped open-plan kitchen and a living area with a flat-screen HD TV, an iPod docking station, and the most modern, comfortable furniture imaginable.
It's such a great place to live the South West London Penthouse lifestyle at a fraction of the cost.
Where to Stay in Battersea: Frequently Asked Questions
Practical Tips to Consider Before Booking your Battersea Hotel
Battersea is a bustling and vibrant neighborhood full of excellent coffee shops, bars, pubs, and restaurants. For night owls, this makes the area one of the best to stay in. However, be warned. If you're after peace and quiet, you may wish to find somewhere away from the main local roads.
As well as being within easy reach of the centre of London, Battersea is well-linked with other outstanding areas of Greater London. For example, Kew Gardens, Richmond Park, Kingston-upon-Thames, and Hampton Court are short train rides away.