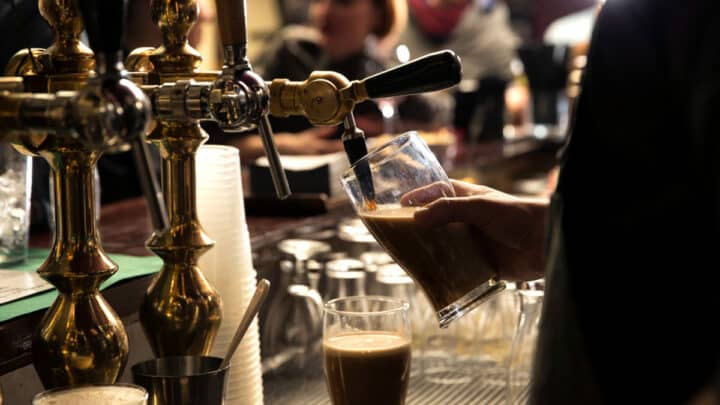 Wondering where to satisfy your cravings for booze in South London? Wonder no more with our handy guide to the best pubs in Battersea.
Words by John Rogers
Nothing speaks more to the British soul than hunting out a boozer where you can enjoy a catch-up with friends, family, and lovers over a decent pint or bottle of wine.
Bursting with history and unique drinking experiences, Battersea is home to some of South London's finest pubs, many of which boast Instagrammable views, cosy terraces, and – perhaps most importantly – delicious pub grub.
On that note, let's dive straight into the best boozers in Battersea.
The Best Pubs in Battersea
The Four Thieves
££
It's hard to know where to start with the features that make The Four Thieves stand out among pubs in Battersea.
If it's not the array of classic arcade machines it's the Virtual Reality games. If that doesn't float your boat then maybe the Moonshine Raceway will.
Or one of their regular comedy nights, or the brain-stretching quiz nights, or the chance to unleash your inner Whitney Houston or Barry White with their unrivalled karaoke. You get the point, we're sure.
Quite simply, The Four Thieves offers one of the most unique drinking experiences anywhere in London, along with a killer choice of food that includes pizza, bottomless brunches and a delicious Sunday roast – as any good London pub should.
The Prince Albert
££
Located within a stone's throw of Battersea Park and a minute's walk from the south bank of the Thames, The Prince Albert is a stylish hostelry that offers an intimate and comforting interior where guests can hunker down in the winter, and a superb beer garden to lounge in during warmer climes.
Upstairs is the pub's restaurant and dining room that offers some of the finest views across the park along with a varied and delicious seasonal menu that has enough choice to satisfy every dietary choice.
Drinkers can gorge themselves on the huge range of wines, locally-sourced and brewed beers, and spirits aplenty in this stunning pub that welcomes folk and their furry friends alike.
Battersea Brewery
££
Battersea Brewery is THE spot for fans of craft beer with the pub providing the finest range of tipples brewed especially on-site alongside a host of guest ales from around the world.
Located within the unique confines of an archway at Battersea's imposing power station, this is a must-visit for fans that enjoy the unique tastes provided by one of London's best independent craft breweries.
For those that find beer a touch on the heavy side, this tap room provides a personally curated range of wines and spirits.
Visitors needing something to line their stomachs will marvel at the unique range of toasties, charcuterie, ploughmans, pork pies and porkier scratchings.
Hawkin's Forge
£££
This stripped-back pub takes you back to the 70s with its retro-styled interior decor, but lands you squarely in the modern day with its unbelievable range of beers, wines, spirits and cocktails.
With dart boards aplenty for those fancying a game of 'arrows', and every conceivable big sporting event screened live, Hawkin's Forge is the prime sporting hotspot in Battersea.
Ordering to your table with their quick and convenient Order & Pay service cuts down the need to queue for twenty minutes at the bar during busy times, while the range of drinks on order brings the best option from around the world.
Whether your tipple is a bright and breezy cocktail, a rich Chilean red, or a heavy Belgian brew, this stunning pub has you covered.
Mondo
££
Another pub for fans of craft ale set within the shadows of Battersea Power Station, Mondo can draw on fifteen years of experience pulling the best in finely-honed pints to wow South London's drinkers.
Open from Wednesday to Sunday, and with a choice of fifteen draft and cask beers to choose from suiting each and every taste, Mondo has one of the most relaxed vibes in the area for those seeking a winter warmer or sunny summertime ale.
Unusually for a craft beer company, Mondo offers an outstanding independent drinking experience without any hint of ego.
The Duke of Cambridge
££
Hedging its bets on the border between Clapham and Battersea, The Duke of Cambridge has been sating the needs of local residents since 1890.
As you'd expect from a pub of this vintage, The Duke provides another superbly authentic pub experience, with some of the best pub grub around.
With seasonal ingredients informing the sumptuous menu, The Duke is the perfect location for anyone exploring the area on foot for the first time and seeking a little refreshment. Or, for those that know South London like the back of their hand and fancy an enjoyable evening out with friends, family or a potential lover.
Nine Elms Tavern
££
Located on the bank of the River Thames, providing some of the finest views of any riverside pub in the city, the Nine Elms Tavern is a brilliant location come rain, shine, wind or snow.
For fans of quirkiness, Nine Elms ticks all the boxes, with their unusually-styled interior decor and colourful terrace that includes some of the most innovative, sustainable seating available anywhere throughout the city.
Their menu boasts a mouth-watering choice of seafood, arguably the best within walking (or fishing!) distance, as well as steaks, burgers and an impressive array of vegan options.
For folk seeking something a little different, we recommend this riverside watering hole, perfect for watching the world pass by.
The Candlemaker
££
Okay, we'll confess, we're huge fans of the traditional wood-panelled largely rustic-brown decorated boozer. The Candlemaker ticks this particular box providing fans of the real-world London watering nest with an authentic, unpretentious pub experience.
Providing drinkers with a range of old favourites and brand-new beers side by side, as well as a compelling wine list and attractively arranged choice of spirits, drinkers can kick back after a hard day at work, or in a vibrant weekend atmosphere, while sating their drinking needs.
With some of the best modern art providing a stunning contrast to the traditional decor, and a lovely range of food to accompany the selection of drinks on offer, this cosy South London pub is one of the most authentic drinking options in the area.
The Northcote
££
Another pub that tickles the border between Clapham and Battersea, this boozer offers fans of sofas and softly cushioned seating somewhere to park their behinds while enjoying some of South London's best drinks and pub grub.
With live sports fans catered for, particularly those that enjoy their rugby, and a compelling mix of mainstream favourites intermingled with the occasional craft and independent brew, The Northcote doesn't disappoint.
We particularly dig their intimate Common Room bar, which provides drinkers and diners with a more intimate, less rowdy setting in which to enjoy your date night drinks – or quiet Sunday afternoon hangover cures.
The Best Pubs in Battersea: Map