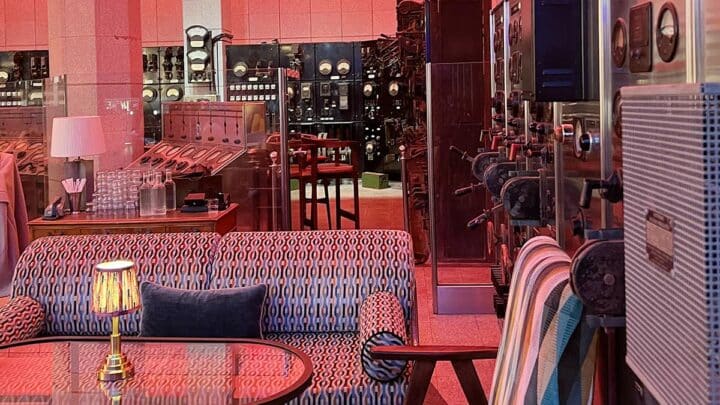 Looking for the best bars in Battersea? These are the top places to enjoy a cocktail or two.
Words by Sam Jean
With its eclectic mix of green and industrial aesthetics courtesy of its park and power station, the beautiful Battersea has bloomed into one of London's most attractive districts in recent years.
And, when it comes to boozing, Battersea has its fair share of brilliant bars. From classy wine haunts to funky spots serving up OTT cocktails, here are some of Battersea's must-visit bars.
The Best Bars in Battersea
Control Room B
££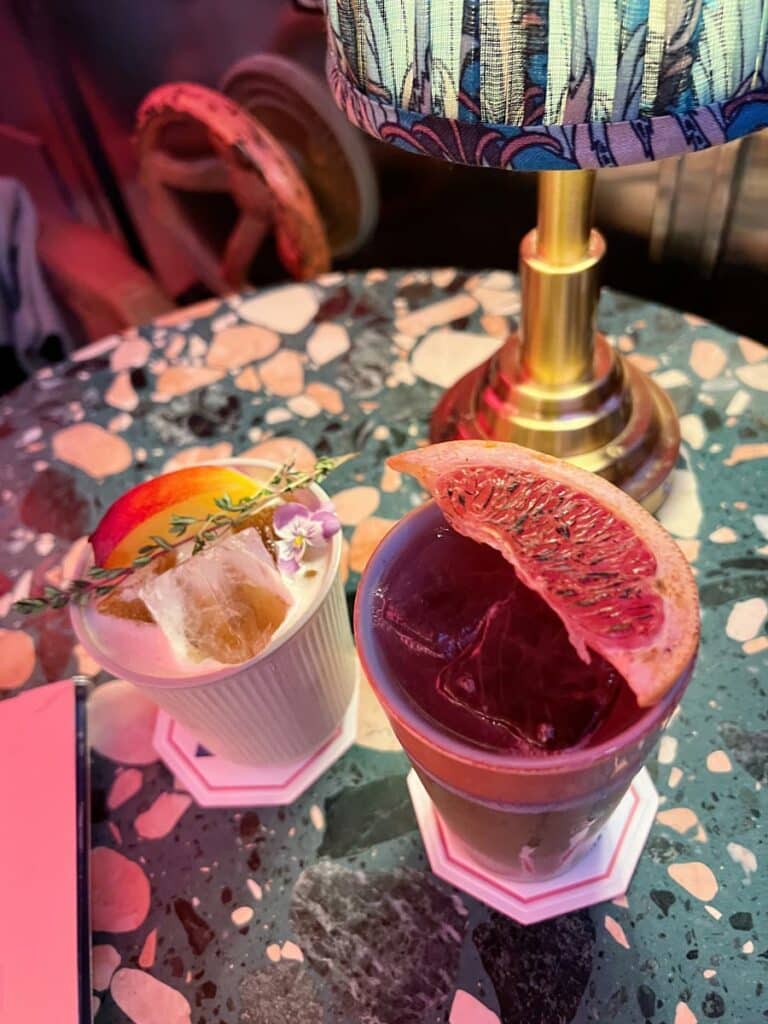 Let's kick things off with an awesome new bar situated inside the Battersea Power Station itself.
Control Room B has its own mezzanine floor overlooking the power station's colossal turbine room. The bar's brutalist decor is unique with its restored control desks, metres, dials and a large centrepiece bar.
The cocktails here are industrially-themed with names like Live Wire, Battery Licker and 66,000 Volts – which all sound pretty electric to us. You'll also find classic cocktails, wine, beer, cider and champagne.
It might have only opened its doors in recent months, but there's no doubt that Control Room B has quickly cemented its status as one of the best Battersea Power Station bars.
Lost Society Battersea
££
Located along Battersea Park Road, Lost Society is a beautiful art deco bar that offers a range of classic and reinvented cocktails and a superb food menu.
Lost Society hosts DJ nights on Friday and Saturday nights and a Brazil-themed night on Sundays, so if you're feeling light on your feet after a Pina Colada or Mojito (or both), there's no excuse not to go for it.
The Disco Brunch is perfect for a boozy afternoon with mates, and if you're with a group, try the large sharing cocktails. All in all, it'd be tough to argue that Lost Society isn't one of the best cocktail bars in Battersea.
Aspen and Mersault
££
Despite serving buckets of the good stuff, Aspen and Mersault is much more than a wine bar.
In the morning, they serve fresh pastries, cannolo and their own Guatemalan coffee roast, and throughout the day, coffee and wine are served alongside a rather exquisite brunch menu.
But, at night, the drinks begin to flow in earnest as the bar transforms into a chilled venue for enjoying a unique selection of natural wines.
Natural wines have snowballed in popularity, but truth be told, they remain somewhat of a mystery to most. Aspen and Mersault are trying to demystify natural wines and bring them to a wider audience – and you'll thank them for it.
The Lighthouse Battersea
£
Yet another superb bar on the bristling Battersea Park Road, The Lighthouse is a fresh and airy pub, bar and restaurant. The Lighthouse is a beacon of good food, people and drinks, and their menus pack so much in that you'll be wondering when you'll return.
Like any self-respecting pub, you'll find shed loads of booze, including a more-than-healthy cocktail menu, beers, ciders, wine and a selection of specialist Bloody Marys for the daring.
Hungry? You won't be with a superb selection of classic pub fare (fish and chips? Tick), sandwiches and sharing boards.
The Address
££
Located on Battersea Rise, The Address is the place to be for breakfast, lunch, dinner and drinks.
On the subject of drinks, the menu is a whopping 14-pages long, spanning virtually every brand of spirits you can think of, stacks of cocktails, beers, ciders, wine, coffee (including boozy coffees), smoothies and unique CBD-infused drinks.
Food is equally well-represented with a fine selection of modern and classic bar food, breakfasts, small plates, large plates and plant-based creations.
Better yet, everything is wrapped up in The Address's fresh, botanical interior.
No 29 Power Station West
££
No 29 Power Station West is an indie bar with a riverside terrace and stunning views across Battersea. The interior is beautifully calm and modern, and the restaurant boasts 3* from the Sustainable Restaurant Association, an accolade that rewards eco-friendly restaurants.
The menu is pretty impressive, with sharing plates, sandwiches, salad bowls and bigger plates for hungry evenings. The wine list is extensive, and there's a huge selection of soft drinks ranging from smoothies and seltzers and CBD-infused coffees and cocktails.
Mondo Brewing Company
££
This Mondo Brewing Company is a working brewery… And real ale fans might recognise the name or brightly-coloured artwork.
The brewery's tap house has a rising reputation as a must-visit for beer fans, and though it isn't in a particularly lively part of Battersea, it's still just a stone's throw from the power station.
The Tap House is named as such due to its 15 taps of independently brewed beer that change periodically as the brewery releases new products. It's very relaxed – simply grab a beer, chill at the table and stay as long as you like.
Hungry? They don't serve food (yet), but they do allow people to order or bring their own. One of the coolest bars near Battersea and a no-brainer for beer fans.
Bar Social Battersea
£
Looking for a late-night cocktail bar? Battersea is home to one of the best-known in south London: Bar Social.
Situated in the vibrant Lavender Hill area near Clapham, this opulent cocktail bar offers reasonably priced, award-winning cocktails.
Yes, we said it. Reasonably priced cocktails – in London. At around £7, the cocktails here are generous and delicious enough to drink all night before you head out for a dance.
The food is excellent, too – and it's definitely worth trying their sharing platters if you're in a group or simply if you have a ravenous appetite to satisfy.
Duke of Battersea
££
Located on the Battersea Bridge Road, the Duke of Battersea is a massive pub with a mighty menu of food and drink to match.
It's a BrewDog pub, so expect BrewDog's coveted lineup of world-famous beers. They also do cocktails with 2-4-1 between 4 pm and 8 pm, and the reasonably priced (£35) bottomless brunch is hugely popular.
Food ranges from burgers and wings to roasts and some awesome vegan options.
Vagabond
££
At the edge of the power station, Vagabond offers more than 100 types of wine by the glass.
There are a few Vagabonds across London with other locations in Paddington, Shoreditch, Victoria and Canary Wharf. While wines are certainly the main attraction, Vagabond offers delicious bar food and sharing plates.
Staff are always up for walking people through the near-endless wine list – don't be shy if you don't know your sauvignon blanc from your merlot and chardonnay. If you're on the hunt for new wine bars, Battersea is certainly well-represented.
Cool Bars in Battersea: Practical Tips
No trip to Battersea is complete without a stroll around the park (especially if you need to walk off some food and drinks!). Head to the Pear Tree Cafe in the park for a coffee among the greenery.
There are three tube stations in Battersea, the new Battersea Power Station Underground Station, Battersea Park and Nine Elms.
The power station itself is open to the public and features many restaurants and shops – far too many to list! In the context of London's many other best bars, Battersea delivers an impressive range of options for eating and drinking.
Battersea Bars: Map