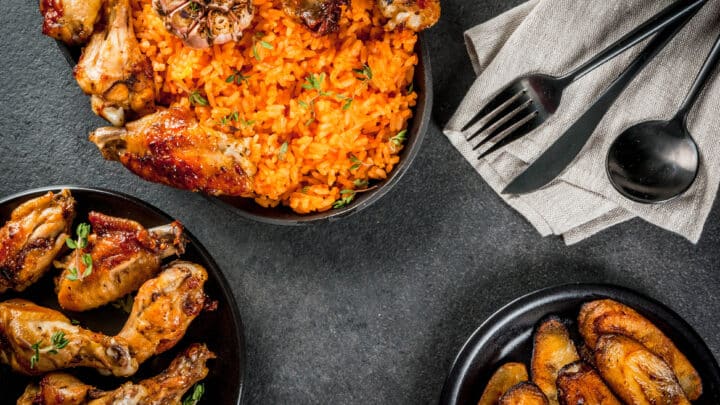 London's African restaurants have scoured the containment from Nigeria and Ethiopia to South Africa and Morocco. Get ready to discover the very best of African cuisine.
Why do we love African food so much? Well, it's so diverse. In a continent so rich with different cultures, it's no wonder that the food is so varied.
London's African restaurants cover the continent pretty well, from homely African stews and Jollof rice to spicy tagines– London has a restaurant for every African food craving.
Ready to explore the many wonders of African cuisine?
The Best African Restaurants in London
Ikoyi
St James'
££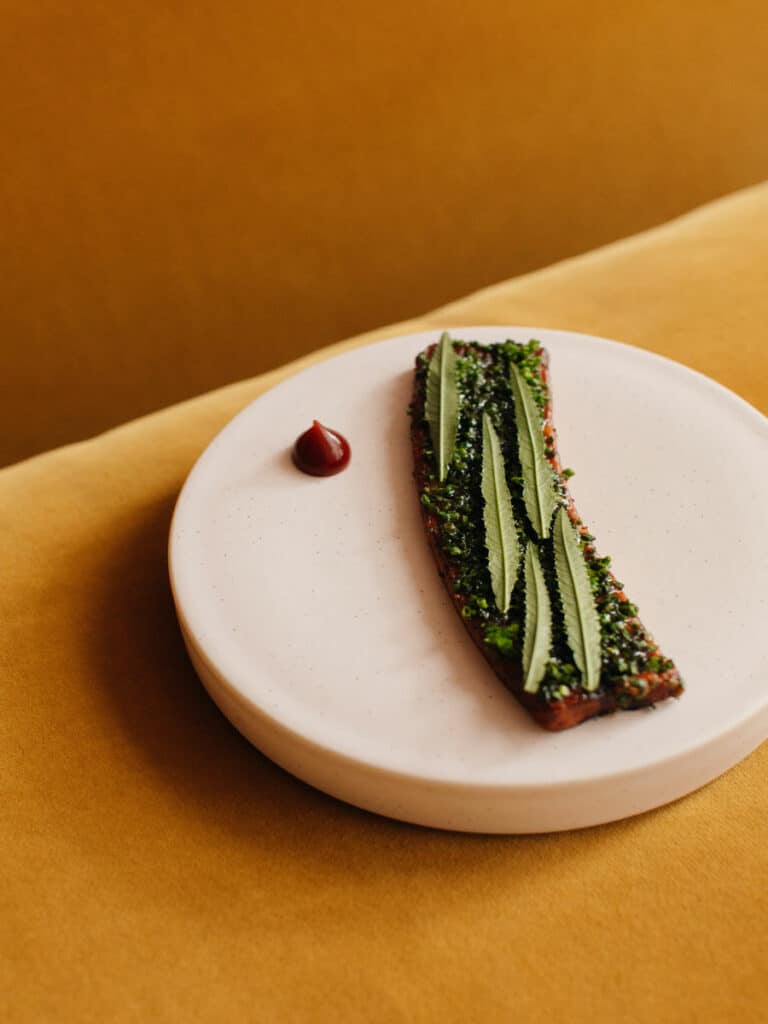 Named after a neighbourhood in the Nigerian capital of Lagos, Ikoyi puts a contemporary spin on West African spices.
With a menu that focuses on sub-Saharan West African spices combined with seasonal British ingredients, Ikoyi has been a popular African restaurant in London since its opening.
The chef's unique mix of spices creates some unforgettable dishes, the likes of Plantain Smoked Kelp and Blackberry and Black Rice Miso Strawberry and Rose were designed to impress.
Ikoyi's tasting menu is equally as impressive as the lunch menu, although a little on the pricier side. But with dishes like Aged Sirloin, Salted Citrus and Lobster, we can't complain too much.
Khamsa
££
Discover the very best Algerian cuisine at Khamsa. This North London African restaurant has traditional Algerian food down to a tee, chefs also add their own personal twists to dishes and cakes.
Expect flavourful, hearty portions of spicy tajines all cooked from scratch aimed to satisfy your spicy tooth and guaranteed to fill you up. Spicy lamb meatballs or spicy chicken and sweet potatoes and spinach are some stand-out picks from Khamsa's menu.
At Khamsa's, feel free to bring your own bottle for just a £2 corkage fee, or try Khasma's healthy juices or the Algerian homemade lemonade– it's delicious.
Wolkite Restaurant
Holloway
££
Looking for some authentic and tasty Ethiopian food in London? Wolkite is located near Emirates Stadium in Holloway and the food here is unreal. The family-run restaurant brings signature Ethiopian cuisine to your plate using the best authentic ingredients.
With an extensive menu of stews, it's hard to pick just one. But Derak Tibs, Qey Wot and Dulet all sound delicious. Stews are served with injera, a large sour flatbread– you're encouraged to use your hands to scoop up stew with your injera.
For the complete Ethiopian experience wash it all down with a Meta Beer or a glass of Ethiopian wine.
The Bash
Tottenham
££
For the best Congolese and African dishes, head to The Bash. The chandelier-hung dining space is elegant and welcoming with banquette tables– perfect for celebration meals.
Staff at The Bash are warm and welcoming and the chefs cook up the most delicious African food. Everything on the menu is worth ordering, but if you had to choose just a few dishes then the salt fish and the meat suya have been touted as popular.
The Bash's stewed beans are a traditional West African staple, full of rich and savoury goodness.
Tagine
££
Located in the heart of Balham, Tagine cooks up London's best Moroccan cuisine.
It might be a crime if you didn't start your meal with hummus, Baba Ghanush and a vegetable mezze with five tasty dips.
It wouldn't be a North African dining experience if you didn't order a hearty, flavourful tagine with traditional chicken, duck breast and sea bass on the menu – you might find it a tough choice.
It's not just the food that sets the Moroccan tone, Tagine's restaurant's Moroccan rugs and red draped curtains compliment the food well. To settle the stomach, sip on Tagine's fresh Moroccan mint tea, or if you prefer your mint cold, mint sahara is a sweet soda topped with lemon.
Kudu
££
Kudu collective consists of a restaurant, a cocktail bar, a gallery and a private dining room – the signature, family-run restaurant in Peckham is a popular neighbourhood restaurant.
Kudu's chef's South African heritage inspires the cuisine at Kudu. Ingredients are sourced from local suppliers and the menu is a celebration of hunters and foragers– sometimes from the owner's own garden.
Kudu's seasonal menu aims to bring people together and share good food with small and medium plates available. Kudu's scorched mackerel cucumber nori and braai lamb saddle with smoked tomato courgette and rosemary are sure to please your taste buds.
Presidential Suya Restaurant & Bar
££
Located on Old Kent Road and just a short walk from Tower Bridge, Presidential Suya is a family-run African restaurant in Central London. You'll find authentic Nigerian cuisine at Presidential Suya and a lively welcoming atmosphere.
It's not surprising that the starter menu consists of lamb, beef, chicken, kidney and chicken gizzard suyas– all served in true Northern traditional style. You're in for a real treat at Presidential Suya, just wait until you've tried the authentic Nigerian delicacy Nkwobi, with cow feet served in a spicy traditional sauce.
Believe it or not, the food here is best washed down with a cold Guinness – or a Nigerian bitter lemon should take the zing out of that spicy tongue.
Akoko
Fitzrovia
££
Akoko is located near Tottenham Court Road, and the moody restaurant's minimalistic design with ambient lighting alone is enough to lure hungry diners inside.
Unmissable heady aromas greet you once inside from Akoko's kitchen that's centred around a trilogy of live fire cooking, umami and spices.
This is the best West African restaurant in London, and its founder draws inspiration from his West African heritage with an amazing culinary team creating authentic family recipes.
Akoko's six or nine-course tasting menu is packed with flavourful dishes like Gambian Stew cooked on coals and Jollof Rice.
Level up your dining experience with a carefully selected wine pairing on offer to complement the African spices at Akoko.
Enish
Multiple Locations
££
With six branches dotted across London, you know that Enish must be satisfying a lot of hungry bellies.
Serving diverse Nigerian dishes for over a decade, Enish certainly gets the nod of approval. Bringing you an authentic taste of Nigerian cuisine with special twists added to some classic dishes. Chefs whip up everything from Jollof rice and garnished fried fish to Gizzard and Plantain fried in a spicy sauce.
Enish is well known for throwing a party too, playing host to some of Nigeria's biggest artists and DJ's– it doesn't get more authentic than that.
Tatale
££
Tatale's namesake is a plantain pancake, a much loved Ghanian dish– and there's plenty of plantain to sample at Tatale.
The restaurant and bar concept channels the experience of West African old Chop Bars– roadside joints where people of all cultures, race and religion come together to share food.
Speaking of coming together over food– you may not want to share the Red Red Black Eyed Bean Stew at Tatale, it's delicious. From the chop small menu, Chichinga Buttermilk Fried Chicken Wings are all kinds of spicy with hot African pepper.
Le Chamarel
Hornsey
££
Located on Turnpike Lane, Le Chamarel cooks up the best authentic Mauritian cuisine. A North London institution cooking up popular Mauritian favourites– Biryanis, Mine Frites King Fish Vindaille and Prawn and Octopus Rougaille to name a few.
With over 40 years of experience, La Chameral certainly knows how to wine and dine Londoners.
The menu draws upon a multicultural influence including Creole, French, Indian and Sino-Mauritian cooked by Mauritian chefs. The national dish of Mauritius is biryani so, of course, Le Chamarel has all the offerings from fish, lamb, beef and vegetable available.
Pitanga
Earl's Court
££
Experience nostalgic Nigerian food at Pitanga. Pitanga was born of a teenage dream, and the restaurant owner draws on her own Anglo-Nigerian roots to create Nigerian food with a twist.
Having spent the last 10 years reimagining the way Nigerian food is cooked, Pitanga has created a menu for everyone, spicy, sweet, savoury, traditional and not, and even gluten-free or vegan.
Nigerian stews are a rich, thick slurry of red bell peppers, onions and tomatoes with a wide choice of meats like the fried organic broiler chicken or fried goat on the bone. Make sure you save room for dessert, the Nigerian donut holes with mixed berries and mascarpone are out of this world.
Azou Restaurant
Hammersmith
££
Azou Restaurant takes our taste buds north, to tantalising Moroccan, Tunisian and Algerian cuisines– yum. Plates are filled with African colour, flavour and texture mixing sweet and spicy with bold and subtle flavours.
Atmospheric lighting and Moroccan drapes hang from the ceiling, Azou makes for an intimate dining experience.
Chow down on Tajine served in traditional earthenware dishes in Azou's red-lit dining room. Slow Braised Lamb Shank with steamed couscous and vegetables really drums home Moroccan flavours, each mouthful is better than the last and you'll be wishing for a bottomless plate.
Wazobia Nigerian Restaurant & Bar
Peckham
££
Wazobia's name was coined using the same word from three different types of Nigerian languages– all of which mean come, as in: Come and eat some flavoursome African food.
Serving traditional African cuisines since 1994, Wazobia Nigerian Restaurant's chef's specials Nsala Catfish and Jollof Tiger Prawns are just some of the dishes you must try at Wazobia.
Come on the weekend, when Wazobia lets its hair down and doubles up as a legendary winebar from 11pm to 3am.
Expect Afro beats, oldies and contemporary music, the atmosphere is electric, drinks are flowing and the food is spicy– Wazobia nights are so legendary that they're known all over Europe.
High Timber Restaurant
£££
Modern dining with a South African touch is what High Timber Restaurant is all about. The restaurant boasts stunning river views of the Tate Modern and The Shard from its terrace.
High Timber is the best South African Restaurant in London and behind its amazing food and wine are three things– London's most experienced restaurateur, an award-winning wine estate and London's most exciting up-and-coming chef.
High Timber's menu is pretty mind-blowing and the myriad of flavours are impressive – Lemon Sole with caper and parsley butter, jersey royals and crab mayo is a must try.
Being a South African restaurant, the wine menu obviously focuses on South African wine. But, not just any wine, some of which is from the restaurant owner's award-winning Jordan Wine Estate– from the first drop you'll taste exactly why it's award-winning.
Chishuru
Brixton
££
Aptly placed in Brixton's Market Row, Chishuru is one of those restaurants that you'll want to tell all of your friends about, and better yet bring them along next time. Chishuru only opened in 2020, although relatively new, you couldn't tell. It's like this contemporary West African restaurant has been going for years.
That's probably because the head chef and owner has been hosting dinner parties for years before sharing her age-old recipes and techniques with Londoners.
Offering only set lunch and dinner menus, you can never get food envy. Chishuru's three-course lunch menu has Ekoki made from fresh corn with lemon drizzled kale and flaky grilled fish as a tasty main dish, as well as other African favourites.
Asafo Ghanian Restaurant
Brixton
££
Asafo may look unassuming from the outside, but the Ghanian flavours that await you on the inside are certainly not.
This relaxed restaurant in Brixton Hill welcomes you with open arms and it's a great place to try new food since the friendly staff take the time to explain dishes and recommend some too.
There are yam and plantain dishes aplenty at Asafo and if you can't choose between them, there's a simple answer for that– have it all. The variety meal with fried yam, fried plantain chofi and wings is sure to satisfy all your African cuisine cravings.
African Restaurants in London: Practical Tips
A lot of the restaurants are incredibly popular, we'd recommend booking ahead in advance– especially at weekends.
African Restaurants in London: Map
African Restaurants London: Read Next