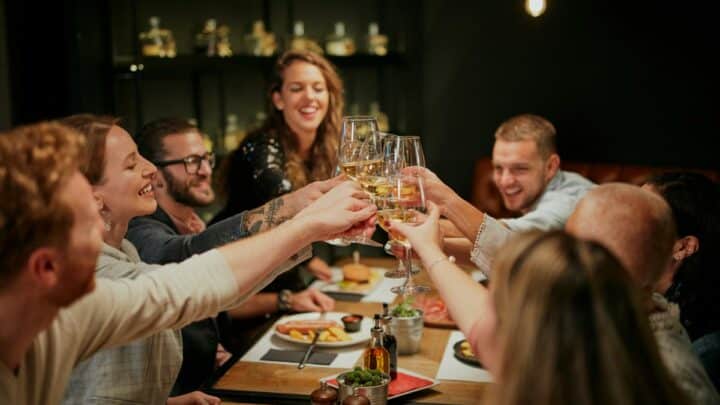 Ready to discover the best restaurants in Fulham? From cosy Italian joints to fancy pub grub, these are the top places to dine in the area.
Fulham – land of oat milk lattes and adorable dogs. Although Fulham does have a reputation of being a little 'rah', it's got some of the best restaurants in London.
Whether you're looking for the best date spot, a cracking Sunday Roast, the best sushi restaurant in London or the gooiest pizza, we've got you covered.
So here we go, get ready for the best places to eat in Fulham.
Best Restaurants in Fulham
Koji
£££
Koji has been around for a while but has only recently got everyone talking. Perhaps it's because they have changed the chef to a Michelin star Japanese chef – it's been said by many that Koji is officially the best Japanese restaurant in London.
First things first, it's not easy to get a table so make sure you book beforehand. If you are dropping in, you could get lucky and manage to get a seat by the bar which is our favourite place to sit anyway.
We recommend going for any of the Sashimi tacos as a little appetiser and treating the menu as a sharing menu. The tempuras are also equally as delicious and the perfect amount of crispiness.
As for the sushi rolls, make sure you try the soft-shell crab and the salmon and avocado. We know it may sound basic, but they are unbelievably good and the fish is unparalleled.
When you're looking through the cocktail list you're probably going to be lost for choice, we feel you, we get the same. The Koji Fizz is one of our favourites but in all seriousness, you can't go wrong.
Vicino
££
A favourite for the Fulham locals, Vicino is one of the best Italian restaurants in London. It's authentic, the staff are loud and you will quite literally feel like you're in Italy.
Vicino doesn't look like anything fancy on the outside as they've kept a nice rustic appeal to it, but the food speaks for itself. It's a perfect place to host a birthday and have a big group. Or, if you want something a little more romantic than you could ask for a cute table in the corner.
In the summer, they open up the windows and you basically feel like you're sitting outside. We recommend going for the zucchini fritti and veal Milanese which comes with a side of spaghetti and is the most perfect addition to your meal.
The team at Vicino also really knows about their wines so whatever you're in the mood for, they'll be able to help you out.
The Harwood Arms
£££
Here we go for the only Michelin Star Pub in London – The Harwood Arms. It's truly one of a kind and the whole experience is something to remember.
Our favourite thing about The Harwood Arms is that you don't feel the stiffness of a normal Michelin Star restaurant, it's managed to keep a really relaxed pub feel whilst still serving the best pub food in London.
We had the beef roast over a year ago and still think about it most days, the bone marrow potatoes and ridiculously tasty vegetables are to die for. The roast comes on a wooden board so you can help yourself, share and take as much as you want.
The handmade scotch egg is also unbelievable and we beg you to not leave without ordering it. A seriously incredible pub with by far, the best Sunday Roast in London.
Don't take our word for it, try it for yourself.
Santa Maria Pizzeria
££
There are a lot of pizza places in London but there's nothing quite like Santa Maria. Santa Maria is famous for its dough, they just know what they're doing and they get it right, again and again.
This is also an excellent option if you're gluten free, we'd go as far as to say that the gluten free and vegan options are as good as the others. And every pizza comes with the option to choose gluten free bread.
It's said by many to be the best gluten free pizza in London and we understand why. If you're not in the mood for pizza however, you can try out their wonderful parmigiana.
Their wines are very affordable and very delicious, the house red is actually one of our favourites in all of London. We can't recommend enough going for the tiramisu, they make it the real way and it's absolutely incredible.
Megan's by the Green
££
There are two 'Megan's' in Fulham – one by Parsons Green and one on King's Road – both are wonderful.
By day it's more of a brunch spot, but the evening turns into a fantastic restaurant with a Turkish twist. Order the mezze board and the buttermilk chicken and you will not be disappointed.
Primavera Restaurant
£££
Primavera restaurant is still one of those little secrets in Fulham, and they like to keep it that way. So don't tell anyone.
Primavera really stands out from the crowd because it offers a true authentic Italian experience. It's filled with abstract prints by local artist Didi MX and is run by a passionate and hardworking young couple.
The entire menu is based on what Ingredients are fresh and seasonal. This really is the perfect date spot because it has romance in its bones. We recommend going for the prawns and delicious mushrooms to start.
Don't even get us started on the wine list. Absolutely everything is delicious.
Fulham Kitchen
££
Another local favourite, Fulham Kitchen serves Serbian comfort food, and wow does it deliver.
Comforting pasta, feel-good salads and amazing drinks all in a relaxed restaurant with some lovely outdoor seating.
We believe this is one of the best Serbian restaurants in London. Without a doubt, try the lamb shank – we also love the stuffed peppers and apparently they are made "the proper Serbian way", according to our Serbian friends.
Head there for some traditional Eastern European cuisine. The staff are also so lovely, you'll want to keep coming back again and again.
Manuka Kitchen
££
Manuka Kitchen was a bit of a go-to during lockdown for Fulham locals, they absolutely loved it and the food is genuinely the sort of quality you'd find in a top restaurant.
The ingredients are fresh and delicious, the intimate setting feels as though you're in someone's living room and the all-day menu makes it easy to pop in at any time.
Some say they serve the best pancakes in Fulham, and we'd have to agree (FYI Fulham has some really great pancakes). The Ragu Bolognese is also delicious and they don't stinge out on the ragu side of the dish which is always a plus.
We recommend booking on the weekend as they tend to get quite busy. If you have a sweet tooth, all their desserts and cakes are just sublime.
Bodean's BBQ Fulham
££
Bodean's is one of the best restaurants near Fulham Broadway and is such a short walk from Chelsea Football Club. It's a great spot to go if you're watching a game as there's always a good vibe. Or, if you hate football, stay clear on match day.
There are plenty of BBQ meat options available from ribs, burgers, hot dogs and burnt ends to name a few. A great place to go if you're in a big group because you can get jugs of beer (if that's what you're into).
Our favourite thing on the menu is the chicken burger and fries. Great value for money and toothsome food, as well as an ideal location if you're coming through Fulham Broadway – you won't miss it.
Hungry Turtle
£
Hungry Turtle is another great pizza restaurant in Fulham. They pride themselves on 'making proper pizza', and we have to say that their Roman pizza is thin and crispy, the edges are charred and their ingredients are some of the best.
You won't get a better pizza for the value of money in Fulham. And a little tip, if you live in London and want to get delivery – you'll receive a 20% discount on your first order.
A great atmosphere too, nothing pretentious, just a fantastic pizza restaurant in Fulham. We recommend trying out the pepperoni pizza, it's by far our favourite – our mouths are watering now.
Cocotte
££
We know it's a chain, but Cocotte is just too good to be true. We may be slightly biased because we love nothing more than a good old rotisserie chicken, but the way this chicken is prepared in its jus and crispy skin is amazing.
We usually order a whole chicken with ratatouille, potatoes and spinach – and if there's anything left over we put it in a chicken sandwich the next day. It's the greatest life hack known to man and will taste even better after it's been left to marinade.
We really love this restaurant and couldn't recommend it anymore. Don't be fooled by the fact it's a chain, it's situated on such a cute part of Parsons Green and it feels neighbourly as soon as you walk in.
Al Santo
££
Al Santo feels more like a celebration than a restaurant – well, to be fair, they are celebrating the freshest ingredients and some of the best Italian and Greek cuisine. From traditional pastas to incredible Mediterranean tastes, get ready to be wowed.
All the pasta is homemade – in particular, the tortellini with Spinach and Ricotta filling with a cream sauce and parma ham, rocket and walnuts, is absolutely mind-blowing. We would go back to just order that.
We also recommend going for the homemade fettuccine with tataki beef steak and a truffle mushroom sauce – holy moly it's good.
If you're after mind blowing pasta in Fulham, Al Santo is your spot. It's also a lovely date location because of the unpretentious atmosphere and lovely waiters. You'll feel as though you've stepped out on holiday.
Practical Tips for Exploring The Best Fulham Restaurants
If you're going to one of these restaurants at the weekend, always book. You could maybe get away with a walk-in at the weekend but it's definitely best to book.
Walk down King's Road and have a little shop around before reaching Fulham.
There are also some lovely walks in Putney along the river, you can either take the Chiswick side or head up to Hammersmith and go for a little pub crawl along the way.
Fulham Restaurants: Map
Fulham Restaurants: Read Next