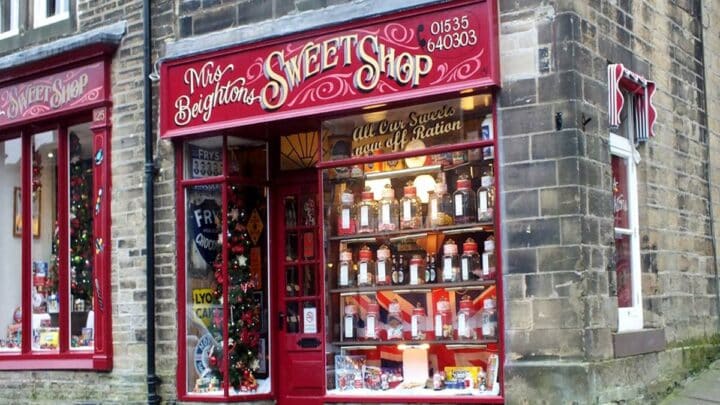 Looking for the best sweet shops in London? From traditional corner shops to wacky candy havens, these are the top spots in the capital.
No matter how old you are, there's something incredibly exciting about wandering into a sweet shop in search of your favourite sweet treats. The smell, the excitement in the air, the childlike wonder – we all love sweet shops (apart from those who don't like sweets, which is weird).
Whether you're gifting your friends something sweet, just need a little pick me up or perhaps you've got a crying child you desperately need to get to a sweet shop – we've got you.
Read on to discover the best sweet shops in London…
Best Sweet Shops in London
SugarSin
The candy capital of London is certainly SugarSin – they boast the biggest pick n' mix selection out there. There's no chance of you missing this shop, you'll spot the turquoise blue and barbie pink facade from a mile away.
Head inside for a Wonka-esque adventure. SugarSin is the perfect sweet shop for kids in London, but also for the entire family. For the adults, there's even grown up sweets like Classic Prosecco gummies.
On top of a great sweet selection, it was also voted the 'World's Most Beautiful Candy Shop' by Architectural Digest magazine, so it's very Instagram-worthy to say the least.
Hardy's Sweet Shop
Charing Cross
If you're looking for a classic British sweet shop, then Hardy's is the best shop for retro sweets. They have a massive selection of sweet treats, all represented in old school glass jars and tins, just like we remember them!
You've got all the traditional options – we're talking the likes of humbugs, sherbert, and fudge, as well as the divisive licorice allsorts. They also have plenty of Harry Potter themed treats, so head here to pick yourself up a chocolate frog.
Ambala
Whitechapel
It's not just British sweets that London does well. Ambala is one of the best Indian sweet shops in London offering heavenly Hallways, Ladoos and refreshing Rasmalai and Baklawa.
They have a very rare collection of mouthwatering tastes and textures that are truly authentic. Better yet, you can create your own gift box of sweets from Ambala which are made fresh to order.
Assal Patisserie London
Kensal Green
Assal Patisserie is the ultimate Persian sweet shop in London. Head here for total indulgence. Asal Patisserie is Connaught Streets go-to for baked goods and sweets – but it's more than just sweet treats.
Assal serves mouthwatering saffron and pistachio ice cream, luxury teas, pure organic honey, and plenty more melt-in-your-mouth goodness. This truly is a little gem in the most gorgeous village and a much-loved place for locals.
Hoxton Street Monster Supplies
Established in 1818, Hoxton Street Monster Supplies prides itself on being the world's only purveyor of quality sweets for monsters of every kind.
This niche place is not for the squeamish; they offer realistically gruesome treats. Got a strong stomach? Go ahead and indulge in a yummy chocolate brain, some petrified sweet mice or some zombie fresh mints.
The perfect Halloween sweet shop in London, but if we're honest, it's great all year round.
Mr Humbug
We'll say it: Mr Humbug is the best traditional British sweet shop in London. From floor to ceiling, it's covered in sweets. All stocked in beautiful containers on shelves up on the wall, you weigh the amount you want and they are placed into paper bags, as they should.
This shop just reminds you of being a kid again. It's not a big shop, and that's why we love it so much. It's intimate and traditional and all the sweets are absolutely delicious.
In our view, this is the best independent sweet shop in London and amazingly old fashioned.
Kingdom of Sweets
Multiple Locations
Head to Oxford Street and you'll struggle to find anything other than Kingdom of Sweets. No, we're not kidding. But we're not complaining, this is one of the biggest sweet shops in London.
The variety of sweets really is the best part of this sweet shop, they stock everything from U.S favourites to Asian sweets (our favourite is the chocolate filled koalas). Keep an eye out because they have great discounts on particular sweets.
Selfridges Confectionery Hall
Selfridges have given their confectionery department a total overhaul, making it one of the best sweets heavens in London. We're talking over 15000 types of sweets and chocolate, including the largest vegan chocolate counter in the UK.
There's even a Flavour Funfair which lets you push a button to win any type of treat. A 'push for sweets' button is the button we never knew we needed, but can't live without.
The range of sweets spans from classic flavours to more exciting sweet combos, they have a bit of everything and it's so worth the visit for the best luxury sweets in London.
Hans & Gretel UK
If you want to eat your body weight in sweets, then head down to Hans & Gretel UK in Camden for the most adventurous sweets in London. They even offer Ice cream covered in sweets – the ultimate dream.
Adorned with lollipops, magical trees, and a flying witch, stepping into the shop is like a total fairytale – just one of the reasons that this is the best sweet shop in London.
On the menu there's everything from fluffy cinnamon dusted cakes, candy floss encased ice cream cones and melt in your mouth fruit jellies, lollipops, indulgent waffles and candy houses filled with pick n mix.
Practical Tips for Hunting Out London's Sweet Shops
Take your time, ask if you can try the sweets first (usually you can) and do not turn up hungry otherwise you'll end up eating everything in sight.
Sweet shops can get expensive fast, so maybe weigh and get the prices as you go along instead of waiting until the end with a shocker.
London Sweet Shops: Map
London Sweet Shops: Read Next