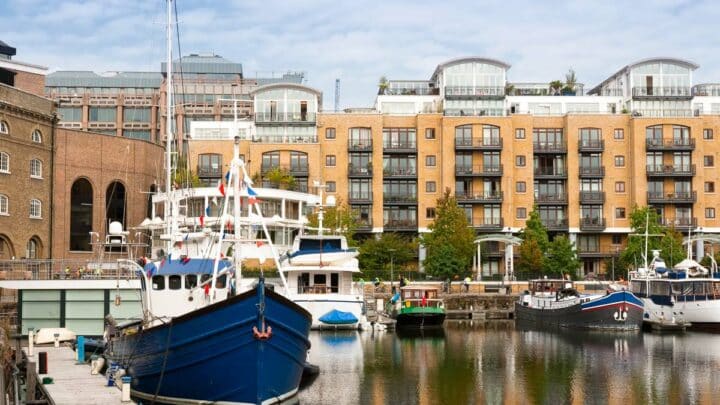 Whether you're a culture vulture, a history buff, or you simply want to chill out in a cosy pub (guilty), then Wapping is a must-see. Discover the best things to do in Wapping with this insider's guide.
Words by Karen Olney
Nestled between Canary Wharf and Tower Bridge, Wapping is a hidden gem with a gruesome maritime history.
Once the final destination for pirates and smugglers, Wapping was home to London's most feared execution dock for over 400 years.
Thankfully, now it is a thriving town, paved with charming cobbled streets, Dickensian buildings, and a hub of chic bars and restaurants to explore. All against the backdrop of the River Thames.
Interested? We have a wapping list of experiences for you (sorry, not sorry).
Here's our pick.
Things to do in Wapping
Head to Tobacco Dock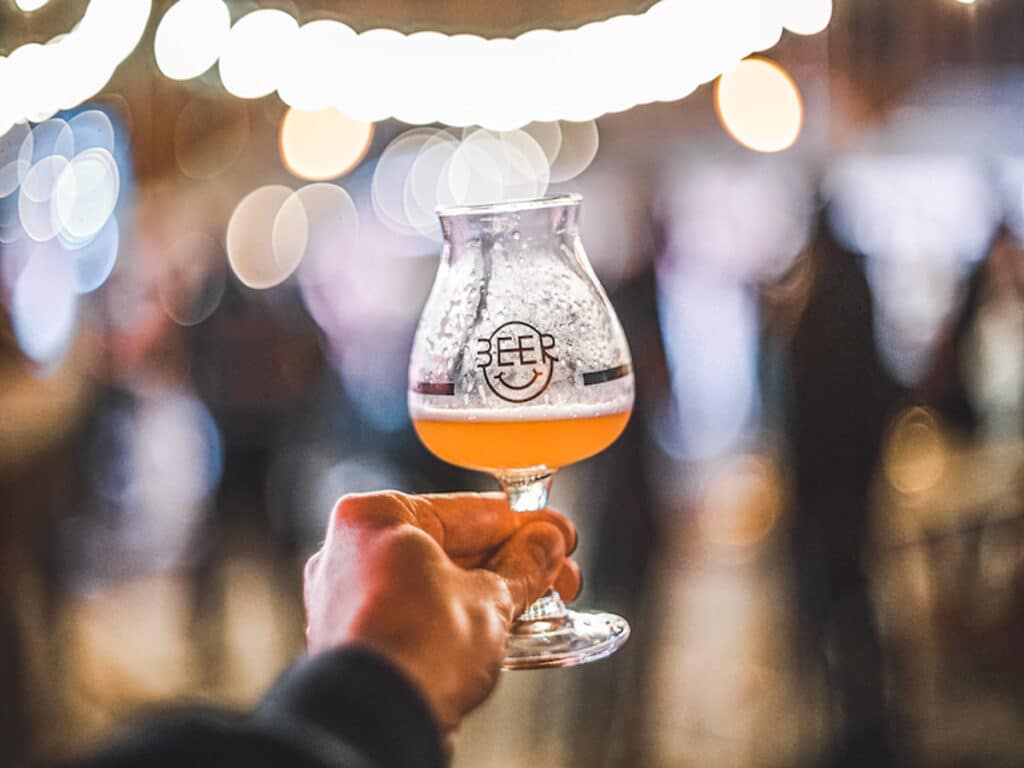 Looking for a food festival? Or a tattoo convention, perhaps?
Chances are you'll find it at Tobacco Dock.
The Grade 1 listed Tobacco Dock is a bustling events space and home to one of the most versatile venues in London. It's not hard to spot, either.
The place is vast – accommodating up to 10,000 people. Plus, the two enormous replica pirate ships outside will help you find it.
Originally built in 1812, Tobacco Dock was once a warehouse used to store cargo from the New World, including – you guessed it – tobacco. As container ships became larger, the port could not keep up, and its doors closed in 1968.
Keep an eye out on their events page to see what's on.
Find it: Tobacco Dock, Tobacco Quay, Wapping Lane, London, E1W 2SF
Go Boat-Spotting at St. Katharine Docks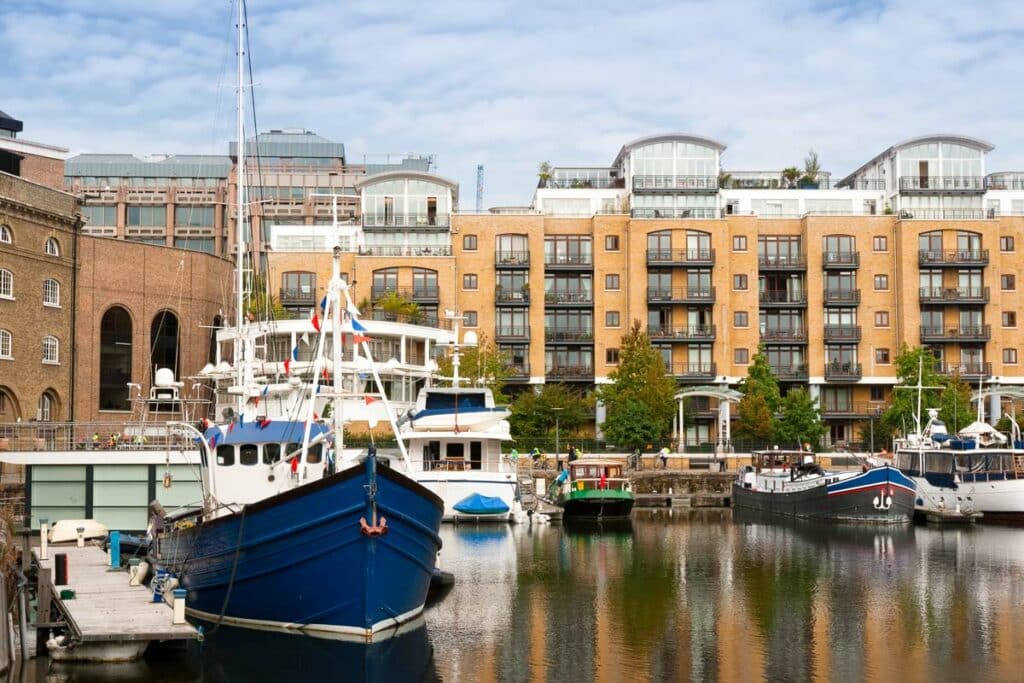 It's hard not to go green with envy at the spectacular boats moored on the marina at St. Katharine Docks.
We might not own one, but we can dream, right?
Lined with shops, offices and quayside dining, St Katharine Docks is a perfect place to spend an afternoon. Despite the array of leisure activities, there is almost always a chilled-out vibe.
Here, pedestrians and boats rule, and the hustle and bustle of the inner city feels a million miles away.
You will find the usual chain restaurants, but there are some fantastic small cafes too. Got a craving for a smoothie? White Mulberries has got you covered; the Recharge smoothie is our absolute favourite.
The Dickens Inn is worth a stop too. In prime position, this spacious pub looks fab all year round and offers spectacular views of the Thames.
St. Katharine Docks has a thriving social calendar. From floating film festivals to luxury boat shows, there is always something to see or do.
Catch a Show at Wilton's Music Hall
As devoted theatre luvvies, Wilton's Music Hall has captured our hearts.
Tucked away down Graces Alley, the building looks like it's been taken straight from a history book and is one of the few historic music halls that survive to this day. It's worth getting a ticket just to view the inside alone.
Built in 1859, it is full of character. Even Sherlock Holmes: A Game of Shadows was filmed here. Just walking inside feels like stepping back in time and it's enough to make an Instagrammer's heart sing.
The music hall is home to an array of productions, from operas to dance shows.
For just £10, bag yourself an hour's tour of the hall and dive into its fascinating history here. Even better, combine it with a beer at the charming Mahogany Bar inside.
Find it: 1 Graces Alley (pedestrian access only), London, E1 8JB
Kayak at Shadwell Basin
Feeling energetic?
Venture down to Shadwell Basin for a selection of outdoor activities, including sailing, canoeing and kayaking – beginners are encouraged to join in. You can even try the high ropes, and there's mountain biking for younger thrill seekers.
Sports not your forte? That's ok. You can amble along this small basin and watch others do it all for you.
The basin has some fantastic views. Framed by red brick architecture and the Canary Wharf skyline, it's a great place to while away an hour or two.
Find it: 3-4 Shadwell Pierhead, Glamis Road, E1W 3TD
Stroll Along Tower Bridge
Wander along the Thames to the Tower Bridge.
If heights aren't a problem, this a fabulous spot to get panoramic views of London. The 42-metre-high walkways are high but not dauntingly so.
Fair word of warning: if you are a bit nervous about heights, you'll probably want to keep away from the glass floors. Glance down, and you get a birds-eye view of the bustling bridge and river, like no other.
Tickets are reasonable at £11.40 for an adult, £5.70 for a child and under 5s go free.
Explore Hermitage Riverside Memorial
This memorial garden is a secluded find alongside the riverbank. Built to commemorate the East End residents killed in WWII, it rests on the former site of Hermitage Wharf.
Hermitage Wharf was destroyed by a fire bomb raid in 1940, and developers of the surrounding apartments agreed to create this quiet space in honour of those killed.
It offers a quiet spot with some fantastic scenery. Take a seat on the benches facing the river and marvel at the shoreline, Tower Bridge and The Shard.
Find it: Wapping High Street, St Katharine's Way, London, E1W 1UJ
Spend a Macabre Morning at Execution Dock
Way before Reality TV was a thing, locals would gather to watch criminals meet their grisly end at the Execution Dock.
Situated on the foreshore of the Thames, the execution dock was considered the ideal location to hang pirates, smugglers and mutineers and warn off any other potential threats.
Hauled from Marshalsea Prison or Newgate Prison, the criminals were marched to the gruesome site to be strangled. The bodies would then hang in cages until three tides had come in to submerge their heads, before being removed.
The exact location is under debate. Some believe it was once where Wapping Station now stands, while others state it was at the bottom of the Wapping stairs (alongside the Town of Ramsgate Pub).
Either way, it is a useful fact to tell your mates.
Wind Along the River Thames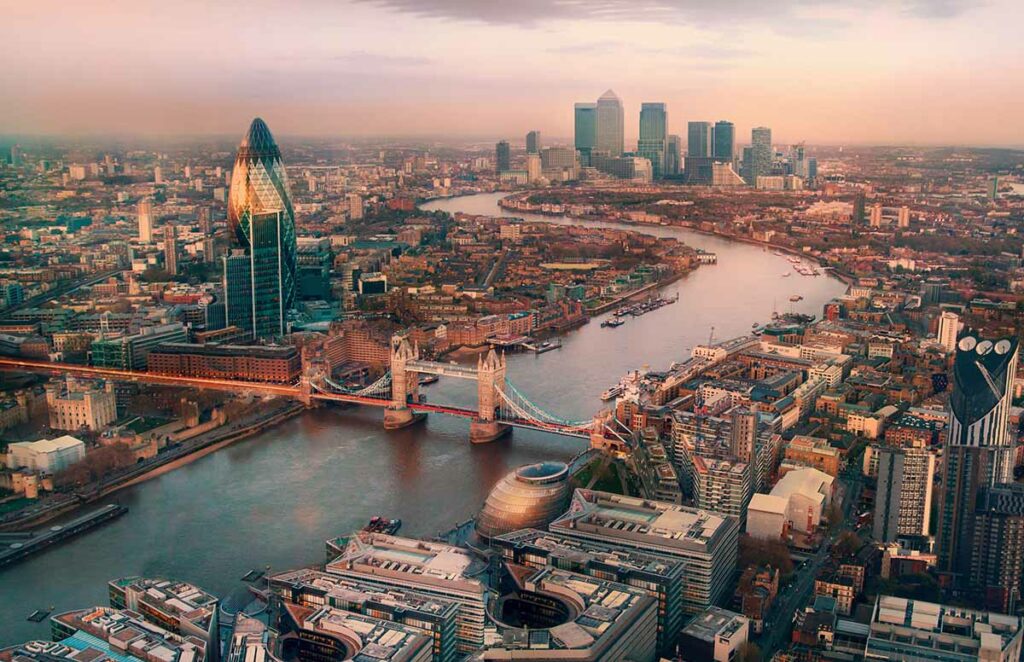 Ok, we are stating the obvious here, but wandering along the Thames is a fabulous and free way to spend your time in Wapping.
You may even discover a fortune.
Artefacts and historical finds have been known to wash up along the banks of the Thames, and you will often see people digging away – or mudlarking as the locals call it.
A small warning if you want to join them- it can be a sludgy mess down there, so be prepared with suitable footwear. And obviously, we have to state that any high-value items must be reported.
Shop at Wapping Dockland Market
Visiting Wapping's Saturday market is a real treat. The market, launched in 2021, is filled with independent stalls and is a charming place to buy some one-off items, indulge in street food and discover craft beers.
The sustainable market has a thriving atmosphere, and there is a wide variety of food available from Vietnamese through to Middle Eastern.
It's worth going just to listen to the live artists and bands that play every week.
Trades: Saturdays, 10 am to 4 pm
Find it: Brussels Wharf, Glamis Rd, London, E1W 3TD
Things to do in Wapping: Eating and Drinking
Booze Your Way Between Wapping's Historic Pubs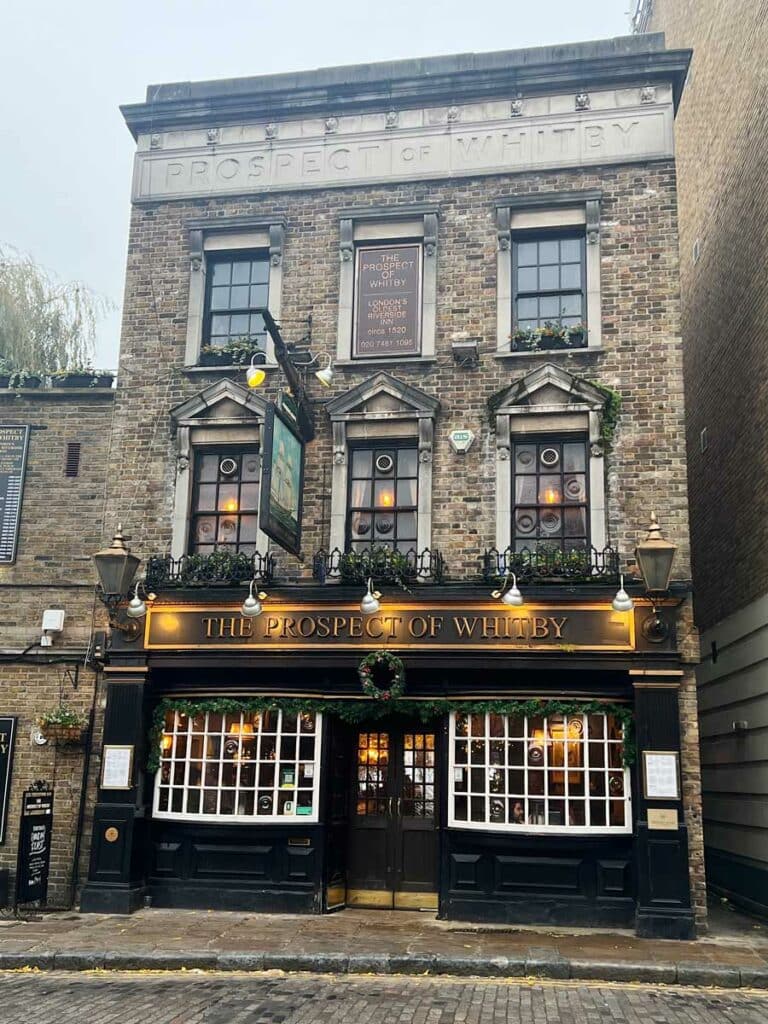 Partake in a pint or three and take a tour of the historic pubs in the area.
Don't be swayed by the sinister noose hanging over the back of the Prospect of Whitby; it all plays into the area's wicked history.
Claiming to be the oldest riverside tavern (oddly, so does The Town of Ramsgate… awks), it is a pub full of character with original 500-year-old flagstone flooring.
Fun fact: The Prospect of Whitby even features in an Only Fools and Horses scene.
Next on our list is the Town of Ramsgate. A dog-friendly tavern with traditional home-cooked food, it's a pub worth stopping at.
Adjacent to the pub you'll find the Wapping Old Stairs leading down to the river. These stairs date back to the 17th century and were once used to reach the boats on the Thames. They are also another popular contender for the location of the execution dock.
The third pub on our stretch is Captain Kidd, named after the Scottish pirate William Kidd, who was executed at the nearby execution dock.
Spacious pubs are a rare find in London, and, with three floors, Captain Kidd has plenty. The pub boasts incredible river views, and the prices are reasonable too.
Marvel the Views at the Skylight Bar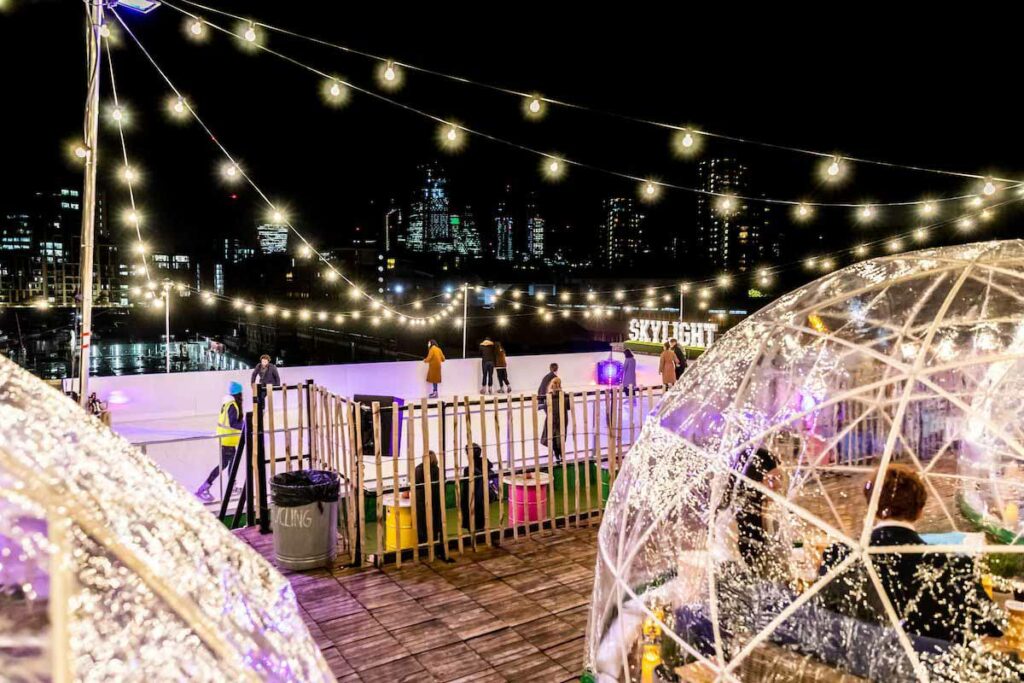 You have to give it to London, if you want to combine a spot of rooftop croquet with some cocktails (because… who doesn't?), there'll be somewhere you can do it. And that place is the Skylight Bar, Tobacco Dock.
The rooftop bar boasts incredible views and has a croquet lawn, and an indoor playground with ping pong tables and shuffleboards available.
Plus, during the winter it is transformed into Europe's only rooftop ice rink. For £15 per person for 45 minutes on ice, it's an experience like no other.
Not feeling active? Then fortunately for you, the street food menu has something for everyone and is reasonably priced. Tuck into a selection of burgers, hotdogs and finger food, and treat yourself to a seasonal cocktail on the menu.
Sample Seafood and Steak at Smiths
Famous for its modern British cuisine, Smiths takes us back a few decades when tablecloths were pristine white, and service was on-point.
Not that we are calling it old-fashioned, Smiths is just luxurious without feeling snobbish.
With fantastic London views, it is the perfect spot to linger, without feeling rushed. However, it's probably more for an occasion rather than a pit stop. A surf and turf will set you back £52, and king scallops £38. The food is divine, so it's well worth it if you have the excuse.
Find it: 22 Wapping High Street, London E1
What to Do in Wapping: Practical tips
The Thames Path Walk is a fantastic way of stretching your legs whilst catching the sights. Wapping to the Tower of London is walkable in roughly 20 minutes.
If you have bored kids in tow, download the St Katharine Docks Treasure Trail. You can solve clues and explore landmarks along the way.
Things to do in Wapping, London: Map
Discover More Things to do in London