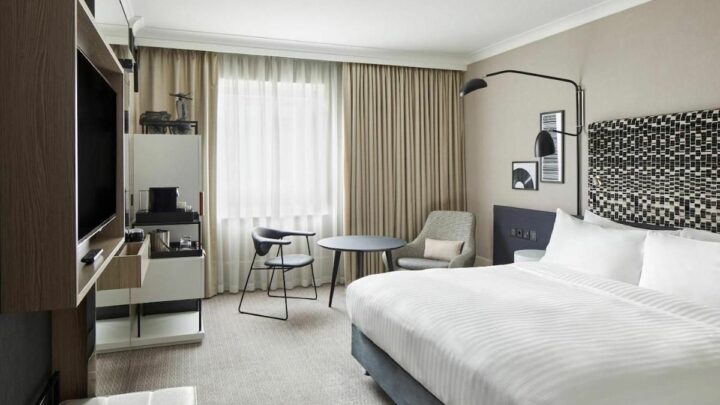 Planning a trip to North London? There are hundreds of wonderful hotels in the northern part of the capital – we've compiled this handy guide to our favourites.
From the sprawling areas around King's Cross to the ultra-cool Islington, North London is bursting with gorgeous parks, brilliant pubs, and fabulous things to do – but you'll need a place to bed down nearby to really get the most out of your trip.
That's where we come in – ready to discover North London's top hotels?
Best Stays In North London: At A Glance
Best Hotels In North London
Where To Stay In North London: Frequently Asked Questions
What Is The Best Area To Stay In North London?
If you can afford to splurge, the best place to stay in North London is St Pancras Renaissance Hotel. In general, King's Cross is a great area to stay, though it can be on the pricier side.

However, if you are going to North London on a budget, then the best hotel to stay at would be York & Albany! The rooms here are refined and unique, and sure to make your stay in London an enjoyable one.
What Can You Do In North London?
North London is filled with brilliant things to do – you can venture out to Hampstead Heath, Primrose Hill, and Regent's Park to reconnect with nature. Or, take a little trip to The Wellcome Collection or The British Library if you want to brush up on your cultural knowledge.
What Is North London Known For?
Whilst the eastern and western fringes of the capital are busy and bustling, North London is known to be more relaxed. Its pace of life is calm – this is why many politicians, magnates, academics, and actors choose to live there.
Is North London Expensive?
Generally, North London can be more expensive than its Southern counterpart – this is because it incorporates a lot more of central London. However, it's still possible to stay there on a budget – many of these hotels we've mentioned are wallet-friendly.
How Do You Get Around North London?
It is extremely easy to get around in North London – the hotels we've featured are within close proximity to public transport links.
Practical Tips For To Consider Before Booking Your Accommodation in North London
Make sure you stick to your budget. On top of the hotel costs, you'll also need to consider public transport to London, from London, and throughout your stay, as well as spending money for the many eateries, shops, and tourist attractions.
Check for cancellation fees. If these last few years have taught us anything, it's that cancellations can be a nightmare – make sure you check the hotel's policy before you book.
Figure out what you want your hotel to include – there's no point spending extra money on a hotel with a bougie spa if you're planning on simply bedding down there.
North London Accommodation Guide: Map