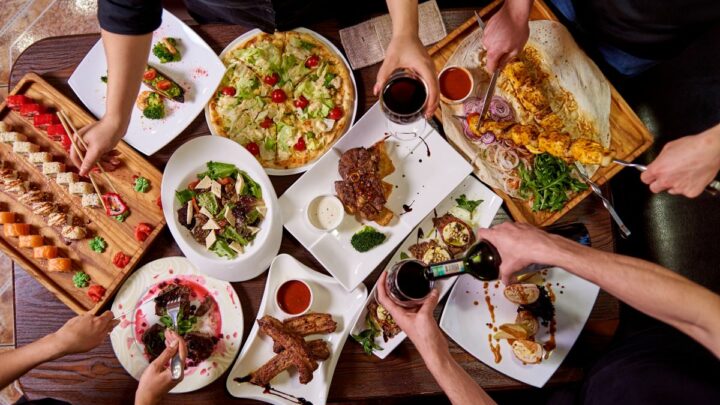 Looking for the best places to eat in Kensington? Look no further.
Posh but inviting, Kensington is a neighbourhood full of Victorian buildings and embassies… and brilliant restaurants.
Generally, when it comes to good grub, the chic boutiques and eateries inhabit the High Street with other smaller venues and foodie spots on Church Street.
Whether you're in the mood for Ethiopian home comforts or classic Italian dishes, these are the top restaurants in Kensington…
Best Restaurants in Kensington
Pappa Roma Restaurant, Pizza and Bar
££
After leaving the South Kensington Underground station, it's only a couple of steps before you encounter Pappa Roma restaurant, one of the best Italian restaurants in Kensington.
The restaurant's vibe is rustic comfort, complete with exposed ceiling beams. The kitchen serves traditional, wood-fired pizzas and pasta dishes.
Light of India
£££
Set inside the Montana Hotel, Light of India serves traditional dishes in an elegant setting with a white-tablecloth draped dining room.
This Indian restaurant in South Kensington showcases some of the chef's specialities, including Parsi Chicken Zardaloo and Pistachio Chicken Korma.
It's the dedicated vegan menu with mouth-watering Chana Masala or the Dal lentils that sets Light of India apart as one of the best vegan restaurants in Kensington.
Daquise
££
Daquise, specialising in Polish fare, initially opened in 1947 and then in 2020 won a TripAdvisor Traveler's Choice Award. The interior is comfortable with clean lines, white tiled walls, and large windows.
For an authentic taste, this Polish restaurant in South Kensington offers the marinated herring with apples as a starter. You can also try the veal schnitzel as an entree – washed down with Polish beer, of course.
Margaux
£££
Margaux serves upscale European cooking, focusing on French cuisine using fresh and locally sourced produce, while the bar serves Old World wines in a casual and homey space with exposed brick walls.
Make the most of this French restaurant in Kensington by trying the salmon tartare or the roasted duck breast with orange-glazed fennel.
Noorjahan
££
In 1963, Noorjahan opened as a family-run business, and the restaurant has since hosted notable names like Angelina Jolie, Hugh Grant, Brad Pitt, and Prince William.
Even with a celebrity pedigree, Noorjahan is clad in simple decorations with a warm atmosphere evident in their food.
Try the vegetable samosa and the chef's special butter chicken. Other popular menu items include aloo papri chaat and tandoori king prawn karahi.
Flamingo
£
Opened in 2008, Flamingo is a traditional Ethiopian restaurant in Kensington. The menu includes wot, a thick stew, served atop injera, a flat sourdough bread that you rip and dip.
The chef's specials include Zilbo, a dish with collard greens mixed with marinated lamb, and the Bozena Shiro with roasted chickpeas.
Sadaf Restaurant (Garden)
££
Sadaf Restaurant is a stellar Persian restaurant in Kensington with traditional cuisine. They serve clay oven-baked bread for large groups of hungry and passionate eaters in a bright and intimate restaurant.
There is plenty of space indoors, although the restaurant offers limited outdoor seating.
Try the lamb and chicken kebabs, the Spicy Koobideh, or the Lamb shank with plenty of freshly-baked naans.
Tapas Brindisa South Kensington
££
Just next door to the Albert Hall and the Royal Museum, you'll find a fantastic Spanish restaurant in South Kensington. Tapas Brindisa is a convenient and delicious spot to fuel up before sightseeing or unwind with friends after a day of exploring.
The menu offers classic Spanish tapas and charcuterie, and the restaurant provides a fun vibe in a lively, glass-fronted restaurant with an open kitchen.
Small plates mean you can try many different things like the patatas bravas, el Manchego villarejo, el Pollo picante, or the Gambas al ajillo.
Min Jiang
£££
On the 10th floor of a high-end hotel, Min Jiang offers lofty views of Kensington Gardens and dishes that make it one of the best restaurants in Kensington.
They make many of their dishes with ancient recipes, refined over generations. Try the Egg White Fried Rice with Blue Swimmer Crab or the Sautéed King Prawns with Wasabi Sauce.
The Halal Guys
££
You may be in Kensington, but the Halal Guys, a restaurant with roots in New York City, has been serving up American halal fare like chicken, gyros, and falafel platters since 1990.
As one of the best halal restaurants in Kensington, the locale offers a falafel platter with housemade white and hot sauce. You also can't go wrong with the beef gyro sandwich in a warm pita.
KENSU Kitchen | Sushi Bar
££
KENSU Kitchen and Sushi Bar is one of the most popular High Street Kensington restaurants, thanks to fresh ingredients and skilful craftsmanship.
Start your meal with the spicy miso soup or the spicy edamame, then try the Salmon Sushi Taco or the Special Yellowtail Sashimi.
The changing chef's tasting menu is also a great option if you are interested in sushi but unsure where to start.
Ranoush Juice
££
If you're looking for a Lebanese restaurant in Kensington, visit Ranoush Juice. It's a snug fast food joint with a hip vibe filled with high tables.
The kitchen serves classic mezze, char-grilled kebabs, and pastries.
Vegetarians will enjoy the roasted red pepper hummus and the Moussaka, while those who like beef will enjoy the garlicky Basturma.
Mazi
£££
As a Greek restaurant in Kensington, Mazi serves authentic cuisine in a rustic-chic space with classic recipes reinterpreted by adding a modern twist.
Try the Crispy Calamari with citrus mayo or the Black Truffle Chicken – but make sure to make reservations online or by phone because this is a popular spot. After dining, pick up their cookbook to try the recipes at home.
Other Places to Eat in Kensington
Al Dente
£
If you're in the neighbourhood looking for a cheap meal Al Dente should be on your radar. You can get a decent-sized bowl of pasta here for around a tenner. They make the pasta fresh on site and import a lot of their stuff from Italy. The food isn't going to blow you away but won't disappoint either.
There are many centrally located pubs and eateries that are only a short distance from Kensington High Street. Here are a few more top Kensington places to eat.
The Elephant and Castle pub focuses on real ale and high-quality pub food like game pudding pie with venison or loaded nachos.
Adora Pizza Pizzaria serves traditional Neapolitan pizza from high-quality Italian ingredients in a hip setting with upgraded and modern twists.
Practical Tips and Map for Exploring the Best Kensington Restaurants
Follow Kensington High Street to find a plethora of restaurants and cafes – the other hub of eateries is located in South Kensington by the underground station.
Don't discount pubs if you're looking for places to eat in Kensington – check out their menus to see what their specials include. It's not all pub grub.