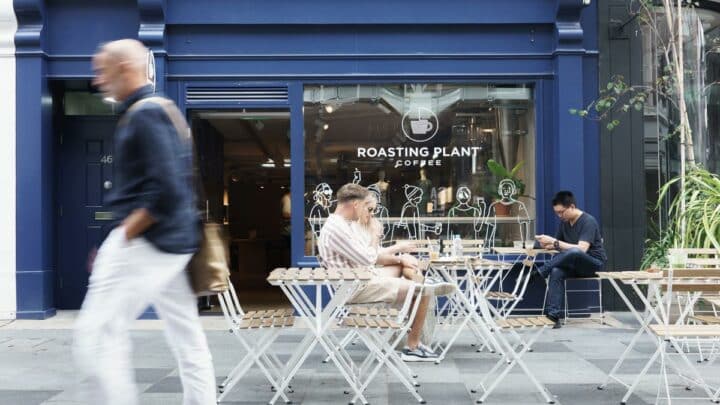 The hunt for London's best, just-roasted cup of coffee is over. Here's why you need to get yourself down to one of Roasting Plant's coffee shops RN.
We're sure you'll agree that London's coffee scene is pretty great. In fact, that's probably underselling it – it's epic.
However, for those of you who are coffee-obsessed, you might still be searching for the perfect cup. And we're here to tell you that we've found it.
Cue Roasting Plant Coffee. The New York born coffee company with a huge passion for roasting in store. In fact, they're the only multi-venue retailer in the world to do so in every venue.
From NYC to LDN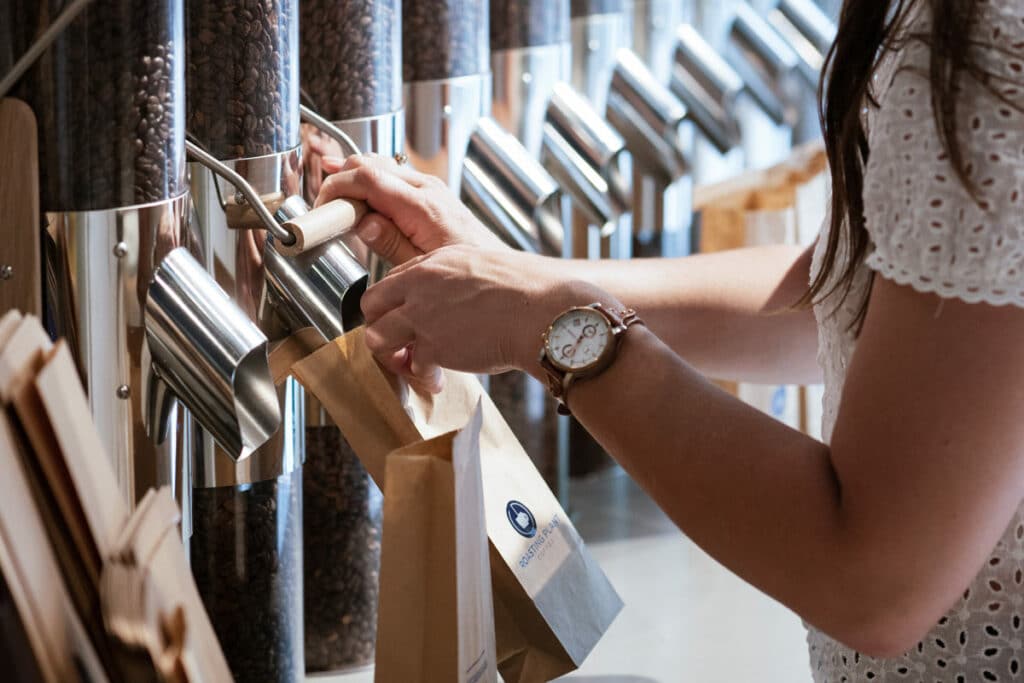 In 2019, Roasting Plant Coffee hopped across the pond from their original home in New York in the hopes of bringing our capital the freshest cup of just-roasted coffee.
It proved such a success that they were able to expand in no time – since launching in the UK in 2019, Roasting Plant currently has five stores in central London: High Holborn, The Strand, Selfridges, Borough High Street, and South Molton Street.
So whether you're shopping on Oxford Street or wandering through Borough Market, you're never too far from a steaming cup of the good stuff.
Better yet, Roasting Plant is the only multi-venue coffee shop in the world to micro-batch roast coffee in every store. Quite the bold claim, we know. But it's what makes their coffee so good.
Redefining Fresh Coffee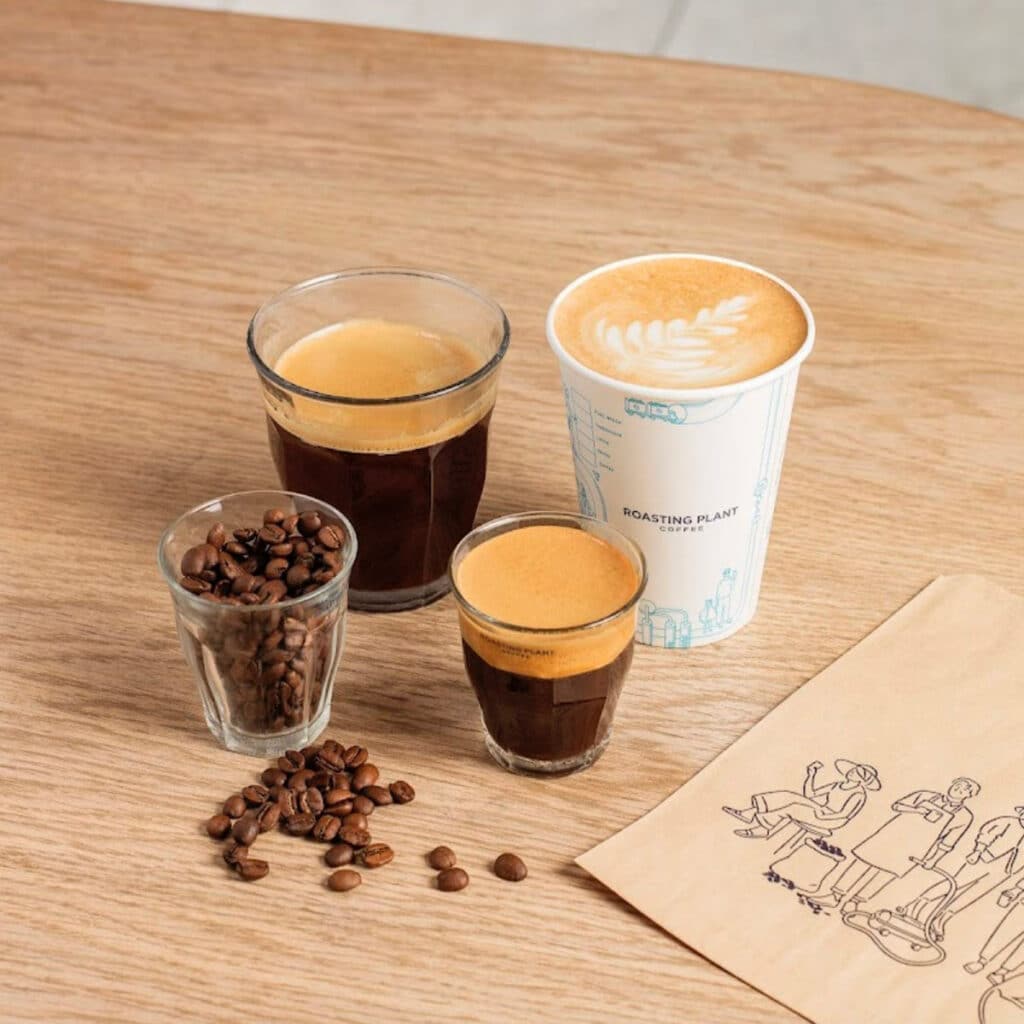 The folks over at Roasting Plant Coffee are seriously dedicated to bringing customers an excellent just-roasted cup of coffee.
And, in order to do this, they've taken things into their own hands by scrapping bulk roasting factories in favour of only using beans that they have personally roasted on site, using their unique Apple-meets-Willy-Wonka zero-emission electric JavabotTM technology.
If you want the technical deets, roasted coffee is highly volatile (which means it's really easy to get that horrible, bitter taste). Roasting Plant tackles this by roasting all day, every day, in order to produce coffee that has a fuller, fresher, smoother flavour.
But what could possibly be as important as the roasting? The bean, that's what.
And that's exactly why Roasting Plant Coffee offers a choice between a house blend and up to 8 distinct single origin beans, sourced from the likes of Sumatra, Indonesia to Ethiopia's Yirgacheffe.
In other words, good beans make good coffee, and Roasting Plant are ridiculously fussy, to ensure customers get their hands on the best, sustainably sourced coffee out there.
Personalised Coffee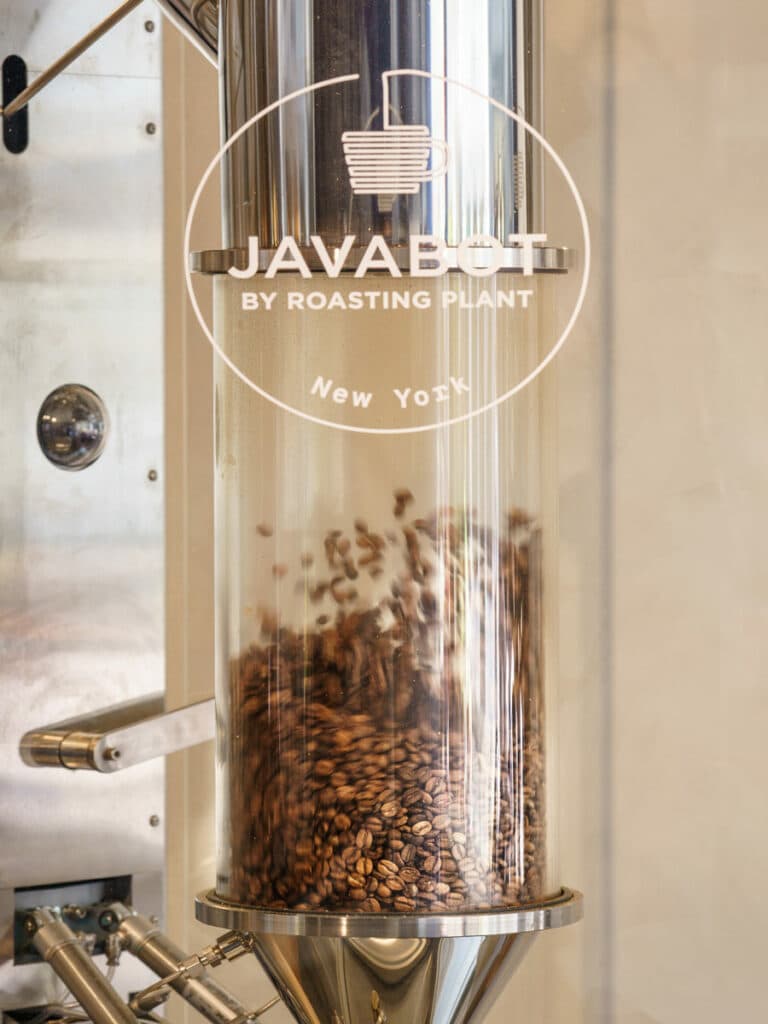 Fancy a cup of robot coffee? Okay, so calling it robot coffee might be a little bit of a stretch, but Roasting Plant Coffee's Willy Wonka-esque JavabotTM system is on hand to automatically micro-batch roast coffee beans to their roast master's exact specifications, roasting in every store.
In fact, customers can blend up to four different single origin beans in one cup – available in 60 seconds thanks to the handy robot tech. This means that Roasting Plant Coffee is able to produce a wide range of high-quality blends for your sipping pleasure.
We don't know about you, but we think that's pretty cool. We see why their tagline is Just-roasted. Just brewed. Just for you.
We bet you're wondering how the coffee tastes. Our verdict: Incredible.
Don't believe us? Check out this fun video of Londoners taste testing the coffee for themselves:
Roasting Plant Coffee Locations
Interested in trying out Roasting Plant Coffee for yourself? Find the coffee shop locations below…
Borough High Street: SE1 9QQ
The Strand: WC2R 1DP
High Holborn: WC1V 6LJ
South Molton Street: W1K 5RX
Selfridges Food Hall: W1A 1AB
Ready for the best cup of coffee you've ever had? Follow @roastingplantuk on IG and visit their website to find out more.
For a free coffee, use the following link to download the RWRD app: https://bit.ly/3Q4khTN