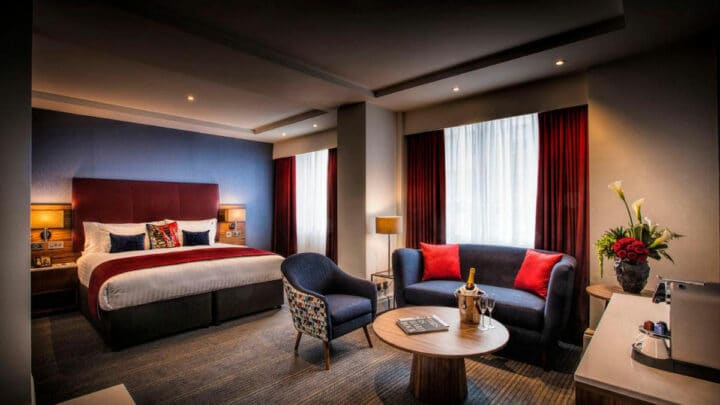 Looking for the best place to stay near Marble Arch? We've rounded up the best places to help you plan your trip.
The magnificent Marble Arch is historic – some might say it's the capital's answer to Arc De Triomphe – and a fabulous area to stay in London.
The landmark sits in the middle of Central London's greatest attractions with leafy Hyde Park and London's shopping heaven (more like hell, we think), Oxford Street, on its doorstep.
It's also just around the corner from Marylebone and Mayfair, both of which have some fancy hotels to stay in. With that being said, this guide includes hotels to suit every budget.
Ready? Let's discover the best Marble Arch Hotels.
Best Hotels near Marble Arch: At a Glance
Best Hotels near Marble Arch
Parkwood at Marble Arch
£££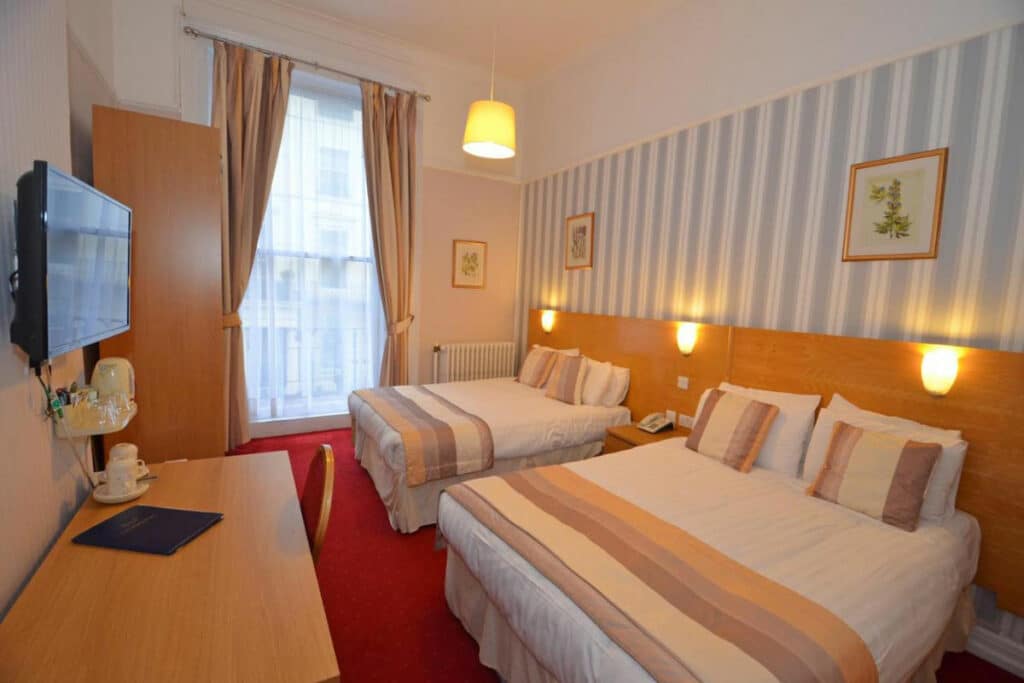 Just 100 yards from Marble Arch is this beautiful Regency house that echoes 18th Century London's architecture.
Parkwood at Marble Arch is a small boutique hotel with lots of character on a quiet street, all of the charm of Marble Arch but none of the noise. Rooms at Parkwood feature jazzy wallpaper, warm hues, ornate furniture and a full English is included in your stay.
Guests can relax on the communal terrace and in the hotel's inviting lounge. This hotel is just across the road from Hyde Park and is the perfect place to start your Oxford Street shopping spree.
Marble Arch Inn
££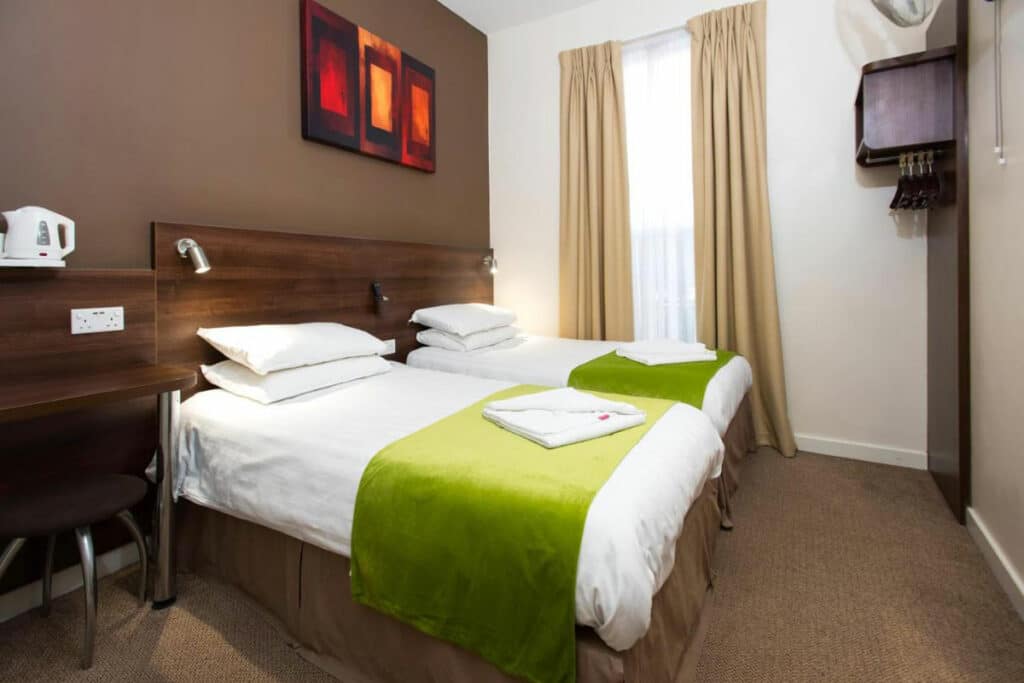 Boutique townhouse, Marble Arch Inn, is just a stroll away from the iconic Oxford Street – the modern hotel near Marble Arch has location and comfort in check.
Although this is a budget-friendly hotel, there's no compromise on style and comfort at Marble Arch Inn, rooms are bright and airy with blackout curtains for that all-important snooze time.
Marble Arch Inn has a selection of room types to suit your party size and budget, and are all newly refurbished. Tea and coffee-making facilities are available in all rooms at this hotel and breakfast is available upon request for a small fee.
The best part about Marble Arch Inn is its location – it's one of the best hotels near Marble Arch and Oxford Street.
Hard Rock Hotel London
£££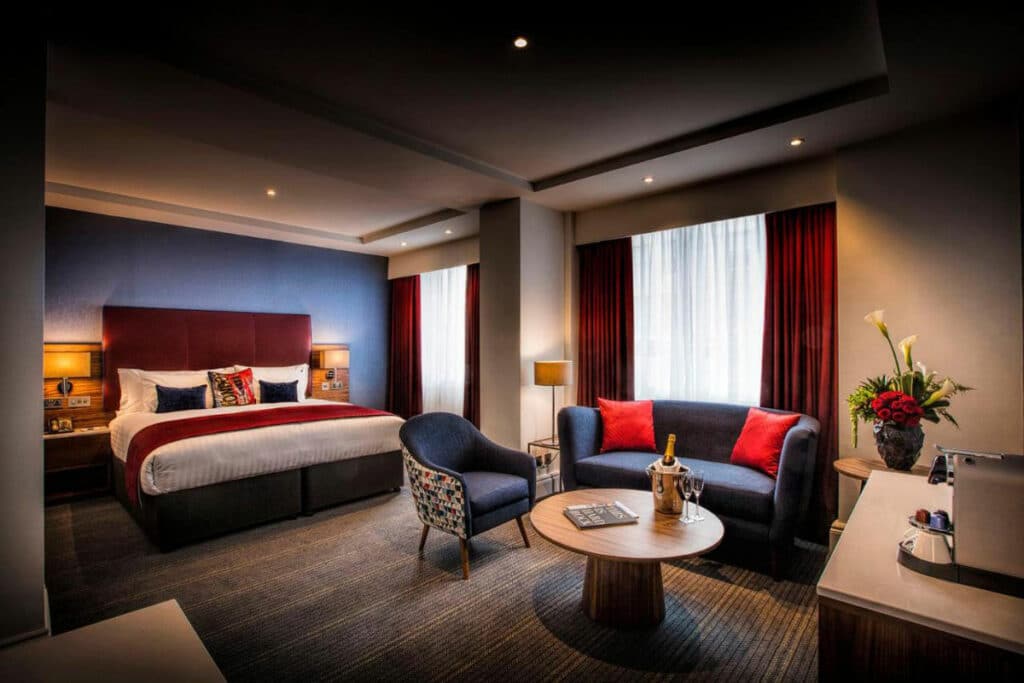 A stay at Hard Rock Hotel is legendary, partly because it's where Motown residents and Rock n Roll royalty have stayed, but also because the atmosphere is electric.
Rooms and suites are stylish, rock icons fill the walls and your day starts with a custom soundtrack courtesy of Sound of Your Stay. Speaking of music– every evening at Hard Rock live music from rising pop artists echoes from the bar.
Dogs are pampered with memory foam beds throughout their stay at Hard Rock Hotel, so don't forget to bring your four-legged friend. Fuel your day exploring the right way with Hard Rock's bottomless brunch, serving two decadent courses and unlimited beer or prosecco– we can't say no to that.
The Montcalm Marble Arch
£££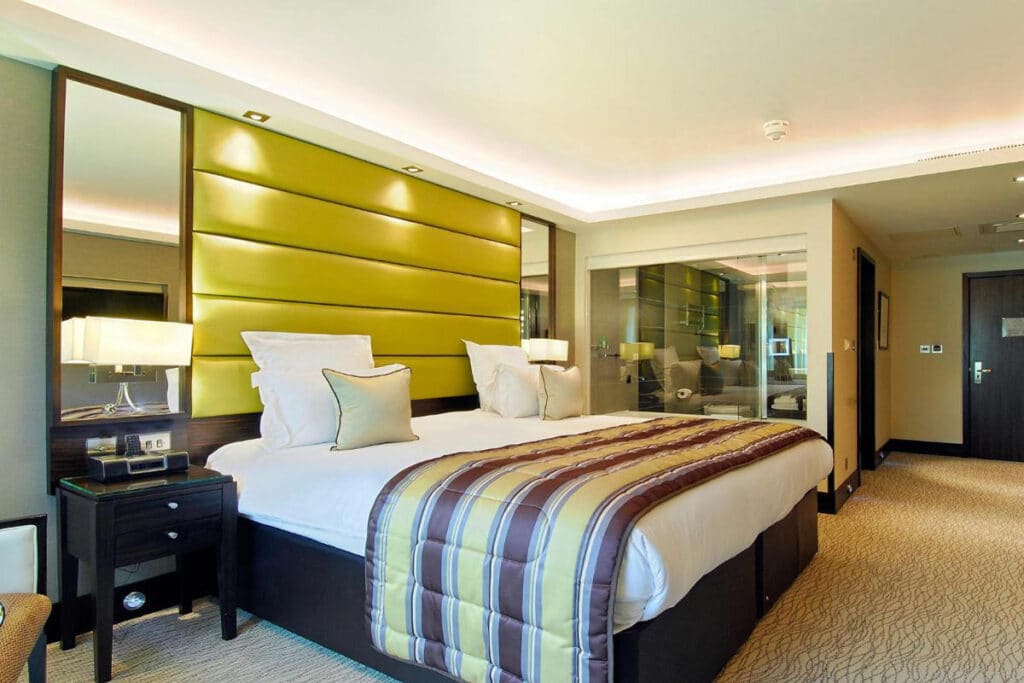 The Montcalm Marble Arch is grand from the outside… and what's inside is even more luxurious.
Rooms and suites at Montcalm are designed with comfort and style in mind. Marble bathrooms with rain showers are standard, as are Queen-sized beds for the best night's sleep. Everything is about feeling calm at Montcalm– choose your room aroma from the exotic fragrance menu in your room.
There's never a hungry moment at Montcalm, feast from two exceptional restaurants, a glamorous bar, afternoon tea or tuck into 24-hour room service. If you can take a break from the food, the wellness centre has indulgent spa treatments, a refreshing monsoon shower and a steam room for hotel guests.
Notting Hill Gate Hotel
££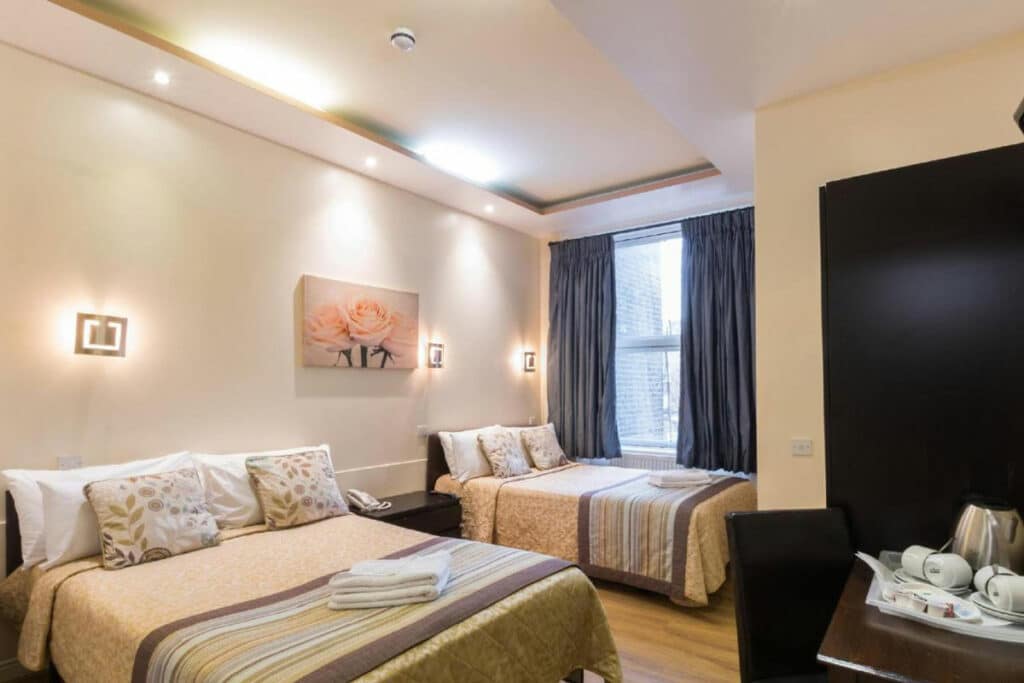 Looking for cheap hotels near Marble Arch? Situated on a quiet residential street is Notting Hill Gate Hotel, a Victorian-era townhouse. Just a 3-minute walk from Kensington Gardens, this hotel near Marble Arch is the perfect base for exploring the surrounding areas.
At Notting Hill Gate there's always a complimentary continental breakfast stacked with croissants, pastries and, of course, lots of coffee to gear you up for your day.
Across the road from your hotel is Hyde Park, take a stroll and visit Kensington Palace and see how royalty lives.
Opulence Boutique Hotel & Spa
££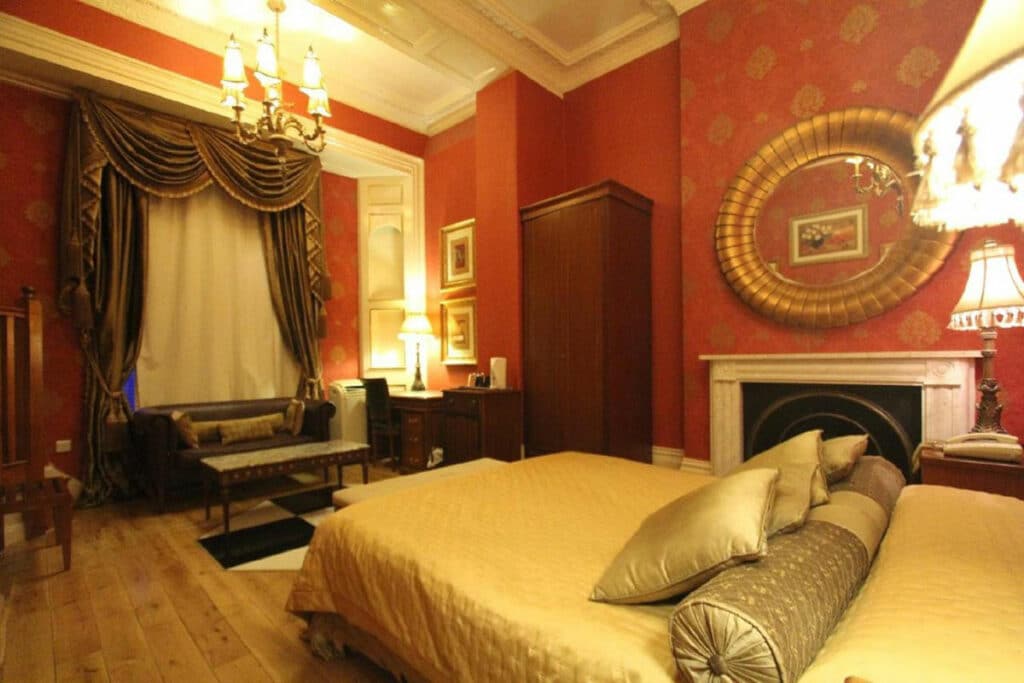 Just a 10-minute walk from Marble Arch and Hyde Park is the luxurious Opulence Boutique Hotel & Spa.
Set in a Grade-II listed townhouse, rooms have quaint period features, chandeliers and marvellous four-poster beds for you to rest in style. Suites include plush leather sofas and balconies overlooking the busy streets of London.
Oh, and the modern bathrooms are fully stacked with luxurious toiletries– we know how you like to pocket those.
Opulence's hotel spa offers a wide array of treatments for an indulgent and relaxing experience so make sure you book one for some well-deserved you time.
Ascot Hyde Park Hotel
£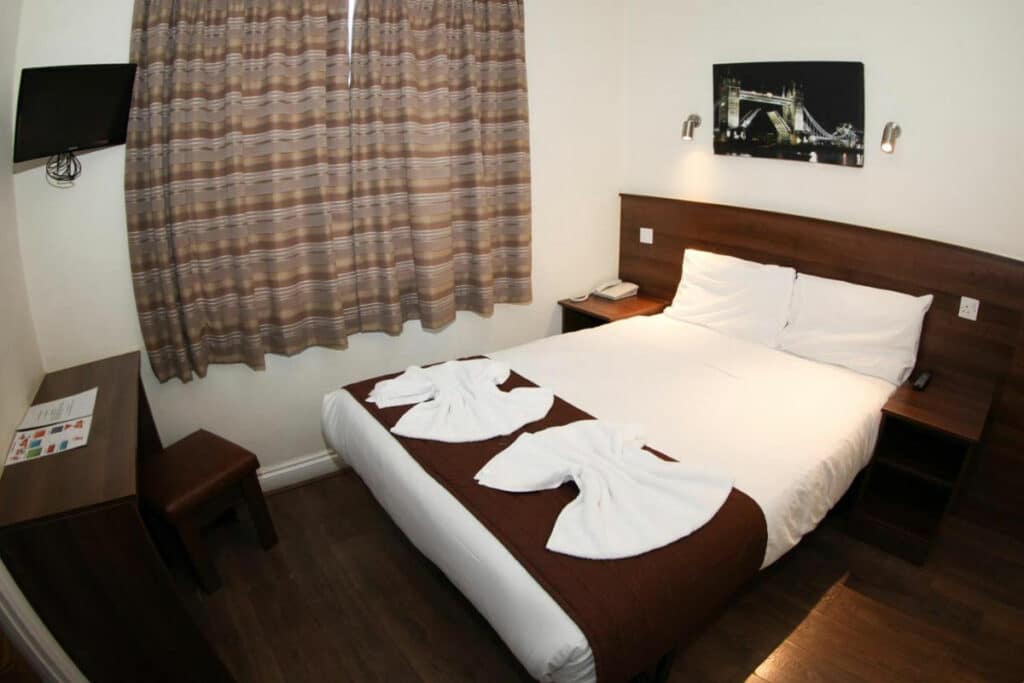 Sitting atop some of Paddington's best restaurants, inside a 5-story Victorian building, is Ascot Hyde Park Hotel.
Just moments away from Paddington Station, Regents Park and Oxford Street, the Ascot Park Hotel is perfect for leisure and business.
If you've got a tight budget, then this cheap hotel near Marble Arch is just right. Rooms don't skimp on amenities though, you'll have everything you need to enjoy your stay without the hefty price tag.
Early check-in and late check-out can be arranged for some extra sleep time, the hotel also has a ticket service if you're up for booking tours or attractions from the comfort of your hotel.
The Marylebone Hotel
£££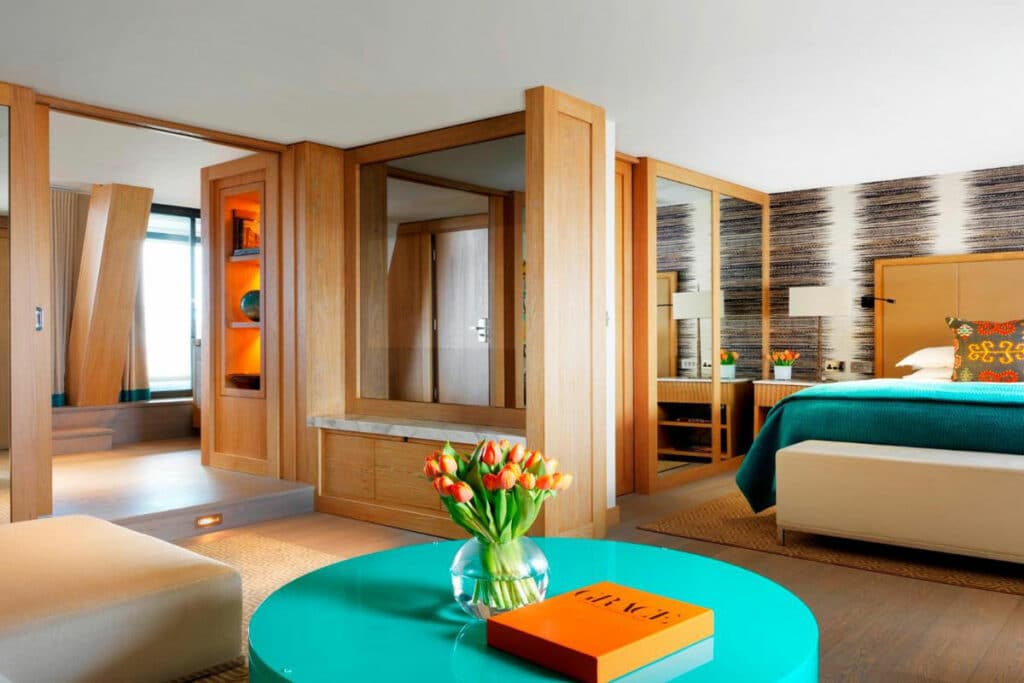 Everything at The Marylebone Hotel screams elegance and luxury. From its restaurants and bars to the rooms and suites, you won't need anything else during your stay.
Rooms are stylish with understated finishes and Italian marble bathrooms with dreamy underfloor heating and walk-in showers. Suites step it up a notch, book a terrace suite and enjoy the London skyline from your Scandi-cabin-like terrace.
Eat breakfast, lunch and dinner at 108 Brasserie and sip cocktails at the elegant Marylebone bar.
Wellness is at the forefront at this 5 star hotel near Marble Arch, take a dip in the moody-lit swimming pool or work out at the exclusive gym. If you get round to leaving the hotel, it's close by to Madame Tussauds and London Zoo, and of course, Marble Arch.
Thistle Marble Arch
£££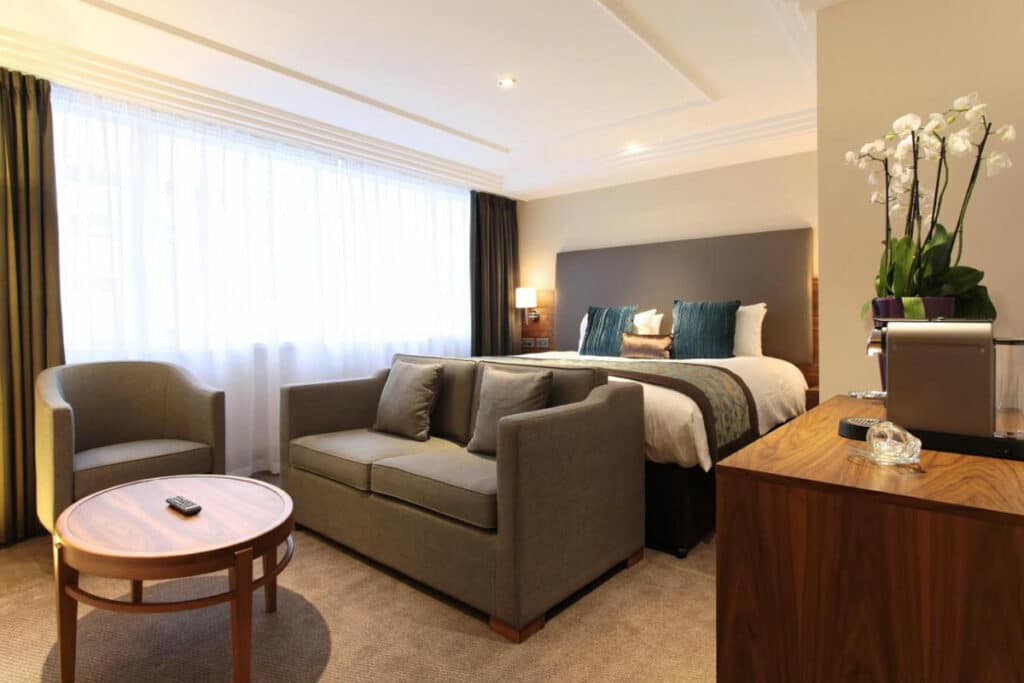 Expect comfort and impeccable service during your stay at Thistle Marble Arch. Spacious, smart and modern rooms with Hypnos beds teamed with blackout curtains guarantee you the best night's sleep.
A Nespresso Machine and a fully stocked mini-bar are on hand to help you enjoy your stay at Thistle Marble Arch.
Not sure where to dine? No problem, tuck into an outstanding menu at The Grill or grab a light bite from The Deli. The in-house cocktail bar sounds tempting too, with a list of specialty cocktails and carefully curated wine list – you can't go wrong.
Nobu Hotel London Portman Square
£££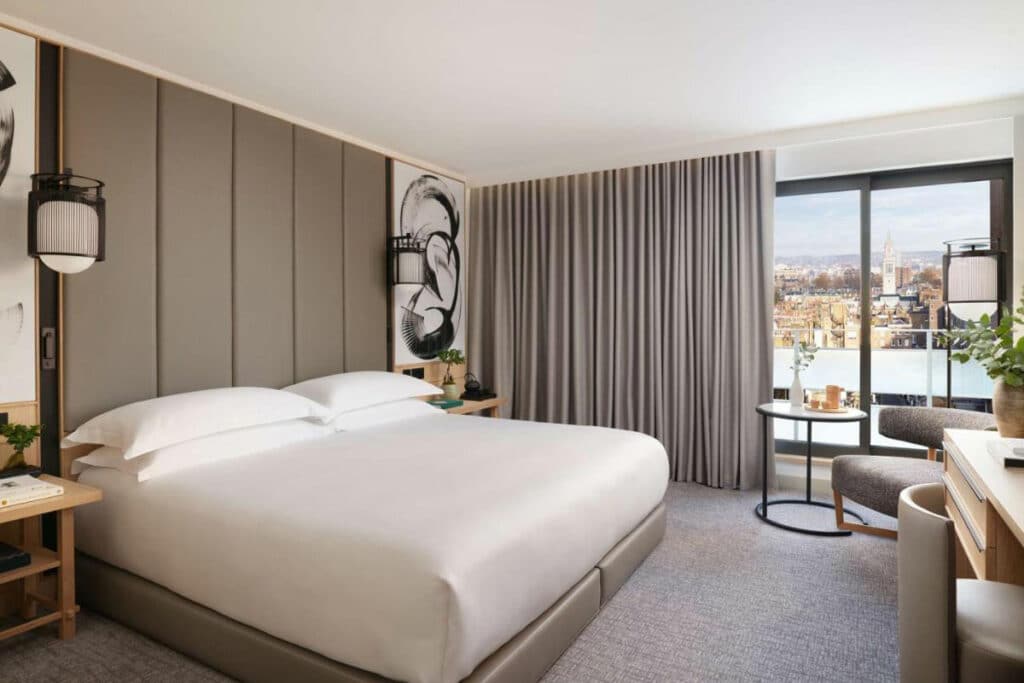 Nobu Hotel London Portman Square is sleek, chic and modern from the inside out. Nestled amongst indie boutiques and smart restaurants, Nobu fits in just perfectly. Combining the beauty and elegance of the neighbourhood with clever design touches and inviting Nobu Emperor beds– we think you're going to like it here.
Nespresso Machines, minibars, twice-daily housekeeping and walk-in showers are standard here.
Nobu's wellness centre has three beautiful treatment rooms with your choice of an array of luxury bespoke treatments. As well as this, Nobu's gym has everything you need for a full workout including pilates reformer machines.
Feeling hungry after your workout? Head to one of Nobu's restaurants serving traditional Japanese fare, the outdoor terrace design is Japanese-inspired with a focus on tranquillity.
Where to Stay in Marble Arch: Frequently Asked Questions
What is the Best Area to Stay in Marble Arch?
The best area to stay near Marble Arch is the chic Marylebone. It has an abundance of indie boutiques and trendy restaurants to dine at and is best known for its distinct red-brick Georgian architecture.
It's a great base to explore Oxford Street and surrounding areas of Mayfair and Soho.
Related Searches FAQs
Practical Tips to Consider Before Booking Your Marble Arch Accommodation
Plan where you want to stay by how close you'd like to be to nearby attractions. You might want to be within walking distance of Hyde Park or Oxford Street.
Pick a hotel that suits your budget, and consider if you will use all or some of the amenities on offer from the hotel. It might not be worth splurging on an ultra-luxurious hotel if you're going to spend all day pounding the streets and skip the facilities.
Marble Arch Accommodation Guide: Map