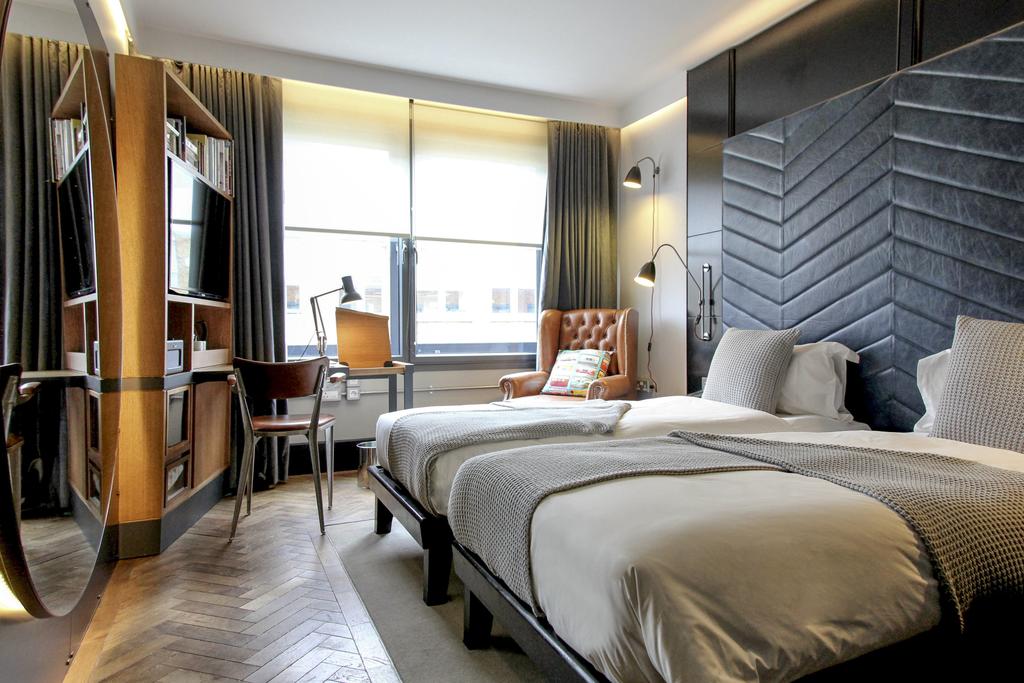 Looking for the best boutique hotels in Shoreditch? This step by step guide will help you find your perfect stay.
Shoreditch, sat in East London on the outskirts of The City, is one of London's trendiest areas. With its great transport connections to the centre, it's no wonder that increasing numbers of visitors are opting to stay in the area.
Vibrantly cool, it hosts some of London's best restaurants, cafes, bars and clubs, and definitely never sleeps. Not to mention the incredible street art you'll find popping from walls around every corner.
That's not all the appeal though, with so many boutique hotels in Shoreditch, there are plenty of cool yet chic places for you to choose from for your stay.
There's a huge buzz around the Shoreditch hotel scene, with many boutique hotels popping up across the area. Want to know where to stay in Shoreditch? These are our picks of the very best.
Best Boutique Hotels in Shoreditch, London: At a Glance
| | |
| --- | --- |
| Best Boutique Hotels in Shoreditch, London – Top Picks | Hotel |
| Best Overall Boutique Hotel in Shoreditch, London | The Hoxton |
| Best Industrial Boutique Hotel in Shoredtitch, London | The Curtain |
| Best Luxurious Boutique Hotel in Shoreditch, London for xxx | Nobu Shoreditch |
| Best Quirky Boutique Hotel in Shoreditch, London | The Z Hotel |
Best Boutique Hotels in Shoreditch
The Hoxton, Shoreditch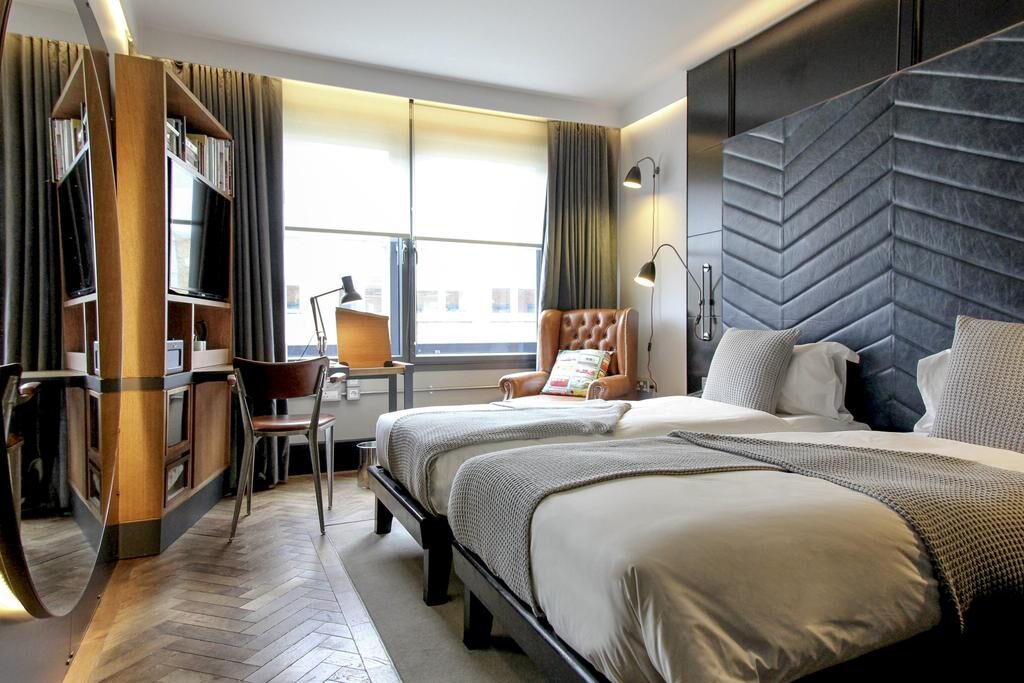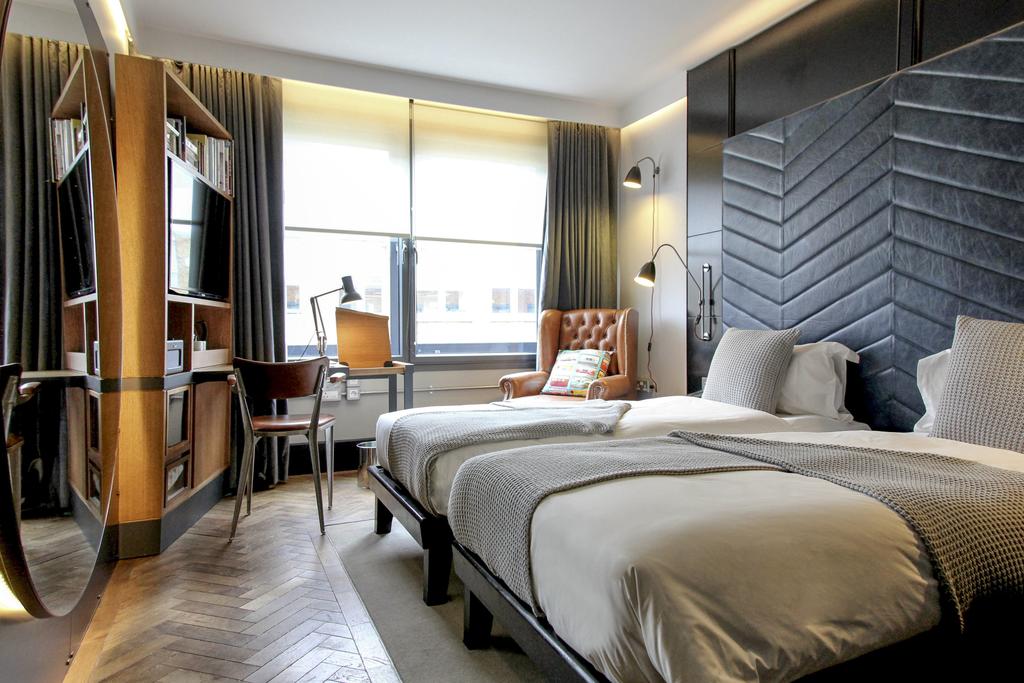 The Hoxton was one of the first boutique hotels in Shoreditch – spotting the potential of the area's cool and creative character.

It offers a relatively low-budget stay in a luxe setting – a combination largely made possible by its 'no nonsense' policy. For a decent rate you get everything you would need for a city stay (such as free WIFI, water and a low-key breakfast) but the other luxe touches are not included.

With this ethos in mind, the interiors – although stylish – are quite basic. Think beautifully designed, but with a retro-chic edge. There are lots of lamps for mood lighting, comfortable velvet chairs in bright colours and vintage Roberts radios, so you can put on some old school tunes.

Although quite basic, it still feels luxe, and come night, The Hoxton transforms into a bustling place where you can really get a feel for the Shoreditch vibe.

Overall, It's a great option at a more affordable rate.

Price: £
The Curtain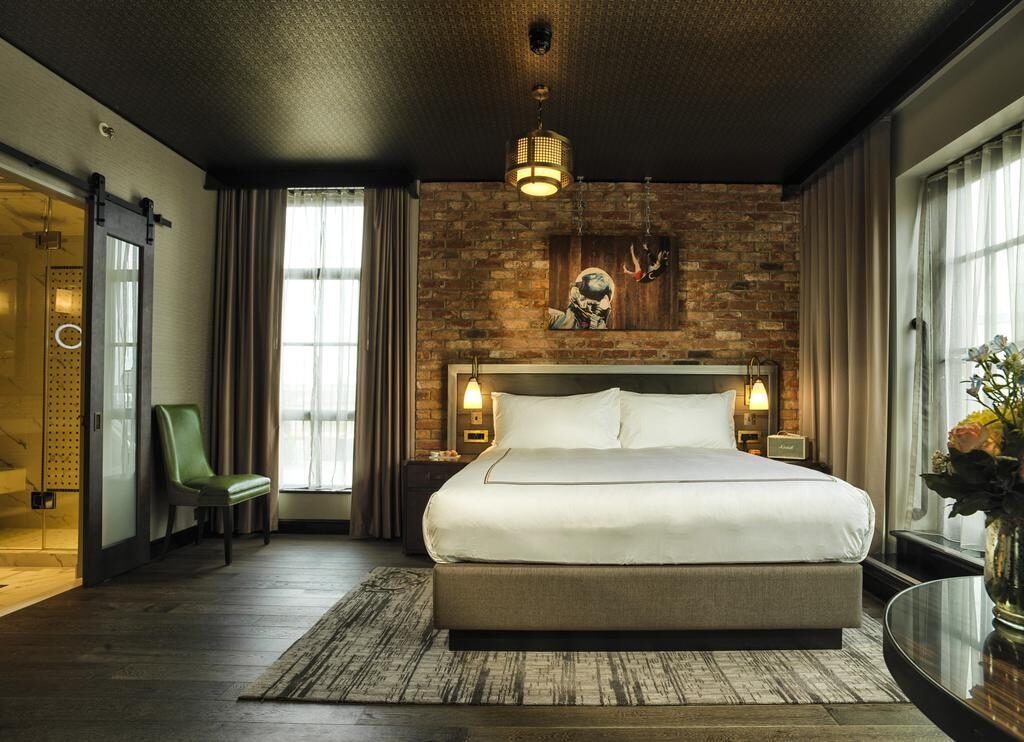 Launched by New York hotelier Michael Achenbaum, The Curtain has taken more than its fair share of influence from the other side of the pond.

Want somewhere slightly edgy but also high-end and with the little luxe touches we love in a hotel? The Curtain is for you.
The interiors feel quite industrial – with exposed brickwork, but then hints of clubby colour and bright neon lights to keep it interesting.

This warehouse-chic vibe is carried into the bedrooms, with their masculine dark colour palate wooden floors and rough-luxe furniture.

It could be a bit dreary – but there's no chance of that with the striking artwork in each of the rooms. Every room features a particular musical legend such as Bob Marley or The Rolling Stones.

It would be remiss if I didn't also say that they also offer the best mini bars I have ever seen, no doubt with the aim of getting you ready for your night out in the town.

If I had to pick my favourite part of The Curtain, it would be the rooftop, where you're greeted with gorgeous hotel views of the cool East London streets and skyline. Cosset yourself in the plunge pool before sipping cocktails after dark.

Price: ££
Nobu Hotel London Shoreditch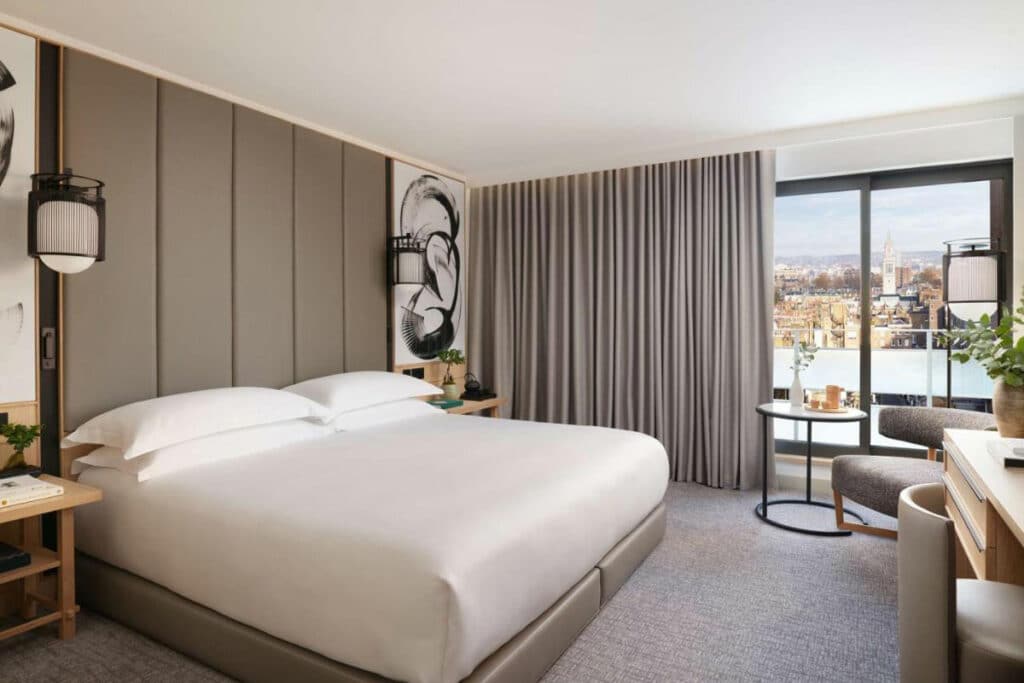 What do you get when you have a hotel collaboration between famed chef Nobu Matsuhisa and Robert de Nero? One of the best five star boutique hotels in Shoreditch, that's what. This secret gem of a hotel is housed in a striking contemporary building. Welcome to the Nobu Shoreditch.

Bringing everything that made chef Nobu Matsuhisa's hotel famous (umm, cool design and tantalisingly good food for starters), Nobu has been turned into a cool hotel, full of luxury design and creative thinking.

Mixing both Japanese and East London style together, there's no denying that this hotel is the leading design hotel in Shoreditch. The interiors are chic and minimalist with a sense of oriental style.

Exposed lighting and unfinished ceilings are contrasted with sleek white interiors with gold-plated furnishings – don't question it, it just works.

The restaurant, of course, takes centre stage. Beautifully designed and with a DJ playing most nights, it's one of Shoreditch's coolest destinations.

Price: ££
CitizenM London Shoreditch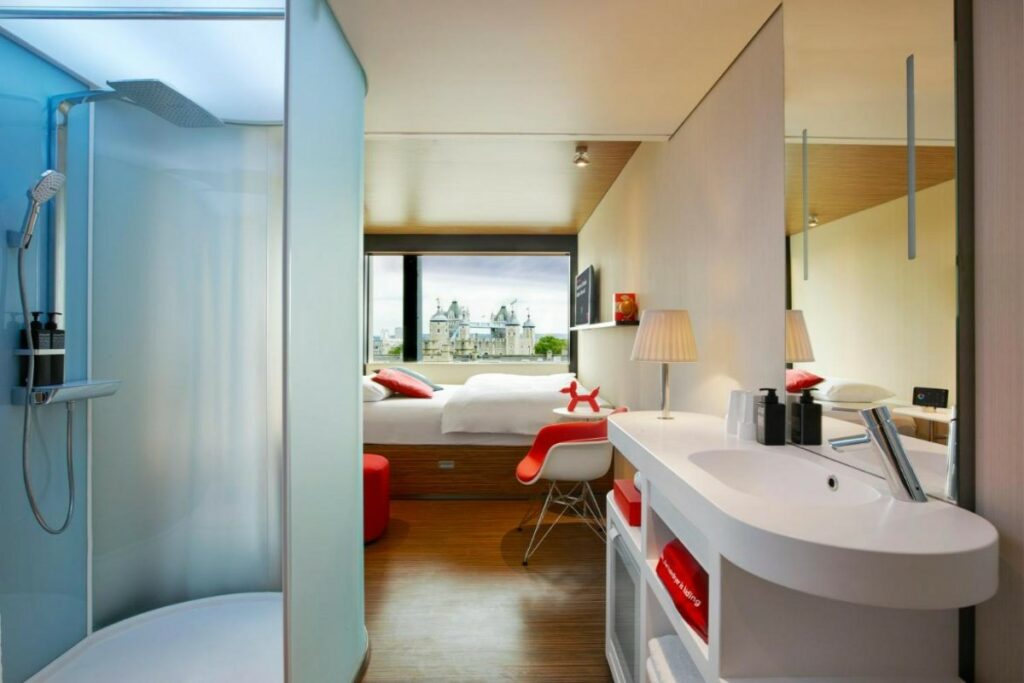 Bringing style to London's budget hotel scene, CitizenM London Shoreditch is Inspired by its local neighbourhood. Colourful, quirky and photogenic – this cool hotel in Shoreditch is just like its local surroundings.

Tech is front and centre during guest stays. Check-in is via computer (perfect given the current climate) and there's a Moodpad in each bedroom – a tablet that controls all facilities in the bedroom (including the air conditioning).

The interiors are full of colour: from the cushions to the quirky art installations to the black and white wallpaper, this is by no means a bland hotel.

Upstairs in the bedrooms, you will find there are no different categories. All rooms are sized and decorated in exactly the same way and although small, still feature a king-sized bed and a spacious bathroom.

Overall CitizenM has all the essentials for a perfect city break in the most popular part of town – and the best part is it all comes at a decent price.

Price: £
Ace Hotel London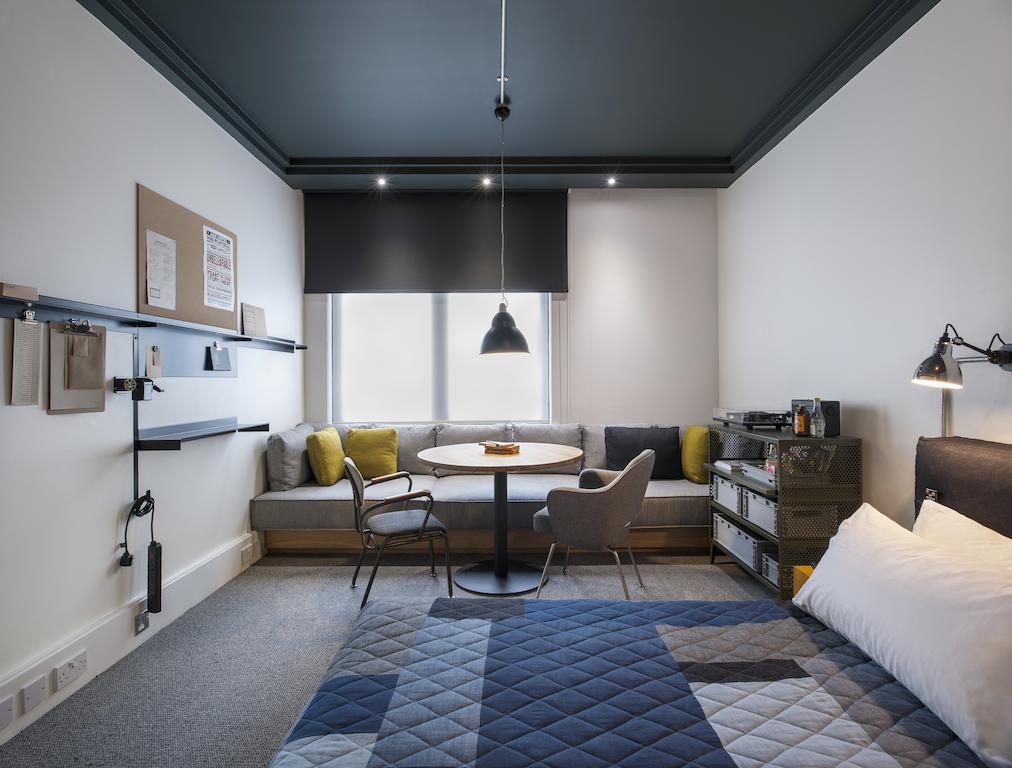 Yet another cool hotel in Shoreditch, the Ace Hotel offers basic facilities with a luxe edge – and it's just a ten-minute walk from Liverpool Street Station too. It's no wonder it's often named as one of the best hotels in Shoreditch.

The bedrooms are spacious, with large murals inspired by the graffiti artwork found in the nearby streets. There is a hint of old-school style with retro furniture, inspired by the 1960s era, as well as retro radios in all the rooms.

The hotel has a slightly higher price point to that of its main competitor, The Hoxton, but excellent facilities (including a gym, spa and sauna).

Downstairs there is also a great restaurant, Hoi Polloi, which provides a modern English brasserie, with views looking down over Shoreditch and the city.

Price: ££
Town Hall Hotel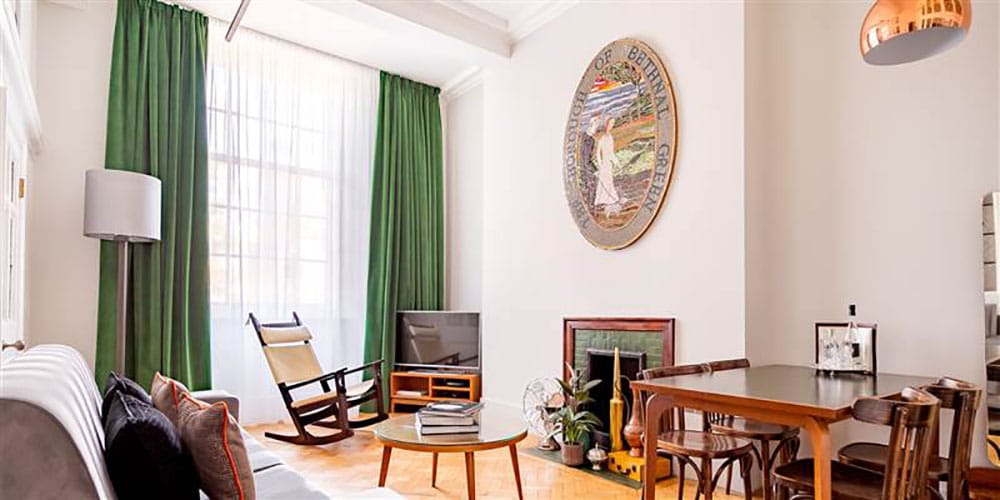 The Town Hall Hotel is everything you want in a London stay.
As the name suggests, it was converted from the area's old town hall. Yet it retains many of its gorgeous Edwardian period features such as the grand marble staircase, ornate pillars and tiled flooring.

Inside, the spacious bedrooms are flooded with natural daylight and combine minimalist decor with high-end technology. Each comes with a Musetti coffee-maker to help you start the day.

Despite being slightly further out of central London, Bethnal Green is only a short tube ride away from Oxford Circus and the bustle of the capital, as well as being perfectly located for exploring the best of what Shoreditch has to offer.

Moments' walk from the picturesque Victoria Park and near to Columbia Road for its Sunday flower market, it's a great place to base yourself during your east London stay.

Price ££
The Courthouse Shoreditch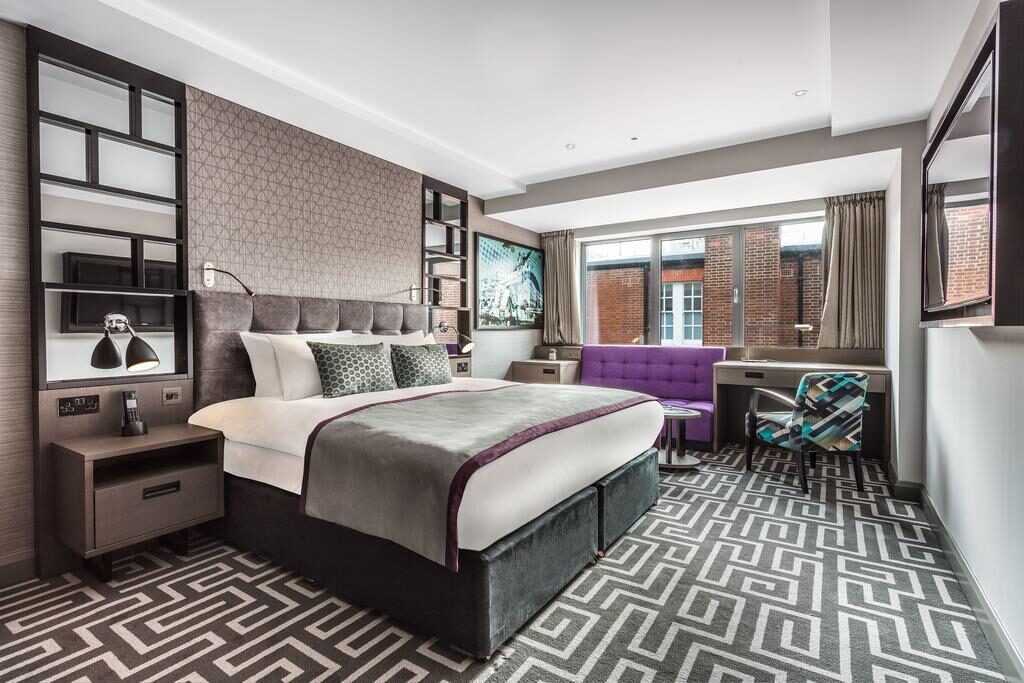 Just like its local neighbourhood, which is full of history, The Courthouse Shoreditch has a great backstory.
Built in 1903, The Courthouse was previously the Old Street Magistrates Court and Police Station and housed many high-profile London criminals, including the Kray Twins.
Luckily, those days are long gone and it's now one of the nicest boutique hotels in Shoreditch.
The property is filled with stunning period features – there's an original mosaic floor, stained glass windows and a grand staircase. It also pays homage to its criminal past, with a jail-themed cocktail menu and a bar that includes five of the original cells (turned into booths).
This characterful approach is carried through to the bedrooms. Don't worry, there are no cells up there – just edgy bedrooms, complete with sleek bathrooms, covered in dark brown tiles with walk-in showers and – in the higher categories – bath tubs.
It has all the facilities needed for a great escape – there's even a heated swimming pool in the basement as well as a steam and sauna room providing a serene escape from the frantic streets of Shoreditch.
Price: ££
The Boundary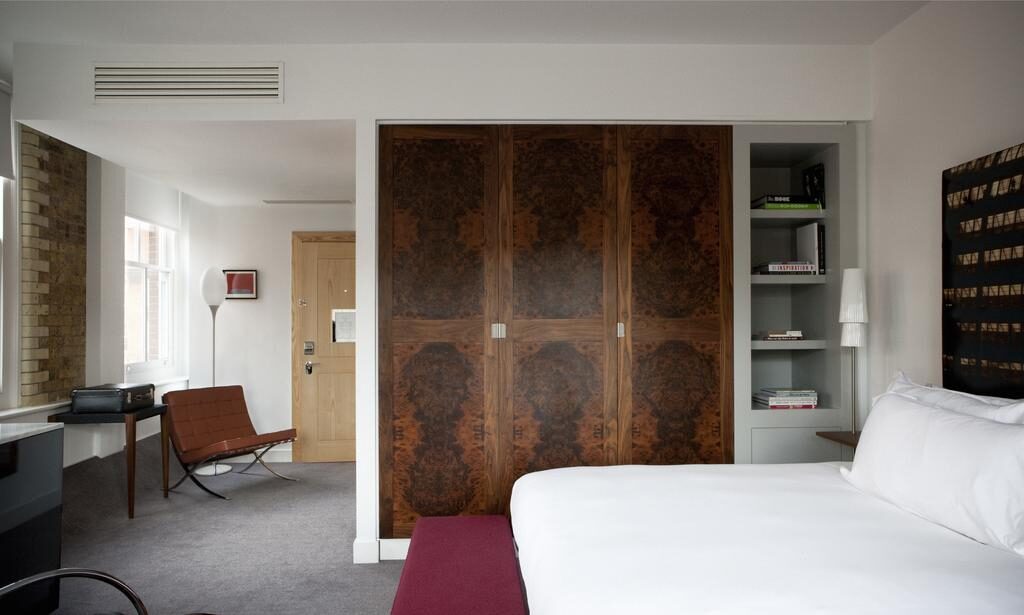 Set in a converted Victorian warehouse close to Liverpool Street Station and Shoreditch High Street, The Boundary hotel is slap bang in the middle of the action.
It's small – with just 17 individually- designed bedrooms, it's a great place to stay in Shoreditch if you want more of a personal touch.
The highlight however – and what the hotel is known for – is its stunning Rooftop Bar & Grill, located on the top of the building. Open all year, the bar sits within a stylish glass extension and offers views across East London. Even if you decide not to stay here, it's a definite must for a drink.
Price: ££
Z Hotel Shoreditch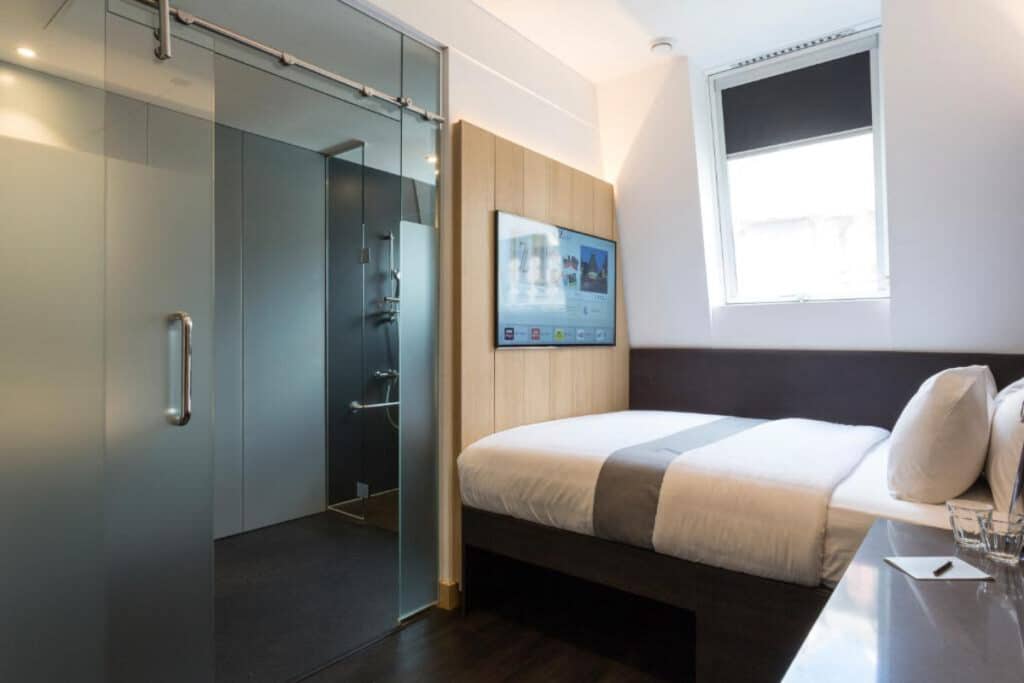 For a true urban East London stay, Z Shoreditch is your answer.

Located moments' walk from Shoreditch tube station and near to Hoxton Square – home to the latest bars, restaurants and clubs – this is a brilliant location.

Just like the quirky surroundings, Z Shoreditch is actually built into the old Alexandra Trust Dining Rooms, which was erected in 1898 and once used to provide cheap meals for working-class men and women living in the East End. Although the interiors have now been modernised, the large, industrial windows still exist, giving the property some East End character.

The bedrooms go all-out on comfort. With an en suite wet room, crisp bed linen, large TVs with a full selection of Sky channels, it is the perfect set-up for all you require after a busy day out in the city – and get this – breakfast is also included in the rate.

The downside is not all the rooms have windows…but as a cheaper option, and for those on more of a budget, if you need to know where to stay in Shoreditch, this is your spot.

Price: £
South Place Hotel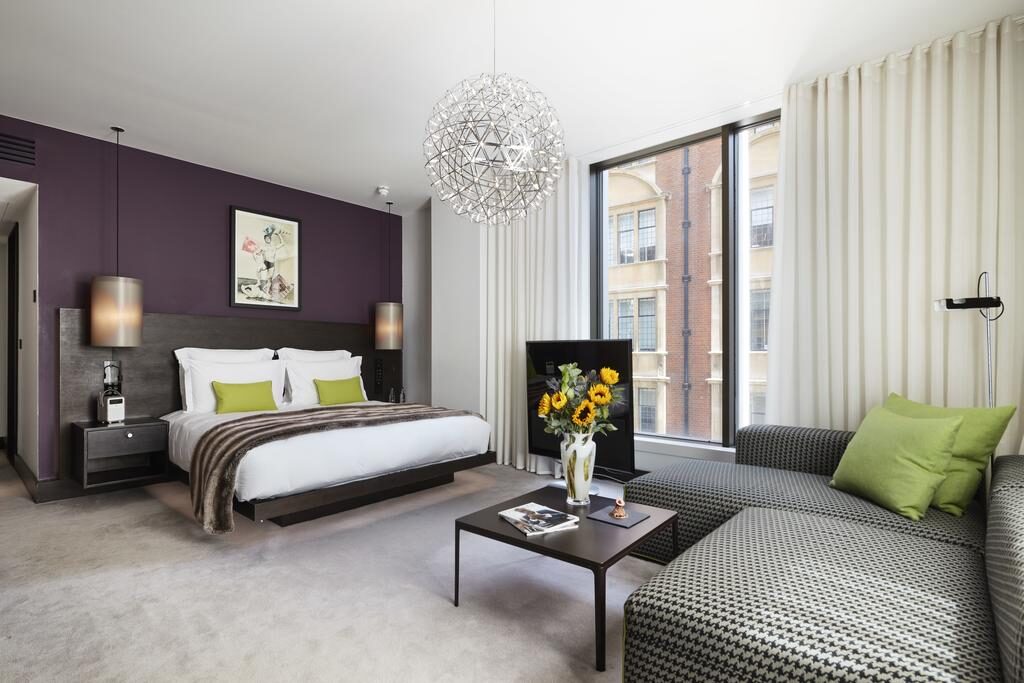 If you're looking for a foodie getaway, then this cool hotel just outside of Shoreditch in the Moorgate area is for you.

Owned by luxury restaurateurs D&D, South Place is renowned as the location to be wined and dined in, before ending up in a comfortable bed.

With a delicious Chop House on its ground floor and the stunning Michelin-starred Angler on its 7th floor, the restaurants cater to all taste buds – and do not disappoint.

Don't think it's just about the food though. Businesslike as it appears at first glance, the hotel isn't afraid to show its naughtier side. Think large mirrors looking over the bed and seductive bondage kits in the drawers, this is where the salacious magic happens.

Kinkiness aside, the bedrooms are gorgeous. The stunning marble bathrooms have large baths deep enough for two guests.

Or if you're looking to push the boat out, then head on up to its Suite 610. The bathroom features a see-through bath with a huge bedroom, dining room and spacious lounge. The place for a small party or to hide away from the world…take your pick.

Price: ££
Mondrian London Shoreditch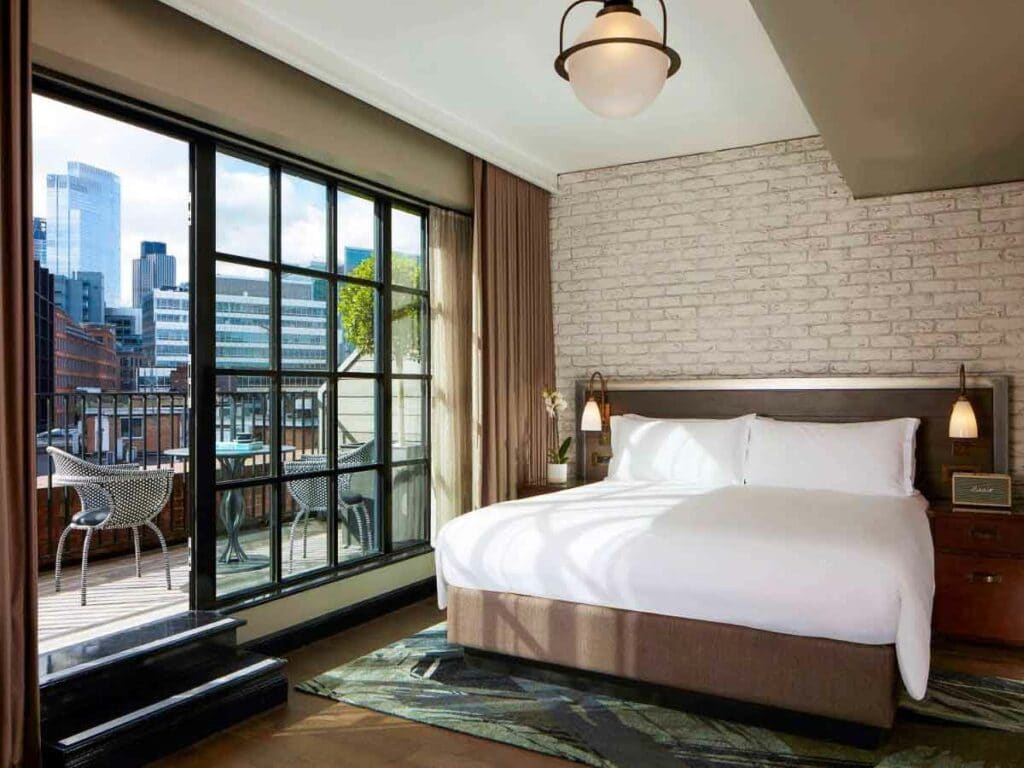 This very sleek spot is a must for anyone looking to ensure their trip to London includes a little style and comfort.
Rooms at the Mondrian are decorated down to the finest detail, be it the marble in the bathrooms or the polished wood on the floors. There's an aesthetic that runs through the whole building that'll make you feel movie-star to hang around in.
No where is that truer than the Mondrian's rooftop pool. Mosaic-bottomed and lit up at night, the space commands views of the surrounding Shoreditch and glimpses of London's landmarks through the neighbourhood's rooftops.
Price: £££
Mama Shelter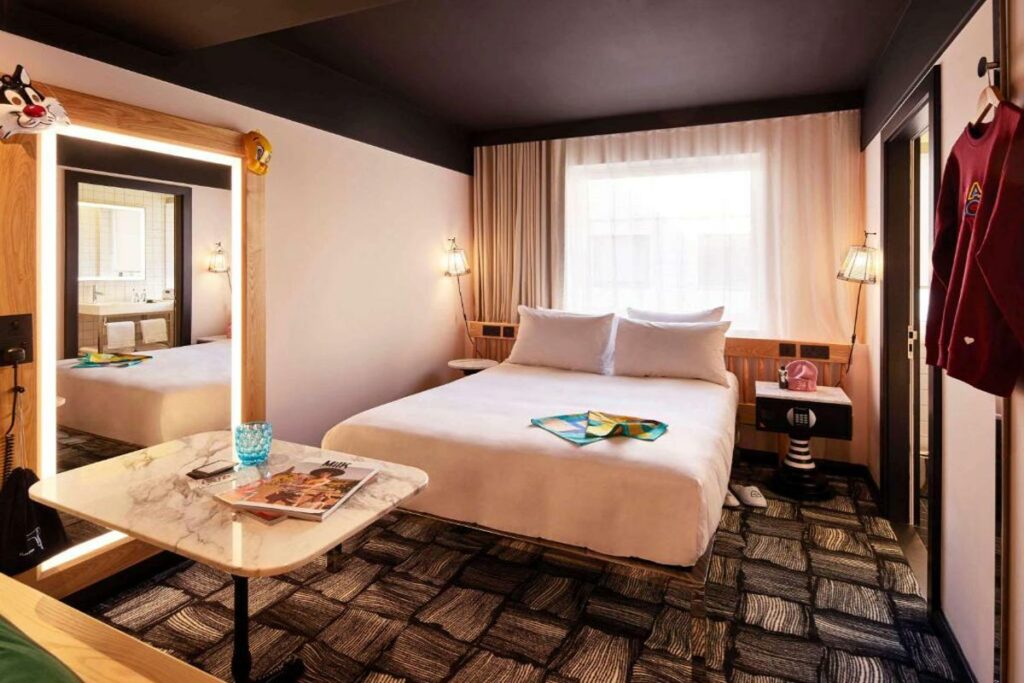 If you're looking for a place to take the edge off, to retreat from the hustle and bustle of big city London life, make sure you consider the Mama Shelter.
Coming to London by way of Europe, the Middle East and America, there's no doubt Mama Shelter's reputation precedes it. That reputation is one for being a playful, laid back space to kick it for a few days when you're out of town.
They take service seriously, and lay on the comfort, as they do with fun. The design of the place is playful and funky and even features amenities like Japanese-themed karaoke rooms for guests to unwind in.
One Hundred Shoreditch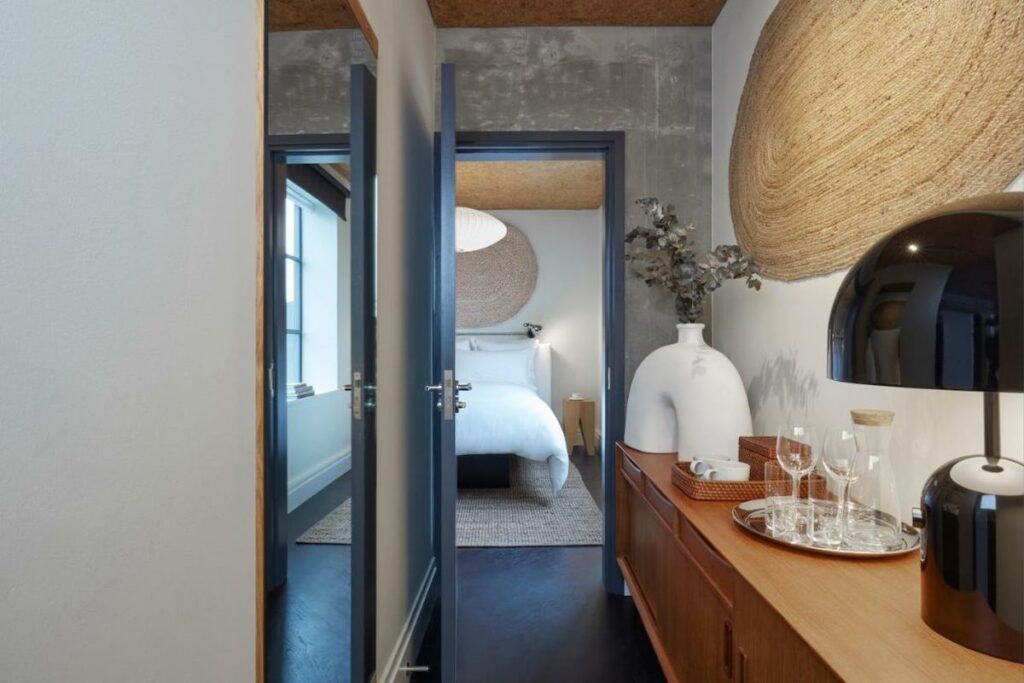 For an ultra slick hotel experience book yourself in at One Hundred Shoreditch. You'll find a selection of rooms that are done up to an artistic, stylish standard and full of the amenities you'd expect from a Shoreditch Boutique hotel.
What we can't stress enough though is the food options you have available at this place. The building also houses Seed Library – a fantastic cocktail bar by London cocktail maestro Mr. Lyan, and a rooftop restaurant and bar where you can soak in the setting sunlight after a big day out in London.
Price: ££
Shoreditch Hotel Guide: Practical Tips and FAQ for Your Trip
If you're planning to stay in Shoreditch but are concerned it is 'too far' out of town, then don't be. This buzzy part of London sits right next to Liverpool Street Station, which is only a ten minute tube ride into the centre of the capital. Easy peasy.
Due to its popularity, this part of London has seen a huge increase in some of the city's best bars and restaurants. So if you're one for the foodie experience, then this area of London is for you.
Best Hotels in Shoreditch: Map