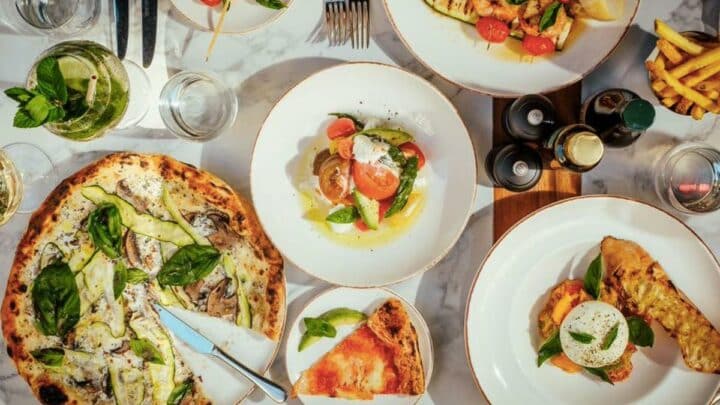 Looking for the best restaurants on Heddon Street? Here's where to dine in this secret corner of Mayfair.
Did you know that just off Regent Street lies a little gem in London? Heddon Street is a haven for foodies, with so many amazing restaurants to choose from right in the centre of the city.
It feels as though it's slightly off the beaten track even though it couldn't be easier to find.
Hungry? Us too – let's dive right in.
Best Restaurants on Heddon Street
Heddon Street Kitchen
££
You can't miss Heddon Street Kitchen, with its tasty European dishes from celebrity chef Gordon Ramsay. It's safe to say they know what they're doing in the kitchen.
Whether you're visiting for breakfast, lunch or dinner – Heddon Street Kitchen welcomes you with open arms. The Beef Wellington is the standout dish, though the slow roasted pork belly is equally delicious, if you ask us.
It's worth noting it also has a wonderful children's menu, and a lovely terrace for alfresco dining on sunny days.
Heddon Yokosho
££
The best ramen on Heddon Street can be found at Heddon Yokosho – and not just because of the super-cool bowl outside. It's a downtown Tokyo-style ramen bar with a 1970s inspired setting, offering amazing regional ramen from across Japan with different broth bowls to devour.
You can also indulge in authentic starters and sides such as bao buns and gyozas. On top of that, they have a great vegan menu which is somewhat a rarity for ramen restaurants in London.
If you've still got room, we highly recommend the cookie dough mochi ice cream.
Piccolino
££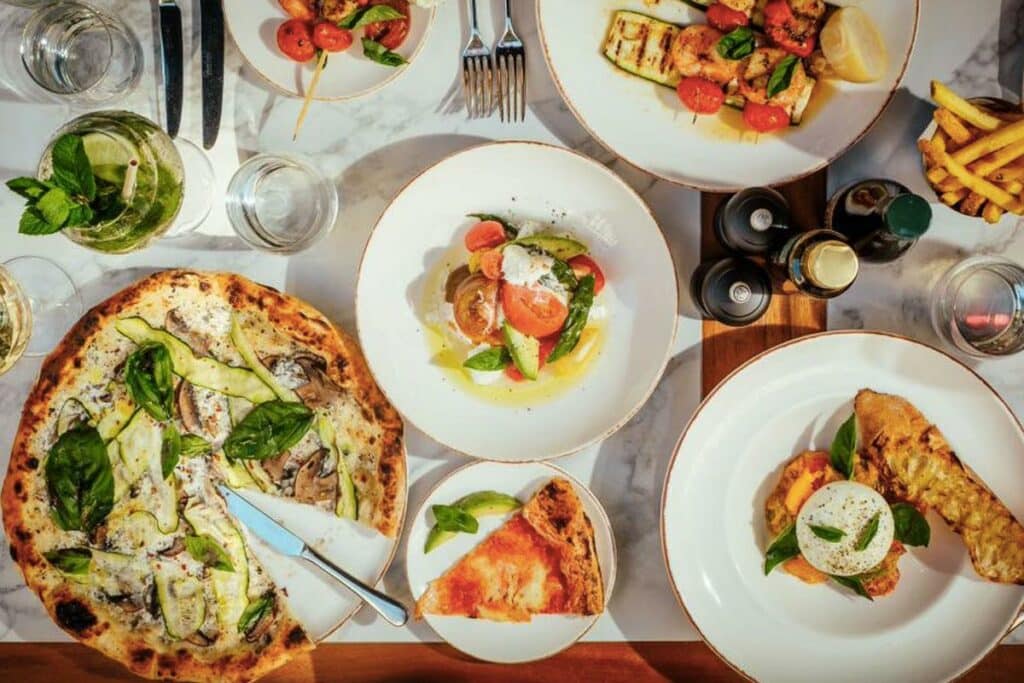 If you're looking for al fresco dining on Heddon Street then Piccolino is the perfect place to dine.
If you couldn't tell by the name, they serve Italian classics – including the best carbonara in London (quite the claim, but one we'll stand by).
The pasta is to die for, but the real reason you go is for the atmosphere. The wait staff are uber-friendly, always on hand to answer any questions or provide pairing suggestions.
Sabor
£££
After a Michelin star restaurant on Heddon Street? Sabor is for you. Founded by the acclaimed chefs Nieves Barragan and Jose Etura, it's a place to indulge in the most beautiful tastes of Spain.
Get ready for a flavour journey through Spain – enjoy a culinary experience of tapas bars in Andalucia right through to the asadors of Castiles and even the seafood restaurants of Galicia.
It's all about good old tradition here, and they feel very strongly about cooking Spanish food the proper way. We couldn't recommend Sabor enough, and even more so if you're heading there as a big group.
Ziggy Green
££
Take a little trip to Australia with Ziggy Green, the ultimate place for a fun brunch or an epic Sunday Roast on Heddon Street.
They serve a little bit of everything here, which we're usually not too keen on – but the standard is so high we'll let it slide. Pop in during the week for cocktails and tacos for dinner at the mexican-inspired Taqueria.
This Heddon Street restaurant has even got a bright terrace, which is lovely if the sun is out – or, if you can brave the cold with a warm drink.
Sarap
££
Did you know that 'Sarap' actually means 'delicious' in Tagalog? This amazing restaurant has so many Filipino favourites like salty sweet abado and a show-stopping whole roasted pig. There's not many places you can get that in London.
This welcoming spot is a great place to dine after a long day of shopping for a little over-indulgence. One of the best Filipino restaurants in London and definitely on Heddon Street.
Rumours
££
On the interwebs, Rumours like to keep things on the DL. Though, with bright foliage and a peachy facade, the same cannot be said for the outside.
This is an incredible restaurant and, although the menu is a little small, you just can't fault it. A lot of care goes into the presentation and the small little gestures when you walk in.
The menu features a selection of European dishes, with Cacio e Pepe and monkfish being the big winners. The cocktail selection is also excellent, featuring classics and some more unusual concoctions.
Practical Tips for Exploring The Best Heddon Street Restaurants
Finding Heddon Street need not be too tricky. Head down Regent's Street towards the Karl Lagerfeld store, and head through the pretty archway into the area signposted as Heddon House.
It's a great idea to book in advance, as these restaurants can fill up pretty quickly on evenings and weekends.
Heddon St Restaurants: Map
Heddon Street Restaurants: Read Next