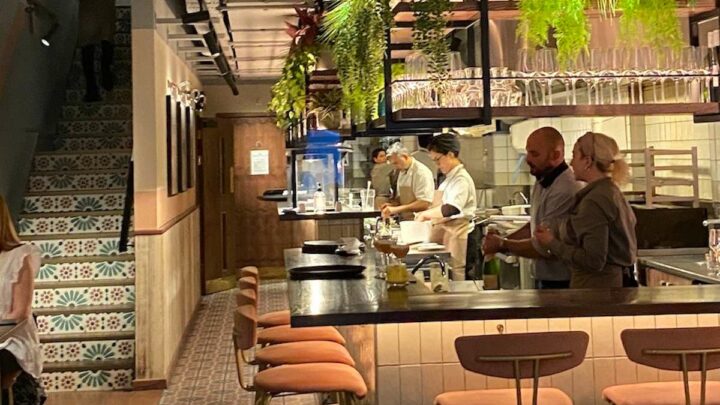 Hunting out the best restaurants near Trafalgar Square can be quite the task. Luckily, we've done the donkey-work for you – check out our favourite spots in this guide.
Trafalgar Square is an area flanked in history, so it's no wonder that it's often at the top of every single London bucket list. But, as with all tourist attractions, the nearby restaurants can be hit or miss.
Avoid the stinkers and spend your cash wisely with the help of this guide to the best restaurants in and around Trafalgar Square.
Hungry? Let's go.
Best Restaurants Near Trafalgar Square
Heritage
££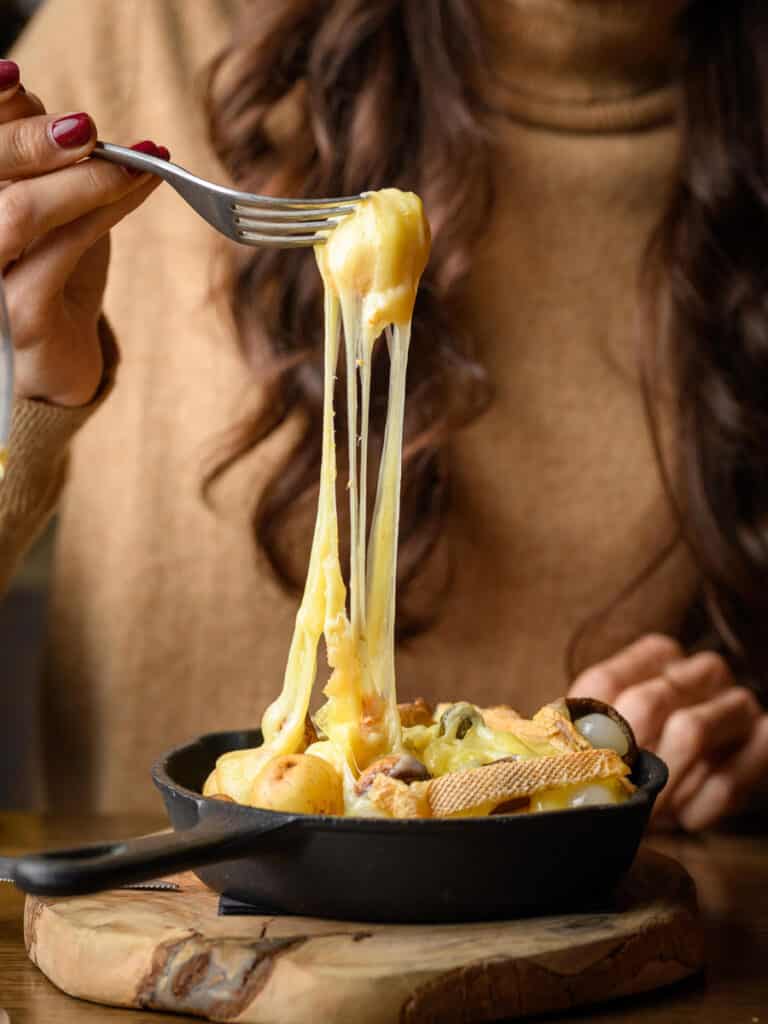 Situated just a five-minute walk away, Heritage is our top pick for brilliant restaurants around Trafalgar Square. This Swiss restaurant serves up a menu filled with Alpine-inspired dishes, fondue, and all things indulgent.
Our top picks include the mega juicy fillet steak (with a shot of cheese fondue on the side, because why not?), crispy skin duck breast with "thousand layer" potatoes and a miso red wine jus, and the beef burger topped with gooey Raclette. Though, absolutely everything on this menu is stellar.
If you're a cheese fiend (our hands are very much in the air), Heritage also offers a number of experiences including bottomless fondue on Mondays and all-you-can-eat Raclette on Tuesdays. Trust us when we say that you do not want to miss out.
Drinks-wise, expect a wide range of impressive cocktails alongside a carefully-curated wine list, beers, and soft drinks.
Nutshell
££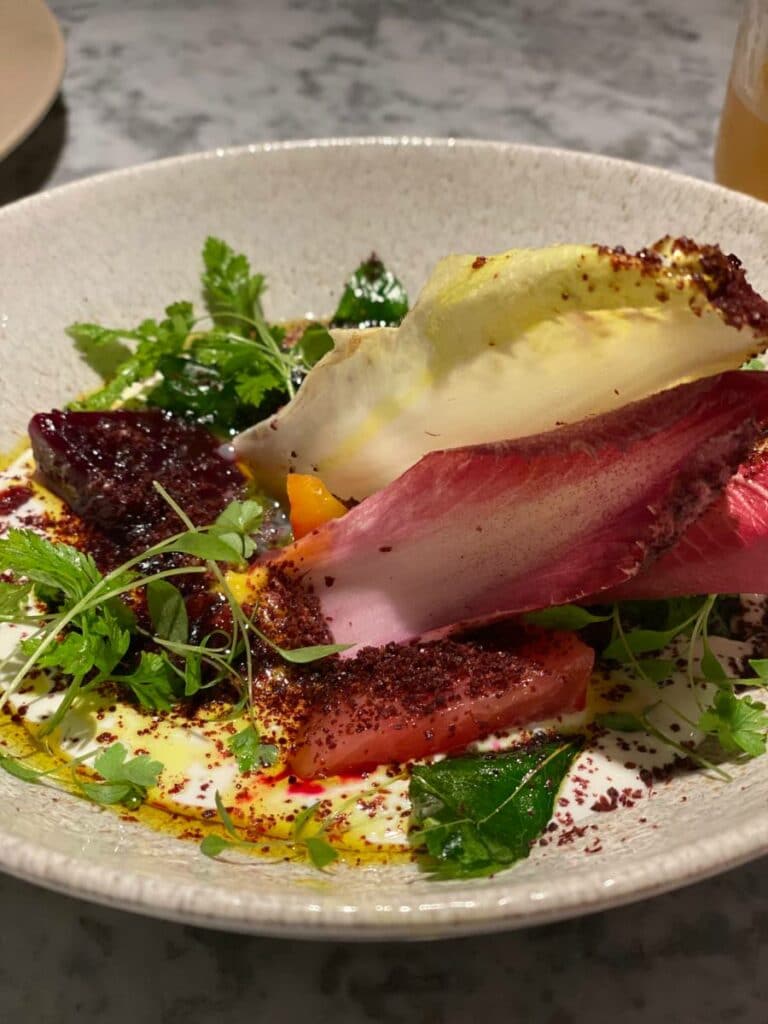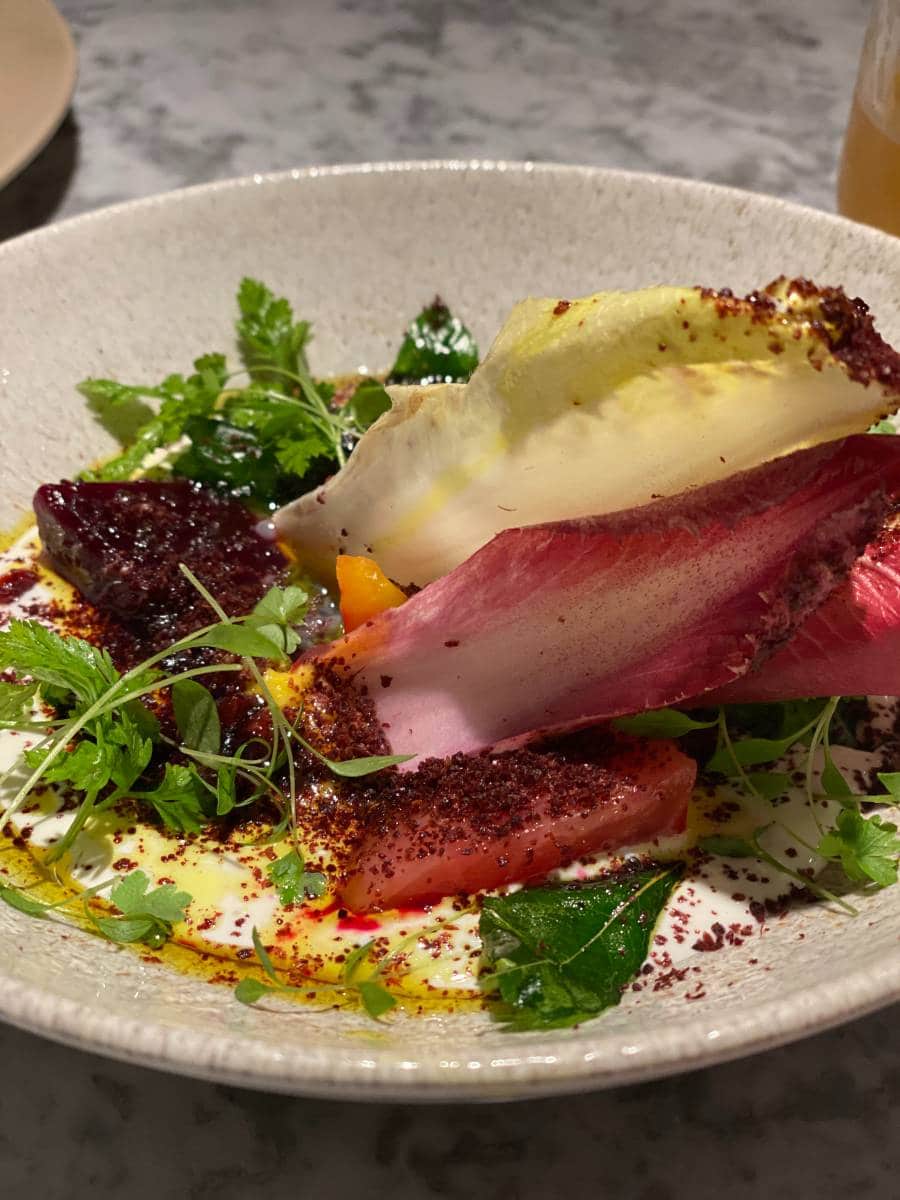 Two minutes away from Trafalgar Square is Nutshell, an excellent restaurant serving up a modern take on classic Iranian dishes.
Sustainability is at the heart of this restaurant's menu, which blends British ingredients with Iranian techniques. There's even plenty of inclusive veggie and vegan options to choose between.
Standout mains include the lamb barreh, a grilled lamb rump with sabzi tahdig, saffron tomato salsa, and caramelised shallots, although the spiced butternut squash with whipped feta, hazelnut, and fig leaf vinegar is an equally toothsome choice.
Ikoyi
£££
When it comes to restaurants near Trafalgar Square, Ikoyi brings West African flair to London through an innovative tasting menu.
The concept is spice-based cuisine with a focus on micro seasonality, and the result is an excellently-curated menu that changes often.
Highlights include aged sirloin with salted citrus and lobster, smoked jollof rice, and poppyseed and rum cake – though, we'll be honest, the entire menu is an explosion of flavour.
And, as if you need any more convincing, Ikoyi holds two Michelin Stars and was recently added to the 50 best restaurants in the world list. The only downside? This spot doesn't cater to vegan and vegetarian diets. Boo.
Fallow
£££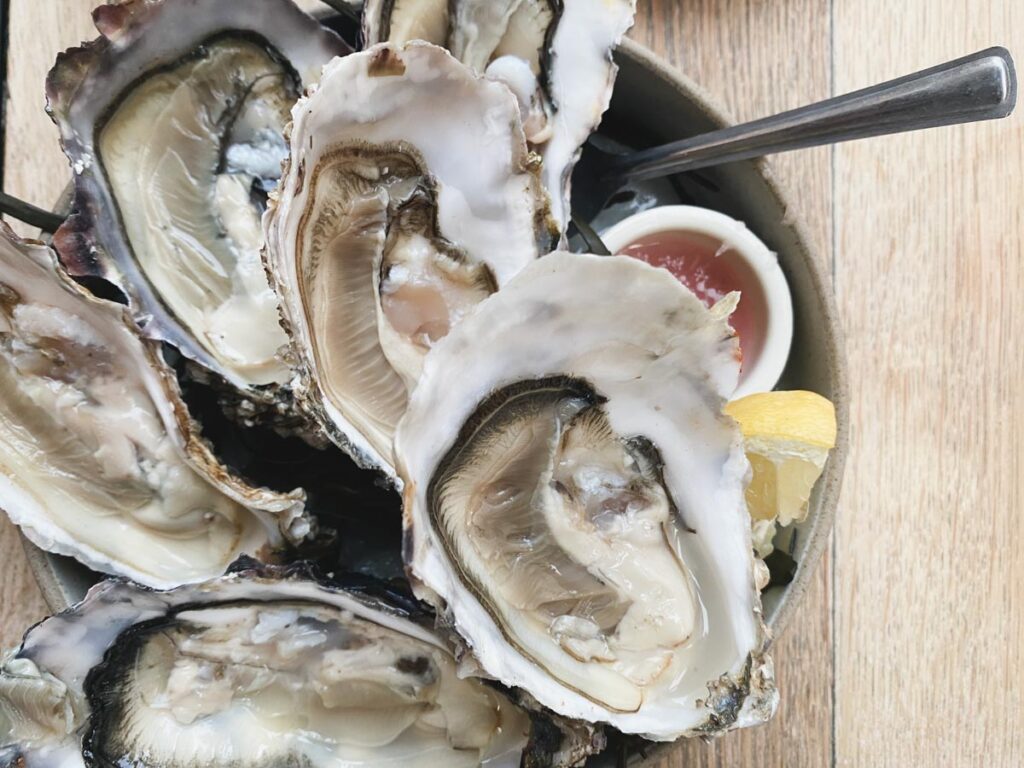 It's no secret that we love Fallow, a sustainable dining hotspot situated in St James's Market. You'll find this spot less than ten minutes by foot from Trafalgar Square and, while the dish names may be simple, the menu is anything but.
Farm to fork, sustainable, and waste-free are three ways to describe the Fallow experience – take the addition of ribs from ex-dairy cows as an example. Though you might expect this dish to be a chewy mess, Fallow has completely managed to break down the tough fibres and transform it into an exquisite piece of meat.
Other winners include the mussels with smoked bacon and lemon, and the white pork served with n'duja cabbage and onion – a punchy flavour combination that works so well. We highly recommend it.
Scully
£££
It's safe to say that Ramael Scully's first solo venture has been a roaring success – just steps from Trafalgar Square, Scully boasts a menu spanning the globe but takes major inspo from Malaysian and South American cooking.
Dishes include a BBQ sea bass with sweetcorn succotash, hot sauce, and lemon labneh, a wholesome bowl of duck claypot rice, and what might just be the greatest dessert of all time: Pomelo, lime, orange oil, and caramelised popcorn. YUM.
This restaurant is on the pricier side of things, although, with a menu as dazzling as this, it's well worth the splurge.
St Jacques
££
Sophisticated French dining is the experience offered at St Jacques. Not only is their contemporary dining space super stylish, but their hidden terrace is a sprawling haven in central London.
The menus change frequently depending on the ingredients selected by the chef, though regulars include calves liver and mashed potatoes with a bacon and onion sauce, air-dried beef with cantaloupe melon, and sea trout with crushed potatoes and lemon butter sauce.
Whatever you do, remember to save room for their creme caramel – it's rich and indulgent yet still manages to feel delicate.
Smith and Wollensky
£££
Fancy a good ol' piece of steak? Look no further than the traditional American steakhouse Smith and Wollensky. It is, without a doubt, one of the best restaurants near Trafalgar Square.
Don't expect your run of the mill cuts here. They're big, they're juicy, and they're delicious. They're also very expensive – but hey, you deserve a treat. Your tastebuds will thank you for it.
If steak isn't quite your style, don't fret. The miso honey glazed chicken thighs and butcher burger with cheddar and bacon are equally delicious.
Bancone
£
For traditional Italian cuisine near Trafalgar Square, head to Bancone for a hearty bowl of pasta.
What to order? Our top picks include a bucatini cacio e pepe, spicy pork and n'duja ragù, and the braised ox cheek with pappardelle and barolo vinegar.
For a light dessert and a hit of sweetness after all those carbs, opt for the praline cannoli topped with crystallised hazelnuts. Pair with a signature Orange Blossom Negroni and thank us later.
The Northall
£££
Wondering where to eat near Trafalgar Square? We've got you.
Situated in the Corinthia Hotel, The Northall is one of the most impressive Trafalgar Square restaurants with a view out onto a leafy square and the Thames in the distance.
Sunday lunch is particularly great at The Northall, with a selection of grand sharing dishes and showstoppers available.
Or, head there throughout the week for a modern European menu featuring the likes of A5 Wagyu beef, Norfolk black leg chicken breast, and hand-rolled strozzapreti with truffle.
Ave Mario
££
Funky and filled with Instagram opportunities, Ave Mario looks the part… but does the menu stand up? In short, yes.
Cheeky Italian chain Big Mama has multiple London restaurants, though the latest (and greatest, in our opinion) is just a stone's throw away from Trafalgar Square.
The menu is pretty crazy, consisting of a huge selection of Italian offerings – of which, the Neapolitan-style pizzas are the standout dishes. Oh, and if you and the gang have got sweet teeth, opt for the 60cm tall gelato tower. Make sure to snap a pic before you dive in, though.
Other Places to Eat Near Trafalgar Square
Barrafina
££
Another place we could rave about endlessly is Barrafina. Located on Adelaide Street, just a few minutes walk from Trafalgar Square (though, there are two more locations within the vicinity), this is one of the top places for tapas in London.
Prepare to feel like you've been completely transported to Spain, with a huge menu filled with expertly-crafted dishes. We're talking juicy octopus with capers, ultra-crispy croquettes, and a paella that will make you want to book the next flight to Madrid.
Thai Square
£
Don't rule out Thai Square just because it's a (small) chain restaurant – it's one of the top cheap restaurants near near Trafalgar Square. The menu is reasonably priced and filled with authentic Thai dishes that we cannot get enough of.
Think soft shell crab with mango salad, caramelised sea bass with lemongrass, and, of course, a banging green curry that will transport you straight to the streets of Bangkok. Order a portion of satay chicken on the side and you will not be disappointed.
Estiatorio Milos
£££
The most luxurious of Trafalgar Square restaurants, you'll find Estiatorio Milos just opposite the landmark, a vision of white table cloths and sleek Greek decor.
This pescatarian spot is one of the best Greek restaurants in London, with a menu dedicated to fresh seafood. Let's get one thing straight: Coming here and passing up the oysters should be a crime.
Other highlights on the menu include the cured fish platter and the Faroe Island salmon. Also, the Martini menu is impressive and we recommend making your way through it slowly throughout the evening.
Practical Tips for Exploring The Best Trafalgar Square Restaurants
As with other tourist hotspots, restaurants near Trafalgar Square fill up incredibly quickly. It's worth making reservations in advance to ensure you can get a table.
There are so many high end spots nearby, but don't be worried if you are on a budget. Ave Mario is our top wallet-friendly restaurant, but Smith and Wollensky is the ultimate treat and one of the best restaurants Trafalgar Square has to offer.
Restaurants Near Trafalgar Square: Map
Trafalgar Square Restaurants: Read More Trafalgar Square Guides