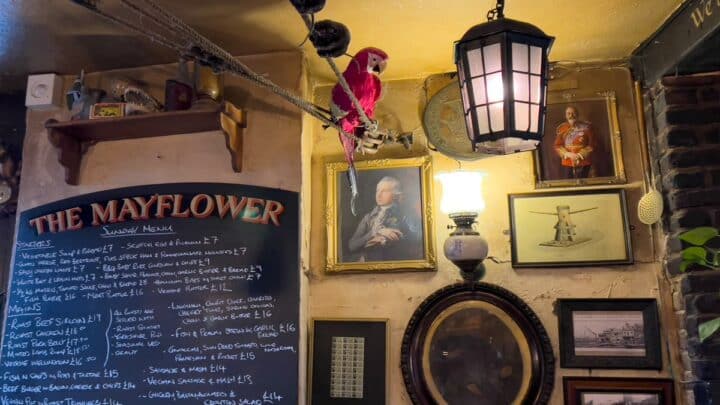 Ready to discover the best pubs in Rotherhithe. From waterside drinking holes to historic spots, these are the pubs to try.
Rotherhithe is a beautiful waterside location in East London, and it has plenty of watering holes that you need to visit.
You won't be stuck for waterside pubs, but let's face it some are better than others. That's why we've found all the best pubs in Rotherhithe both, waterside and land pubs, with river views and beer gardens.
Ready for your next pint?
The Best Pubs in Rotherhithe
The Mayflower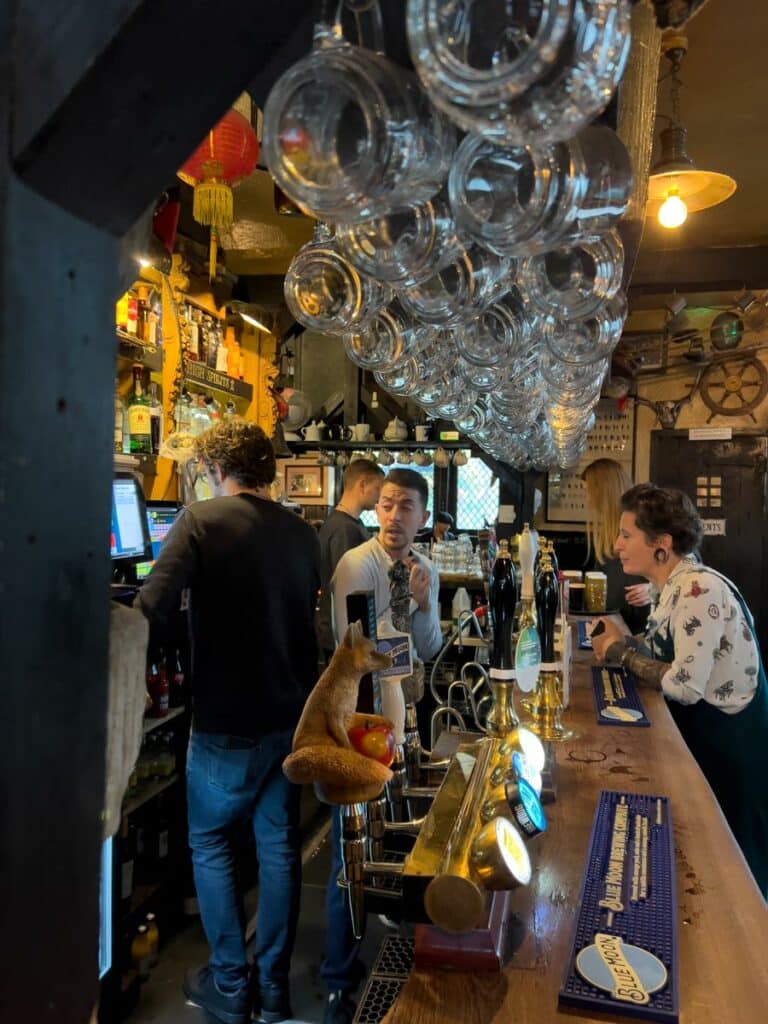 Surrounded by cobbled streets, this river-side watering hole is a traditional English pub with immaculate views and even better food and drinks.
The Mayflower pub in Rotherhithe is unique both inside and out and the idyllic white building with hanging flower pots and black wooden windows is very Tudor-esque. Step inside and you're greeted with a black timber bar and a myriad of intricate antiques.
There's a restaurant upstairs serving Sunday roasts, beer battered fish and chips and Guinness stew.
The outside tables on the decked jetty are the main draw here, and is certainly the best place in Rotherhithe to enjoy a few pints.
The Angel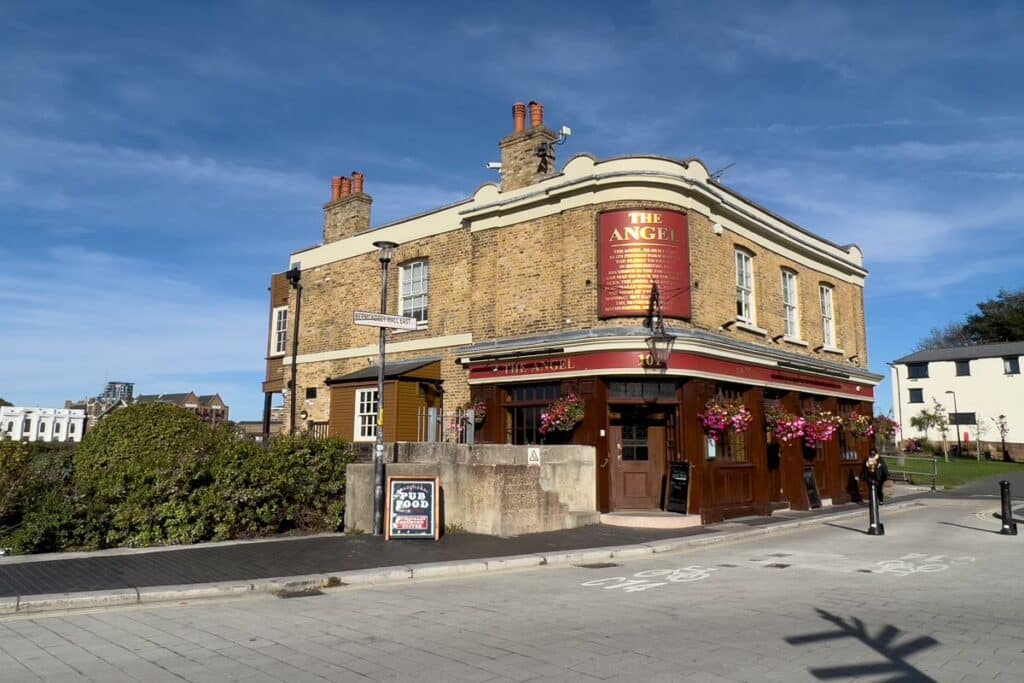 Head to The Angel pub in Rotherhithe for some of the best sunset views across the River Thames. This Victorian Grade-II listed pub perches along the Thames with a decked balcony that's covered so you can enjoy the views come rain or shine.
It's one of the oldest Rotherithe pubs, and we reckon it's probably been such a mainstay for its old English boozer atmosphere, oh and tasty offerings like the Steak & Old Brewery and Bitter Pie and Hand-Battered Fish & Chips.
There's plenty of beers and real ales on the taps here too, as well as a selection of craft beers and everything in between.
The Ship Rotherhithe
The Ship is a lesser known pub by Rotherithe visitors and most likely you'll find this small ish pub crammed with Rotherithe locals. Despite its name, The Ship is not a waterside pub, but you will find lots of miniature ships dotted around its interior.
This neighbourhood pub is a Young's pub, so you should expect excellent beers, because why would you want to visit anywhere that doesn't, right?
On a sunny day The Ship's front beer garden is an excellent spot for a few pints, pair that with one of the burgers, a cod sandwich or a Sunday roast dinner and you've got yourself the perfect afternoon.
Salt Quay Rotherhithe
Fancy drinking inside an old converted warehouse? Salt Quay is an old-converted warehouse pub that definitely doesn't look like it should be a pub from the outside.
This is one of the best pubs in Rotherhithe for both location and space, it sits along the Thames and has a wrap-around beer garden – so no problem finding an outdoor seat on a sunny day.
Sip on Rhubarb Spritz on the river banks, before heading up to the first floor dining space to feast on Old Epping Sausages and Mash and then finish on the first floor patio with a Classic Sticky Toffee Pudding.
The Brunel
The Brunel pub is where you want to visit if you're looking for a pub in Rotherhithe that offers the best entertainment in town.
Never a dull moment, when The Brunel isn't showing live sport on the big screens there's cabaret acts, DJ sets, live music and theatre performances – get ready to let your hair down.
As if all of that wasn't good enough reason to visit The Brunel, this British pub shakes up seasonal cocktails and always has an exciting selection of beers, ciders and real ales on tap, all of which should be enjoyed in The Brunel's heated beer garden with cute beach huts to hangout in.
The Blacksmith Arms
We love that The Blacksmith Arms is a family-run pub with a friendly welcoming vibe. Step inside and you'll find a very open planned pub with mahogany wood panelled walls with mounted lamps.
Paying homage to its 18th Century past, the menu here features pub classics like the Pride beer battered fish and chips, but there's also a fusion twist and you'll find Thai dishes like the Thai Green Curry on the menu.
The Blacksmith Arms beer garden is very modern compared to its exterior and interior, its myriad of lush green plants with fairy lights hung over wooden beams above the tables – it would be the perfect date spot.
Rotherhithe Pubs: Map
Best Pubs in Rotherhithe: Read Next