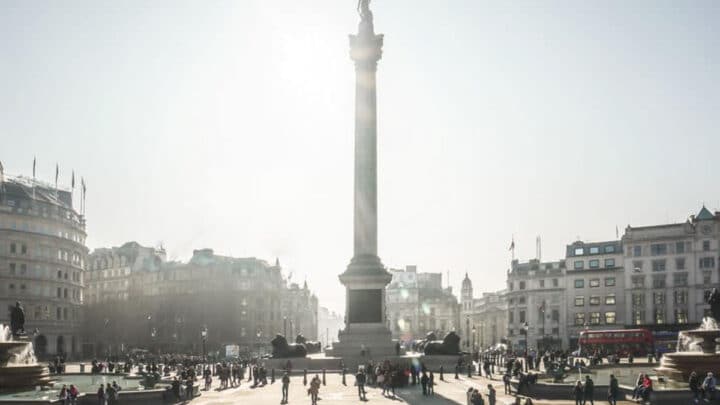 Wandering around London you'll have spotted lots of statues and monuments. Ever wanted to know the history behind them? Sure you do…
A stroll around London will see you passing many famous statues and monuments, especially in the Centre of London. But how did they get there and what are they for?
There's plenty of history behind the famous monuments in London and, as you might have guessed, not all of that is good.
Some of these statues date back as far as the 1st or early 2nd century – and each one has its own story to tell. From statues that commemorate the Great Fire of London to powerful feminist figures and old Prime Ministers, we've taken a look at London's best-known statues and monuments.
London's Most Famous Statues and Monuments
Marble Arch
Marylebone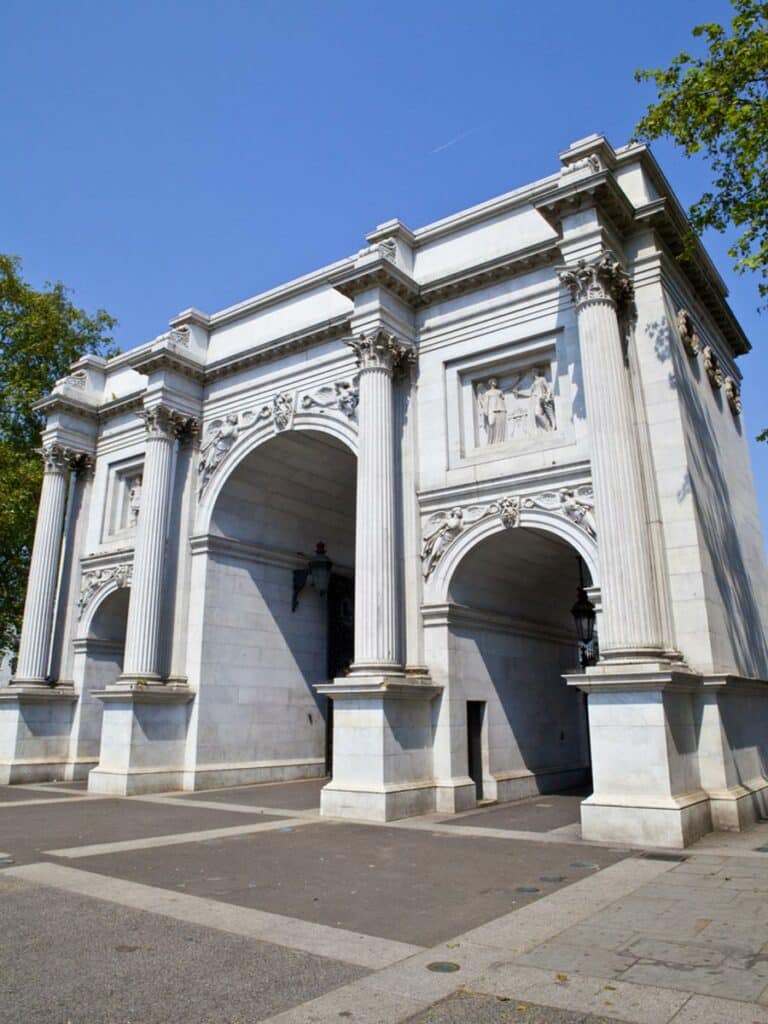 The most iconic monument in London, Marble Arch is a 19th Century white marble-faced triumphal arch.
But what's the history behind this famous London landmark?
Commissioned by King George IV, it was designed by architect John Nash to be a grandiose gateway to Buckingham Palace and to celebrate the British victories in the Napoleonic wars – if you can call it a victory that is.
If you think Marble Arch looks slightly familiar, that's because Nash drew inspiration from the Arc de Triomphe in Paris.
Not only did Marble Arch not end up being the entrance for a planned extension to Buckingham Palace and instead became part of Hyde Park, it was also missing parts. Following King George IV's death, William IV took to the throne and claimed the rising cost of Marble Arch was too great.
Funnily one of the missing parts to Marble Arch was a statue designed of William IV's brother – seems unlikely this statue went missing, more like a case of sibling rivalry.
Nelson's Column
Trafalgar Square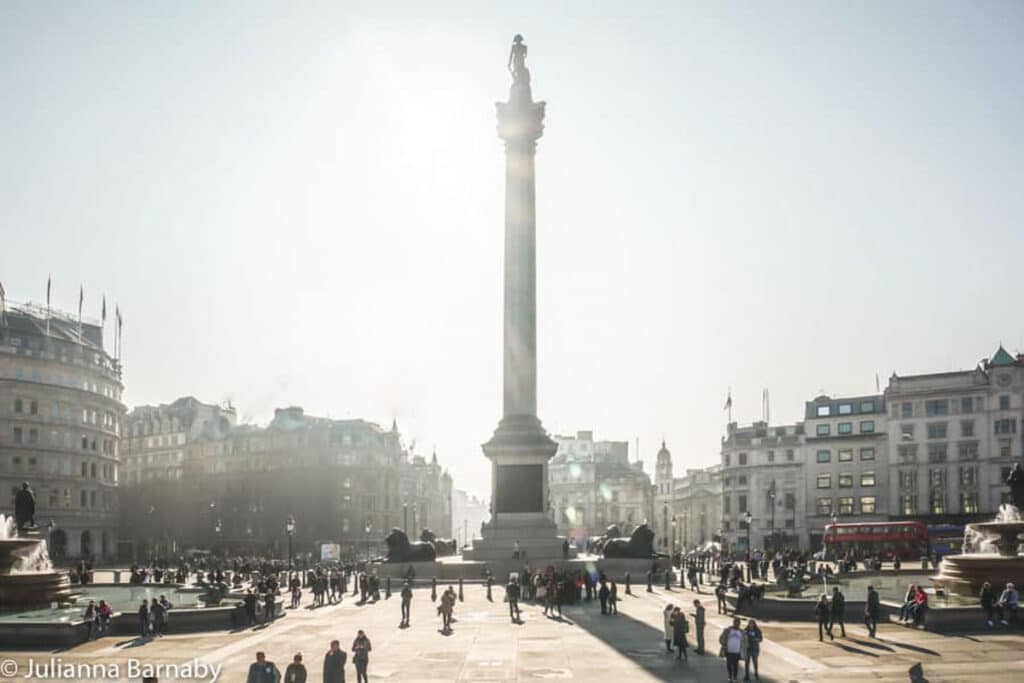 Admiral Nelson's Column, also known as Nelson's Column, sits in the middle of Trafalgar Square guarded by a quartet of lions.
The London monument commemorates Admiral Horatio Nelson – but who was he?
Nelson largely influenced the British naval victory over France and Spain during the Napoleonic Wars. Quite frankly, Nelson was an unapologetic conservative who turned a blind eye to slavery, and for that reason there doesn't seem much to celebrate.
Nelson's Column was also well-loved by the Nazis – the German airforce were asked not to bomb it so that they could take it back to Berlin.
The monument is around 168 ft, so surely no one would ever try to climb it, right?
Think again, that statute has become somewhat of a conquest for political activists. From Greenpeace makers fixing a gas mask to the statue to an anti-apartheid campagainer climbing it in the 70s, it's attracted a lot of attention over the years.
The Monument
Monument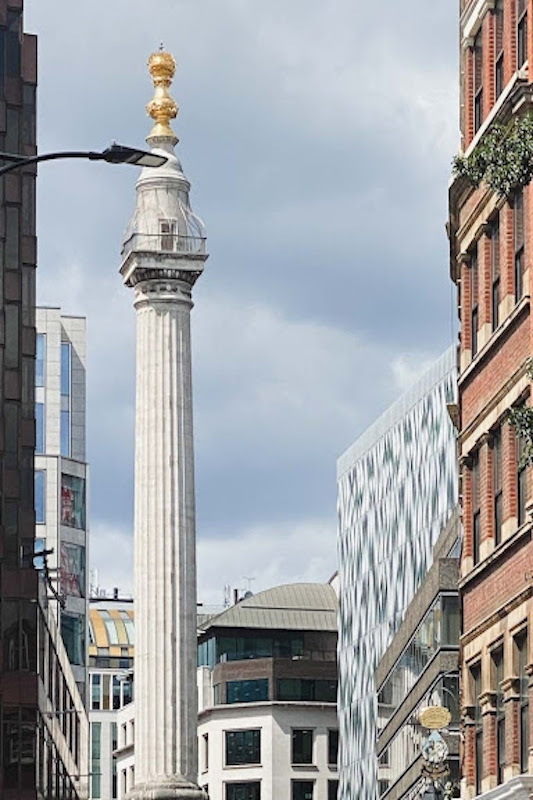 Situated near the northern end of London Bridge, The Monument stands at 202ft tall. It was designed by Sir Christopher Wren and Dr Robert Hooke and built between 1671 and 1677.
This famous London monument was built to commemorate the Great Fire of London that took place in 1666 – but did you know that the monument itself was the cause of some tragic deaths.
There were (surprisingly) only six verified deaths in the Great Fire of London, but more deaths have actually been caused or taken place on The Monument.
Eight people have died in total, six committed suicide and two more fell (this was in the pre-health and safety days).
It wasn't until about a century after the monument was built that on the viewing platform a wired net was erected to stop the death toll getting any higher.
Peter Pan Statue
Kensington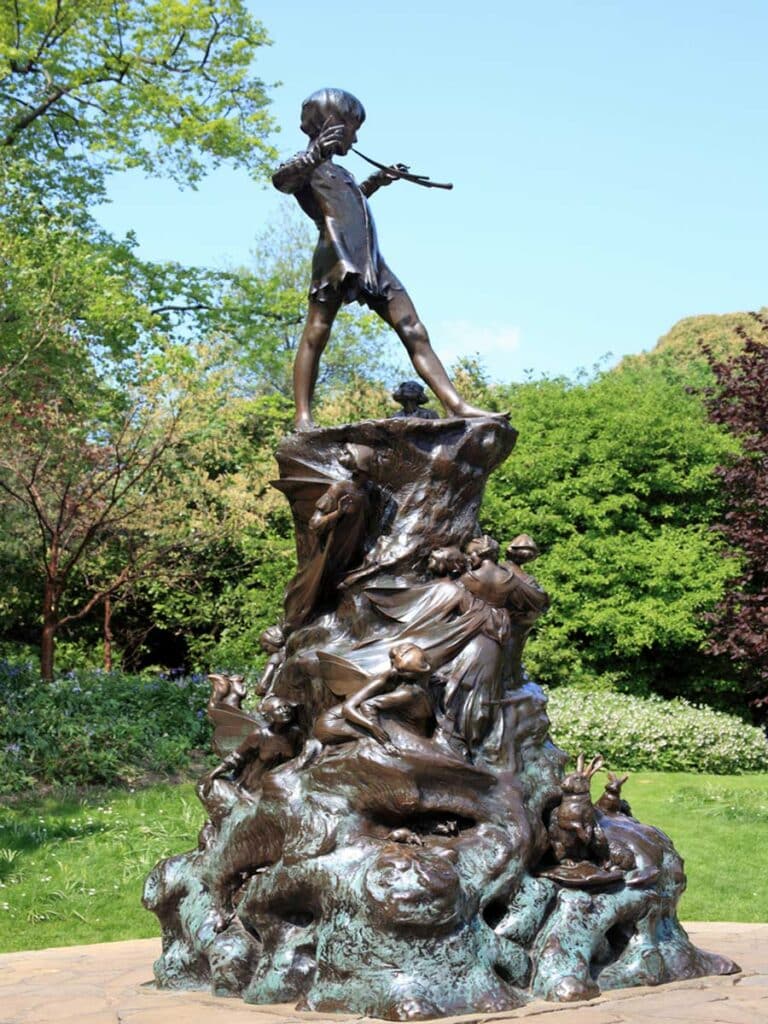 The Peter Pan Statue takes us back to our younger years – the character from J.M Barrie's 1902 novel The Boy Who Never Grows Up – who we now know as Peter Pan.
The novel describes how the little boy magically flies out of his bedroom window and lands near the Long Water in Kensington Gardens. The story was later adapted by Barrie into Peter Pan and that's where we learn about Neverland.
So why did Barrie include Kensington Garden in the novel? Barrie lived very close by and it became a poignant part of the novel. In 1912, the very spot where Peter Pan landed was marked with a magical bronze statue.
As lovely as it is that there's a Peter Pan Statue that kids can go and view, that wasn't the case one day in 1928.
The statue was vandalised in the dead of the night when someone poured a bucket of tar over Peter Pan's head and topped it with feathers. Think that's rather funny? You meanie – the sight had kids crying in the park.
Sir Winston Churchill Statue
Westminster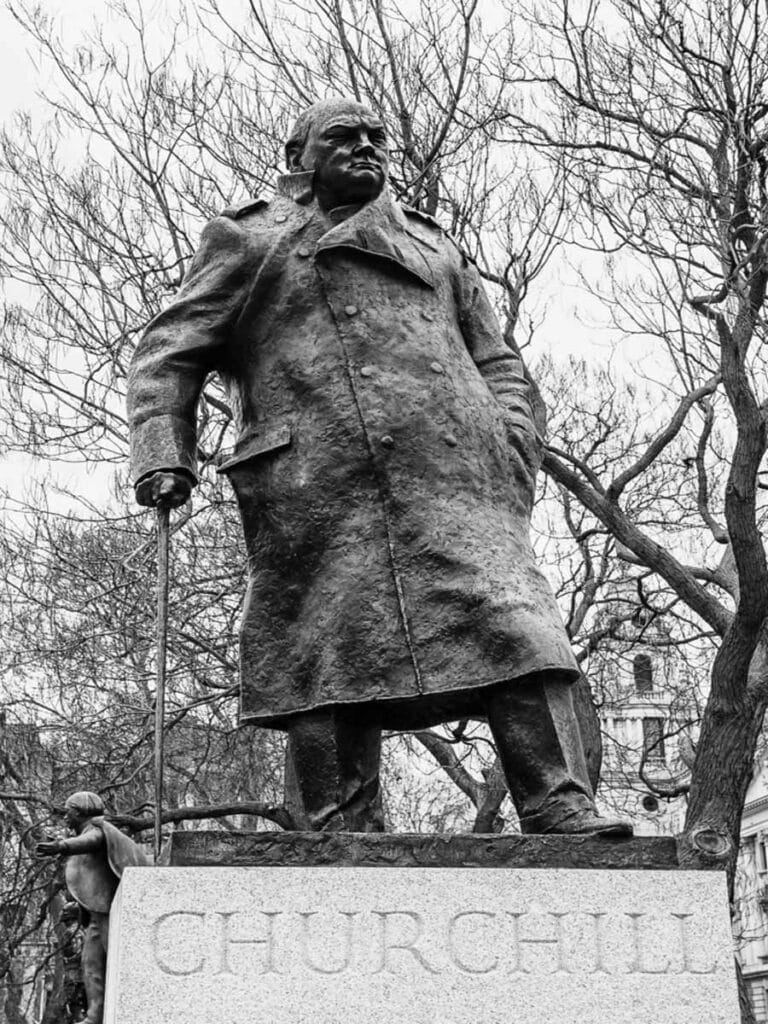 Located a three minute walk away from Westminster Abbey, Sir Winston Churchill Statue in Parliament Square was created by Ivor Robert-Jones.
The statue of the former Prime Minister has caused a bit of a stir in recent years. Firstly, being a Conservative leader is never the best stance (particularly not at the moment), but being a Conservative wasn't his worst quality.
The statue, and Churchill's legacy came under more scrutiny during the Black Lives Matter protests in 2020 – particularly the role Churchill played in the Bengal Famine. The statue had to be boarded up to protect it and has been the subject of a lot of controversy since.
Mary Wollstonecraft Monument
Stoke Newington
When the statue of Mary Wollstonecraft was unveiled in 2020, it received mixed reviews.
But who was Wollstonecraft? If you're not familiar with the name already, she was a prominent 18th Century feminist thinker and British writer.
So why was there so much controversy surrounding the statue? After a 10-year campaign the statue created by Maggi Hambling was finally unveiled.
Firstly, the statue is silver and not bronze – which in itself is odd. More controversially, it doesn't show Mary Wollestonecraft wearing any clothes or doing the things she was good at like writing. It's essentially a naked figure emerging from a silver mass.
Artistically we can see why this was a bold move, but if you're like us, aren't you just sick of everything being about women's bodies?
A lot of people made complaints about how it was untasteful and didn't reflect feminist power at all and, you know what? We agree.
Can't say we support the idea that feminist power could only be shown through a naked female body, considering how intelligent Wollstonecraft was, it really is a bit of a disservice to her.
Jan Smuts Statue
Westminster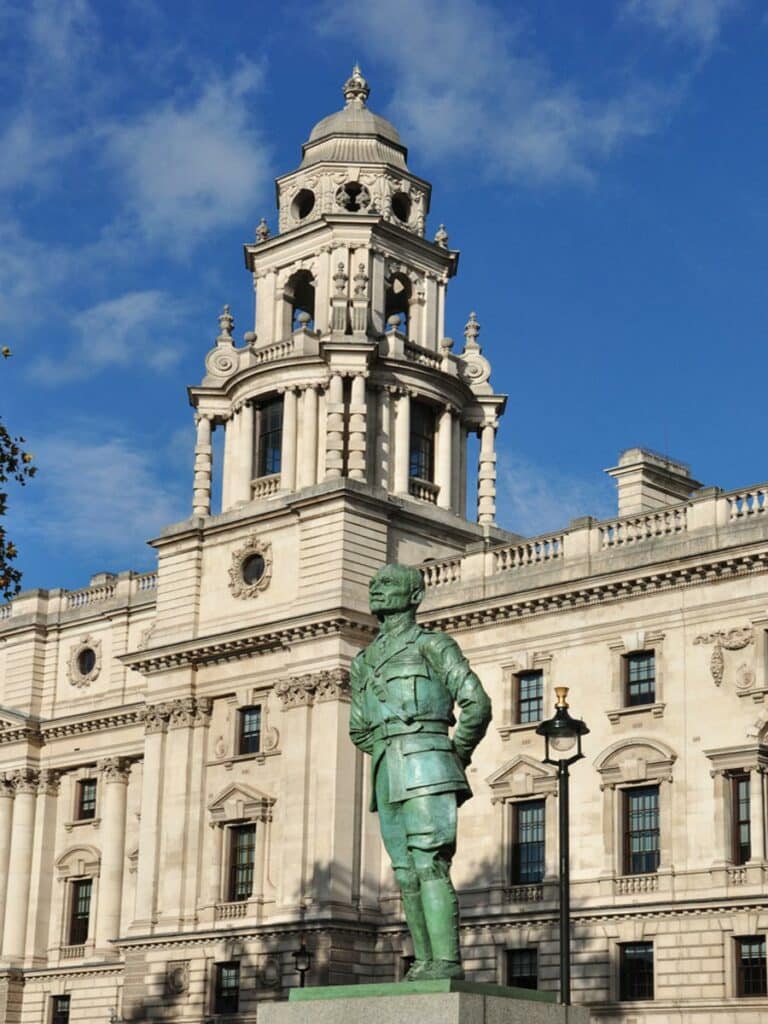 Located in Parliament Square, the Jan Smuts Statue came under scrutiny during the Black Lives Matter protests – and rightly so.
Jan Smuts was a South African leader and he was in favour of racial segregation, so definetely nothing to celebrate here.
In fact, he was an all round awful leader who also believed that South Africans were incapable of ruling themselves and needed to be led by white people. This is not the kind of opinion we want to see on display in modern Britain.
Wellington Monument
Hyde Park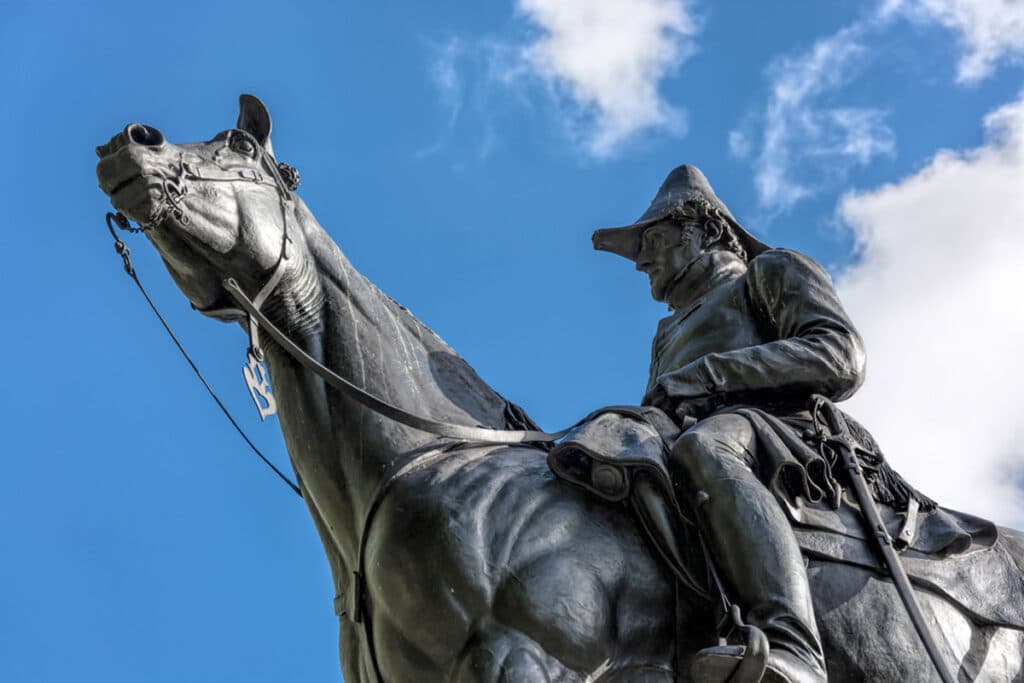 More scandalous nude statues in London, this was the first ever nude statue in London so it was bound to cause a stir.
Arthur Wellesley, 1st Duke of Wellington claimed victory of Napoli during the battle of Waterloo in 1815. He became the most lauded and respected man in Britain and was given titles and land and monuments were erected in his honour and those who fought with him.
An upper-class society named Ladies of England commissioned a statue of Wellington.
Richard Westmacott created the statue out of 33 tonnes of bronze and the statue was unveiled in Hyde Park in 1822.
Of course we can see why a huge naked statue would have been an odd phenomenon for the public and it's a very dated opinion that to show a muscular man they need to be naked.
Boudicca and Her Daughters
Westminster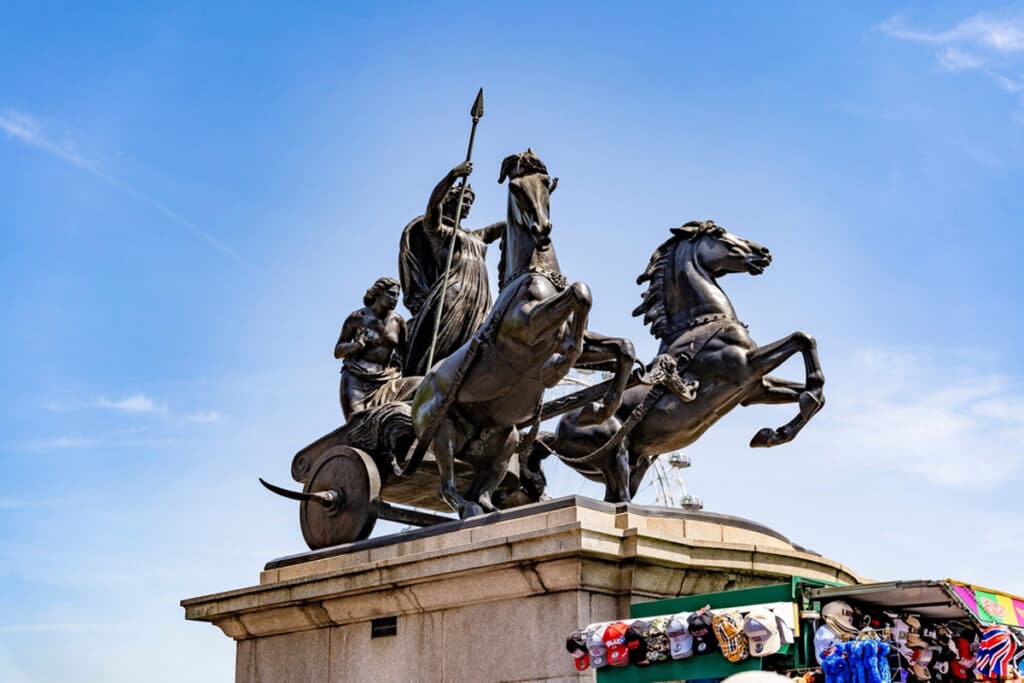 This is one of those statues in London that you'll have walked past a thousand times, but what's the history behind it?
This London statue is fascinating to us because it's rare to hear of courageous women that fought for what they believed in dating back to the 1800s.
On the western edge of Westminster Bridge is a bronze statue of a horse drawn chariot and three women. The crowned leader is Boadecia and the other two women are her daughters.
The queen of the Celtic Iceni tribe led an uprising in Roman Britain, although she essentially propelled the mass killing of Romans, Boudicca and her daughters and the rebels were trying to claim back the land once stolen from them.
These three women also endured sexual assault and were tortured before either dying in battle or commiting suicide.
Their story is legendary and from a female perspective it's empowering to celebrate them in the form of a statue.
The Shaftesbury Memorial Fountain
Piccadilly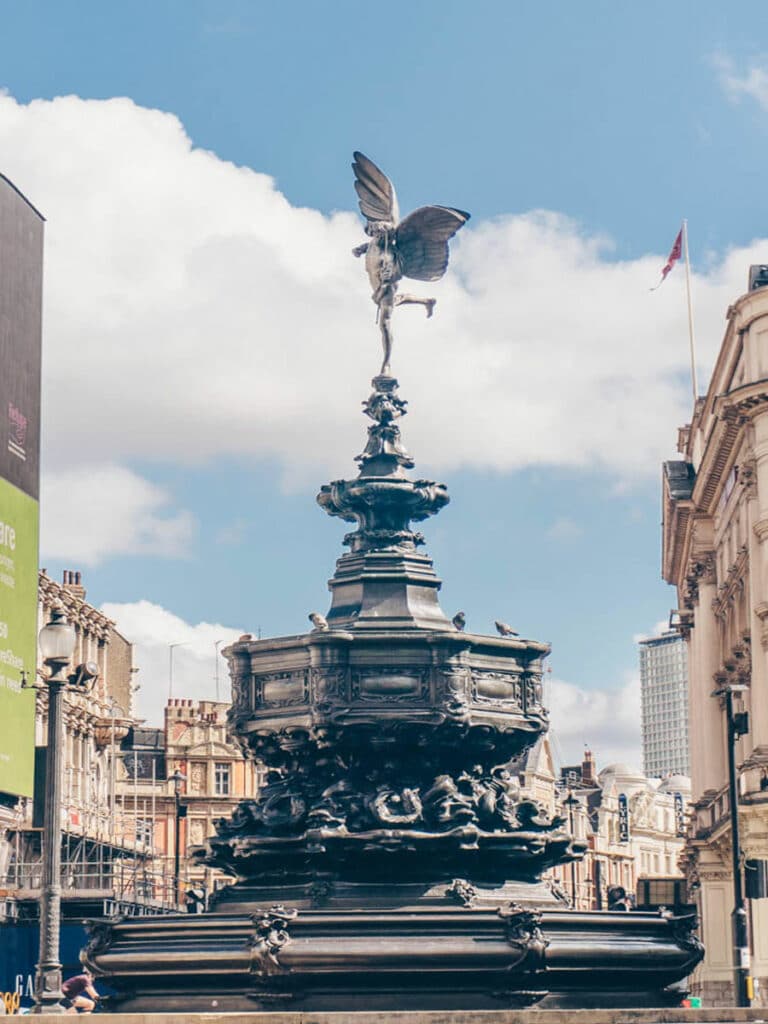 The Shaftesbury Memorial Fountain in Piccadilly Circus, also nicknamed the Eros Statue, is a monument to Anthony Ashley Cooper, the 7th Earl of Shaftesbury.
This one has a heart warming story and Cooper is very deserving of having his own statue.
He was a passionate and dedicated industrial reformer and prevented all women and girls and boys under the age of 10 from coal mine employment. This was a big deal back then and still is today.
The statue was intended as a public drinking fountain, but the design was flawed. The base was intended to hold a bowl of water but the base was too narrow and splashed the water everywhere.
There were also cups that were chained to the base, but unfortunately they were stolen – typical London behaviour.
Practical Tips for Visiting London's Monuments
Most of these statues are free to visit
There may be a short queue to climb up The Monument, but it's well worth the wait
Statues and Monuments in London: Map
Statues in London: Read Next