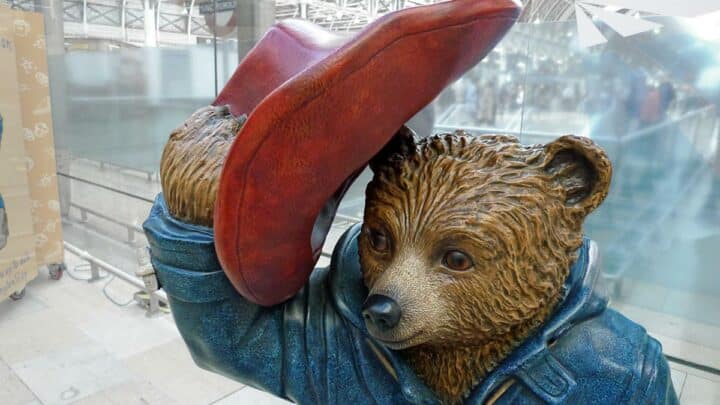 Paddington Bear is one of London's most iconic characters… But where exactly did he live? Let's dive in to the ultimate Paddington Bear guide to London.
From statues to shops and even trains dedicated to the lovable character, Paddington Bear truly is one of London's most beloved bears. He even made an appearance at the late Queen Elizabeth II's Jubilee – it's safe to say that the nation adores him.
Get ready to discover where Paddington Bear lived – and, more excitingly, where you can spot him in the capital today.
Paddington Bear: London's Most Beloved Bear
Alright, so we know that this snuggable bear is adored. But when did Paddington Bear first become so popular?
Well, this might shock a few of you… Paddington Bear first rose to fame after the Second World War. The man behind the marmalade-loving character, Michael Bond, drew on his wartime memories of evacuees and refugees when creating this adorable icon.
Paddington Bear was a refugee from Peru and the author is quoted as saying, "Paddington Bear was a refugee with a label – 'Please look after this bear. Thank you".
Paddington Bear's story began in the jungle of Peru where his once beautiful home was destroyed by a fire. With nowhere to go, he was forced to begin the traitorous journey to London, stowed away on a lifeboat in the hope of potentially getting a better life elsewhere.
Where Did Paddington Bear Live?
So then, where did Paddington Bear live when he got to London?
He first arrived at Paddington Station where he was spotted by Mr and Mrs Brown. Paddington was sitting on a small suitcase near the lost property office, wearing nothing but an old bush hat and a label around his neck saying 'Please look after this bear. Thank you.' Awwwww.
Obviously the Browns couldn't resist the request and took Paddington home to live with them at 32 Windsor Gardens in London along with their children, Jonathan and Judy, and their housekeeper, Mrs. Bird.
Other Paddington Bear London Locations
Where can you find Paddington Bear statues in London? Well, this is quite the tour.
The Original Paddington Statue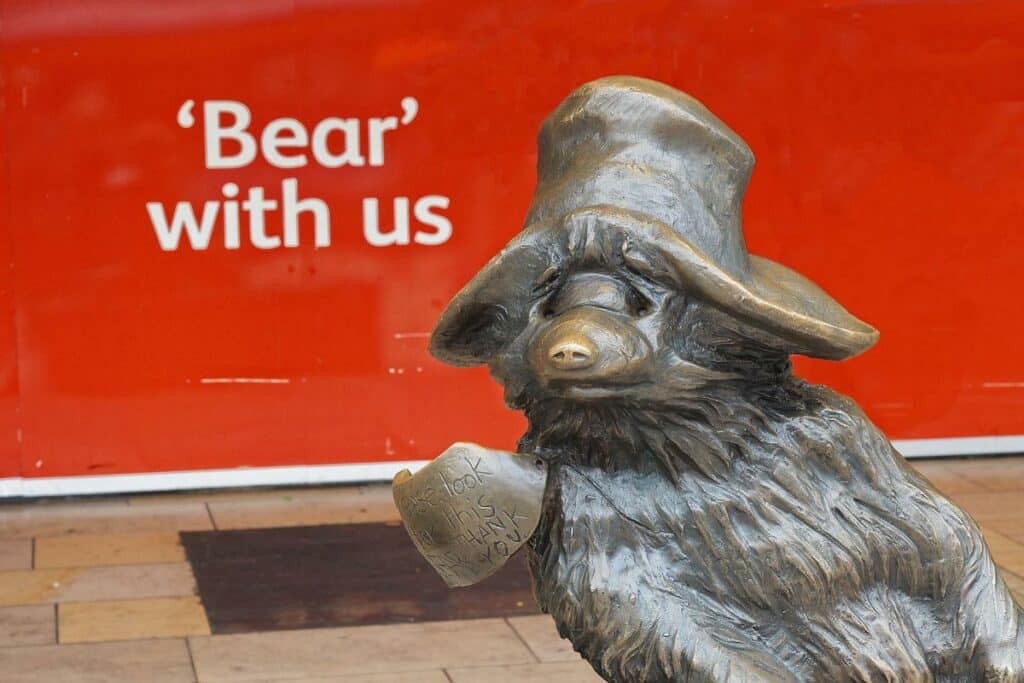 Let's start with the most famous Paddington Bear statue, the bronze masterpiece in Paddington Station.
The statue is found in pretty much the exact location where the Brown's first found the bear, on Platform 1. Expect a bit of a crowd, this is one of the most popular literary attractions in London.
The statue has been seen by so many that his nose and hat brim have been discoloured! You'll most likely have to wait in line for your picture.
Other Paddington Station Spots
Next is the Paddington Bear plaque situated again on platform 1. It gives details of the bear's appearance in both the book and the film.
Continuing on Platform 1, you also have a cute bench which invites you to sit down beside Paddington for a photograph – this one is very popular amongst little ones.
Looking for a souvenir? If you're wanting a soft toy, books or other random things with the famous bear on it, then you should check out The Lawn. It mostly serves food and drinks, but you'll also find the Paddington Bear Shop here.
St Mary's Statue
There's another Paddington Bear statue if you head north out of the station and pass beneath the Westway towards Paddington Green.
Then continue walking to the park, where St Mary's Terrace intersects with St Mary's Square. It's a two dimensional statue and is much less visited (it's not our favourite), but still worth it for hardcore Paddington Bear lovers.
Leicester Square Statue
One of our favourite statues of Paddington Bear can be found in Leicester Square (along with other famous characters). Here you'll spot Paddington tucking into a marmalade sandwich on a bench opposite the Odeon Luxe.
A Paddington… Train?
The final bear makes his way to the station once or twice a day. This is the intercity express train (train number 800010) which has the most beautiful illustrations of the bear on the train. We love this one.
The Paddington Bear Pub
Yes, you heard us right. The Mad Bishop and Bear is situated inside Paddington Station and the second part of the name is clearly in reference to our nation's favourite bear. The 'Mad Bishop' was a local man who apparently gifted the land for Paddington Station at a bargain, in case you were curious.
There are a few connections to the bear in the pub, like a black and white photo of the bear standing on the platforms. Although there's a lack of marmalade, which our bear wouldn't be happy with, it's still a very good pub.
Practical Tips for Exploring Paddington Bear's London
Avoid rush hour, especially when visiting Paddington Station. It's best to not go early in the morning or after 5pm because it will be extremely crowded – it really doesn't make for a great photo of the bear.
Make it fun! Stop off at the pub, go to the shop, really indulge in London's most famous bear. Luckily, you won't have to walk far to see all the statues and spot the bear, so make the most out of being in Paddington and perhaps walk down to Portobello Road when you're done for a little dose of shopping.
Paddington Bear's London Locations: Map
Paddington Bear Tour: Read Next