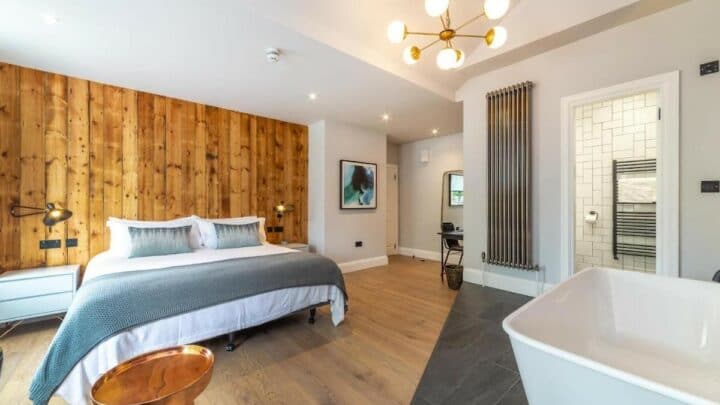 Looking for the best Hackney hotels? We've got you covered with this guide to the best places to stay in the cool east London borough.
It's no secret that Hackney is one of our favourite areas of London – it's filled with culturally diverse yet community-led residents, loads of quirky things to do, and some of the capitals best eats.
So, it makes sense that it's also one of the best places to stay during a visit to London – but finding the best hotels can be a mammoth task.
Don't fret if you're looking to visit this vibey spot, these are the best hotels in Hackney for every budget…
Best Hackney Hotels: At a Glance
Best Hotels in Hackney
The Old Ship Inn Hackney
££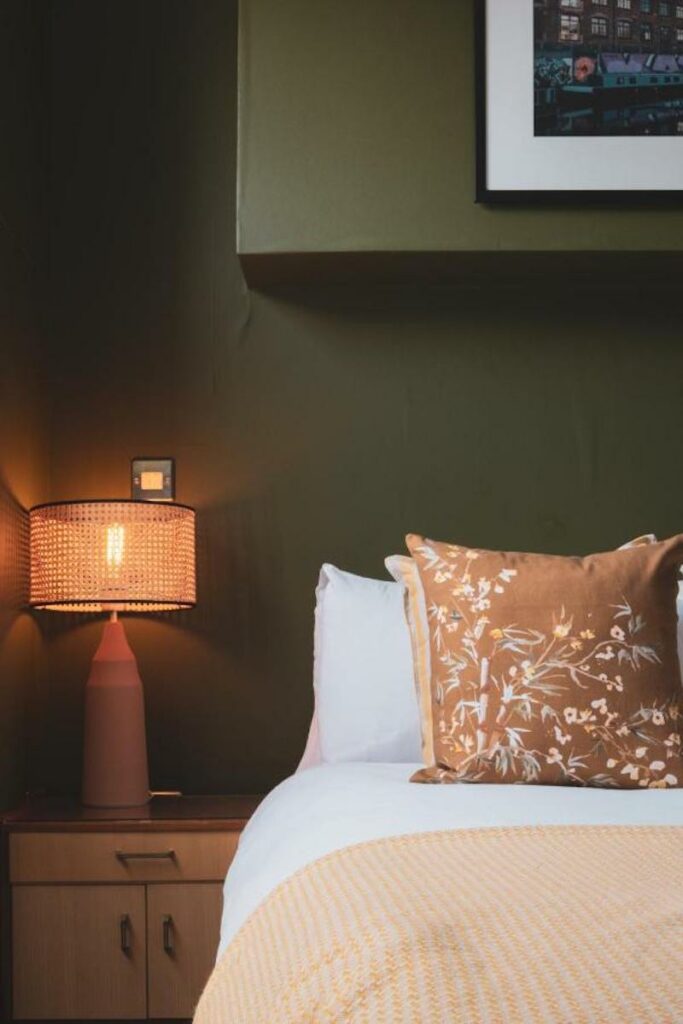 Unique in its offerings, the Old Ship Inn is a dream for those looking to stay in Hackney, with its bare-brick appeal and solid black facade. Upstairs you'll find traditional rooms, each comfortably sized, en-suite, and with spectacular views.
Downstairs in this Hackney Wick Hotel, the bar is decorated in industrial lighting and painted brick walls. You can enjoy a range of craft beers, cocktails, and a healthy variety of red and white wines. All of which pair perfectly with the hotel's famous rotisserie chicken and burgers.
If you're more interested in sightseeing, you'll be happy to find out that the inn is just minutes away from Hackney Town Hall, an award-winning event and wedding venue.
Looking for hotels near Hackney Wick Station? This one is situated closeby, so you'll have no trouble travelling around the city.
The Brownswood Pub & Guesthouse
££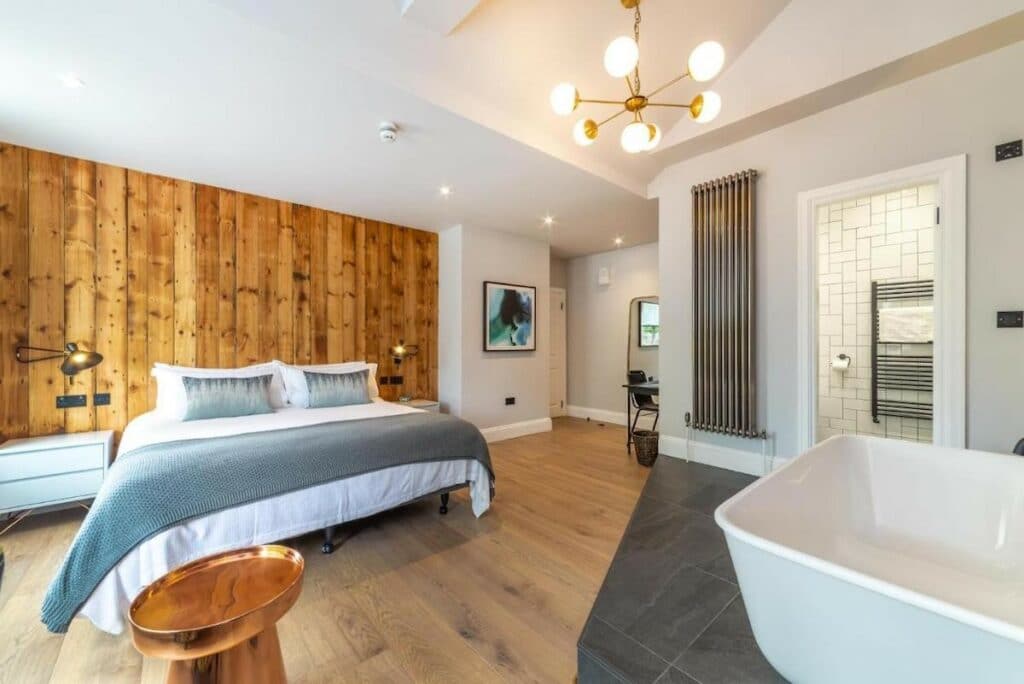 Another more traditional offering in Hackney is The Brownswood – it's an ideal guesthouse boasting colourful wallpapers and furniture accents.
The boutique rooms are light and spacious, each adorned by striking blue carpet. Though, if elegance is your thing, make sure to request room two, which boasts a large bathtub right in the middle of the room.
The guesthouse has built up quite a following for it's excellent breakfast, whilst the pub spans over two floors and offers a wide selection of beers, ciders, and wines, all sourced from local breweries and vineyards.
The guesthouse is nearby to Emirates Stadium, where you can catch the latest Arsenal match or visit the King's Cross Theatre, only 6 km away. The theatre offers various shows, from cabaret to musicals, ballet, opera, and award-winning plays.
CitizenM London
£££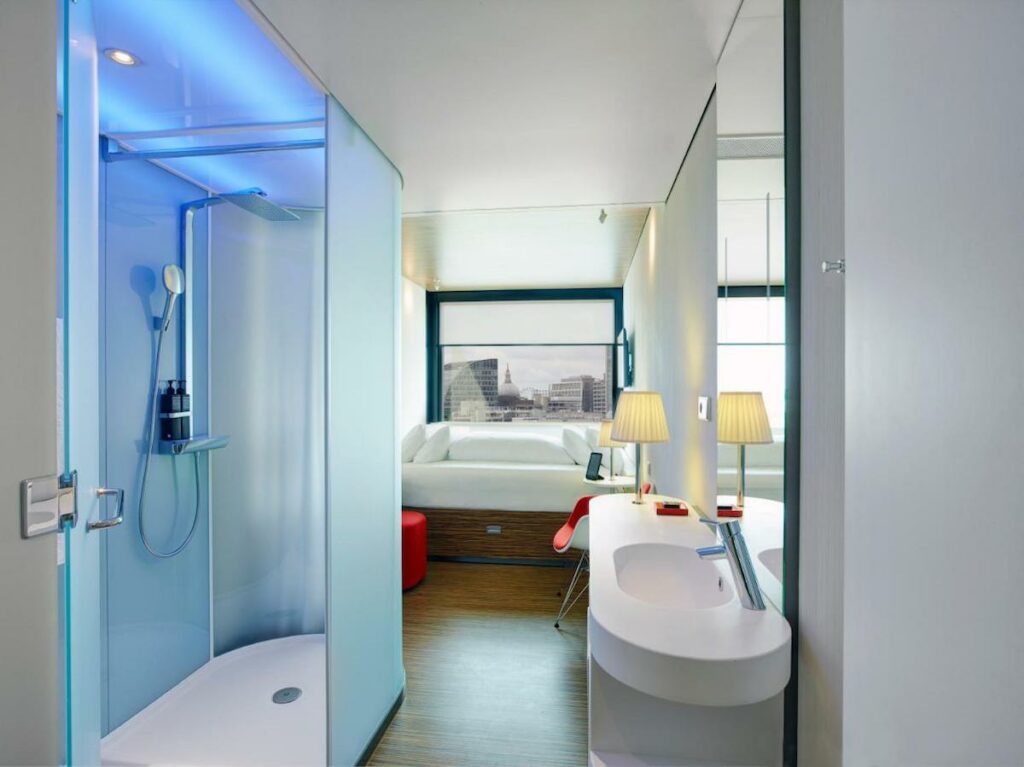 The striking CitizenM London is a glass-walled building situated in the Shoreditch district – and we think it's one of the best hotels near Hackney.
Rooms are white and bright, though not dull in the slightest. In fact, these rooms operate on a contactless system, allowing you to switch the lights on and off as well as set the perfect ambiance using the mood lights.
In contrast to the rooms, the hotel's bar is a vibrant space with red, blue, and white elements. The retro-inspired decor features industrial-style furniture and art-decor pendant lights.
The same goes for the hotel's multiple conference rooms, shared workstations, and open-sky porch encircled by the hotel.
Grab some souvenirs at the gift shop or take a walk down to Brick Lane Market or the Old Spitalfields Market. CitizenM is truly in the heart of London; while staying there, you'll have access to the Liverpool Street Station and London Stansted Airport, which are directly linked.
St Christopher's Backpackers Hostel
£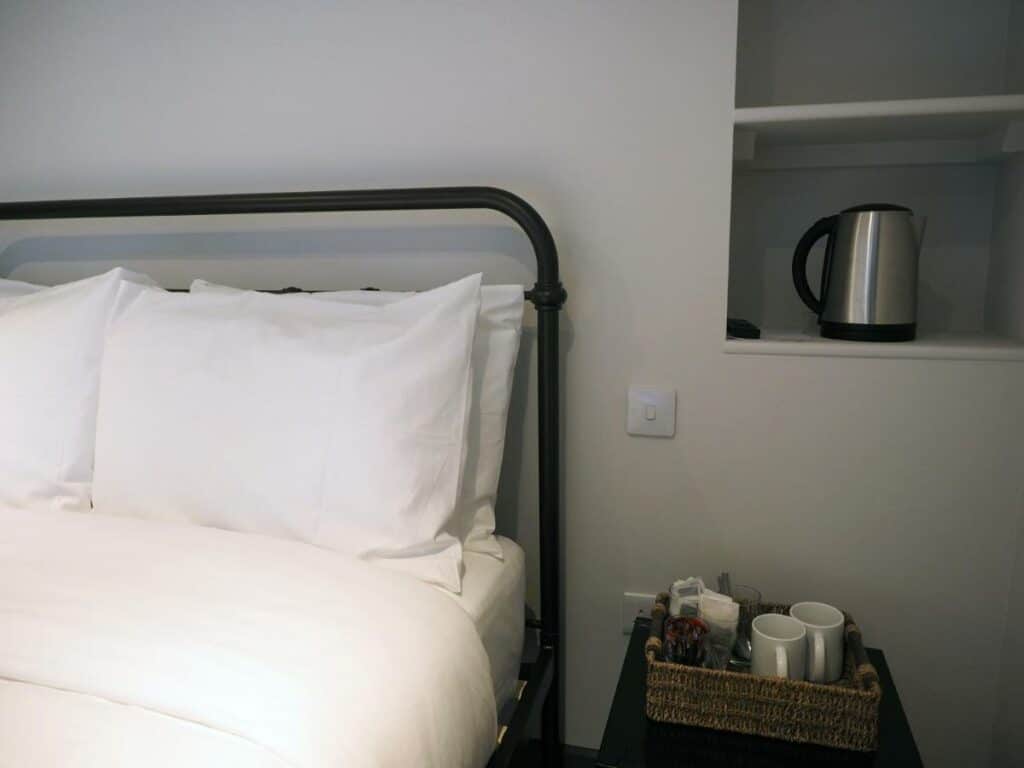 When it comes to cheap hotels in Hackney, St Christopher's hostel is near perfect. Okay, so it's a hostel, but it's a great pit spot for backpackers making their way through London. Or anyone wanting to save a wad of cash.
The hostel is housed inside a Georgian-style exterior that completely contrasts what's inside – namely colourful wall graphics, a game room, a vibrant bistro, and even a nightclub.
The hostel offers a variety of moderately-designed dormitories with private bathrooms and a range of capsule and bunk beds. This spot is also integrated with Belushi's bar and restaurant, serving smash burgers, cocktails, and live sports streaming.
Situated just 900 metres away from Hoxton Square, you can explore the neighbourhood, eating at one of the local pubs and restaurants before chilling out on the lush green Hoxton lawn. Or, hop on a train at Hackney Wick and explore a different area of the capital.
Keep in mind that this hostel is popular with partygoers, so it might not be the best option if you're looking to get up early and explore East London.
The Composer Loft
£££
The Composer Loft is a contemporary one-bedroom apartment with an open concept living and kitchen area. The loft has a coastal vibe, featuring indoor plants, baby-blue kitchen cabinets, and exposed steel beams, giving it that authentic Hackney industrial look.
The apartment also has a white piano, a vinyl collection, and a romantic garden space, which makes it perfect for a couple's getaway. Though, the loft is also pet-friendly and allows pet parents to bring their fur babies along.
Location-wise, this apartment is brilliant. Situated nearby Victoria Park, which is a dreamy spot for walks and picnics, as well as the ultra-cool Brick Lane where you can explore indie shops, bars, and Indian restaurants.
Boundary London
£££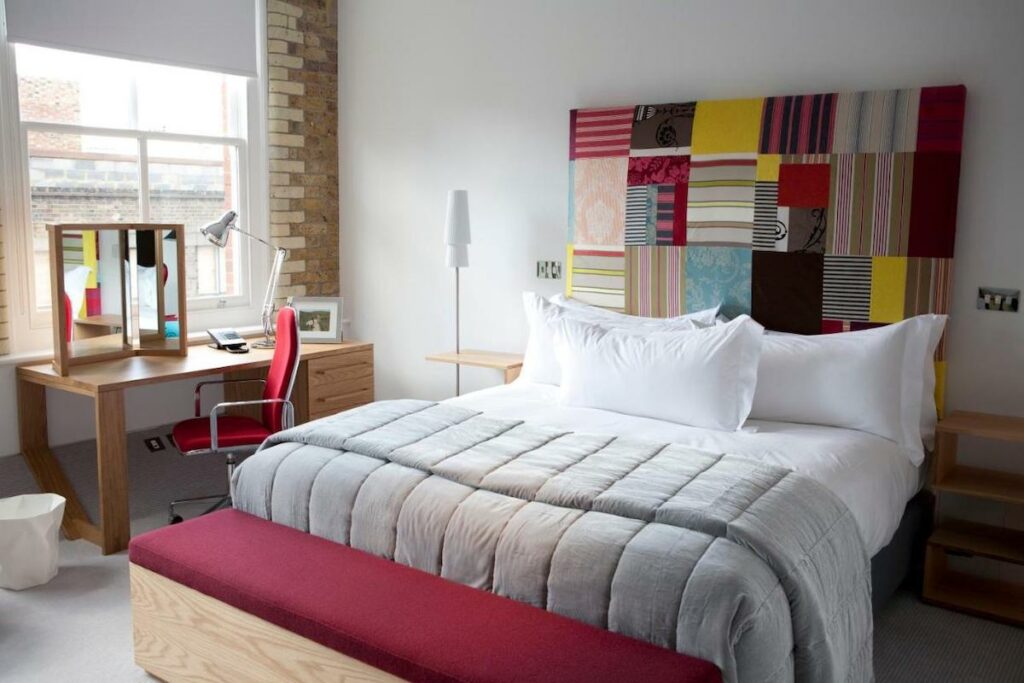 The Boundary London is a five-star hotel with eclectic furniture and aesthetics. The one-bedroom apartments feature authentic 20th-century decor with modern furnishings layered with contemporary-styled prints.
On the rooftop, you'll find a trendy bar and grill enclosed by a glass balcony. This space also opens up into the terrace, which features a garden with comfy outdoor seating, a fireplace, and (most importantly) heaters to keep you warm at night.
Indulge in the Boundary rooftop menu's southern French cuisine and an assortment of grilled meats and fish, then wash it all down with your pick from the wide selection of champagne, wine, and cocktails.
For some sightseeing, the hotel is just 2.7 km away from St Paul's Cathedral. The church features one of the largest domes in the world, sitting at almost 112 meters high, and an array of spectacular art.
The Dictionary Hostel
£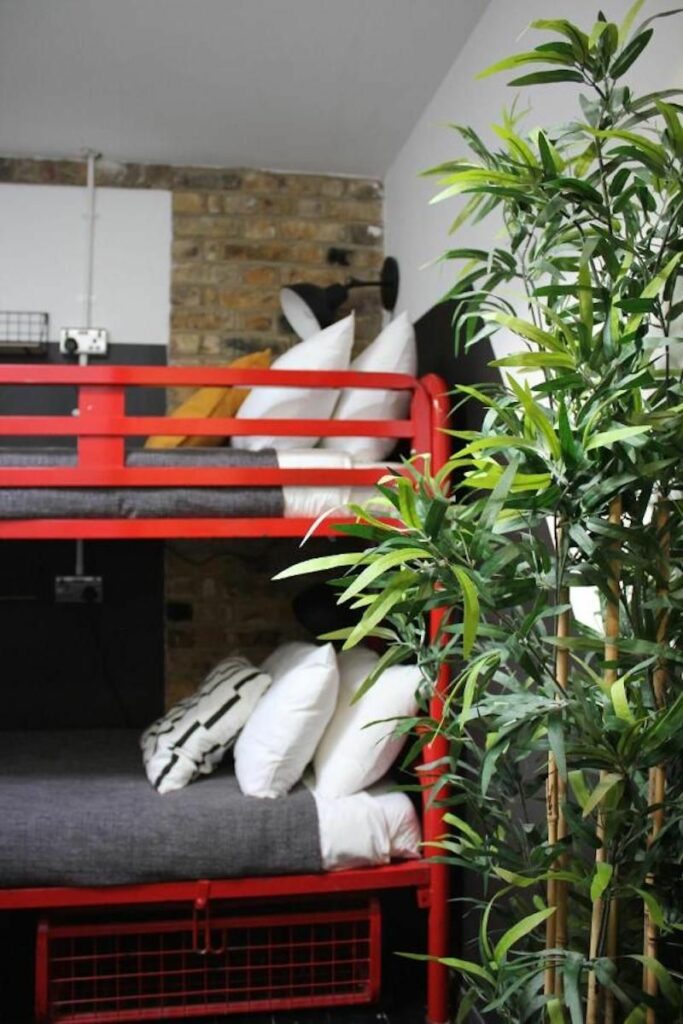 The Dictionary Hostel is a backpacker's dream, with double bedrooms available as well as en-suite dormitories equipped with bunk beds and metal storage lockers under each bed. The minimalistic dormitories can sleep four to sixteen people.
Wake up to a classic English breakfast, specialty coffee, and fresh pastries at the hostel's in-house cafe. Then grab a bite or a drink at the rock-themed Translate Bar, which connects directly to the hostel.
We think that this is one of the best value hostels in Hackney – and one of our favourites in London.
Located just metres away from Shoreditch High Street, you'll have no trouble club-hopping or trying out local cuisine from the best Shoreditch restaurants.
The Hoxton Shoreditch
££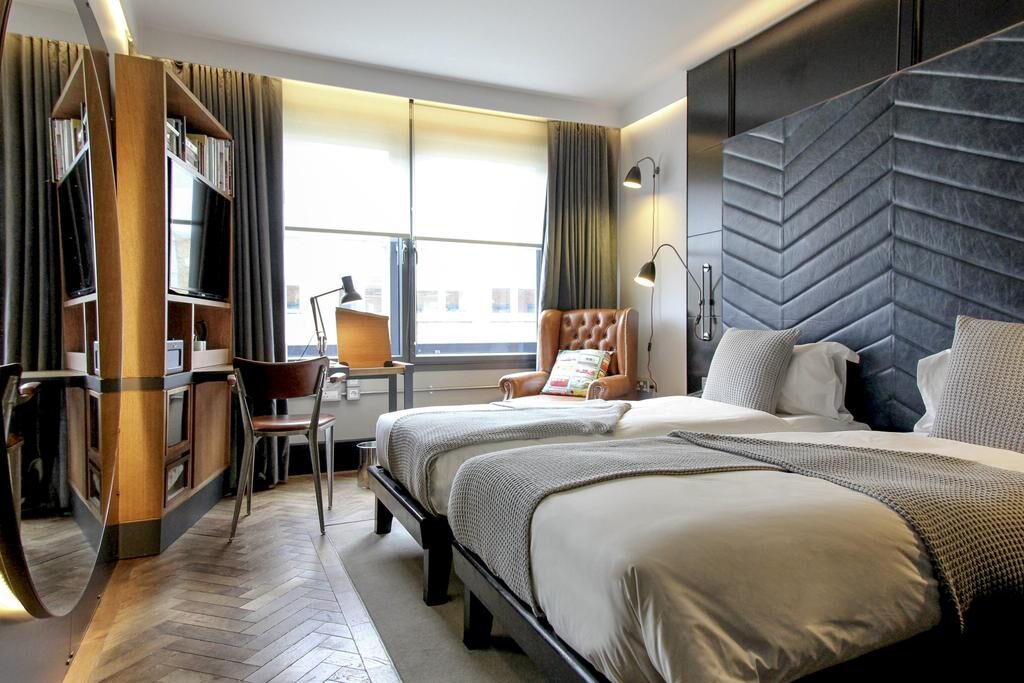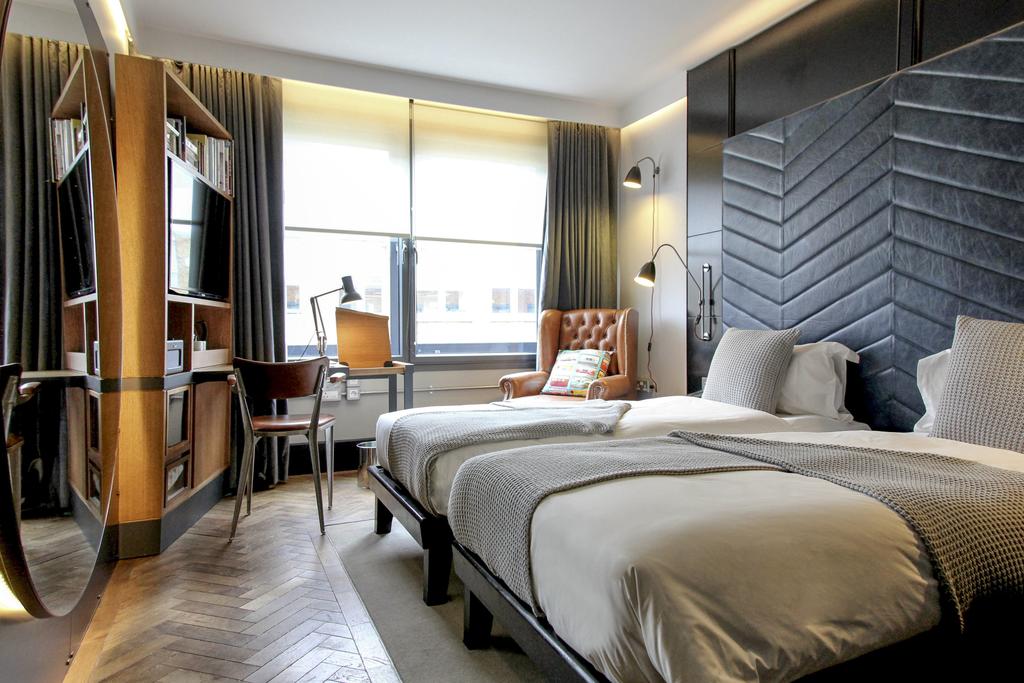 The Hoxton is a contemporary-style hotel with rustic elements like leather furniture and exposed brickwork. Each of the 210 rooms in this London Hackney hotel has industrial-inspired designs with parquet wooden floors, signature round mirrors, and monochromatic bathroom finishes.
The Hoxton Grill restaurant, which runs in partnership with Soho House Group, serves American-style cuisine from breakfast to dinner – we recommend dipping in for a cocktail or two in the evening.
Other amenities you can enjoy at Hoxton include an outdoor courtyard, a bar, and a big lobby suitable for coffee dates, meetings, or reading books.
The Hoxton is only a 5-minute walk from Old Street Tube Station, connecting you to most of London's top attractions.
Where to Stay in Hackney: Frequently Asked Questions
What is the Best Area to Stay in Hackney Borough?
The most famous district in the borough of Hackney is Shoreditch. Known for its hip street culture, specialty restaurants, bars, and nightclubs, Shoreditch is where you go for a good time.
It also helps that the district is conveniently located on Shoreditch High Street railway station, connecting it to most of London.
What is Hackney Known For?
Hackney is known for its vibrant nightlife. The borough boasts a series of bars, restaurants, and nightclubs like Hackney Wick and XOYO.
Is Hackney Worth Visiting?
Short answer: Yes.
Long answer: There's no London borough as fun as Hackney – you'll get the chance to experience the area's trendy market culture during your stay, where all the creatives and young entrepreneurs come to sell their crafts and mingle with the locals, as well as the extensive nightlife options.
Practical Tips to Consider Before Booking Your Hackney Accommodation
Hackney has a vibrant nightlife, with clubs, pubs, and scenic restaurants. You may want to stay on a quieter street like Johnson Close if you would rather avoid the noise.
A lot of Hackney's industrial infrastructure has been repurposed into coffee shops, galleries, and market venues. We really recommend heading out on walks to discover these hidden gems.
We also love using Plum Guide to find accommodation in London. Each of the properties on the site is hand-picked by PG staff, so only the very best make the cut.
Hackney Accommodation Guide: Map
Looking For More Hackney Guides