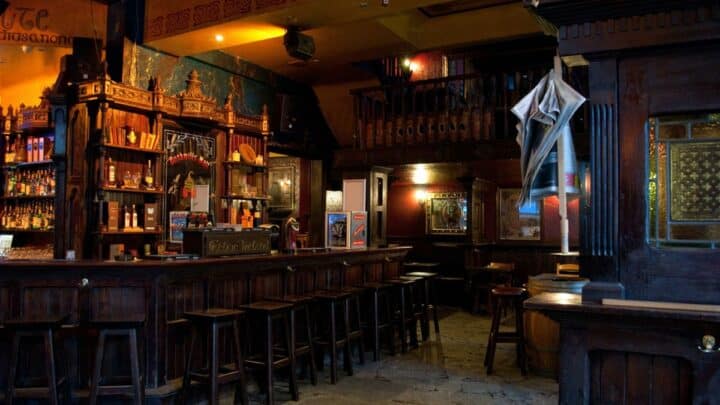 Looking for the best pubs in Stoke Newington? From modern gastropubs to quirky country boozers, these are the top places to grab a pint.
Stoke Newington is the capital of cute gastro pubs in London. Add to this an electric crowd of people out to have a bit of a laugh, drink good beer, and relax in a cosy pub atmosphere and you're in for a stellar evening.
There are so many pubs in Stoke Newington that it's the perfect place for a pub crawl… and we suggest attacking the pubs below in just that way.
Ready?
Best Stoke Newington Pubs
Rose & Crown
Only got time to drink at one pub in Stoke Newington? Make it The Rose and Crown. The pub is an old-world oaky dream with giant bay windows from which you can sit back and view the hustle and bustle of Church Street.
There's also an intimate snug area where you can relax with a big glass of rouge and take in the flames from the real log fire.
We love the pub because although the area has become more and more hipster, the pub hasn't changed one bit. The staff have always been friendly, the decor and ambience are amazing and the drink options are fabulous.
If you're looking for a buzzy pub in Stoke Newington, this is it!
Shakespeare
The Shakespeare pub is very vibey and the it-place on a Saturday night. It's relaxed and the crowd it gathers is up for a good time.
The decor features striking paintings and sculptures with a wonderful little beer garden in the back. The pub is often voted as the best pub in Stoke Newington, and you'll soon see why.
It's also a great pub to watch football or any sports games. The tight horseshow shape gives it an intimate feel and it's almost a little too easy to make friends. Conversation rules in this pub.
Down to earth, laid back, and full of delicious beers.
The Jolly Butchers
An airy, traditional pub with gorgeous arched windows and a stripped-down floor – this tops the list of best pubs Stoke Newington has to offer.
The Jolly Butchers is known to be one of the best Sunday roasts in Stoke Newington, and people travel far and wide just for the roast. They seriously know how to roast and do not skimp out on gravy or portions – it's huge.
The wine is also very well priced and tasty, the atmosphere is fun and the ales are some of the best in the area. We can't complain.
The Prince
A fun, young hangout with a rustic feel and great craft beer. The Prince is a wonderful pub because it's got both incredibly tasty beer and incredibly tasty food – it's surprisingly rare for a pub to have both.
The Prince is a great addition to the Stoke Newington pub scene. It's a restored Victorian freehouse cooking with some of the best quality produce available. The independent family-friendly pub is all about community and bringing people together in a good old English boozer.
On an even better note, the tequila shots are £4 and the vegan options are equally as tasty.
The Birdcage
It's so good to see that The Birdcage has reopened in Stoke Newington with more energy than ever. The staff are incredibly friendly and the drinks are equally as brilliant.
The best pub menu in Stoke Newington – you've got a separate vegan menu and even a separate gluten-free menu. The prices are great, the atmosphere is really fun and you could easily stay there for an entire day and just totally lose track of time.
If you're a gin lover, there's a load of different gins to choose from and if you're into your craft beers, we'd recommend going a little rogue and trying the Voodoo Ranger.
The rebranding of this pub is beyond amazing, you won't be disappointed.
The Londesborough
The best beer garden in Stoke Newington with a very relaxed atmosphere, The Londesborough is a great addition to your pub crawl.
The building has quite a traditional look with a modern twist to it. A great place if you want to try cocktails – we love their Bloody Mary which is made with freshly-grated horseradish.
Some say it's one of the best roast dinners in London, and it's not far off (The Jolly Butchers just snatches it for us).
Though they do serve a huge three-meat roast which although listed for two people, you could probably serve several more. The slow roast pork belly is especially good, and they do homemade deserts which are to die for.
The Axe
The Axe is a stokey favourite with 22 taps of the best and rarest local and international beers, as well as a cracking selection of natural wines.
They make their dishes using only the freshest seasonal produce, championing local suppliers to get the best of the best. It's real pub grub with a slightly modern.
They also boast a truly outstanding beer selection – it's almost worth travelling across London just for the beer selection, to be honest.
Cocktails under a tenner are always a plus and there are also plenty of low or no alcohol choices if you're going dry, which is quite a rarity in pubs.
Another great place for a Sunday Roast which will not disappoint, but you can't really go wrong any time of the week. Give the mulled cider a try if you're feeling adventurous.
Alma Pub
Definitely the liveliest pub in Stoke Newington, The Alma on Newington Green is a lot of fun. They have great Irish music which helps to ramp the atmosphere up – as does the selection of incredible wines to choose from.
The decor is charming, it's family-run and if you head up on a Friday you might get the chance to see a live band. Even Thursdays feel like Fridays at the Alma!
We have to say, it can almost feel a little too crowded on the weekend. It's not the kind of place you go for a quiet chat so make sure you know what you're getting yourself into. A really fun pub in Stoke Newington with a funky interior and lots of laughs.
Stoke Newington Pubs: Map
Discover More Stoke Newington Guides