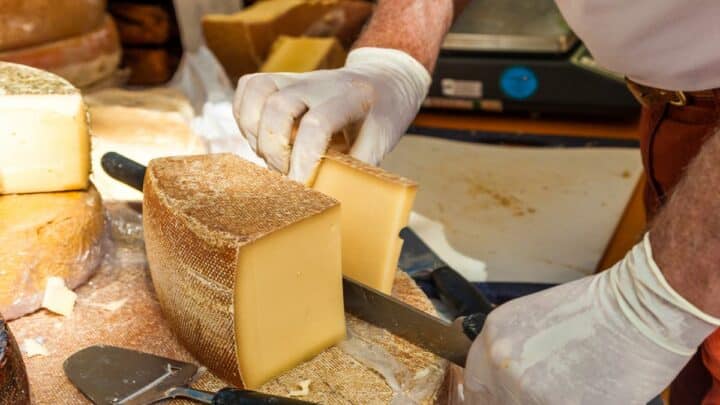 Looking for the best cheese shops in London? Ditch the supermarket cheddar for a tastier offering from one of these spots.
Cheese shops have always been pretty popular in London, but they seem to be having a resurgence in recent years. And, although it's a little more expensive than buying your cheese from the supermarket, it's worth getting on board.
Become besties with your cheesemonger and you'll soon find a world of variety and taste.
It's a better experience all round, and we're lucky enough to have such amazing cheese shops in London. These are our favourites.
Best Cheese Shops in London
Funk
££
Funk is East London's very own cheese shop, specialising in British Cheese and small producers. Under The Cheese Bar umbrella of restaurants and shops, they've got some of the best cheese backers in the business.
Funk lets you try over 30 hand picked cheeses, and provides you with the opportunity to buy a ready-made cheese board – the perfect dinner party present. Is it any wonder that this is one of the best cheese shops in East London?
Paxton & Whitfield
Piccadilly Circus
£££
Looking for the best specialist cheese shops London has to offer? Probably the most iconic cheese shop in the capital, Paxton & Whitfield is all about tradition and praises itself for being one of the oldest cheesemongers in London.
Back in the 18th century, Paxton & Whitfield was even serving royalty. Though, the shop's real claim to fame was when Winston Churchill said "a gentleman only buys his cheese at Paxton & Whitfield."
They sell both native and imported variants of cheese, while the cheesemongers couldn't be more helpful if they tried. Whether you're looking for a cheesy treat or a special souvenir, they are on hand to help you pick.
Hamish Johnston
££
Hamish Johnston is sort of what makes Northcote Road, Northcote Road. It's the ultimate London cheese shop and a favourite amongst locals. The cheese store opened in 1994 and is a family run institution serving both artisan and farmhouse cheese.
You'll be blown away by the suggestions from the staff and all the different types of cheese – some we guarantee you'll never have even heard of.
It's the epicentre of the community and somewhere you'll just want to keep coming back to because of how great the cheese is. Truly one of the best cheese shops in South London.
La Fromagerie
££
La Fromagerie is all about the cheese making process. And, because of this, we think it's the cheese shop London boasts.
They use a method called affinage, which means sourcing raw cheeses from artisan producers and allowing them to mature to perfection in temperature-monitored rooms by affineurs. It's a skilled practice that takes a lot of skill and cheese knowledge. We wonder if you need a degree?
We suggest asking to taste as much as you can before you buy to make sure you get the perfect one… Not that you need an excuse to gorge on cheddar, we're sure.
They have plenty of cheese boards you can buy too, or perhaps you'd like to book into one of their evening tastings where you can delve deeper into the selections. We thought so.
Neal's Yard Dairy
££
Still one of the best in London, Neal's Yard Dairy has made a bit of a name for itself over the years. The cheeses are aged in their own maturing room in Bermondsey, keeping it very local to where it's sold. There, they are turned, brushed and washed to perfection.
All cheeses are sourced from the UK and Ireland, and what we love most about it is that in-house tasting is encouraged. They want to share their love for cheese with you!
Check out their website because they also put on regular cheese events, like a cheese making workshop and obviously, cheese and wine nights.
Brindisa Cheese & Charcuterie
££
Spanish inspired and absolutely wonderful, the amazing cheese and charcuterie deli on Balham's Hildreth Street is exactly what the area needed.
As much as we love English cheeses, Spanish cheeses are equally delicious. Whether you're going for the Canary Island Majorero or just a good old Manchego, you know you'll be getting the best of Spanish cheese at Brindisa.
Ask the lovely people at the shop to talk you through what they've got, what you want and try your way through their delicious cheeses. 10/10 for Brindisa Cheese & Charcuterie.
Cheeses Of Muswell Hill
Muswell Hill
££
Cheeses of Muswell Hill is a local's favourite and one of the longest standing shops in the area (it opened over 40 years ago!). While the shop is small, it manages to stock more than 200 types of cheese. Along with cheese wedding cakes, wine and cheese tools as well as some very tasty crackers, of course.
It's family run and you really get a sense of community there, with the owner speaking to most customers by first name basis. They really are the friendliest cheesemonger London boasts.
Still not convinced? The shop is no stranger to the big screen (and celebrity chefs), having been featured in Nigel Slater's Kitchen Diaries and Paul Hollywood's BBC series Bread.
Buchanan's
St George's Fields
££
Rhuaridh Buchanan learned the art of cheese making at Paxton & Whitfield before opening his own shop in Connaught Village. You can really tell a lot of passion went into the shop – it doesn't just stock British cheeses but also some of the best ones in Europe.
What's available changes almost daily depending on what's ripe in the onsite maturing rooms, which means you'll always and only ever be getting the tastiest cheeses.
Cheese at Leadenhall
££
We love independent shops and Cheese at Leadenhall stands for everything we want from a cheese shop. They have over 100 artisan British and European cheeses and offer a lovely selection of wines at their bar.
The cheese hampers are our favourite offering by Cheese at Leadenhall – cute little baskets that contain everything you could possibly need for a feast: cheese, crackers, chutneys, olives… you name it.
Though, feel free to swing by to sample a few cheeses before you commit to a block – we love their Isle of White Blue.
Practical Tips Before Visiting London's Cheesemongers
Try before you buy! The vast majority of cheesemongers will allow you to have a little nibble before you commit to your purchase.
Only got time to visit one cheese shop in London? Make it Neal's Yard or La Fromagerie.
London Cheese Shops: Map