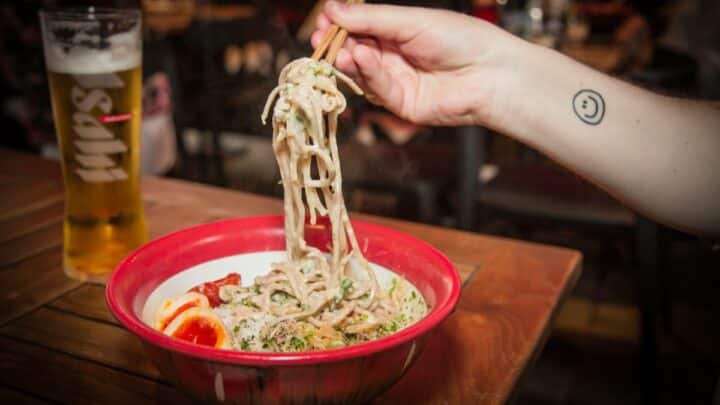 Looking for the best restaurants in Victoria? From classic British fine-dining to pared-back Scandi cool, these mouth-watering places deserve a spot at the top of your list.
Victoria has quickly become a hang-out spot for Londoners in the know. But why? That would be because there are so many unmissable restaurants and brilliant bars dotted throughout the area.
Let's face it – if we asked you to name the areas that are London's culinary powerhouses, Victoria wouldn't be top of your list – but it does have a great range of high-quality places to eat that you should have on your radar.
The Artist Residence Clubhouse whispers bohemian luxe, Bone Daddies roars with the energy of a Tokyo ramen bar… from cosy ramen joints to upscale Italian restaurants, these are our favourite food spots in Victoria to visit. Dig in!
Best Restaurants in Victoria
Artist Residence Clubhouse
52 Cambridge St, SW1V 4QQ
££
The comfy Artist Residence Clubhouse feels like a home away from home armed with sofas, a roaring fireplace and authentic wood flooring.
The eatery is an all-day cafe-come-restaurant, so it's no wonder that it's the best place in Victoria to satisfy your breakfast, lunch and dinner cravings.
Lazy weekend lunches are king here, and include hearty offerings like Fish Pie and Coconut Curry with Squash, Turmeric, Pak Choi & Sticky Rice. All of these are best washed down with one of Artist Residence's house cocktails – the Little Miss Sunshine offers the weekend vibes we're after.
The Dining Room at The Goring
15 Beeston Place, SW1W 0JW
£££
Set inside the five-star hotel, The Goring boasts a Michelin-starred dining room that's effortlessly elegant.
Designed by David Linley, The Dining Room at The Goring is adorned by natural light by day and sparkles with Swarovski chandeliers by night. British food is taken to a whole new level – we guarantee your taste buds will really enjoy the dining experience here.
Tuck into Wild Garlic Velouté, Smoked Ricotta Dumpling, Winter Truffle and BBQ Onion to start followed by Rhug Estate Lamb Saddle. As well as the food tasting delicious, every single dish here is beautifully presented, which really lets you know that you're dining somewhere fancy.
TOZI
8 Gillingham Street, SW1V 1HJ
££
If, like us, you love dining at lively joints that almost feel like a cross between a bar and a restaurant then you'll love TOZI.
This is one of the best Italian spots in Victoria for both lunch and dinner. It boasts lively Italian energy that we love paired with delicious food.
Inspired by Venetian dining, its Cicchetti dishes are created using the finest ingredients and lots of creativity.
And, what's an Italian restaurant without a mouth-watering pasta selection? The Buffalo Ravioli and Black Truffle will reassure you that TOZI knows how to create the best pasta dishes.
After dinner, stay for indulgent cocktails with inventive names like Did You Ask the Chef? and Let's fly Away.
Paradise Indian Restaurant
5 Denbigh Street, SW1V 2HF
££
Rest assured, Paradise Indian Restaurant is one of the best traditional Indian restaurants in the city.
This fuss-free Indian spot offers a sense of familiarity in the form of neat tables with fancy-looking dining chairs and white tablecloths.
Serving Londoners since 1989, it really has has stood the test of time. You'll find some of the best Tandoori and Tikka dishes you've ever tasted here, but we'll let you be the judge of that after your visit.
The atmosphere here matches the food, warm and inviting with a dash of spice – by that we mean the waiters love to have a laugh and joke with diners.
Lorne
76 Wilton Road, SW1V 1DE
££
There's a strong emphasis on wine at Lorne, and that gets the nod of approval from us.
You can't help but feel relaxed once you set foot inside Lorne. Its Scandinavian decor is calming, plants fill the wooden shelves and you've got a choice between an open-plan dining area or a few intimate booths with marble table tops.
The restaurant's set menu offers great value for this quality of food and allows you to sample the very best modern British dishes from the main menu. The standard menu has tempting vegetarian choices, plus vegan options are available on request.
If you can manage three courses, we suggest you make them the Glazed Confit Chicken Oysters, Duck Breast and, to finish off, an indulgent Creme Brulee.
Kazan Restaurant
93-94 Wilton Road, SW1V 1DW
££
Located nearby Victoria station is the authentic Turkish restaurant, Kazan. We guarantee that one visit will not be enough.
Inside, the restaurant gives off a contemporary Ottoman vibe. The dining space is spacious with stylish concrete walls and decorative lighting fittings above the tables.
The Ottoman-influenced menu here focuses mainly on marinated char grilled meats that are all cooked to perfection.
But, the star of the show has to be the Incik (Lamb Shank), it's slow-cooked alongside roast vegetables and served with a creamy garlic mash. There are also various great value set menus on offer too, offering a comprehensive taste of the region.
Stoke House Restaurant
81 Buckingham Palace Road, SW1W 0AJ
££
Stoke House Restaurant is one of Victoria's newest hangout spots. This modern British steak house uses meat from Aubrey Allen butchers – all of which are grass-fed and dry-aged on the bone for 28 days.
The interesting dining space is centred around a busy bar underneath an industrial-style ceiling. This place has it all: From its spacious lounge and bar to the outdoor heated terrace, available to dine at for both lunch and dinner, whatever the weather.
The Sunday Roast is outstanding, being a steakhouse it'd be rude not to opt for the succulent beef offering. As if that wasn't enough to get your taste buds going, the roast potatoes are extra crispy, and the Yorkshire puddings are homemade.
Stone & Grill Restaurant
52 Wilton Road, SW1V 1DE
££
From the outside, Stone & Grill Restaurant looks quite unassuming, but trust us when we say that what awaits you on the inside is well worth a visit.
Stepping inside this Mediterranean restaurant, you'll be greeted by bare brick walls and a wall covered in lush greenery – we're certain you'll be planning your photoshoot in front of it.
We'll let you in on a little secret – the best seat in the house is under the beautiful skylight with hanging plants.
The charcoal-grilled dishes are why we love the food here. Expect everything from beef and lamb chops to salmon and sea bass, with plenty of vegetarian options too.
Rail House Cafe
8 Sir Simon Milton Square, SW1E 5DJ
££
Rail House Cafe boasts a large, open-plan dining space that's centred around a rectangular bar, usually filled with cocktail drinkers in the evenings.
This modern all-day cafe is one of the best places to hang out, with seats upstairs, downstairs and streetside.
Love healthy food? It's got you covered. The modern European menu has healthy bowls stacked with vegan and gluten-free options. They also offer a monthly set menu, which offers great value at £28 for three courses.
For dinner, there's one dish that really stands out, Lobster Lasagne, Crab Claw and Garlic Sourdough. Yes. Yes. All the yes.
Bone Daddies
9 Sir Simon Milton Square, SW1E 5DJ
££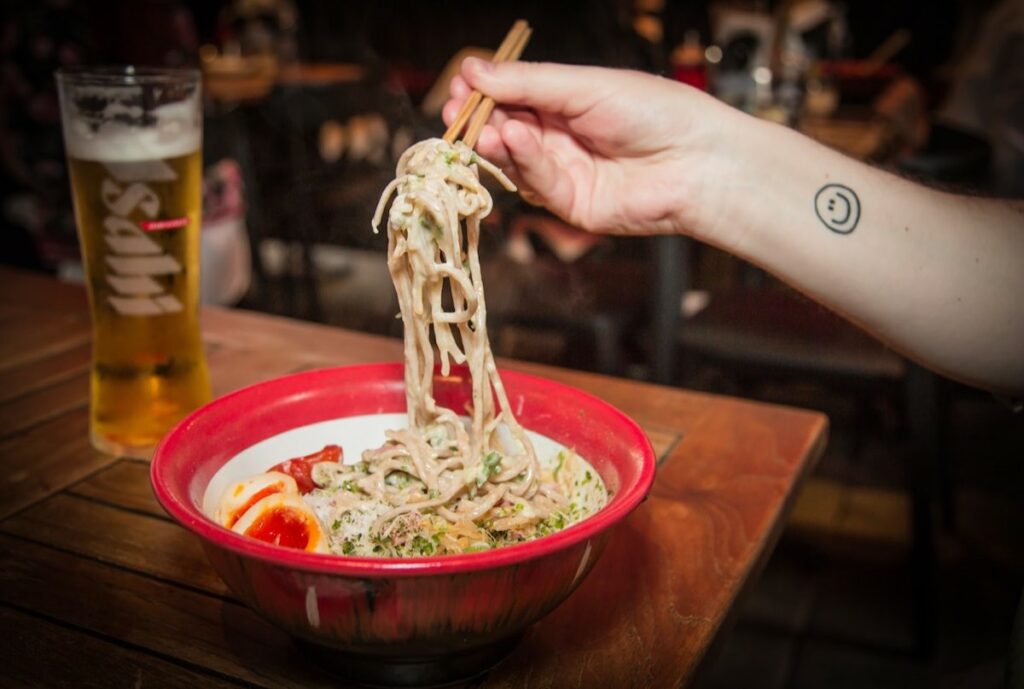 Fancy a big bowl of slurping ramen? Head to Bone Daddies for a hearty offering of the good stuff.
There's every kind of ramen on the menu here, at super affordable prices too. The Charred Pork Belly is downright delicious – it's quite spicy though.
One of the best things about Japanese food is the snacks, right? But how do you choose between the Fried Chicken Bao Bun or the Korean Fried Chicken? You don't, you order both obviously.
The traditional ramen shop decor adds to the experience here, the restaurant is dimly lit and there are beer stools surrounding the kitchen area. Bone Daddies have six restaurants across London, so make for a great option in other parts of the city too.
Dim t
56 – 62 Wilton Road, SW1V 1DE
££
Sharing is caring at this stylish Victoria restaurant. Dim t has a delightful Dim Sum menu that you need to order from.
Handmade dim sum arrives at the tables in traditional bamboo steamers. Choose from the likes of Duck and Ginger, Prawn, and Beef options – whatever you opt for, you're guaranteed parcels of goodness.
If dim sum is not your thing, then the comprehensive menu offers a wide variety of Asian dishes – one of our favourites are the Singapore Noodles and we promise you won't be disappointed.
Dim t is also a great location for an affordable cocktail – Happy Hour is every Monday to Thursday between 3.00 and 5.00pm
Morinoya
1 Gillingham St, SW1V 1HN
£
Morinoya may be an intimate restaurant with limited seating, but it's always busy with sushi lovers.
There's a large selection of sushi and sashimi on the menu, as well as the likes of Chicken Karaage and a plethora of bento boxes.
If you love a poke bowl, this place has also got you covered with a Japanese take on the Hawaiian classic. We're talking Crispy Prawn, Soft Shell Crab, Spicy Tuna and more.
They also offer a click and collect service if you're on the run.
Market Halls
In the mood for street food? We thought so. Head to Market Halls in Victoria.
This food hall features multiple types of cuisine, from Asian and Mexican to American. We like to have a sort of pick 'n' mix and choose a selection of dishes from different food vendors. It's the best way and you'll never get food envy.
There are a lot of places to choose from here, but if you only have the time (or the space) to choose one or two, make a beeline for Gopal's Corner – a cool Malaysian Street food spot and Baozlinn – the place to go for Northern Chinese dim sum.
Victoria Restaurants: Map
Ready to Explore More of Victoria? Read Next