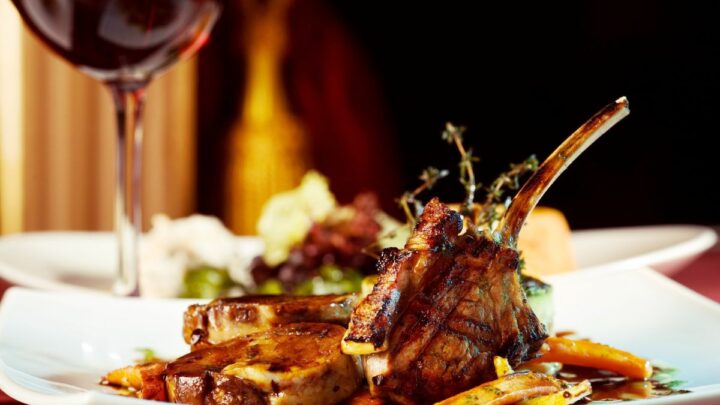 Looking for top-quality restaurants in Richmond? These beautiful Richmond riverside restaurants will provide food almost as amazing as the views.
While there are many great things to do in Richmond, exploring the restaurant scene might just be our favourite (what can we say, we love food).
Whether you're looking for your next date night spot or need to make a pit stop for lunch, these Richmond on Thames restaurants will have you swooning.
Price Guide:
£ – Under £10 for a main meal
££ – Between £10 and £20 for a main meal
£££ – Over £20 for a main meal
Best Restaurants in Richmond, London
Sebastian's Italian
££
Sebastian's Italian is one of the top Italian restaurants in Richmond upon Thames you need to visit. You'll find them on King Street, where you can choose indoor or outdoor seating – pray for good weather and head outside, we say.
While their outside may look rather rustic, inside, they managed to balance this with a few touches of elegance. Expect a chandelier hanging from silver industrial piping and exposed stones on the walls.
Their all-Italian menu serves everything from appetisers to classic Italian desserts. Start the night with an appetiser to share before moving on to the more hearty meals like their pasta or meat and fish dishes – we love the seafood linguine (they're not stingy on the seafood, unlike some other spots).
Wash it all down with their selection of Italian wines and ciders.
Al Boccon Di'vino
££
Al Boccon Di'vino's name translates to 'a divine mouthful', which is exactly what you get at this gastro Italian restaurant in Richmond.
The pub has both Italian drinks and meals. While drinking your bellissimo pint, enjoy tasty meals like authentic pizzas, ravioli, polenta, pasta, and more.
While they are a bar, they take their dishes seriously, especially their banquet-style menus. This means their meals can be a bit pricey – but well worth it.
Diba Persian Restaurant
££
Persian food is defined by an exciting mixture of spices and flavours perfected over centuries – perhaps that's why Diba Persian Restaurant keeps luring its patrons back for more.
This cosy joint serves up a range of stews, grilled meats, seafood, and wraps, all celebrating Persian flavours. The food is slow-cooked as the restaurant believes slow, home-cooked meals are what bring us together.
Surprisingly, there are even a few vegetarian options available – and they're equally as delicious as their meaty counterparts.
Chez Lindsay
£££
French dining is a bit like Marmite – you're either a huge fan or turn your nose up at the slightest whiff. We adore it, and if you're in the area, you should try the amazing cuisine at this french restaurant in Richmond.
From entrées to apéritifs, Chez Lindsay will capture your tastebuds and transport you to the plains of Paris. Try their galettes (buckwheat pancakes) as these are a speciality and come filled with all sorts of savoury surprises
Of course, it wouldn't be a true French experience without a sip of vin. They also have a few French beers, ciders, and cocktails in stock if you're not a wine lover.
Madhu's Brasserie
££
Madhu's Brasserie's Richmond restaurant just opened recently and is already becoming a foodie hotspot.
This modern Indian restaurant in Richmond breathes new life into traditional South Asian recipes. They offer a range of dishes from seafood, meat, vegetarian and vegan options. If you're a first time visitor, you can't go wrong with one of their signature dishes.

Choose between their delicious Chicken Samosas with mint chutney, their delicately spiced tikka chicken, or chops straight off the fireside. Still can't decide? Order their set menu and let the expert chefs choose the best dishes for you.
Note: All dishes are halaal and served with a medium kick of spice.
Gaucho
£££
This Argentinian steakhouse ticks all the boxes if you're looking for elegant Richmond restaurants on the river. Whilst it is mainly a steakhouse, Gaucho has something for everyone and caters for all dietary restrictions.
Besides their tasty steaks, they also offer burgers, Sunday roasts, and desserts. Speaking of which, you need to try their cookie skillet – it's a sharer dessert, but we don't blame you if you scoff it by yourself.
If you can't decide what to order from this wide range of dishes, try their set or group menus. This restaurant is big on group gatherings and encourages this by offering events like pop-ups, movie nights, masterclasses, and more.
Stein's Richmond
£££
With the beautiful River Thames intersecting this town, it would be a shame to miss one of the many outdoor restaurants in Richmond.
Stein's Richmond gives you this golden opportunity just a few hundred metres away. It's a German restaurant that pairs Bavarian cuisine with a dose of sunshine* (*not guaranteed).
Enjoy your imported food and drinks straight from Germany on the terrace at sunset for an amazing end to your day.
Four Regions
££
Four Regions is a family-run restaurant that has fed Richmond locals for over two decades. This Chinese restaurant in Richmond will welcome you with open arms to the four regions of the Chinese mainland.
The restaurant's extensive menu serves everything from seafood, to vegetarian, to meat-lover main meals. If you like a little kick, you might appreciate their chilli and curries from the Sichuan region, known for their spicy sauces.
Try their dim sum menu and platters for a few filling surprises if you're looking for something tamer – you can't go wrong with a char siu pork bun.
Tip: If you're not ready to let the party go, they often bring out karaoke machines in the private dining rooms
Hanana Sushi
££
Hanana Sushi is an authentic Japanese restaurant in Richmond. Whether you're looking for fresh sushi or a bento box, Hanana's is shrimply the best.
This Kew Road restaurant is open from Tuesday to Saturday until late. Choose between ordering individual sushi pieces or ordering a sushi platter to share.
While they mainly serve sushi, they also have a small selection of hot foods like tempuras, gyozas, and stir fry. Bento boxes are only dine-in and only available during weekday lunchtimes.
The Retreat Kitchen
£
Plant-based foodies are important, too. That is why The Retreat Kitchen is on the list for one of the top vegan restaurants in Richmond to visit.
This restaurant is open Tuesday to Sunday from 9 am to 4.30 pm to serve you the best filling vegan breakfasts and lunches. They like to mix it up, so specials change every week, and seating is available indoors and outdoors.
One thing that stays consistent is their extensive drinks menu. Pick up a morning vegan coffee, herbal tea, or creative smoothies for a morning boost with your breakfast. And if you're looking for something stronger around brunch time, try their organic vegan alcoholic drinks.
Time For Thai
£
If you're craving the multi-layered flavours of Pad Thai and Tom yum soup, it's time to visit this Thai restaurant in Richmond.
Time For Thai is a small 'blink, and you'll miss it' restaurant in Kew Road, near London's beautiful botanical garden. The restaurant is about as authentic as they come and will serve you a healthy portion of food for a low price.
Order their 'Time for Thai' combo platter for less than £5 per person for a variety of starters to begin the feast. Without a doubt, this is the best Thai restaurant Richmond boasts.
Rock and Rose
££
This Richmond food place may be one of the best bars in Richmond, but it is also a modern European restaurant. While you're here, you'll have a sensory overload of the wonderful decor, lively mood, smells, and tastes.
At Rock and Rose, their expert mixologists will shake up an adventurous cocktail (popcorn espresso, anyone?) while their chefs cook up classic meals. Their menu contains hearty favourites like slow roast pork belly and Angus cheeseburgers. A vegan menu is also available on request.
On Sundays, they have a roast from noon onwards. Expect roasted veggies, leg of lamb, Yorkshire pudding and other British classics.
Other Places to Eat in Richmond
Petersham Nurseries
££-£££
Petersham Nurseries is a family-owned cafe and tea house run by the Boglione family that has gathered quite a reputation after being featured in plenty of magazines (such as Garden and Home). It's not difficult to see why.
While there, do yourself an immense favour and visit the Petersham Nursery cafe in the glasshouse restaurant. Here, you can enjoy a varied menu of fragrant flavours and seasonings freshly inspired by the kitchen garden.
Afternoon tea is also a treat in the lush and colourful garden. Like the cafe, the teahouse is heavily influenced by seasonal flavours and the blooming garden it's in.
Richmond Vault Beer Cellar & Restaurant
££
Out on a night of fun and wondering where to eat in Richmond? With this gastropub, you can have two in one.
Richmond Vault Beer Cellar & Restaurant loves its alcohol, but it also loves its food and thus pairs quality brews with quality foods. While the pairing menu mainly pairs beer with their dishes, you can switch up these combinations.

They also serve a variety of dishes from seafood to vegetarian meals and desserts. You can pair these with their extensive lists of mixed drinks, wines, and cocktails. To add to the jolly atmosphere, they also offer live entertainment.
Pembroke Lodge
££
If you ever find yourself strolling around Richmond Park, you might notice two things. The gorgeous grasslands are just a stone's throw away from London, and taking a long stroll works up an appetite.
If that is the case, this Richmond Cafe is ready to come to your aid. Pembroke Lodge's Butler's Pantry is a Richmond park restaurant that serves light meals like sandwiches, cakes, and scones. They also serve lunch strictly between 12 pm and 2.30 pm daily. You can easily reach them by car and don't need a reservation.
Practical Tips and Map for Exploring The Best Restaurants in Richmond, London
The best places to eat in Richmond, like these on the list, are quite popular. To avoid disappointment, call and book in advance.
Check Richmond Park's time schedules to see when gates open for vehicles and pedestrians. The park restaurant closes about 30 minutes before park gates do.
Discover More Richmond Guides