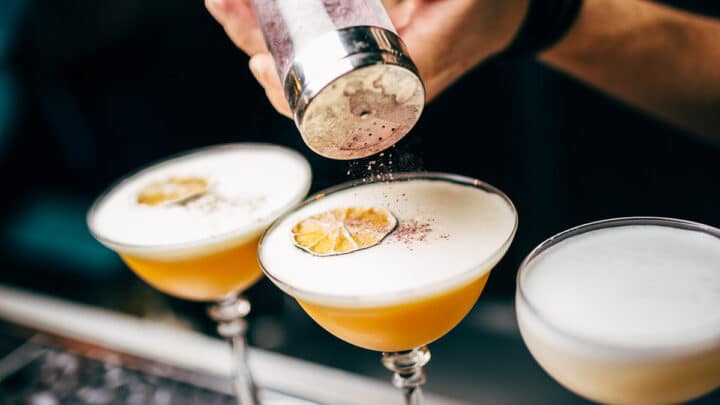 Looking for cocktails, wine, and all things nice? These are the bars in Richmond you need to add to your little black book.
With the picturesque Thames River on its doorstep, Richmond sits on the outskirts of London and is a criminally overlooked part of the capital. This is especially true when it comes to drinking. Whether you want a nice view or a boozy cocktail (we'll take both, please), you can find it in Richmond.
From cool boozers to secret spots and quirky haunts, these are the best bars in Richmond you need to visit.
Best Bars in Richmond
Dropkick Johnny's
Can you keep a secret? In the attic above Tap Tavern on Princes Street, Dropkick Johnny's Whiskey saloon serves up some of the best cocktails and rare whiskeys in the world. A bold claim, we know.
Whiskey-lovers need to order the Dropkick Negroni – a spicy, pimped-up version of the classic cocktail. If that's not your vibe, you won't go too wrong with their refreshing French Connection (calvados, saint-germain elderflower, green chartreuse, and sparkling wine).
So Bar
So Bar is one of those Richmond bars that's fail-safe; the intimate and warmly-lit bar is perfect for everything from a girl's night out to an exciting date night.
The cocktail menu is solid – we heartily recommend the heavy Trader Vic Mai Thai and the fruity Red Lotus. Though, the Virgin Cocktails are pretty impressive, too.
What could possibly be better? Cocktails paired with delicious food – that's what. Head to So Bar in the evening between Wednesday and Saturday to catch Jorge Gimeno's kitchen pop up. Expect fiery Spanish dishes and charcuterie boards to chow down on.
Rock and Rose
Rock and Rose is the brainchild of designer and owner Lorraine Angliss, and her fun style has resulted in this super kitsch restaurant-slash-bar.
When we say that the R+R is decorated in every colour imaginable, we aren't even exaggerating – the bar is green, the sofas are red, and the wallpaper a bright pink.
The wine and beer menu spans Europe, with the likes of French/Spanish wines and Belgian Beers on offer. And the cocktails are just as impressive – the fresh take on an Aperol Spritz, involving Martini Bitter and Peach Essence, is a case in point.
Be At One Richmond
Be At One is a great cocktail bar in Richmond – we guarantee that you'll love this busy neighbourhood bar.
Well known for their innovative cocktail selection, top picks include the strawberry shortcake cocktail, the sugar-topped Russian Spring Punch, and the White Mocha-Tini. Obviously, we just had to try them all.
This place gets busy later on in the evening, so arrive early if you want to nab yourself a seat. Or head there during happy hour throughout the week (5-7pm) and teeter around the bar with a cocktail in each hand, of course.
No 1a Duke Street
This ultra-cool spot is open all day, and is conveniently located near Richmond Green and the train station.
Choose from a wide selection of draught beers and cocktails, as well as fresh juice and soft drinks. They also boast a delicious menu with sustainably sourced food cooked from scratch – you can get breakfast, brunch any time, dinner, late-night snacks, or Sunday roasts here.
The best bit? When it's colder, they have an open fireplace to keep you warm, though a little bit of booze also does the trick.
144 on the Hill Richmond
144 on the Hill has an amazing cocktail selection packed with everything you could ever want – including signature cocktails and a selection of more than 85 gins. These are both locally-sourced, as well as ones that you can choose by country or taste.
The carefully-curated wine list transports you around the world, while the variety of beers and ciders is also impressive. If perusing the huge menu sounds a little bit like hard work, they've also got a cracking selection of food if you get hungry. This Richmond bar understands cocktails better than most.
One Kew Road
One Kew Road straddles the line of stylish pub and cool bar perfectly – the relaxing atmosphere creates the best of both worlds and is easily one of the best bars in Richmond, London.
Located in the centre of Richmond, it's the famous venue where the Rolling Stones played their first gig. The ultimate flex.
In addition to all the drinks you could possibly want, One Kew Road serves classic British pub food, desserts, and other dishes. Choose from wines, ales, and lagers while you're there, and they also have a solely vegan menu, so they can accommodate anyone's needs.
Pitcher & Piano Richmond
Pitcher & Piano has a fantastic view of the Thames from the terrace of this Richmond cocktail bar – it's one of the most beautiful spots to enjoy drinks on the bank of the river.
They offer a revolving drinks menu, including famous ales and delicious cocktails. They're also a Richmond wine bar with varieties from around the world. You can also expect mouthwatering pub food that really hits the spot.
Revolution Bar Richmond
Ah, Revs. A classic cocktail chain across the UK. Revolution Bar is located on the bank of the Thames River, so you can enjoy pretty views, brilliant drinks, tasty food, and live music.
Need we say more? Oh, go on then…
They have specialised cocktails that you won't find anywhere else, and their wine list is selected to match their food perfectly. You can also scoff brunch until noon and the full menu – including stone-baked pizza and other small plates – until 10 PM.
Richmond Bars: Map