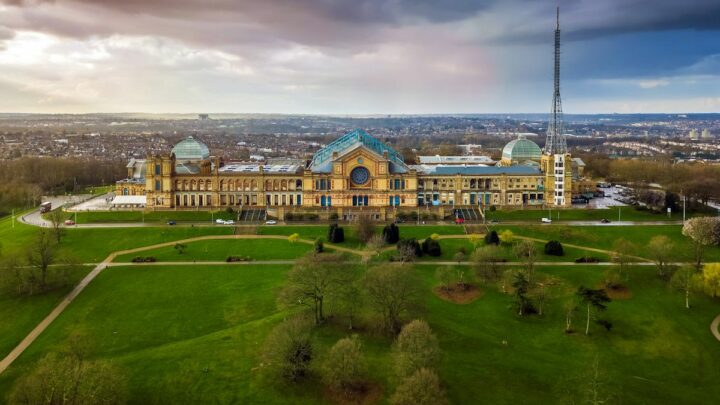 Discover the best things to do in Muswell Hill with this insider's guide.
Muswell Hill isn't an area that makes headlines. For those in the know, it's a quiet spot in London that provides peace amidst the busy streets, a haven tucked away in the suburbs of North London in the Borough of Haringey.
The locals of Muswell Hill have wanted to keep their home as secret and under the radar as possible, and that may be why it's managed to keep its charm and beauty so intact. However, with the Sunday Times voting it one of the best places to live in the UK – we have to come to terms with the fact the secret is out.
Nestled in layers of quaint shops, leafy walks, and beautiful views – Muswell Hill is full of elegance and authenticity. It's not trying to be anything else than it is, and that comes as a nice surprise to London's more try hard areas.
Wondering where Muswell Hill got its name from? It is said to have come from a natural spring or well which is believed to be a miracle cure.
There's even a traditional tale that shows Scottish King Malcolm IV becoming completely cured of a deadly disease after drinking the water!
Oh… and did we mention it's got one of the best cheese shops in the UK?
Do not fear, we've got you covered on all things to do in Muswell Hill.
Things to do in Muswell Hill
Alexandra Palace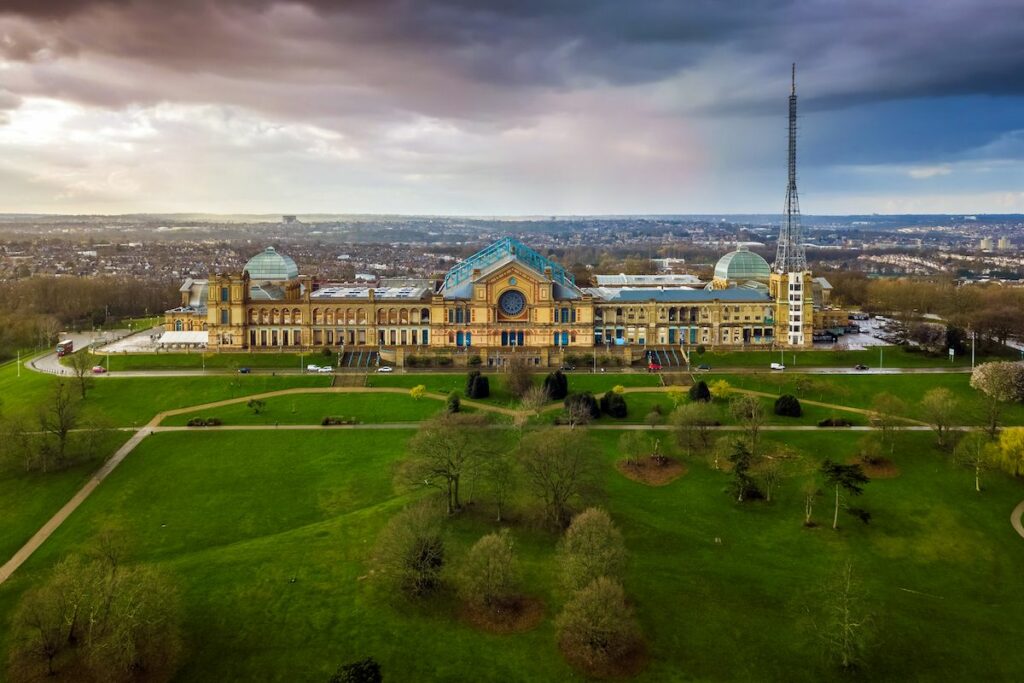 Enjoy the panoramic views of London from this stunning Grade II listed sports and entertainment venue.
Check out their website to see exactly what's on, there's something for everyone. From headline events by Patti Smith or electronic DJ Moderat, to high-octane zip wires and fitness classes.
We definitely recommend pre-booking your event to guarantee entry!
Alexandra Park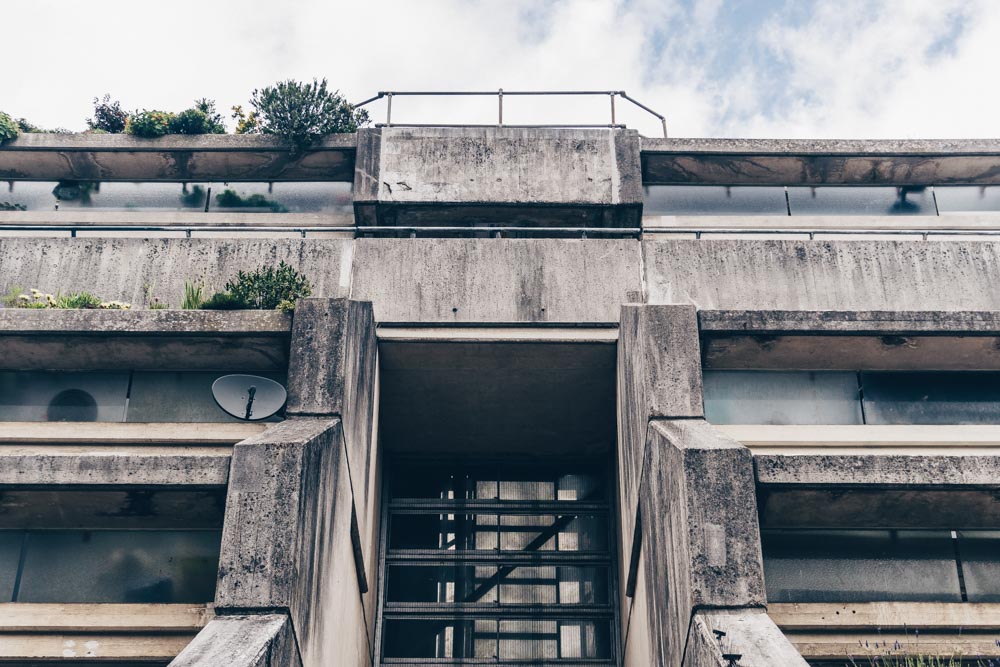 If you're looking to wind down and get connected back to nature, Alexandra Park is for you. The Park is home to 694 different types of plants, animals and fungi. You've got both hills and flat grass.
Safe to say that it feels like you're a million miles away from London in this stunning nature spot AND it just so happens to sport some of the best views in London.
Highgate Wood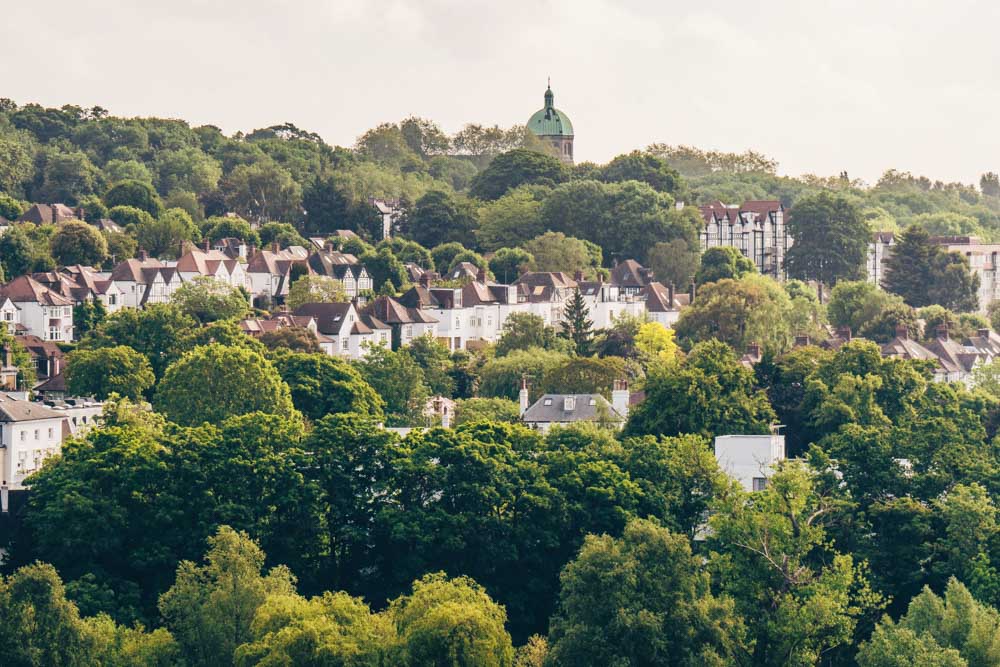 Sick of the hustle and bustle of central London? Highgate Wood is an impressive quiet oasis for all types of explorers.
Give yourself a couple of hours to get lost in the 28 hectares of ancient woodland.
There's also a lovely café for your afternoon tea or coffee, a playground and a sports ground. Highgate Woods is also famously renowned for its wildlife with 30 different species of birds, regular free events for bird watching and learning about bird songs are available for all.
Farmers Market at Alexandra Palace
An award-winning Farmer's Market with something for everyone, every Sunday between 10 am to 3 pm.
The farmer's market is a well-loved local meet-up which focuses on top-quality local produce. Not only can you buy some of the tastiest fruit and vegetables in London; it's also a wonderful spot for charity stalls and local crafts.
Everyman Cinema
Once you watch a film here, you won't want to go anywhere else again!
The Everyman Cinema in Muswell Hill is a grade II listed building, formerly The Odeon designed by George Coles. The stunning room feels more like a theatre experience than a cinema, and the everyman stocks everything you need to enjoy the experience.
Things to do in Muswell Hill: Eating & Drinking
Chriskitch
Chriskitch is a family-led café whose ethos is all about sharing the love for good food and good produce. The perfect place for healthy salads and food that feed your soul.
Each day they offer a different selection of fresh food. It's also the perfect brunch spot!
Toff's
Toff's is a takeaway and restaurant that has been offering incredible fish since 1968.
Award-winning fish & chips, sustainably sourced fish, and a long-established family-run restaurant – this is the crème de la crème of fish and chips.
With an ethos of "come as a customer and leave as a friend", you won't be disappointed.
Belmeis
A great buzzy spot for fun music and original cocktails as well as some seriously tasty small plates. This one is right in the centre of Muswell Hill and a local favourite.
La Lluna
La Lluna is a Spanish restaurant with incredible cocktails and wine lists. Traditional Spanish tapas as well as tasty breakfasts and a good coffee spot.
Whether you heading in for a small bite to eat or just to have a lovely chat with the waiters, they'll invite you in with open arms.
Top Shopping Spots in Muswell Hill
Rakha
We love finding sustainable clothing shops around London and Rakha does just that. A sustainable and contemporary women's wear brand in Muswell Hill.
It's guilt-free, organic and eco-friendly. The prices are slightly more expensive than your classic High Street shops, but the quality is worth it.
Cha Cha Cha
Vintage dreams! If we could give Cha Cha Cha an 11/10, we would. A quaint little tucked-away shop selling everything from one-off vintage clothes to art and homeware. This shop is a gem which is worth stepping off the high street for. Take your time around this eclectic shop and find something you'll treasure for years to come.
Sally Bourne Interiors
Unique handmade items, homeware, gifts, wallpapers, tiles and fabrics! Sally Bourne Interiors is The Muswell Hill local's favourite. The scented candles are divine.
This shop has a very particular style, and it does it well. Definitely worth popping your head in.
Cheeses
For cheese lovers…
People travel far and wide for Cheeses, and we don't blame them. They have some of the best artisan cheese across the globe. High-quality and handmade produce. These guys are the oracle for all things cheese.
Practical Tips for Exploring Muswell Hill, London
Muswell Hill isn't the easiest place to get to because it doesn't have its own tube station. You can easily walk from stations close by, East Finchley and Highgate are both on the Northern line.
Muswell Hill also has great bus connections, you can easily get to the West End or City with the W7 Bus. The 134 also has a 24-hour service to Tottenham court road.
Where to Stay in Muswell Hill
Roseview Hotel
This hotel has a great location and even better value, the Roseview Hotel is a good choice as your base in Muswell Hill.
Muswell Hill B&B
Muswell Hill B&B family-run bed and breakfast within 800 yards of Alexandra Palace. Friendly hosts who will help you with anything you need. Recommended if you're after something simple, very clean and a lovely home.
Things to do in Muswell Hill, London: Read Next