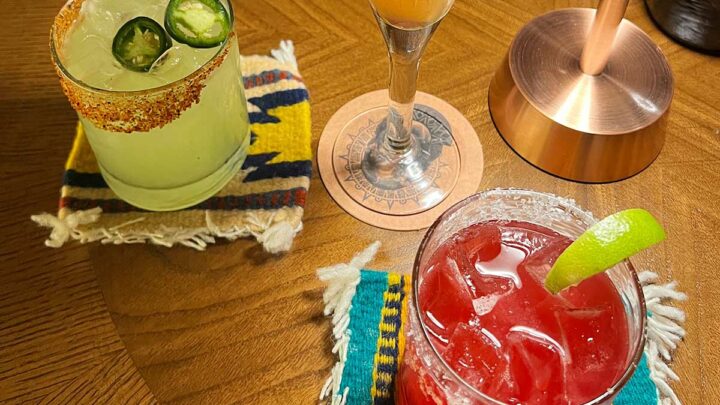 A swanky mezcalito in Marylebone serving up some of the booziest drinks in London – read our review of Mayahuel now.
Underneath one of London's top Mexican restaurants lies one of the capital's best kept secrets: Mayahuel, a boozy mezcalito oozing with drama and Yucatan flair.
Fronted by a talented team of mixologists, this cool spot specialises in mezcal and tequila, with a small but carefully-curated cocktail menu that will leave you dreaming of your next visit.
Read on to discover why you need to add Mayahuel to your little black book of bars…
Mayahuel – The Full Review
The Drinks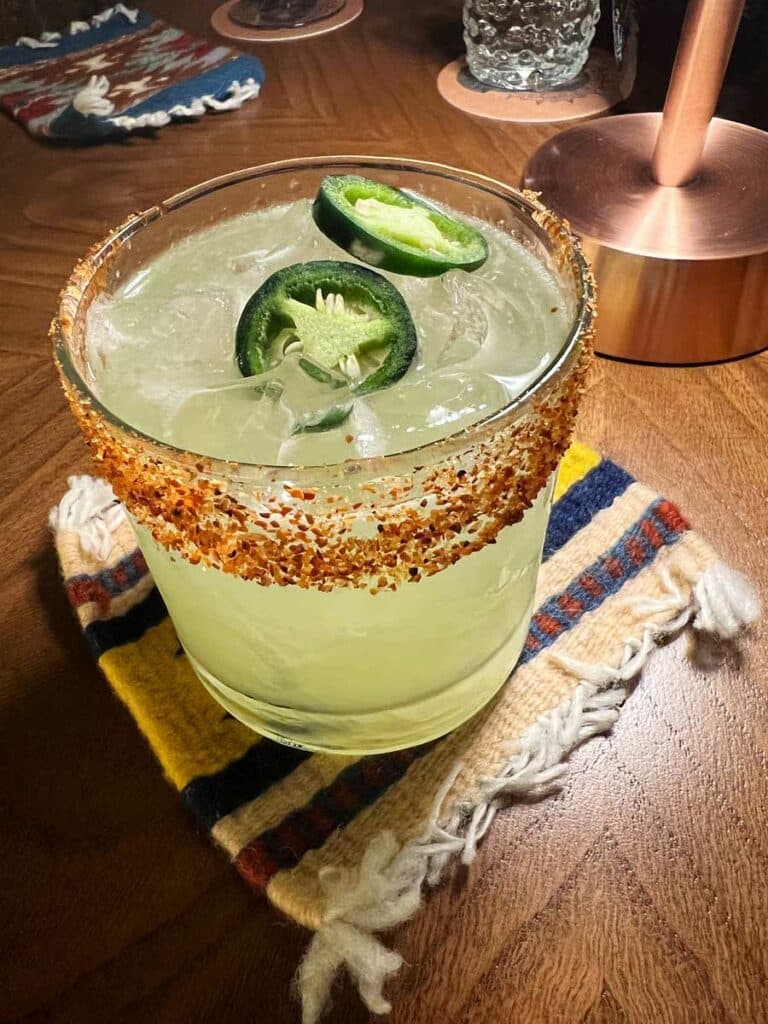 We won't lie to you, we had to sit and ponder the menu for quite some time.
Filled with the likes of Tepatío Old Fashion (a delicious-sounding blend of Código Reposado, Angostura Bitters, Agave Syrup and Orange Peel) and the zingy Jalisco Sour, we deliberated over whether to opt for a fancy-pants drink or stick with an oldie but a goodie.
First up was a Spicy Margarita…. And we're still dreaming about it days later.
Here at London x London, we quite like to think of ourselves as Spicy Margz connoisseurs – and this one seriously blew our minds.
Maybe it was the lip-tingling Tajín smeared around the edge of the glass (the only way it should be done, we say), but we think a lot of it had to do with the expertise of the bartenders who came over to explain the menu in quite some detail.
We then *accidentally* caught a glimpse of the food menu; the smoked beef shin quesabirria was far too tempting to leave behind. Those and the tostadas were jam-packed with flavour, and we were left contemplating legging it upstairs to the restaurant before our trains arrived.
We reasoned, no, and opted for another drink instead.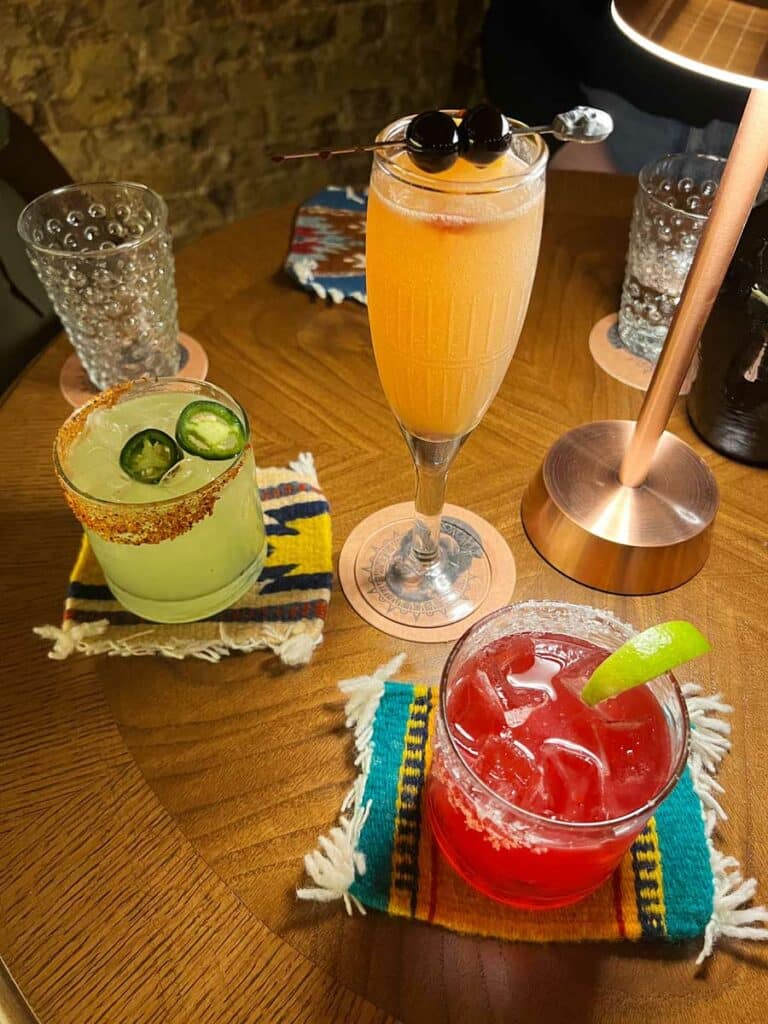 Not one to do things by halves, next up was a challenge to the staff – how can you elevate a Spicy Margarita even further?
The answer, in case you were wondering, came in a tincture of hibiscus, expertly added to our drink.
The result was a drink so lip-smackingly good we wanted to shake the bartender and scream, "Put this on the menu RN".
If you're feeling super boozy, you can always go for the mezcal and tequila flights (we were ogling them up a fair amount, to be totally honest). Still, we only popped in for a mid-week drink and didn't fancy nursing hangovers on the morning Zoom call the next day.
Alright, we know what you're interested in. The price? Well, with cocktails ranging from £14 – £21, they are on the more expensive side (no doubt due to the gorgeous Marylebone location), though that's not to say that the drinks aren't totally worth it. They are.
The Look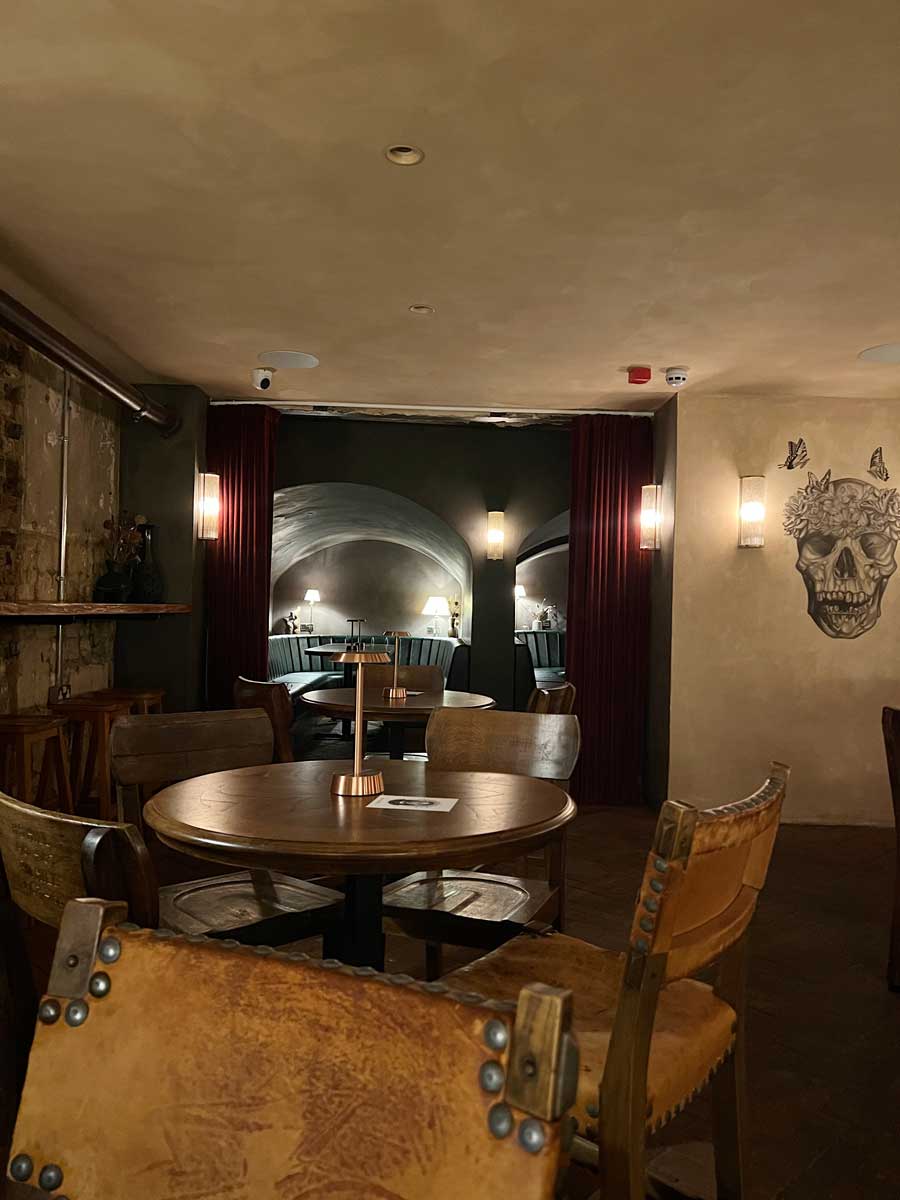 To reach Mayahuel, we had to venture through the bright restaurant (which, once we'd scoffed the quesabirria, we promised to return to) and down a flight of stairs. Juxtaposing the colourful space upstairs, Mayahuel Mezcaleria looked more like a secret hideout.
The setting is as dark and punchy as the drinks are. Dark oak tables lined with surprisingly adorable (and authentic) knitted coasters perched atop.
Cosy booths flank one side of the space, while intimate tables make up the rest of the bar. The exposed brick walls teeter on the right side of cool, shaking off any sense of being rundown.
And, glance towards the tiny bar situated in the back right corner of the room and you'll soon realise that these guys know their biz' – shelves upon shelves are stocked with an array of top-quality tequila and mezcal.
Final Thoughts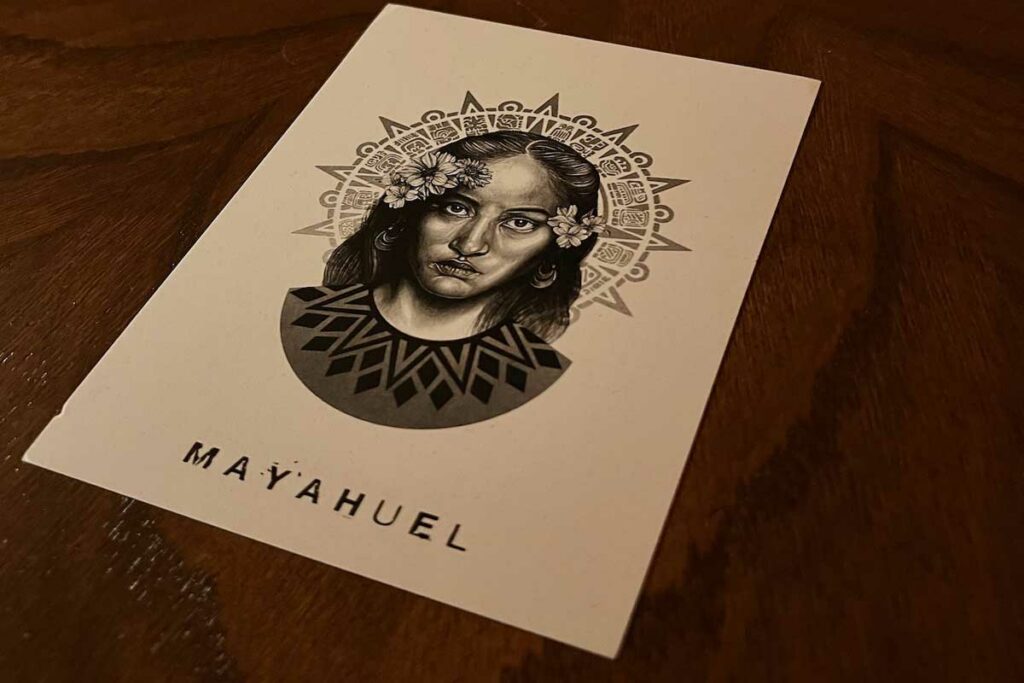 London cool meets Yucatan flair.
Expect cocktails crafted to perfection, each a total masterclass in mixology. Drinks might be on the more expensive side, but you'll agree they're worth it from the very first sip.
Mayahuel – Practical Information and Map
Price: £££
Address: 56-60 Wigmore St, London W1U 2RZ
5 / 5
Mayahuel
Summary
An excellent drinking spot in London. With punchy cocktails, cool decor and delicious side plates, you'll be dreaming of your next visit before you've even left.