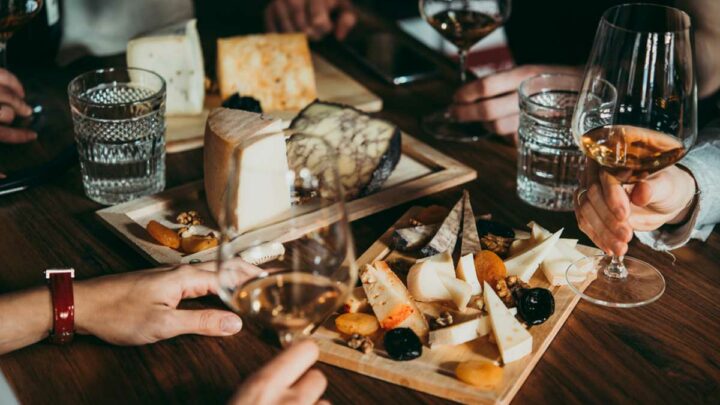 Searching for the best places to eat in Pimlico? Get ready to feast at the area's unmissable restaurants.
We don't know about you but, usually, Pimlico doesn't spring to mind when we're thinking about where to eat in London. But, skipping this area of the capital would be a HUGE mistake. The culinary game in Pimlico has significantly increased in recent years.
From a very cool two-Michelin-star restaurant to long-standing bistros with hearty dishes (and excellent wine selections), these are the best places to chow down in Pimlico.
Best Restaurants in Pimlico
Cambridge Street Kitchen
££
Did you know that the boutique hotel, Artist Residence, has a banging restaurant? You do now.
Cambridge Street Kitchen is a cool neighbourhood hangout spot serving up cosy brunch dishes by day. Will you opt for the caramelised apple french toast or the classic eggs Benedict? Either way, your tummy will thank you.
By night, the bar and restaurant comes alive with neon signs and a handful of excellent drinks – Tommy's Margarita is a thing of legend and just so happens to pair perfectly with the 100oz dry aged sirloin, served with confit shallots and crispy fries.
Grumbles
££
Grumbles has been serving Pimlico hearty food for more than 50 years. Which, to be quite honest, you can tell by the decor.
Don't judge a book by its cover though – the food, a blend of French and British classics, is undefeatable. We dream about their Sunday Roast all week; thick shards of beef with Yorkshire puds, roasties, carrots and rich gravy. Drool.
Head there in the week and the likes of chargrilled calves' liver with a bacon and onion compote and fillet steak with fluffy chips are both on the menu. Dessert-wise, the creme brulee is a dreamy way to round off a heavy meal.
Pimlico Tandoori
££
In the mood for devouring a naan that's bigger than your head? Thought so. Make your way to Pimlico Tandoori and you won't be disappointed.
It's easily one of the best Indian restaurants in Pimlico (and maybe in London, you be the judge of that). The actual restaurant is quite small, though we quite like that as it usually means less waiting around for food and drinks.
The menu is rather extensive, but that's because Pimlico Tandoori does a little more than your average curry house. House specials are, well, quite special. Duck Mirchi is grilled in hot spices and the Lamb Handi is roasted in a clay oven, both of which are equally delicious.
We're not saying we're experts, but there's not a dish missing from this menu. And, whatever you decide to tuck into, it's always best with a Lassi, right?
A.Wong
£££
This high-end Chinese restaurant in Pimlico boasts two Michelin stars. So, basically, it's absolutely unmissable.
Lunchtime at A. Wong features the greatest Cantonese tradition that there is – Dim Sum.
You know when you can't really decide on one dish and just fancy a bit of everything? Well, that is why Dim Sum is so good. If you're a dumpling fan, like us, you'll want to order as many helpings of the Shanghai steamed dumplings and the clear shrimp dumplings as you can put away.
Evenings at A.Wong are equally pretty special. The set menu has five movements, so you best come hungry. The menu focuses on sharing food, but we promise that it will be tough to share the crispy chilli caramelised beef.
Pimlico Thai
££
If you're looking for a date spot, we've got just the Pimlico restaurant for you. Pimlico Thai is a cute candlelit restaurant and a hidden gem within Pimlico (so don't tell everyone!).
The white exterior fits in nicely with the surrounding architecture, but the inside is a whole different story – this is where the magic is. We're talking red walls, red rugs and chairs to match. You can see why we think it's a good date spot.
It's also the best Thai restaurant in Pimlico. But why? The food here is proper authentic
Thai food. By that we mean there's lots of spice and not a pared-back British version of Pad Thai in sight.
One of our favourite dishes is the Laksa – especially in the cold months. The steaming hot curry broth really hits the spot.
O'Sole Mio
£
Authentic Italian food in Pimlico? You'll find lots of it at O'Sole Mio. It's Pimlico's answer to Rome.
There's no shortage of fresh pasta, calzones and risottos at O'Sole Mio. That said, Italian pizzas are always a good idea… Especially when there's Al Salamino and Ai Funghi on the menu. We think we may have died and gone to carb heaven.
But how do you choose between pasta and pizza? It's highly likely you'll end up ordering both when you see how kind this place is to your wallet.
La Poule Au Pot
£££
Looking for a classic French restaurant in Pimlico? Look no further than La Poule Au Pot.
Both inside and out La Poule Au Pot is a carbon copy of a true Parisian bistro: Outside sit streetside tables dressed in white tablecloths, venture inside and you'll find dried flowers, bric-a-brac and intimate nooks. Oui oui.
If you're feeling extra hungry, opt for the reasonably priced two or three courses and tuck into coq au vin and ratatouille chaude ou froide. Go chaude, always.
No visit to a French restaurant is complete without French wine. Luckily, La Poule Au Pot's wine list is extensive and full of all the good French stuff. Their Burgundy offerings are particularly divine.
Goya
£
If you're wondering where to eat in Pimlico, Goya has become a bit of a local institution. Serving Spanish tapas since 1993, you'll need to elbow your way through the regulars to get a table.
Stepping inside Goya is truly like jetting off to Spain: Ambient lighting and a warm and welcoming atmosphere is what Goya is all about.
With so many authentic dishes on the menu, panic is sure to set in as you try to narrow down your options. But that's the best thing about tapas, pick as many as you can cram in.
The Pimlico Grid
££
The Pimlico Grid is the epitome of what the area is all about – excellent food in a relaxed atmosphere.
Skip the stuffy, uptight spots and instead opt for this refreshing restaurant for unpretentious food paired with attentive staff who truly care about your dining experience.
The seasonal menus here combine fresh ingredients to create much-loved British classics. We're eyeing up the Full Grid from the breakfast menu. Because you just can't beat a full English that's cooked to perfection.
Cacio & Pepe
£££
Date night in Pimlico? Cacio & Pepe is a fine-dining spot that knows a thing or two about Italian food.
A father and daughter duo set out on a mission to create deliciously authentic Italian dishes, and they have more than succeeded.
From the lamb shank to the baked sea bream, you couldn't fault any of the food here. The presentation is also second to none, every little detail is well taken care of at Cacio & Pepe.
Lorne
££
With an emphasis on well-sourced food and wine, it's easy to see why Lorne is a popular Pimlico spot.
This restaurant oozes Modern British vibes, from the decor to the food. And that's why we love this place.
Lorne really knows how to get those taste buds going. With mouthwatering dishes like Barbury duck breast, Cornish cod in a red wine sauce and sea bream tartare on the menu you'll be going home very happy indeed.
Sounds good, huh? Well, there's even better news. Tuesday through Saturday, Lorne's set menu features all of the best bits from the menu and you can choose between two or three courses.
Iberia Georgian Restaurant
££
We don't know about you, but we think that Georgian food is an underrated cuisine. Iberia Georgian Restaurant in Pimlico backs up this claim.
If you want to experience Georgian flavours in full zing, order the Lobio. It's a pot of steamed red beans marinated in Georgian spices with bread for dipping.
If fish is more your dish, then the Palemini is for you – salmon dumplings with onions and dill.
Other Places to Eat in Pimlico
Little Bread Pedlar
£
In the mood for some artisan goods? Little Bread Pedlar is a cute little bakery stocked with buns, bread and lots of sweet and savoury treats. All baked goods are homemade and made fresh daily at Little Bread Pedlar.
They're so good you'll most likely want to take some home with you too.
Morena
£
Head to Morena for some seriously good coffee. Morena serves the best cups of Columbian coffee to enjoy in the cafe or takeaway.
This is also a good excuse to stop for some cake too. The Burnt Matcha Cheesecake is a unique take on the classic and it pairs perfectly with a flat white. Go on… treat yo'self.
Practical Tips for Exploring The Best Pimlico Restaurants
You may want to book ahead for some of these restaurants, especially A.Wong, it can get pretty busy come dinner time
Pimlico Restaurants: Map
Pimlico Restaurant: Read Next