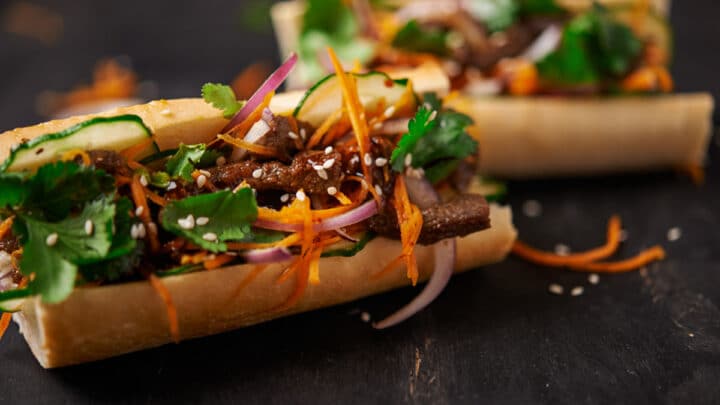 Hungry? Here's where you'll find the best banh mi in London – where to get your Vietnamese sandwich fix.
Words by Sam Jean
Sandwiches are a universal culinary staple. The best sandwiches in London span virtually all countries and cultures, from elegant French baguettes to stacked American bagels and British breakfast baps.
But this is all about banh mi – a Vietnamese sandwich which brings the very best South East Asian flavours to an authentic thin-crust baguette. A mouth-watering creation, stuffed with meats, veggies and pickles, that you must try if you haven't already.
Here are the very best spots to satisfy your cravings for banh mi.
Best Banh Mi Spots in London
Banh Mi Bay London
Fitzrovia, St. Pauls, Surrey Quays and Holborn
££
Banh Mi Bay is one of the capital's premier spots for lovers of Banh Mi and Vietnamese cuisine. Their menu features a mouthwatering selection of banh mi, all made with pickled carrot, mooli, sliced cucumber, coriander, and fresh chilli.
Options include classic pork belly, satay, grilled prawns, caramel pork and veg tofu, but the specials change often, so don't be too adamant about sticking to your favourite.
Be sure to check out their rice boxes and vermicelli noodle salads – it's a fairly sizable menu that's worth exploring.
Fancy a takeaway? Banh Mi Bay's St. Pauls and Holborn locations both offer take-out, so you can eat your banh mi on the go.
Keu
Shoreditch, Soho and Liverpool Street
££
Keu is a small but buzzing Vietnamese take-out and banh mi shop with a couple of locations across the capital.
Their authentic banh mi are insanely highly rated by Asian food enthusiasts. And, better yet, there's banh mi to suit every taste and preference, with no fewer than 13 options on the menu.
Some bestsellers include the Keu Original, with crumbled pork sausage, an indulgent spiced pork belly offering, and the fragrant Tofu Coconut Curry, made with organic tofu, creamy coconut milk and yellow curry.
All sandwiches are served with fresh ingredients like the artisan-made baguettes themselves, Keu house daikon, coriander, cucumber, homemade sauces, spring onions and fresh chilli.
Hai Cafe
Clapton
£
Clapton's Hai Cafe is a wonderful authentic Vietnamese cafe serving delicious spring rolls, pho, noodle dishes and, of course, their coveted banh mi in 6" baguettes with house pickled carrots, crispy shallots, cool cucumber and black sesame.
You can choose from lemongrass chicken, pork and chicken and lemongrass tofu with oyster mushrooms. Authentic, freshly prepared, and completely delicious.
Be sure to check out the rest of the menu, too – the spring rolls are a real treat.
Banh Mi Hoi-An
£
If you're in the East End and hungry for banh mi, Hackney's Banh Mi Hoi-An has got you.
Banh Mi Hoi-An is a flavour-packed Vietnamese street food vendor with cracking banh mi at reasonable prices.
The sandwiches are absolutely packed with a fiesta of flavours – pork belly, chicken, catfish, five-spice chicken and tofu are just some of the incredible options.
Be warned: The lunchtime queue can get really long here, and 30-minute waits aren't uncommon – but that tells you something about the food on offer.
With stunning ratings and massive portions, this is undoubtedly some of the best true Vietnamese banh mi the capital has to offer.
Banh Mi Town
Aldgate
£
Banh Mi Town is a small Vietnamese street food, deli and banh mi shop in Aldgate that serves delicious sandwiches and creative takes on the famous sandwich… Like the Banh Mi burger.
Their banh mis are made with freshly baked baguettes and filled with an awesome selection of meats, including favourites like pork belly and grilled chicken. The vegetarian tofu options are also spectacular.
Banh Mi Aha!
Bloomsbury
££
Nestled among the universities and museums of Bloomsbury is Banh Mi Aha! a charming little deli cafe with a sublime selection of banh mi, ranging from chicken curry and duck to beef, tofu and the loaded special with crispy pork belly, cheese, ham, crumbled sausage, and chicken pâté (yes, all in one fluffy baguette).
This cosy cafe also serves beautiful Vietnamese iced coffees for morning or afternoon pit stops, steamed bao buns, and fresh mains like tofu coconut curry and braised beef brisket for the evening.
Viet Eat
Holborn
££
Viet Eat is a Vietnamese restaurant in Holborn that serves up delicious banh mis with various combinations of mouthwatering meats and veg in an airy and crunchy authentic Vietnamese baguette.
Each lovingly crafted sandwich is stuffed with a combination of meats, pâté, fresh vegetables, and special homemade sauces from their head Chef Binh. The options change often, but regulars include roast duck, pork belly, aubergine and tofu and BBQ pork (the latter is our fave).
An's Oriental Supermarket
Archway
£
This wonderful, independently-owned oriental supermarket near Archway is full of Asian goodies like snacks, drinks, fresh herbs, fruit and veg.
An's Oriental Supermarket's lesser-known takeaway options feature mouth-watering banh mi with five-spice sausage, terrine, pâté, coriander, and homemade sauce pickles, all wrapped up in authentic baguettes with generous portions.
Ant House
Hoxton
££
In Hoxton, Ant House is a stylish Vietnamese cocktail bar and restaurant with delicious banh mis made from truly authentic bread – airy, with a thin crust, the way it should be (i.e. not your typical baguette).
The Ant House special features a whopping five types of pork – char siu, pork belly, mortadella, ham hock, and pork floss.
The chargrilled meat options are slightly more sophisticated than other takeaway banh mis, and the veggie option with tofu and mushroom hits the spot.
Viet Populair – Arcade Food Hall
££
If you're feeling peckish for banh mi, Soho's Arcade Food Hall will gladly sort you out.
Situated in the awesome Arcade Food Hall – a foodie's paradise near Tottenham Court Road – is Viet Populair, which specialises solely in delicious banh mi.
The no-fuss, no-frills menu features freshly prepared sandwiches with butter mayo pickles, pate, meats and tofu, finished exquisitely with fresh herbs and chillies.
The owner prepares some of the ingredients in their own greenhouse in Dorset, and Vietnamese coffee is served in the mornings, too. But, beware – it closes at 4pm.
Practical Tips for Hunting Out London's Best Banh Mis
If you're searching for the best banh mi, London's vibrant Asian community has you covered. Don't be shy, check out the many Vietnamese street food vendors scattered across much of the city.
For the best, vegan banh mi London, be sure to check out whether the many tofu options are vegan-friendly (they aren't always!)
Many of these banh mi shops serve up a variety of delicious Vietnamese food, including noodle dishes, pho and spring rolls. If you get a chance to try Vietnamese coffee, do it.
Banh Mis in London: Map