Looking for the best bars in Holborn? We've put together a guide of all the best places to drink in Holborn.
Holborn is a bustling district filled with offices and legal buildings, but with that comes an abundance of bars, mostly there to catch after-work revellers.
Holborn's night life is pretty buzzy with hip and trendy bars dotted all over, but which ones should you visit? From bars inspired by fairytales to Jazz Age mirror balls and bars for Polish beers, we're pretty sure you're going to love these Holborn drinking spots.
The Best Bars in Holborn
The Cocktail Club Shaftesbury Avenue
£
One of the best cocktail bars in Holborn has to be The Cocktail Club Shaftesbury Avenue.
Influenced by tattoo parlours and a love for rum, this trendy spot doesn't take itself too seriously and certainly knows how to have a good time.
Ambient lighting, large painted skulls on the walls and a long list of sumptuous cocktails is what greets you at this Holborn bar.
You'll also find a flavours of the month menu featuring one-of-a-kind creations, for spooky month there's vampire's breakfast, pumpkin spiced latte and witch's brew.
Flight Club Darts Bloomsbury
£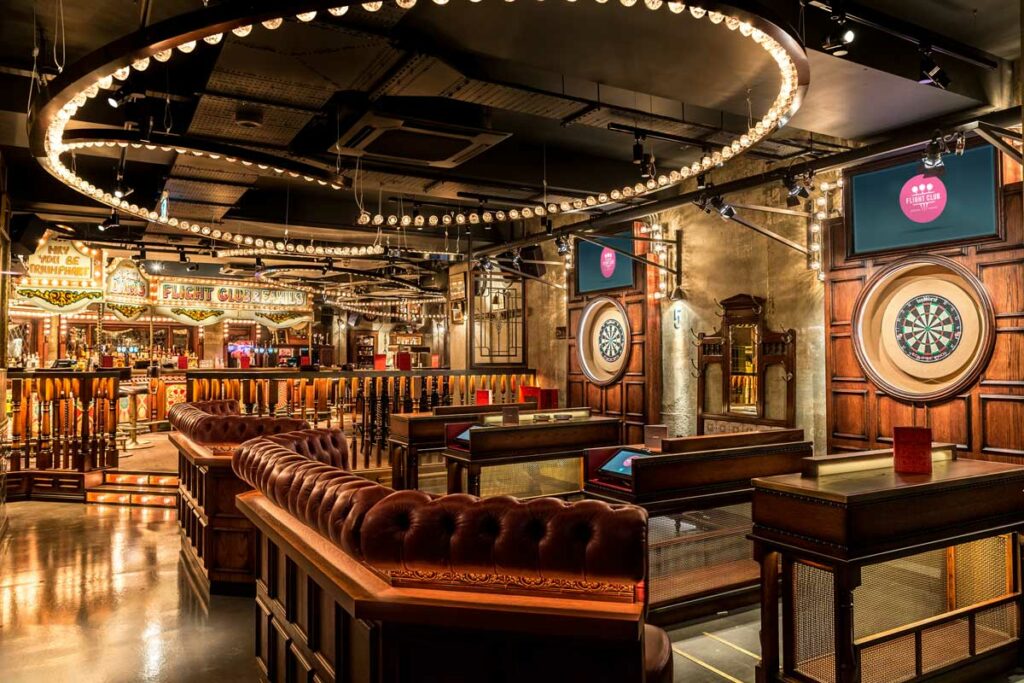 It turns out that you don't know darts until you've visited Flight Club Darts.
Darts, or social darts as this Holborn bar calls it, is all about having fun with your mates. You definitely don't need to be an expert.
This is the twenty first century version of darts with fast paced multiplayer games and all kinds of twists and turns to keep you entertained.
Flight Club Darts knows dart playing is tiring work, and that's why there's sharing pizza paddles, sharing snack platters, fries and treats to share.
If you didn't get the memo, sharing is caring at this Holborn bar.
The Fable
££
If you haven't already visited The Fable, then prepare to be whisked away to a magical fairytale land.
This whimsical bar features sparkling crystals, a mystical collection of storybooks and beautiful blooms in every direction you turn.
The magic continues with an inventive cocktail list mixing fantasy with reality, The Fable really is one of the best bars on Chancery Lane.
Just to add to the fun, The Fable is spread across three floors with floor-to-ceiling windows that overlook the Holborn Viaduct.
No trip to The Fable is complete without sampling some of its delicious dishes, if you're having drinks here then turn your eyes to the sharing boards filled with cheese, flatbread and chorizo.
Bar Polski
£
Tucked away down a little side alley in Holborn, Bar Polski serves Polish beers and authentic cuisine.
This is one of the best bars in Holborn for its warm and welcoming atmosphere, everything is very friendly here.
We love that this bar is compact, it gives a kind of personal feel to the evening and it's the kind of place you'll get talking to other evening revellers.
You'll find plenty of Polish beers on tap and by the bottle, so it's a great place to try some new drinks that you might not otherwise find in your local.
Bar Polski's Polish snacks are pretty damn good too, they also go down a treat with a few drinks.
Bloomsbury Club Bar
££
Bloomsbury Club Bar on Russell Street is a highly sophisticated spiritual bar inspired by a deck of tarot cards from 1910.
Leave all your inhibitions at the door, you'll find an interconnected universe with a set of 14 cocktails each corresponding to different states of mind or being.
If you're unsure of your state of mind, the Cocktail Diviner may be brought to your table to discover your true disposition – sounds intriguing.
As well as seriously good cocktails, Bloomsbury Club Bar has music sessions featuring London's up and coming musicians, so that's your entertainment sorted too.
Fitz's Bar
££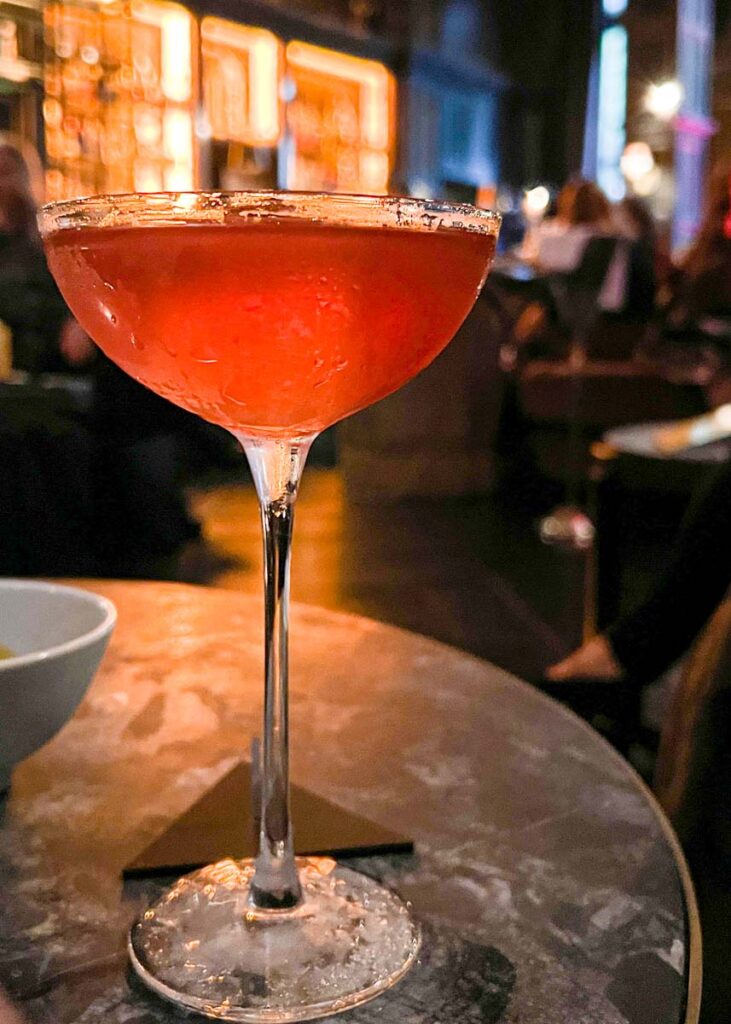 Glitz, glamour and cocktails is what Fitz's Bar in Russell Square is all about.
This is one of those Holborn bars that once you've been, you won't be able to stop yourself becoming a regular.
This glamorous drinking den is nestled inside the Grade-II listed Kimpton Fitzroy Hotel.
Spread across two drinking spaces, 18th Century stained glass windows and an iconic jazz-age mirror ball are just two of the things that separates this bar from the rest.
The Fitz Bar also throws decadent parties and it really is like stepping back into the Gatsby era. Think dazzling ostrich feathers, Victorian curios and a roaring fireplace – all that's missing is that captivating green light.
As well as the parties there's immersive drinking experiences and live music from Fitz bands with lots of style and flair.
The Amicable Society of Lazy Ballerinas
£££
Wine on the mind? We thought so, we think you'll love a glass or two at The Amicable Society of Lazy Ballerinas.
This Fleet street wine bar is a very unique venue, you'll sit inside a marble room with a mirrored wall and velvet sofas, it's not like any other bar in London.
The wines here are exceptional and exciting, there's a sizable menu with wines from around the globe.
You can't have wine without cheese, right? That's exactly why this Holborn bar has a delightful selection of cheese, charcuterie and small plates.
WC Wine & Charcuterie Bloomsbury
££
If you're wondering why this wine bar's name starts with WC (aka toilet), that would be because it used to be a toilet.
Housed inside an old Victorian water closet, WC Wine & Charcuterie Bloomsbury is a unique subterranean wine bar.
This trendy bar with rustic interiors has intimate booths for those private moments, or you can choose to sit in the open planned area, but whatever you do make sure you order lots of cheese.
The charcuterie here is delicious with homemade chutneys and authentic meats all of which can be paired with your wine.
And all that, in our opinion, makes this one of the best wine bars near Holborn.
Cool Bars in Holborn: Practical Tips
If you're heading to any of these Holborn bars as a large group, you should book ahead to make sure you're seated together they can get pretty busy
Since there's lots of office around Holborn, it can be pretty busy for after work drinks and you should consider if that's right for you
Holborn Bars: Map