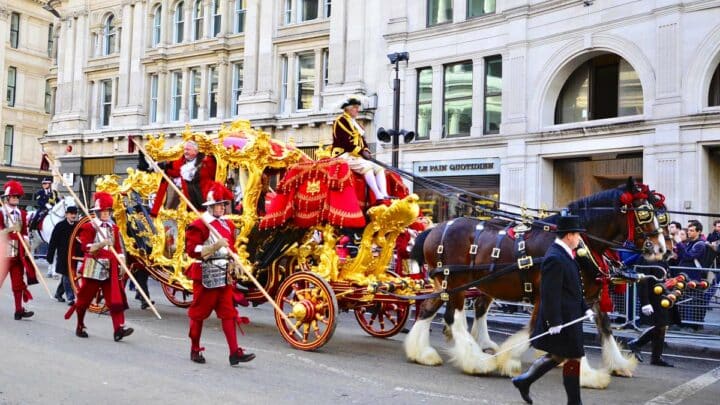 Pomp and ceremony – nowhere does it quite as well as London, as the Lord Mayor's Show serves to remind us. This annual event is a longstanding London tradition that you should experience at least once.
With the Lord Mayor's Show returning to the City of London in the coming weeks, here's everything you need to know…
A Guide to the Lord Mayor's Show 2022
What is the Lord Mayor's Show?
Dating back to the 13th century, the City originally organised The Lord Mayor's Show so the new Lord Mayor could introduce him or herself to the people of the City.
There's a whole spectacle and display for revellers to enjoy and to commemorate the event.
It takes place in the form of a three-mile procession – the world's oldest and longest of its kind.
Visitors can enjoy a mix of; military bands, 60 bright and colourful floats, and over 120 horses.
Every year is different, whilst remaining faithful to the rich melting pot of cultures within the City.
What Date is the Lord Mayor's Show in 2022?
Look no further for the Lord Mayor's show date – the event takes place on the 12th November – this year – a Saturday!
Do I Need Tickets for the Lord Mayor's Show?
The good news is that you do not need tickets for the Lord Mayor's show, as the event is free to attend. There's special Disabled access – blue badge holders can apply here.
It starts in Bank around 11am and will finish in Aldwych at 2:30pm,
Guests can attend at any point along the route, and there are festival zones with food stalls, exhibitions, live entertainment and funfair rides.
Other Practical Tips for Watching the Show
On the day of the Lord Mayor's Show, it's best to take public transport or walk. Be sure to wear comfy shoes and bring plenty of plasters, water and snacks to keep you going. Weather is typically unpredictable, so waterproofs and an umbrella are always advised.
There are also plenty of bathroom facilities, including those around the procession route, near the Old Bailey, Queen Victoria Street and Blackfriars Bridge. You should also download the 'Toilet Finder' app.
In previous years, there has also been a Lord Mayor Show's 'Ghost Parade'. This is a non-publicised run-through of the event taking place in the early hours of the morning. The horses, majestic coach and Lord Mayor are in all attendance.
Finally, if you can't make the Lord Mayor's Show, you can always enjoy it from the comfort of your living room. The BBC does full coverage and commentary.
And don't forget to wave your flag!
To learn more, visit the official Lord Mayor Show's website and download the official app.
The Lord Mayor's Show: Read Next