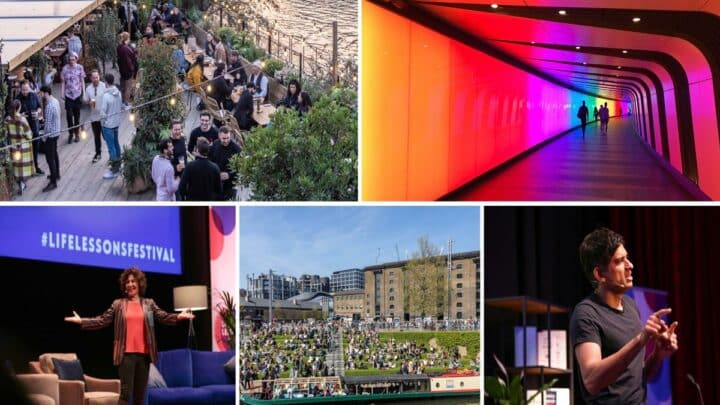 Life in London can often be hectic – so here's why you NEED to attend the Times+ Life Lessons Festival.
This event has been cancelled as of August 25th 2022.
In a post-pandemic world where burnout is on the rise, looking after your mental and physical health has never been more important. Nor has it ever been more important to take control of your career and future.
Cue the Times+ Life Lessons Festival – the perfect tonic to combat life's daily stresses.
In partnership with The Times newspaper, this weekend event is being held in King's Cross and is set to be jam-packed with brilliant guest speakers and masterclasses to help us all take control of our own wellbeing.
Interested? Here's why you need to attend…
About the Festival
The Times+ Life Lessons Festival will boast an impressive programme of 60 live discussions, 30 masterclasses, interactive experiences, art installations, and social spaces.
Running across the weekend of 9th to 11th September, you've got the option to attend the whole thing or just pick out the talks and workshops that interest you. Though, trust us when we say you won't want to miss a moment.
Whether you're looking to boost your creativity, improve your mental and physical wellbeing, or understand how you can thrive in your career, there'll be an expert on hand to inspire and motivate you to make a change.
And, if you're feeling confident, you can even get involved in one of the immersive experiences to put your newly-found knowledge to the test. Are you ready to level up?
Who's on the Line-Up?
We could not be more excited about the line-up for this festival.
Not only will the king of investigative journalism (that's Louis Theroux, if you didn't know) be attending, but the likes of Stephen Bartlett, Vicky McClure, Sophie Tea, Caitlin Moran, and Paloma Faith will also be holding talks throughout the weekend.
Each will be discussing how we can improve our lives, take back control of our health, and focus on our mental well-being. Pretty important stuff, we think.
Art + Experiences
Storytelling through art, poetry, and installations will play a huge role in this festival – expect it to be a melting pot of creativity and expression.
Among the many immersive experiences to get involved with, the Sensory Slowdown is a world first. It will captivate festival attendees in an immersive journey, combining light, scent, sound, and touch to help you unwind and calm your mind.
Ever stumbled across one of those adorable messages written on a big whiteboard in Tube stations? We're sure you know exactly what we mean.
Well, those messages of hope have been provided by Ian Redpath and Jeremy Chodpra across the capital for over five years – and their quotes will be on display at the festival to provide a little lift to those who need it. Adorable.
Times+ Life Lessons Festival: Practical Information and Map
When?
The Times+ Life Lessons Festival will be held from the 9th to the 11th September.
Where?
The festival is being held in Coal Drops Yard in King's Cross. The nearest Tube stations are King's Cross St Pancras and Mornington Crescent – it's around a ten-minute walk from either.
Tickets?
You'll need to book a ticket to attend the event – grab yours here.
Times + Life Lessons: Read Next