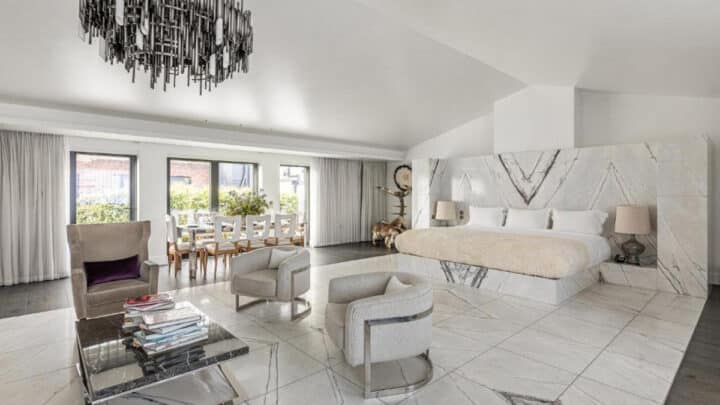 Looking for the best hotels in Fitzrovia? These are the very top places to stay on your trip to the capital.
Fitzrovia's streets might be lined with elegant 18th and 19th Century buildings, but its close proximity to Soho means nightlife is vibrant here as the crowds spill over. This alone is one of the reasons why it's an excellent neighbourhood to stay in London.
As well as interesting architecture, the streets are also lined with tempting bistros and bars that draw in local crowds and Londoners from afar.
Looking for the best hotels in Fitzrovia? From downright decadent hotels to the quietly brilliant ones housed in Georgian townhouses, these are the Fitzrovia hotels that you should stay at.
Best Fitzrovia: At a Glance
Best Hotels in Fitzrovia
The Langham
£££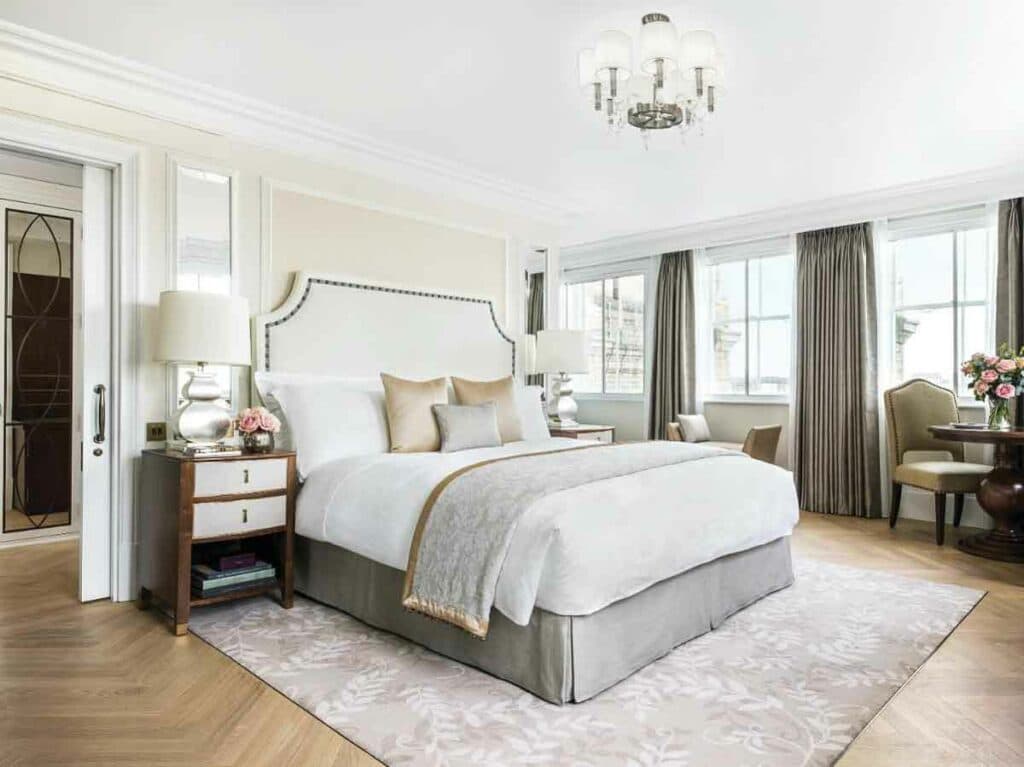 The Langham is a glamorous Fitzrovia hotel located at the top of Regent Street, just a few minutes walk from Oxford Circus station. Opened in 1865 as Europe's first grand hotel, it makes sense that the Fitzrovia Hotel is *quite literally* fit for royalty. It has accommodated celebrities and royalty for over 150 years.
We're not surprised, the rooms boast a chic interior and the suites have marvellous French doors which open up onto a balcony for you to enjoy London skyline views.
Eating and drinking are at the forefront at The Langham. Hang out at the award-winning bar, Artesian, for cocktails and all things glamour, or dine at the stylish Wigmore restaurant and indulge in reimagined hearty pub fare.
Fancy a dip? The Langham's indoor swimming pool is a tranquil space to relax. Almost as relaxing as the Chaun Body + Soul Spa's treatments and sauna rooms. Almost, but not quite.
Treehouse Hotel
£££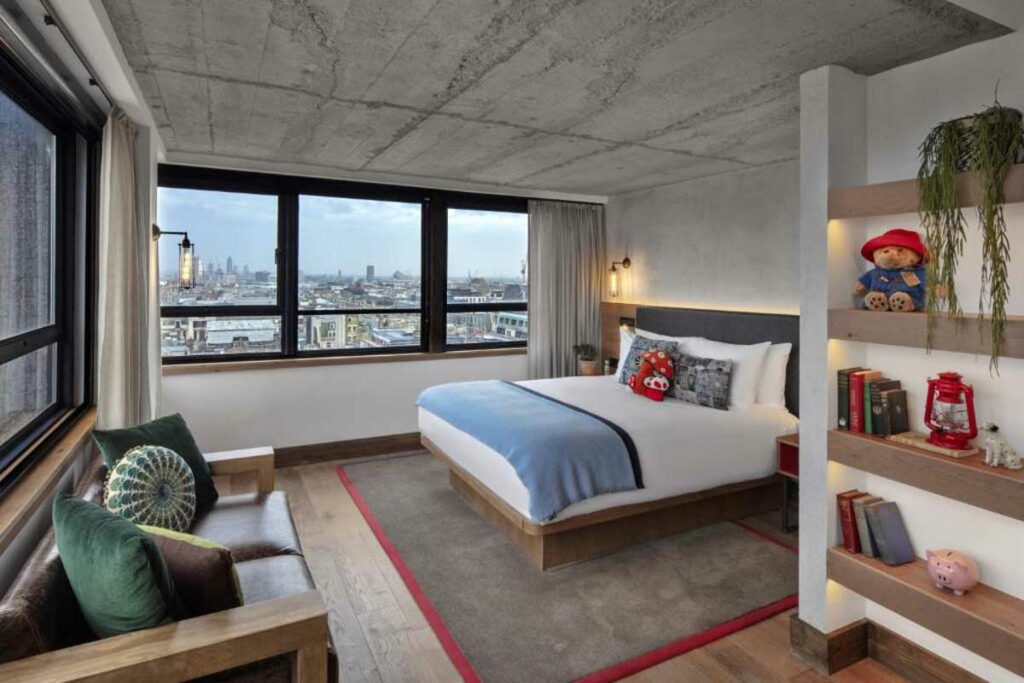 The Treehouse Hotel is the top place to eat, drink, play and sleep, quite literally.
Each of the bedrooms at Treehouse is perched high in the sky, hence the name. One of their best features has to be the big bay windows that look out onto some of London's most iconic landmarks.
Treehouse has a restaurant or bar to suit everyone's taste: Madera serves reimagined Mexican food whilst Pizzeria Mozza keeps things simple with hearty Italian-style pizzas.
After dinner, head to The Nest – a rooftop bar with 360 views, cocktails, DJs and a cosy space filled with foliage and rattan hanging lights.
The King's Arms
££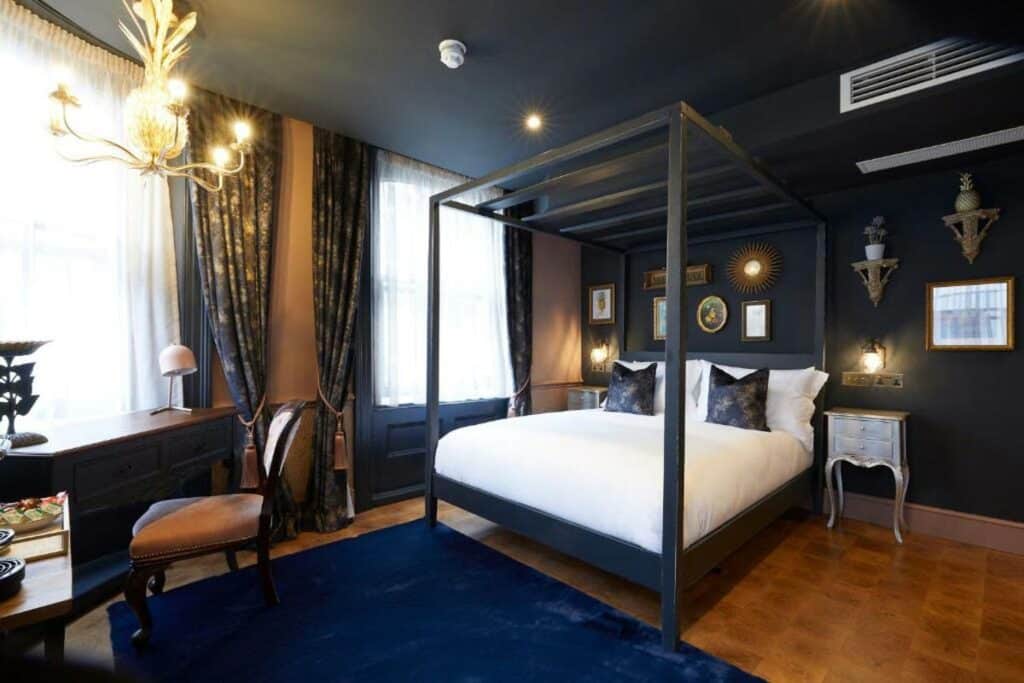 The King's Arms is easy to spot amongst the neighbouring buildings. Its duck-egg exterior and historical spires are enough to catch your eye if you were wandering past.
The boutique bedrooms here are cleverly and comically designed. Although no two bedrooms are the same, you'll most likely find vibrant wallpaper, brightly-coloured landline telephones attached to walls and old suitcases for bedside tables. It's almost like you've stepped inside Alice in Wonderland.
This quirky hotel sits atop the King Arms pub which is good for traditional pub grub and a selection of world beers. The continental breakfast is an excellent way to fuel you up for the day.
The LONDON Edition
£££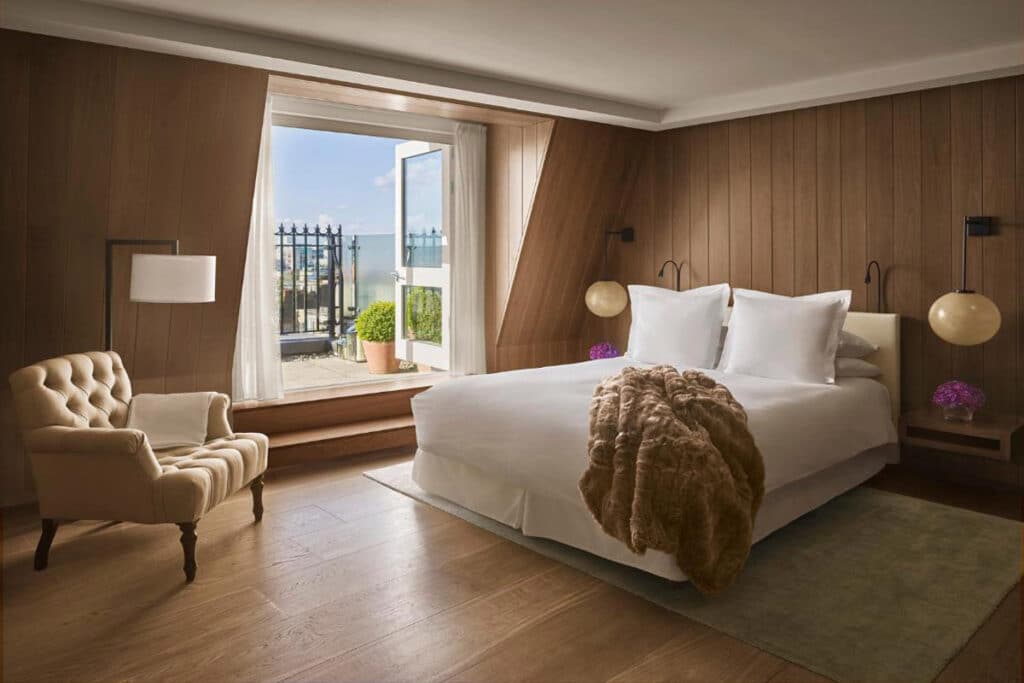 The LONDON Edition is a luxurious boutique hotel, nestled in between Oxford Street, Theatreland and Piccadilly Circus. Housed inside a historic London building, this urban sanctuary quietly combines elegance with comfort.
The nautical theme in the bedrooms gives you a spa day feeling – calm and serene with modern wood furnishings and mood lighting.
Indulge in seasonal British dishes at Bernes Tavern, Michelin-starred chef Jason Atherton's stylish restaurant. Or, for evening drinks, head to the Lobby Bar and the award-winning Punch Room, an oak-panelled den inspired by nineteenth-century private London clubs.
The Mandrake
£££
It's no secret that we love The Mandrake – we've raved about it loads.
Design is at the forefront, with vibrant and warm interiors, and an impressive private art collection. Stylish bedrooms, luxury suites and a penthouse are set over four floors rising upwards from the central courtyard that's dressed in hanging gardens of jasmine and passionflower.
The Mandrake is a Fitzrovia hangout spot for guests and inquisitive foodies looking for an immersive experience.
Be wined and dined at the Jumera Terrace overlooking the courtyard and surrounded by hanging gardens or sip on botanical cocktails and taste Mexican-inspired dishes from the indoor bar and restaurant YOPO.
The Rathbone Hotel
£££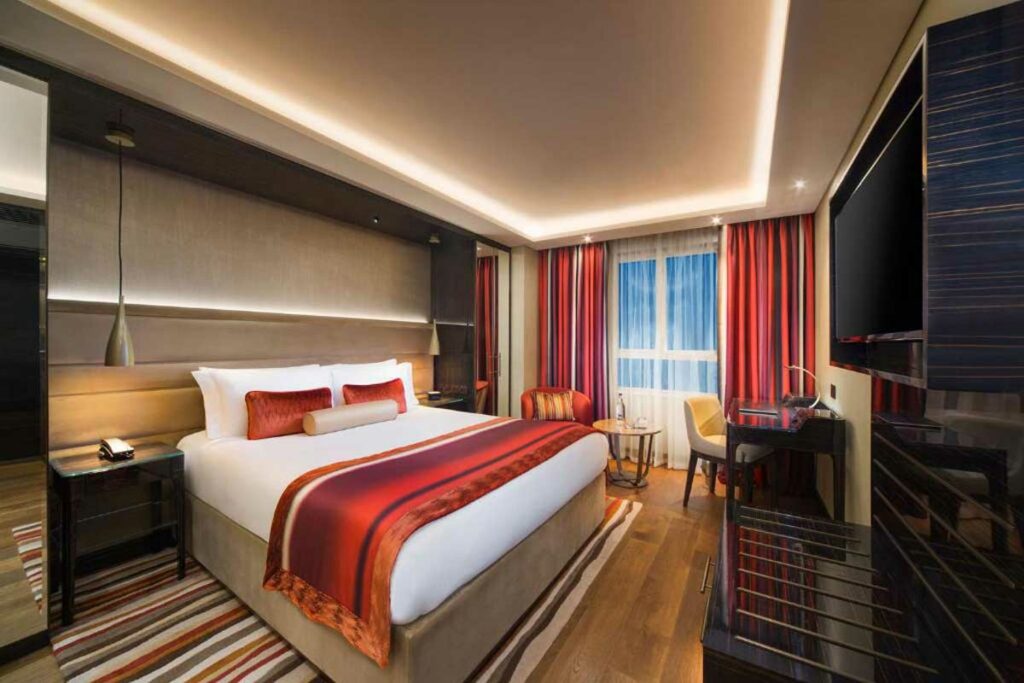 Located just off of Charlotte Street is the intimate boutique-style hotel, The Rathbone Hotel.
This hotel is best known for its contemporary and classic British decor – 72 charming rooms combine playful colours with minimal furnishings.
Suites at The Rathbone Hotel remind us of what we imagine an old British living room would look like with a mirrored coffee table, red carpet and an elegant wooden table and chairs.
Albert's Bar is a place to relax and unwind: The bar features a period fireplace, a series of armchairs, and sofas to sink into. There's also an exciting drinks list with an extensive collection of whiskies to suit everyone's tastes.
Charlotte Street Hotel
£££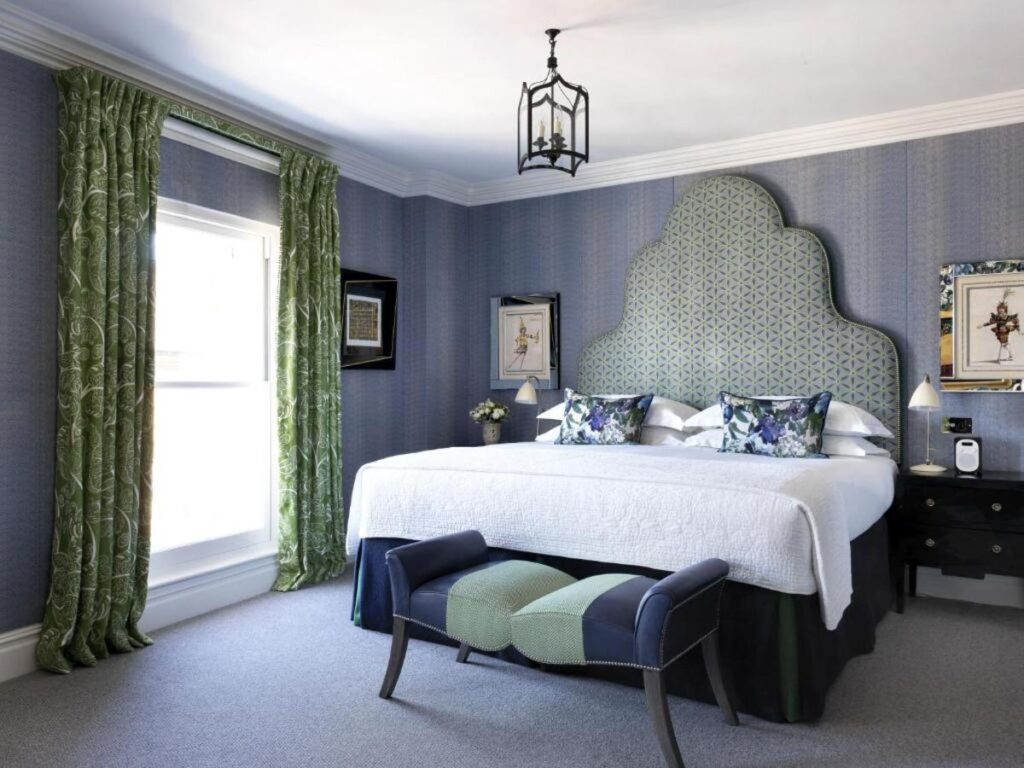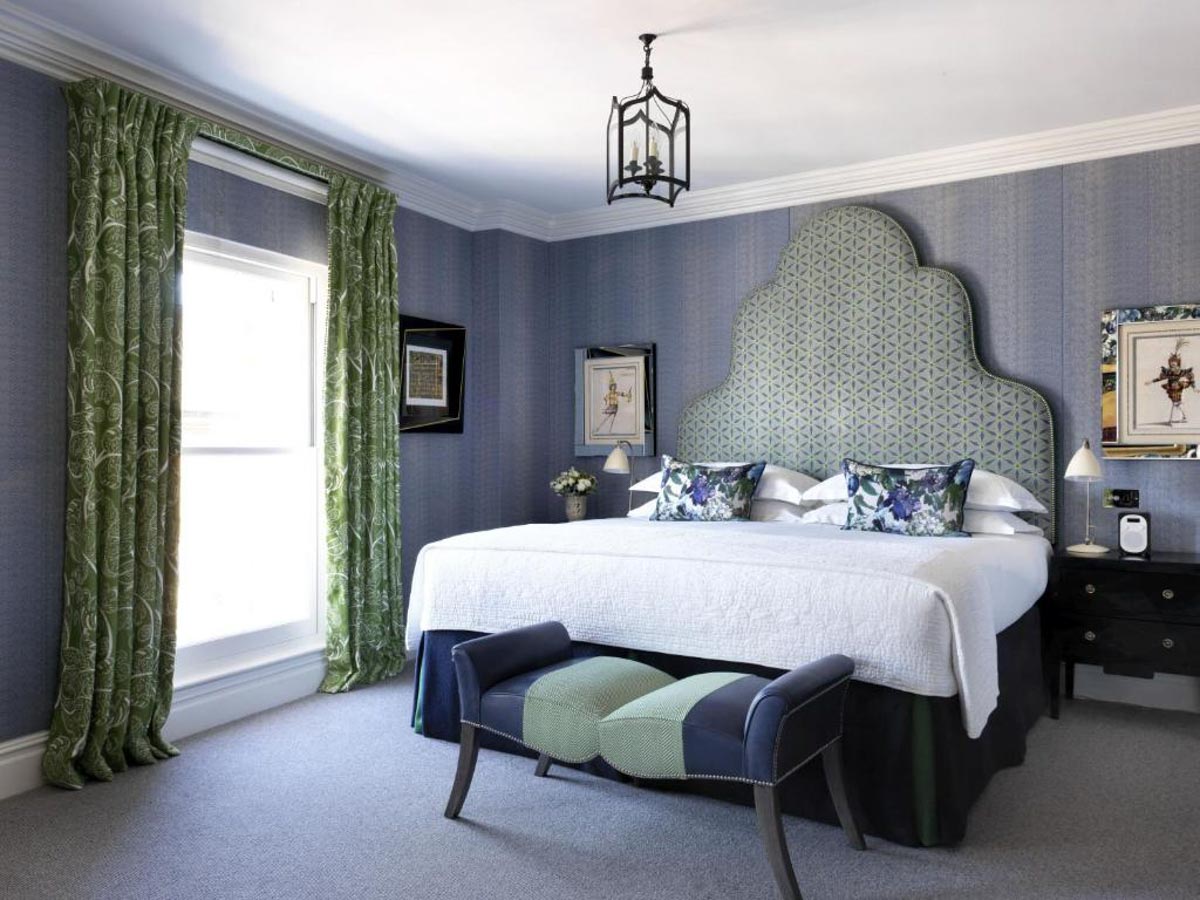 From the outside, Charlotte Street Hotel resembles a French bistro, painted in a pastel green with tables and chairs streetside for restaurant diners.
However, inside is a totally different story – it's a representation of contemporary London life. The bedrooms showcase artwork from the early 20th century and period furnishings complete the look and feel here.
Better yet, Charlotte Street Hotel takes in-house entertainment to new levels with its own cinema room, 24-hour room service and fully-equipped gym.
Fitzrovia Hotel
£££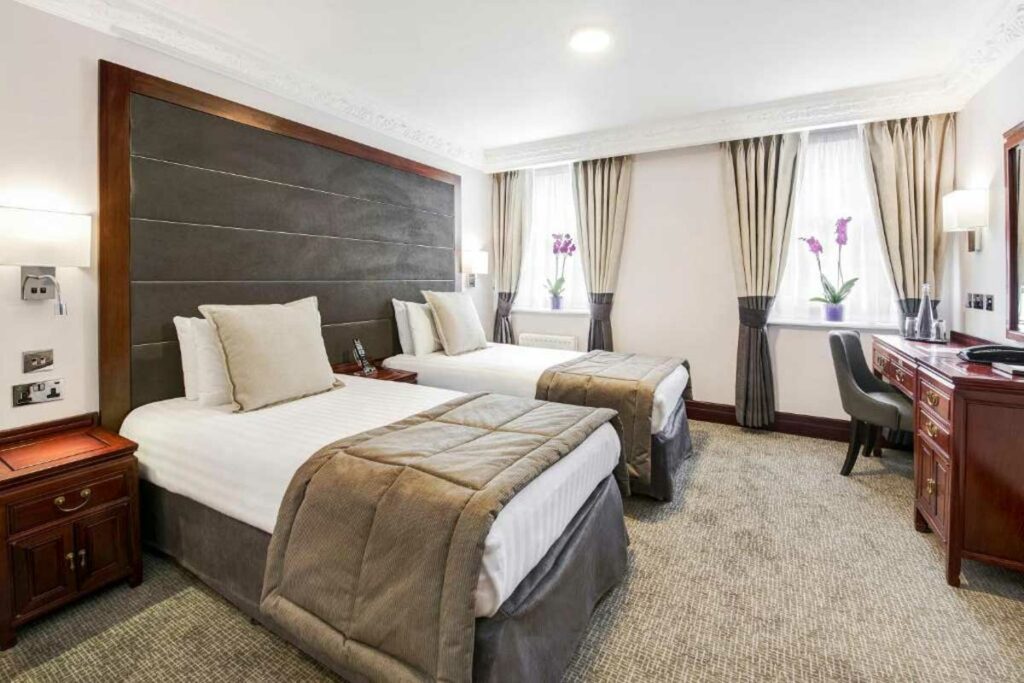 Housed inside a Georgian building, Fitzrovia Hotel is just a short walk from both Oxford Street and Regent's Park.
This stylish 4-star hotel features 86 bedrooms, each decorated to perfection. The beds are surrounded by ambient light and the grey and white colour scheme (which can so often teeter into boring territory) works really well.
If food is a deal-breaker for you, there's no need to worry. The XX-XXVIII restaurant is a grand dining space with tables lined with white tablecloths underneath an impressive skylight.
While the Omega Lounge Bar serves cocktails and a decadent afternoon tea filled with finger sandwiches and indulgent cakes.
Radisson Blu Edwardian Grafton Hotel
£££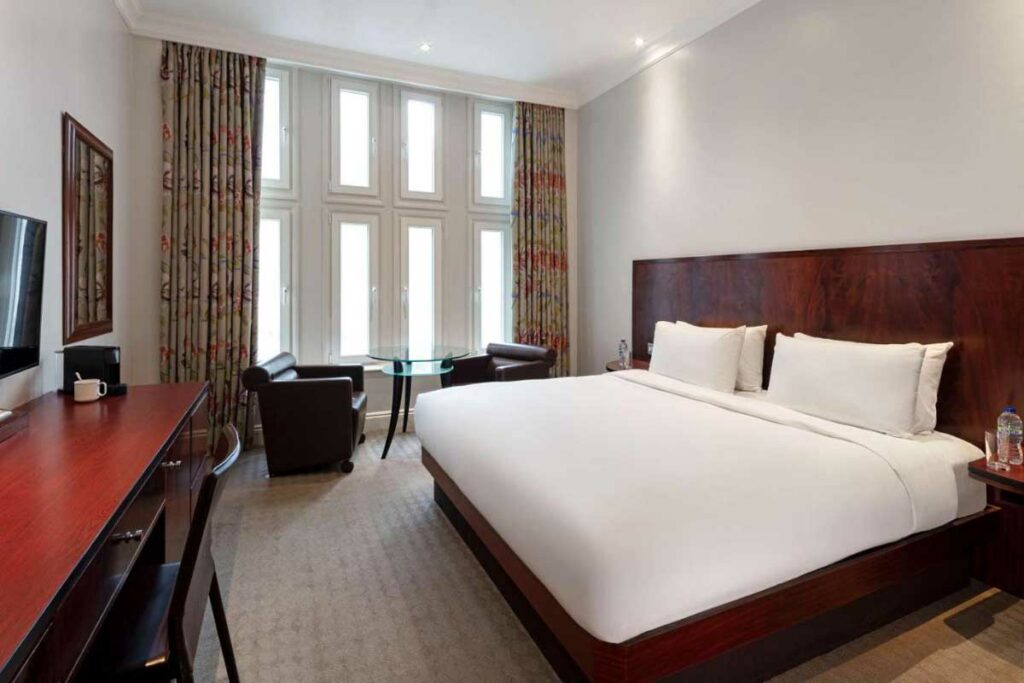 Nestled in the heart of Fitzrovia is the ultra-luxe hotel, Radisson Blu Edwardian Grafton Hotel.
No expense is spared here, rooms are equipped with custom-made wall coverings and designer Italian chairs. You're also guaranteed to get a good night's beauty sleep in the Radisson Blu's comfy beds with Egyptian bed linen.
Enjoy complimentary REN products in your Sicilian marble bathroom that looks as though it was made for royalty. And, when hunger strikes, dining at the Steak & Lobster restaurant is a pretty obvious choice. The food is divine and goes perfectly with a glass of Italian red or two.
Bloomsbury Palace Hotel
££
Considering that Bloomsbury Palace Hotel is housed inside a listed building, its carefully preserved 200-year-old Georgian exterior is very different to the mod-cons you'll find inside.
If you're looking to save some cash but don't want to compromise on comfort, this is an excellent option. Bedrooms are air-conditioned and have designer-inspired lighting.
But the main draw here is the continental and full English breakfast that's served every day – because who doesn't love a complimentary breakfast?
This hotel is also within walking distance of Oxford Street, so it's a great place to stay if you're in the mood for retail therapy, which we always are.
Where to Stay in Fitzrovia: Frequently Asked Questions
What is the Best Area to Stay in Fitzrovia?
The best area to stay in Fitzrovia is on the cusp of Soho. That way you can enjoy the buzz of both areas and are sandwiched between Oxford Street and Tottenham Court Road.
Related Searches FAQs
How Do You Get Around in Fitzrovia?
Getting around in Fitzrovia is easy. It closeby to Oxford Circus, Bond Street and Tottenham Court Road tube stations.
Practical Tips to Consider Before Booking Your Fitzrovia Accommodation
Make sure you budget well and pick a hotel that suits your budget and itinerary.
Hotels here can be on the more expensive side, if you're looking to save money, stay slightly further away from the Soho/Fitzrovia cusp.
Fitzrovia Accommodation Guide: Map