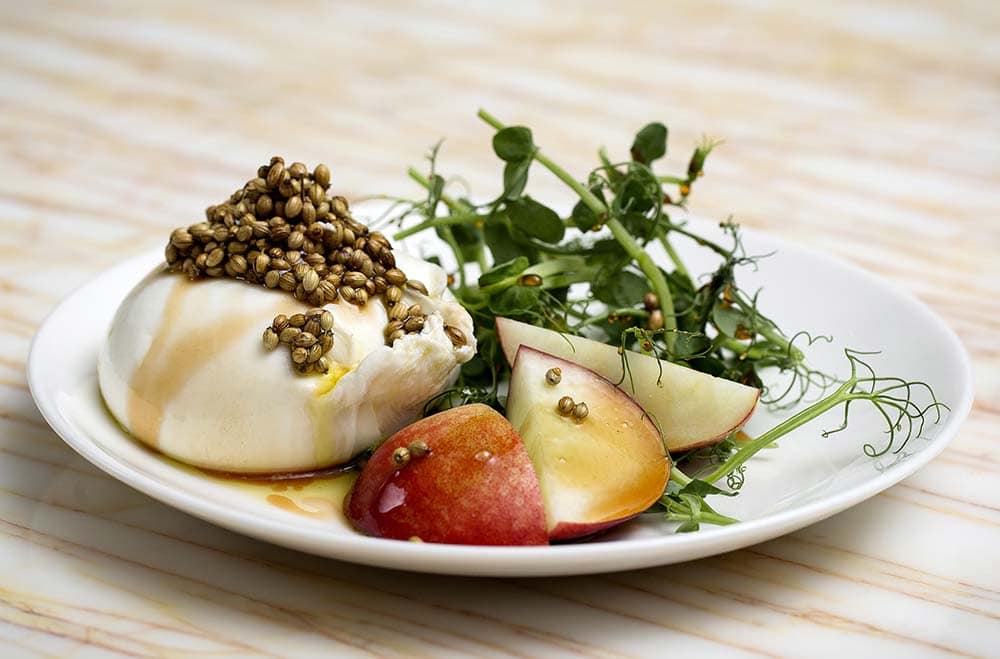 Your body is a temple. Keep it that way with our guide to the best healthy restaurants London has to offer.
What's the secret to good food? The answer you'll commonly get to that question is something along the lines of: lots of butter and lots of salt. We don't necessarily disagree (there's a time and a place) but we tend to think the best cooking involves fresh ingredients that are allowed to shine all by themselves.
It's not hard to find kitchens that adhere to these principles if you know where to look. London has a plethora of restaurants that cater to people looking for healthy food – the kind of cooking that makes you feel as great as you really are – and so we've put together a guide of our favourites
Read on for the best healthy restaurants London has to offer…
Best Healthy Restaurants in London
Rovi
Fitzrovia
Yotam Ottolenghi was never not going to get a restaurant into this guide. He's quite possibly the king of healthy eating in London, and Rovi is his palace.
The restaurant does some seriously good food and is probably one of the best healthy places to eat London has to offer. Vegetables take centre stage at Rovi and there's a focus on fermentation and cooking over coal that brings some really interesting flavours into play.
Of course there's that Middle Eastern twang to the menu too, you probably know it well. Which means you probably know it's going to be good. After all, that Ottolenghi cookbook isn't on your shelf for nothing.
Granger and Co.
Multiple locations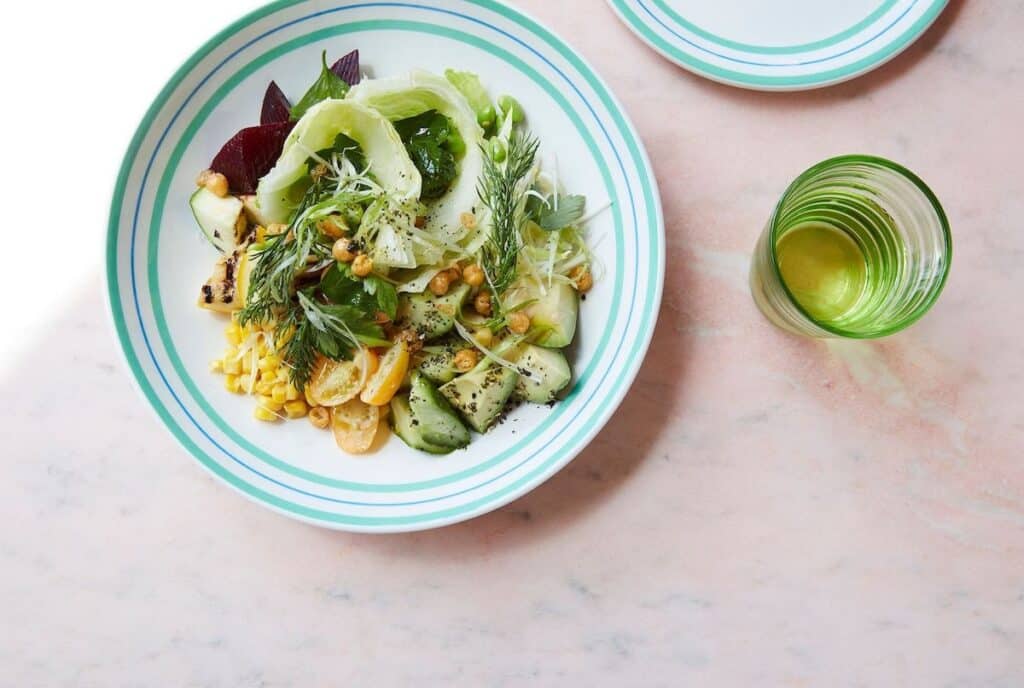 With five locations around London Granger and Co. is one of the most accessible options for a healthy lunch London has to offer. They have separate menus for breakfast, lunch and dinner but the common theme is food that's good for you.
Granger and Co. is actually the London name for Bill's, a popular eatery hailing from Australia now boasting a global footprint. On the London side of things, menus stay true to their Aussie roots and drift into a more eclectic mix of cuisines as the day draws on. We can't recommend the fishcakes enough.
VE Kitchen
Clapham
VE Kitchen draws in the crowds with its offerings of plant-based dishes and the fact that their cooking manages to be both delicious and healthy. You can even chow your way through one of their burgers and leave the restaurant without a shred of guilt.
The menu largely focuses on rice bowls and these come with a variety of globally inspired toppings. You'll see ingredients from places like Korea, Japan, India and the Caribbean used, which is nice because you'll have plenty of choice in flavour.

There is one drawback to VE Kitchen. It's a touch on the spenny side. £17 is about average for one of these rice bowls, so we doubt you'll be making this your staple. Should you fancy something healthy and tasty for a one-off dinner though, you'll be in good hands here.
Wild By Tart
Victoria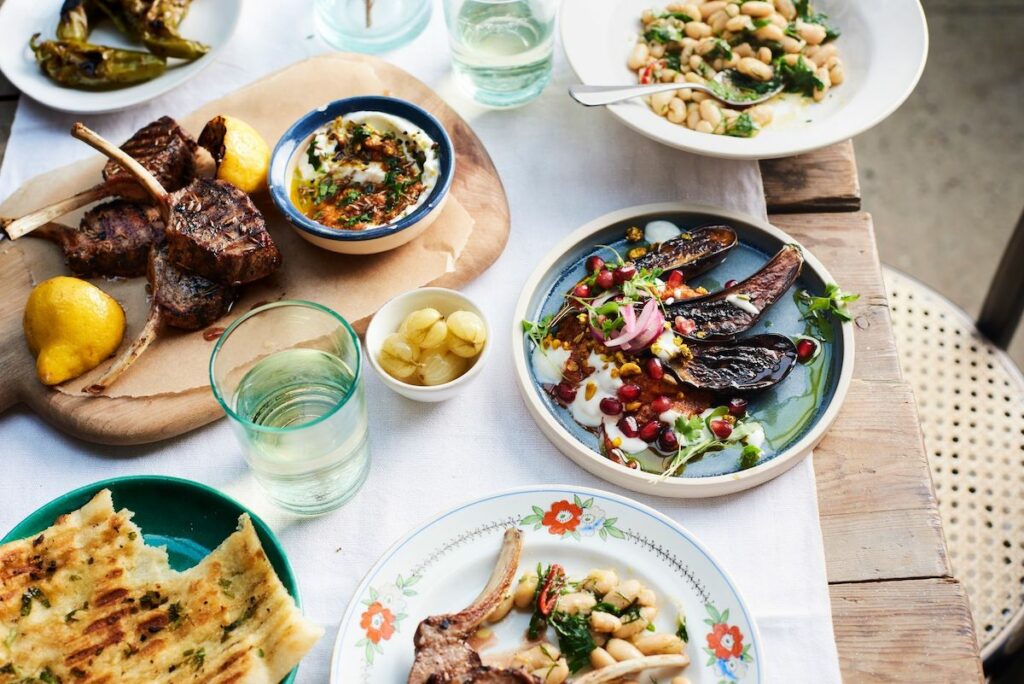 Wild By Tart does some great healthy cooking. This is the kind of place where you can tell the owners are passionate about good food, and believe good food shouldn't be bad for you. They do much of their cooking in wood ovens or over a charcoal grill and use only sustainable ingredients, locally sourced and in tune with the seasons.
Food can be enjoyed as small plates to share and probably should (you'll want to try a bit of everything). They have a hefty reputation in London for the quality of the above and as such we suggest anyone looking for healthy places to eat in London put Wild By Tart high on their list.
Chisou
Knightsbridge, Mayfair
Japanese food is high on our lists when you ask us about healthy cuisines. The artfully prepared raw fish and respect shown for vegetables comes to a head at Chisou. You'll be eating from a menu that pays close attention to the use of fresh ingredients and therefore packs the double whammy of being good for you and toothsome.
There's something to be said for the atmosphere at Chisou. It's super tranquil and very calming which feeds right into the healthy vibes you'll be getting off the food. The whole package will leave you walking out the door feeling like you've just attended a Zen meditation class.
Tendril
Soho
The chef behind Tendril, Rishim Sachdeva, comes from a background at The Fat Duck and The Chiltern Firehouse and brings his fine-dining training into play in the form of some excellent small-plate dining.
The result is probably one of the best healthy restaurants Soho boasts. Most of the food here is vegan and all of it plant-based and you get the feeling that Sachdeva really wants to showcase just how good this kind of cooking can be.
Dishes are explosions of colour and flavour, and don't hold back anything when it comes to the wow factor.
Farmacy
Notting Hill
Farmacy does some of the finest healthy food London can offer. The Notting Hill restaurant opened in 2016 and grabbed the dining scene's attention with its commitment to using absolutely no chemicals, refined sugars or additives.
Their cooking takes advantage of seasonal ingredients, most of which are grown on their own farm. Anything they don't produce themselves gets selected from a list of sustainable, local suppliers that have the environment at the heart of their work.
As you can imagine with a restaurant that makes commitments like these, they're also going to great efforts to ensure the food is good for you. Eat a meal here and you'll see they've managed to hit that nail right on the head.
Mallow
Borough Market, Canary Wharf
Mallow is another healthy London restaurant that maintains a 100% plant-based policy towards all its food – They also have a mission to keep their waste down to an absolute minimum, so you can chalk up one more point for the environment too.
The setting is nice, perhaps one of the nicer options in this guide. Seating is plush and comfortable, and colour palettes warm. What comes out on the plates are artfully prepared dishes that look as good as they taste (trust us when we say this food will be all over your Instagram by the following day).
Nopi
Soho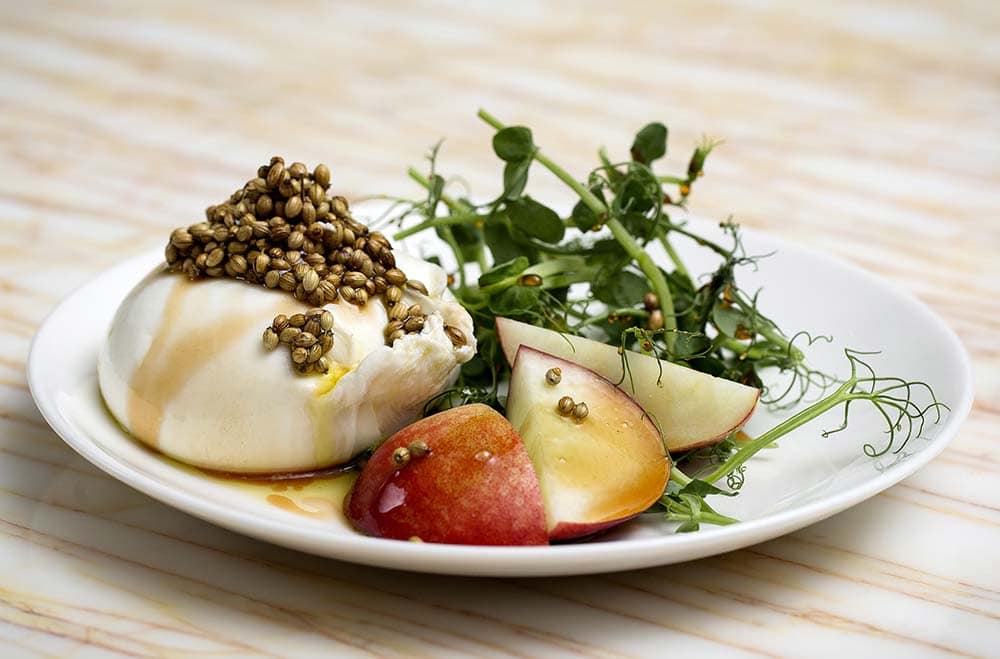 Should we really include another Ottolenghi restaurant in this guide? When they come as good as Nopi, we probably should. This branch of the man's London dining empire tacks in a different direction to many of his other spots but keeps to the principles of fresh ingredients and seasonally changing menus.
The vegetable menu is the largest on the card and probably the one that deserves the most attention. There's a dish of Cauliflower Char Sui that we absolutely love. It incorporates the flavours of Chinese roast pork to create a dish that's just as good – an absolute must-order.
Chicama
Chelsea
Chicama is one of the most interesting healthy restaurants in London. The focus here is on Peruvian cooking, in particular: seafood. You'll be a party to some big flavours and creative dishes, and be able to leave the restaurant not feeling like you need to spend the next week on a juice detox – always a bonus!
They do some really stylish seafood platters which you'll want to have at the centre of your table. They also do some fantastic ceviche – something we imagine you'll be less keen on sharing – and if you're feeling like breaking the rules a little, churros to die for.
Good Life Eatery
Multiple locations
The Good Life Eatery was founded with the objective of getting you, yes you, to eat better. For the past ten years, they've been sticking to their guns, expanding to three locations around London and setting up delivery services so you can eat well without having to leave your sofa.
They love a good bit of avo toast at the Good Life Eatery, and they don't shy away from a superfood salad, but we like the warm bowls best, especially the Human Bowl. No, there is no human served here, it's a mix of greens and roasted broccoli topped with teriyaki sauce, pickled chilli and sesame seeds – a perfect workday lunch delivery option.
Practical Tips for Exploring the Best Healthy Restaurants in London
Just because you're eating healthy food doesn't mean you have to sacrifice on quality. If you want a fancy dinner out, places like Chicama, Tendril and Nopi will more than fit the bill.
Much of being healthy ties in with looking after the planet too – you can probably see that from how many of the spots in this guide have ethical practices towards the environment. If you want to broaden your search a little try our guide to London's best sustainable restaurants. We can't promise they're as healthy as these gems, but there are some great options in there.
It goes without saying folks: book your table before going for dinner. This is London, and the queue of people looking to eat these healthy delights before you do is immeasurably long.
Best Healthy Restaurants in London: Map