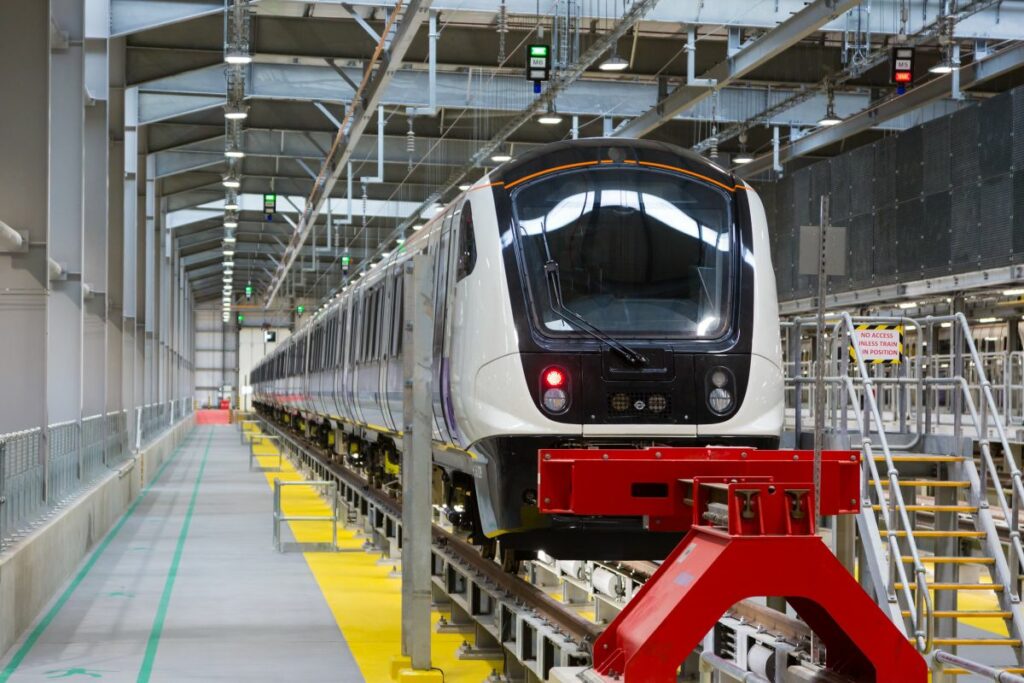 The eagerly anticipated Cross Rail (Elizabeth Line) is set to open its doors to the public today – here's what you need to know to get to grips with London's swish new transport.
It may feel like a lifetime – and it's certainly been more years than TfL initially intended, but the Elizabeth Line finally opens today!
From May 24 phase one of three of the Elizabeth line is open to the public – at last.
As of today, you can catch the train between 6.30am and 11pm (every five minutes) which is perfect for your commute through to after work drinks.
The new flashy Elizabeth line will make it easier to hang out with your friends from east to west, travelling in style in its Class345 trains that run through the newly built central tunnels at 12tph – we're no train buffs but it sounds speedy to us.
For the time being there will be no service on Sundays, but it's unknown for how long at the moment. Good news is, there will be an exception for the Queen's Platinum Jubilee on Sunday June 5, so all you have to worry about is where to order your next Pimms from.
A Quick Lowdown on the Elizabeth Line…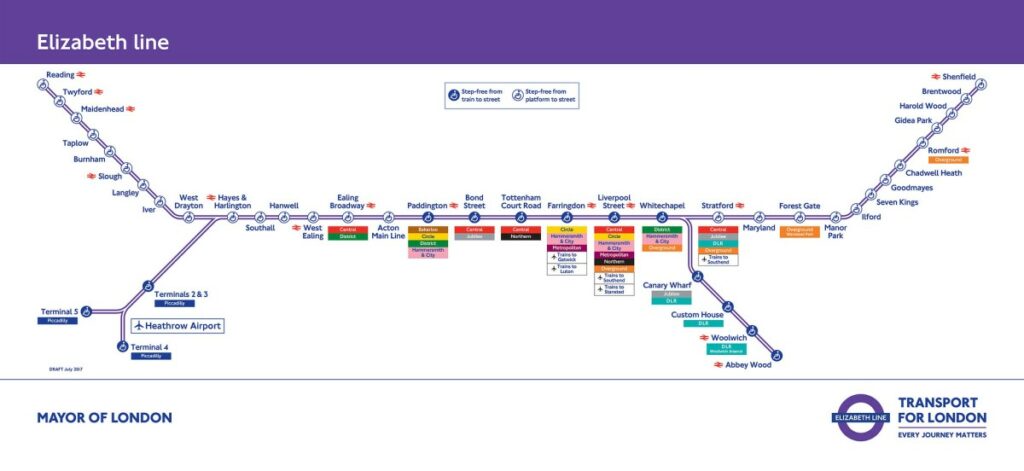 How Much Will It Cost?
More good news, the Elizabeth line fares will mirror normal tube fares. Any journeys between Zones 1-6 will cost the same as the more traditional route of travel– pre Elizabeth line.
Can I Still Use My Oyster Card?
Yes, but only if the station you're travelling to has always accepted oyster cards as a form of payment.
It's best to check before you travel, if you find the station you're travelling to doesn't accept oyster cards then you can easily buy a paper ticket– or save the planet and go contactless.
The Elizabeth Line is also part of TFL's capping system– we're very pleased to hear this.
Fun Pit Stops Along The New Elizabeth Line
Paddington Station
The station that is synonymous with the marmalade loving Paddington Bear is a few minutes walk from Hyde Park and Kensington Gardens if you're looking for open spaces.
It's also only a 10 minute walk from the aptly named Little Venice, where Grand Union and Regent's Canal meet– take a boat trip up the canal Venetian style.
Paddington also has plenty of canal-side dining spots like The Summerhouse and The Waterways.
Liverpool Street Station
Hop off the Elizabeth line at Liverpool Street station and visit Old Spitalfields Market for food, drink and shopping– in that order.
Whatever food cravings you have, Old Spitalfields Market definitely has lots to offer from Fen Noodles and Poke House to the Real Greek and Cafe Caribbean, it's a foodie's heaven. Spend some time browsing cute stalls lined with vintage and one-of-a-kind brands.
Tottenham Court Road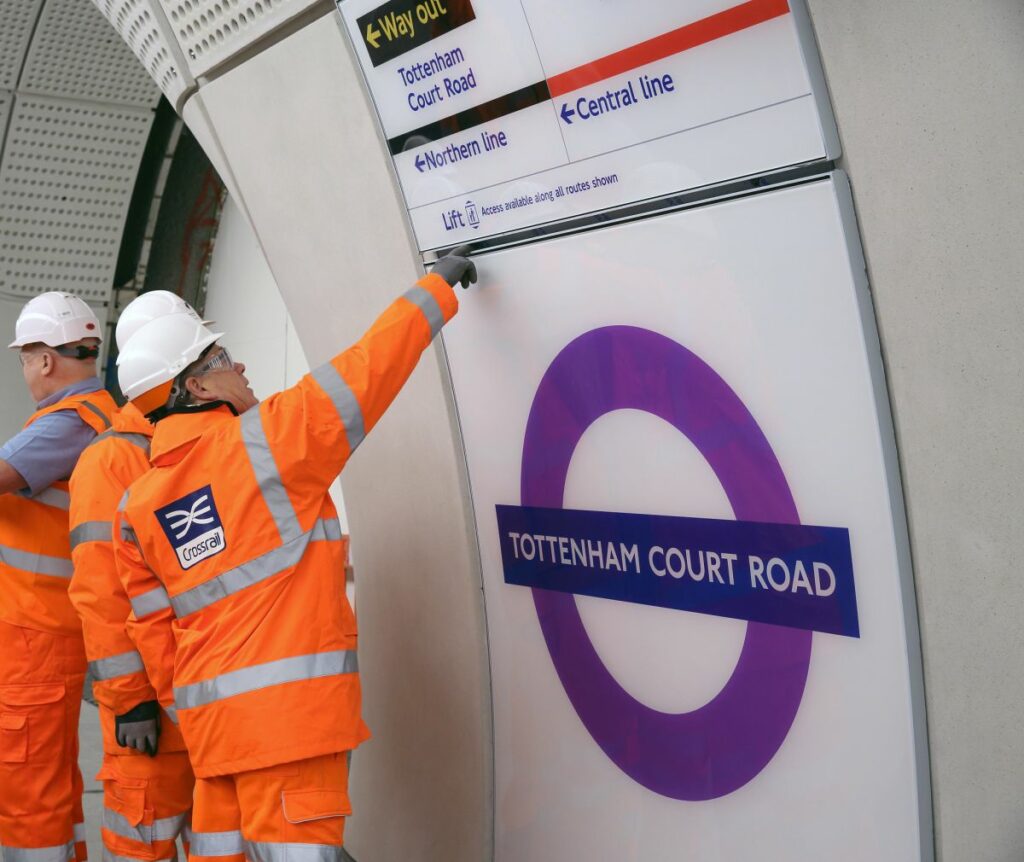 Brimming with entertainment venues there's lots to do at Tottenham Court Road.
Get off the Elizabeth Line here and explore the Cartoon Museum with plenty of exhibitions year round, stop by the Soho Theatre for a show performed and written by new and emerging writers and performers, or wander into the quiet Phoenix Gardens for a quick time out from the busy Charing Cross Road.
Canary Wharf Station
Typically known for travel to the O2 or the Museum of London Docklands– Canary Wharf has one of London's most striking green spaces.
CrossRail Roof Gardens in Canary Wharf is a quiet oasis and home to a selection of plants from around the world. It's also one of the largest covered gardens in London making it the perfect place to escape the hustle and bustle, you could easily spend an afternoon here.
Abbey Wood Station
Take a trip east side on the new and convenient Elizabeth line to Abbey Wood in Greenwich. There's plenty of historical sites to visit in Abbey Wood and you can easily spend the whole day exploring.
You should visit Lesnes Abbey Woods, its 88 acres of ancient woodlands is home to Grade II listed ruins, a fossil park and a sculpture park – it's also part of the delightful Green Chain Walk.
Before You Get Too Excited – Here's What You Need to Know About the Elizabeth Line's Phased Opening
Phase 1 (Today)
Opening a new train line is a huge job, so the Elizabeth line is opening in phases. Which stations will be open on May 24?
You can board the Cross Rail between Paddington and Abbey Wood and there will be 12 trains per hour in each direction every day until the next phase of train stations open.
You should know that services from Reading and Heathrow to Paddington mainline and from Shenfield to Liverpool Street mainline will be rebranded from TFL Rail to the Elizabeth line.
Until the next phase of opening, the Elizabeth line will operate as three separate railways.
This means that the services from the east and west will continue to run into the mainline stations, but you can still carry on your journey to one of the new Elizabeth line Central London stations– all you need to do is change at Paddington or Liverpool Street station to one of the new Elizabeth line trains.
Phases 2 & 3 (Autumn 2022 & By May 2023)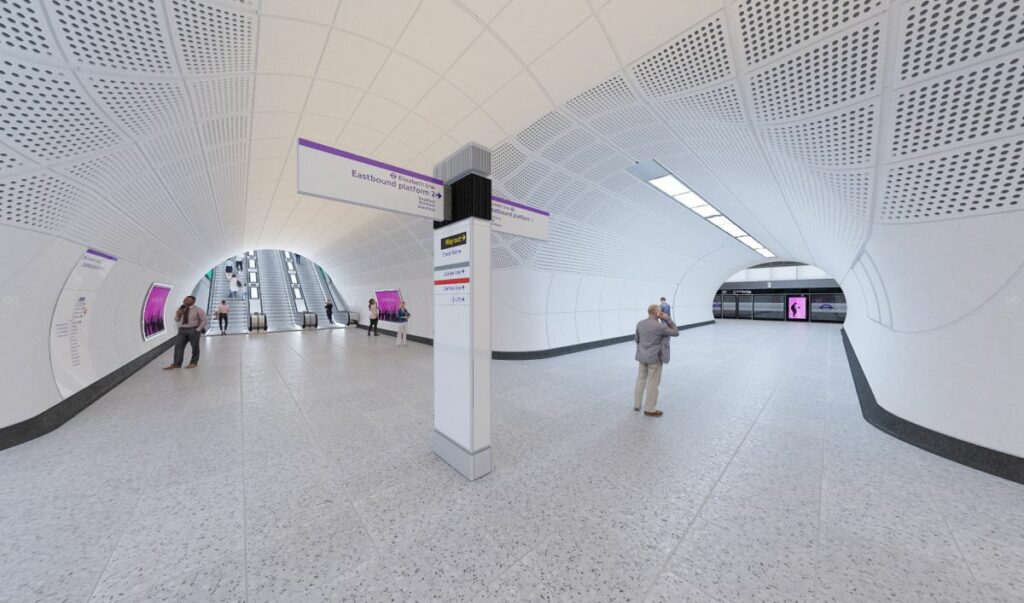 By the Autumn you'll be able to travel from eastside to westside with ease and no changes and there'll be a whopping 20 trains per hour during peak times.. unless there's points failure of course. No later than May 2023 (we'll be believe it when we see it), the final timetable across the line will be in service.
More Things To Do In London This Month