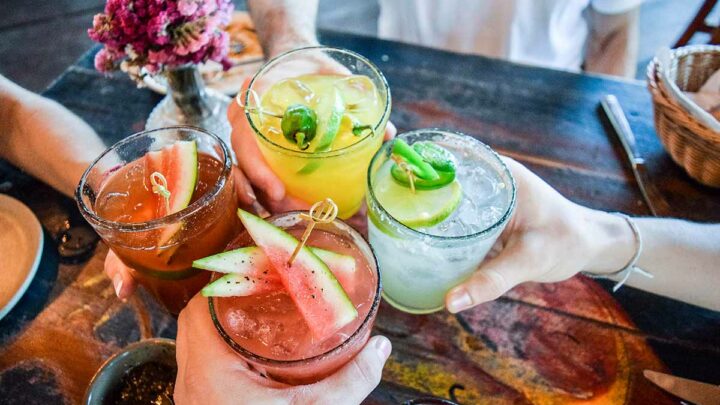 Going for a drink or three in Canary Wharf? Here are the best bars for it.
There's something reassuring about the type of bars you find in a city district. Discerning, sophisticated and just the right amount of chintz to keep the tourists at bay! In London that place is Canary Wharf.
With a polished mix of sky bars, rooftop bars, wine bars and sports bars, Canary Wharf holds its own when it comes to after-work drinks, or as a fun destination in its own right. But as you'd expect from money mile it's on the pricier side, so prepare your bank account, we're about to reveal the best bars in Canary Wharf.
The Best Bars in Canary Wharf
The Lowback
££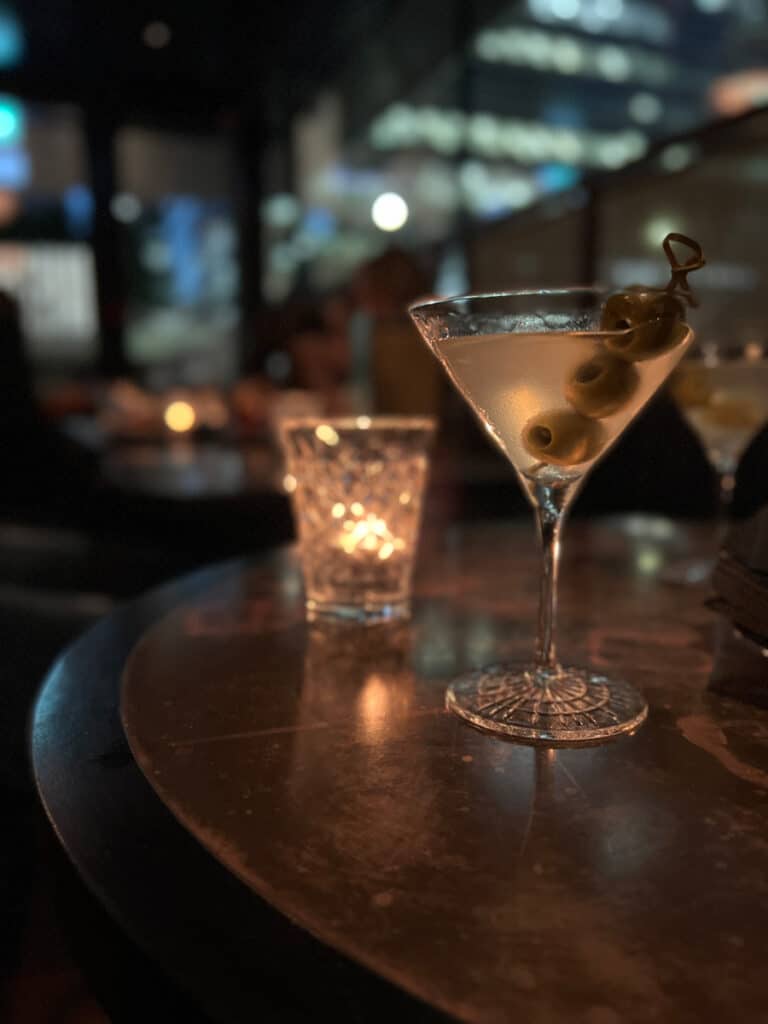 Question: what do you get when you cross Hawksmoor's long-established cocktail skills with one of Canary Wharf's newest spots?
Answer: The Lowback.
The Lowback is Hawksmoor's best bar offering yet. Where Hawksmoor's bars have always been a key part of their restaurant offering (we've long been fans of popping into the Seven Dials branch for a late-night drink or two), The Lowback takes it all one step further.
Perched cheekily on the water in Canary Wharf's Wood Wharf, it's the perfect pre-dinner, post-dinner or drink-your-way-through-dinner spot.
Cocktail-wise, you're spoilt for choice. Need something a little punchy? Sidle your way up to the long wooden bar to nab a Tommy Verde, a heady mix of reposado tequila, cucumber agave with green tomato, olive and lime – but they're also a dab hand at a classic cocktail too.
The Cocktail Club
Canary Wharf
££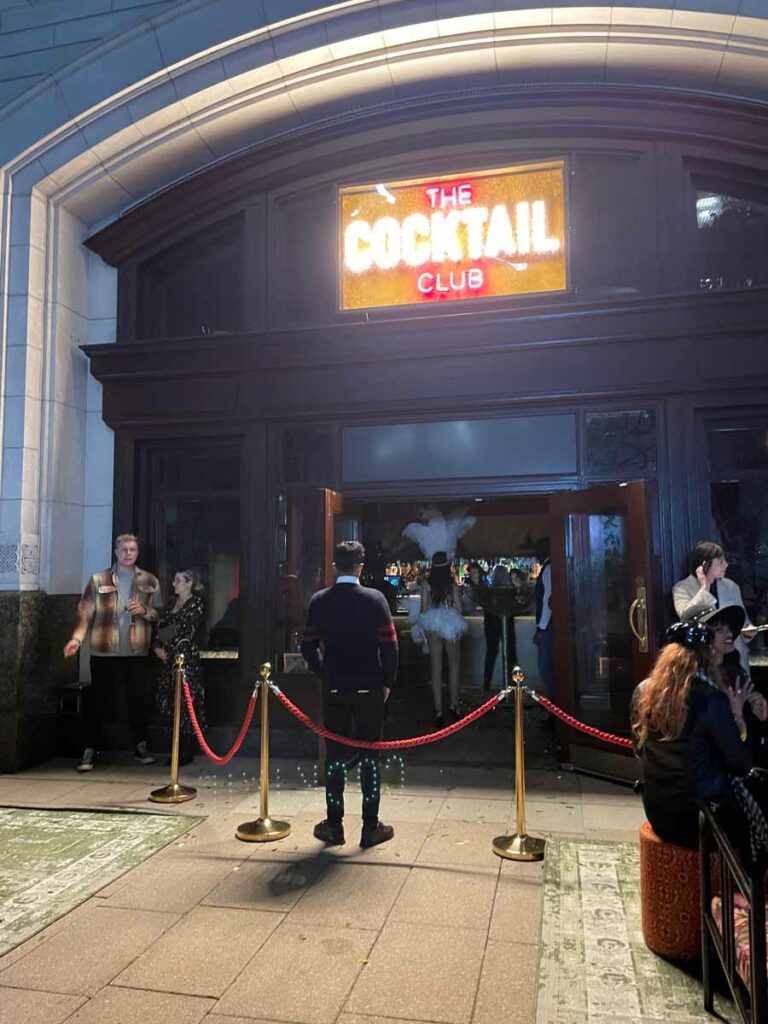 Nothing says party like bartenders dancing on the tables, burlesque girls flaunting their legs in bowls of gold confetti, or the pounding bass of Rihanna-Sean Paul dance remixes.
A far cry from the suave speakeasies or stiff hotel bars that claim to be true home of the cocktail, The Cocktail Club's newest outpost in Canary Wharf is the place to be for late nights that you don't plan to end, a cocktail menu that works in support of that cause, and maybe even a little table dancing of your own.
The Canary Wharf location is right on the waterfront, a short walk from a host of other bustling restaurants and bars, situating itself as the cherry on the cake of your Canary Wharf night out.
The only kebab in the area open past midnight is entombed deep in the labyrinths of an impossible-to-navigate shopping mall. You have been warned. Good Luck.
Boisdale of Canary Wharf
£££
Oysters on ice, check. Live music, check. An outdoor terrace and Canary Wharf roof bar, double-check. Boisdale is a one-stop destination pulling in the wheel-heeled crowd of the Wharf.
There's no better place in the city for fine food and live jazz, blues, and soul music from top musicians every night of the week. It's the perfect spot for hanging with friends, or impressing clients from across the pond.
The Alchemist
£££
You say cocktail flaring, they say molecular mixology – such is the finesse of one of the best cocktail bars in Canary Wharf.
Always impressive, The Alchemist is a popular spot for wooing everyone from prospective clients to potential partners! Sink into the sublime setting, aesthetically designed with a touch of theatre in the drinks delivery.
Come the weekend, the bottomless brunch and take-home cocktails make the schlep into town oh-so worthwhile.
Munich Cricket Club
££
Don't adjust your screens, you really did read Munich Cricket Club. And yes, it's every inch as randomly brilliant as it sounds.
With a Bavarian backdrop of lip-licking German food, well-brewed drinks and an unmissable weekly Oompah band, it's one of the most vibrant Canary Wharf bars you'll find. Granted, it's really not what you'd expect in these parts, but it surprisingly works.
With a laid-back welcoming vibe and great German brews (did we mention the beer!), it might just be our favourite not-so-guilty pleasure.
Sports Bar & Grill Canary Wharf
£/££
The bromance factor is strong at Sports Bar & Grill – one of the prime sports bars Canary Wharf has to offer. Gather the gang, get a kitty together, and come for the football… or the rugby… or the ice hockey… or the boxing. You get the picture.
Complete with giant screens, a myriad of sports paraphernalia, all-day dining and hearty meals of pie, burgers and breakfast, it's a sports mecca that does what it says on the tin.
Bōkan
££
With 'scrapers for miles and an army of workers looking for after-hours fun, the rooftop bars in Canary Wharf are amongst the best in the capital. One of the newbies on the block, Bokan, dangles high on the 38th floor, with soothing views across the city.
A destination in its own right, it feels like a private-members club, but without any of the BS that comes with it. With a stunning food menu sprinkled with European influence, and a cocktail list you'll never tire of, it's one of the best sky bars Canary Wharf has to offer.
Iberica Canary Wharf
££/£££
The Spanish do lingering post-work drinks with such sophistication.
There's no downing shots on a Monday night, or a dirty kebab at midnight – yes we're talking to you! Instead, drinks are served in sensible chalice beer glasses, with a smattering of tapas to line one's stomach. Much we can learn.
Ordering an artisan cheese board, some cured meats and an Estrella is a good place to start. Iberico has got to be one of the best bars in Canary Wharf for all the med vibes.
Pergola on the Wharf
££
High above the northern dock, with panoramic views across the quays, you'll find Pergola – a bustling rooftop bar in Canary Wharf.
With botanical brilliance lining its well-honed cocktail menu (try the White Plum Blossom) and floor-to-ceiling natural light, it's as close as you'll get to dining on a cloud. With a delightful menu of natural seasonal ingredients, this is the place for a power lunch followed by a cheeky cocktail.
Come Friday night, you'll want to do it all over again with live music and DJ sets keeping the crowds rocking.
Electric Shuffle
£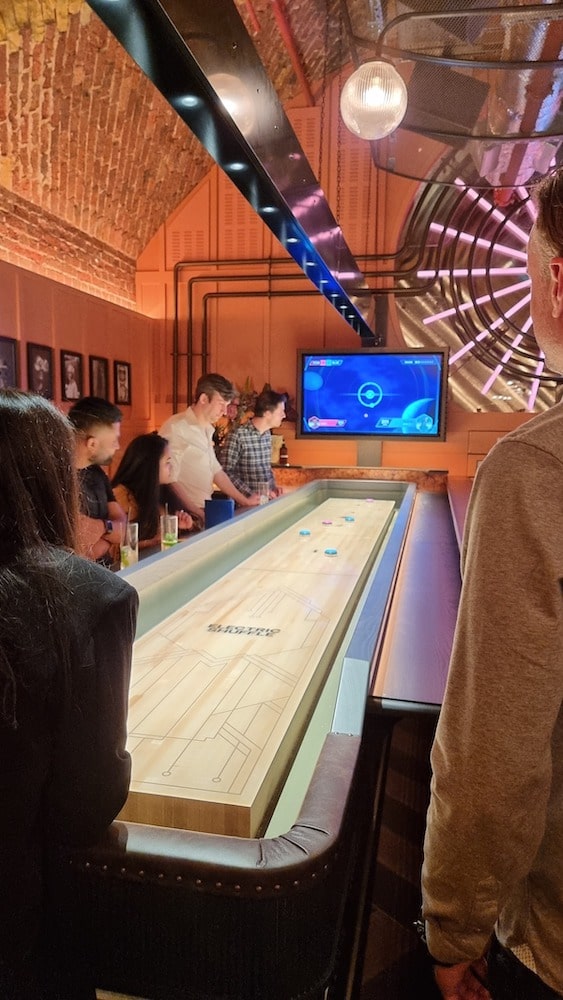 We're seeing destination bars pop up all over the capital, and Electric Shuffle is one of the newest to the game.
If you didn't catch our review of the London Bridge outpost, Electric Shuffle is part Vegas casino, part futuristic tech warehouse – which is ironic given that it centres around a 200-year-old game of shuffleboard, modernised for a new era.
That said, it's one of the best bars in Canary Wharf for a night out that involves more than just drinking, but also having fun (remember that) with your mates. And with a fairly priced bar menu, you might just stay longer than you expected.
The Sipping Room
££
Refined yet easy-going dining makes The Sipping Room one of the prime wine bars Canary Wharf has to offer.
Dine al fresco, or book a table indoors – ever popular for work parties, hen do's and birthday celebrations with its generous warehouse size. It certainly knows its market with 'Plenty of fish in the sea' and 'Good night out' among its cocktails.
Accessible, spacious and well-located, you won't go far wrong for a big night out.
Capeesh Lounge Bar
££
Romance and Canary Wharf bars might not be the pairing you'd expect, however, this cosy bar in Canary Wharf is the exception.
An Italian family-run business, Capeesh features a separate lounge bar, which makes it easy to slide into on a night out. If the authentic Italian cuisine doesn't seduce you, then its waterside views will, best enjoyed at sunset with your secret office crush.
Davy's
££/£££
More than just another wine bar in Canary Wharf, Davy's is an institution that dates back to the 1870s.
One of the finest purveyors of wine, its produce is hand-selected by James Davy and his team, ensuring only the very best for its well-heeled customers.
With a classic British menu and a swish sophisticated setting, it's the perfect embodiment of Best of British all round.
Rocket
££/£££
With a wrap-around terrace that looks up at the Blade Runner-esque neon towers and a menu of cocktails that's undoubtably been thought through with great care, Rocket ticks boxes on the most important aspects to look for in a Canary Wharf Bar.
Should the weather (or the time of the year) not permit a slice of that terrace drinking, you'll find the interior sophisticated and decidedly British in its understated style.
Staff here are super friendly and take all responsibility bar choosing a drink right out of your hands, so you can get down to relaxing after a long day, charming new clients (or that hottie from the office), whatever it is the occasion calls for.
The Parlour
££
The Parlour has it all. The main space is a beautiful cocktail lounge with wood panelling and a flare of modern class to it, then off to the sides you'll find a wine bar that brings the tone down to a nice moody, a conservatory with an extra lounge space, the list goes on.
Probably highlight of the lot though is a terrace replete with fire pits to cosy up around in the winter months.
Drinks here often light and fruity, and slip down all too easily. We'd say that The Parlour is a good shout if you're after a bit of a wilder night than an intimate drink or two because of that.
Nicolas Wine Bar
££/£££
With a warm and welcoming atmosphere Nicolas Wine Bar is a lovely spot to unwind after a long day at the office. They stock a hell of a lot of vino: 300 bottles will be yours to choose from, 20 of which can be sampled by the glass.
Of course, no evening spent sipping on wine would be complete without supping on meats and cheeses. Nicolas do a nice selection of boards in various sizes for you too share, and if you're truly hungry, a decent menu of heartier French classics to boot.
Canary Wharf Bars: Practical Tips
Canary Wharf is flush with cash so you might end up paying a bit more for drinks here. Consider that you'll likely have to account for service charges if you're drinking at a spot that does table service (and sometimes even at the bar). You don't want a nasty surprise at the end of your night.
If you're set on visiting a certain place for drinks you should make sure you get a booking locked in. This is especially important at the higher-end places like The Lowback and Bōkan – they'll fill up quickly.
Canary Wharf Bars: Map