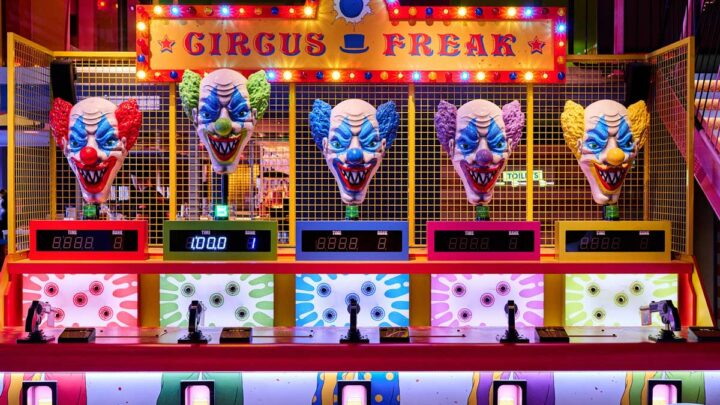 Fairgame – a new giant adult funfair (and no, that doesn't mean it's X rated) has opened in Canary Wharf and… it's wild.
Fairgame: The Gist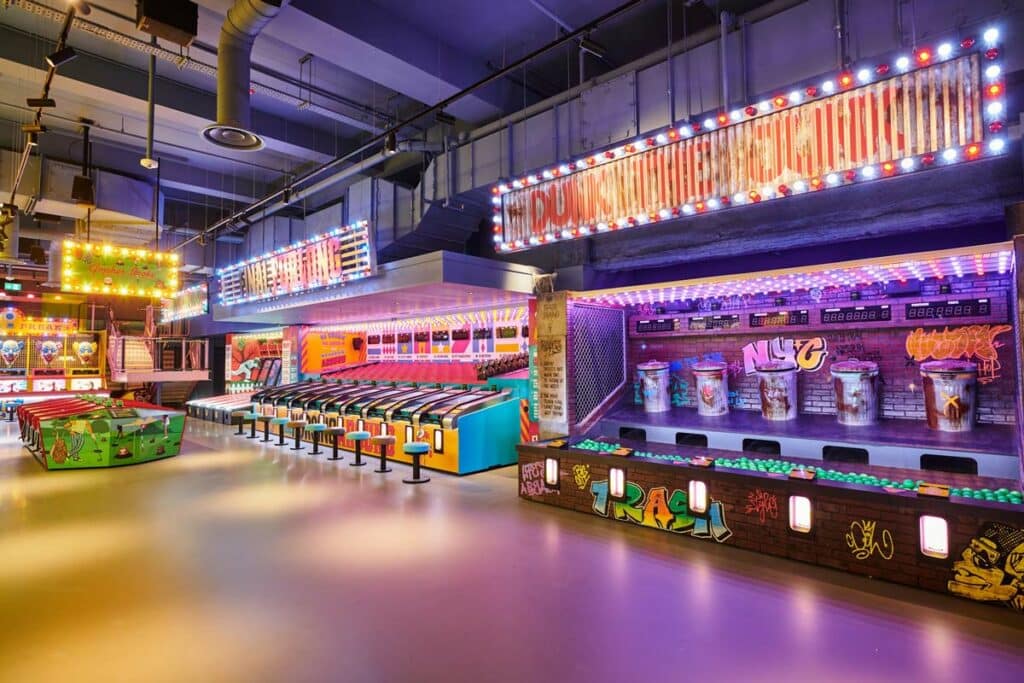 Essentially Fairgame is a 20,000sq ft of fairground games and activities aimed at adults. By that we mean it's highly competitive, booze-fueled madness.
This, just so you know, is a world first, and took four years in the making.
Remember how much fun the fairground was as a kid? Well wait till you hear what they've done here…
The Games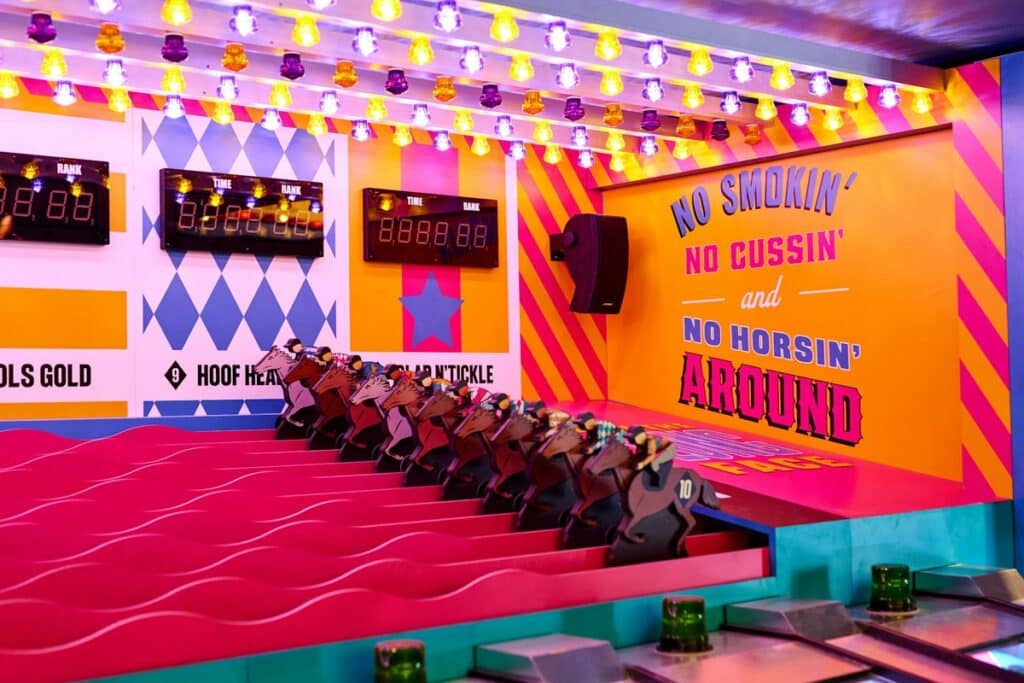 Fairgame has upped the ante on this one, taken all your fav fairground classics and installed them with the latest point scoring tech so that there's no chance of foul play.
You'll buy a game's card when you arrive and use that every time you want to play.
When you finish a game your points will automatically be shot up onto a leaderboard for all your friends to see. Nothing like a bit of healthy competition.
You can expect all the usual fairground classics: there's whack-a-mole, roll-a-ball derby, duck shooting and water gun clown to name a few.
And every single one of them is linked up to the leaderboards.
Fairgame has taken every aspect we used to love as a kid and given it a grown-up twist. Wait till you hear what they've done with the food…
The Grub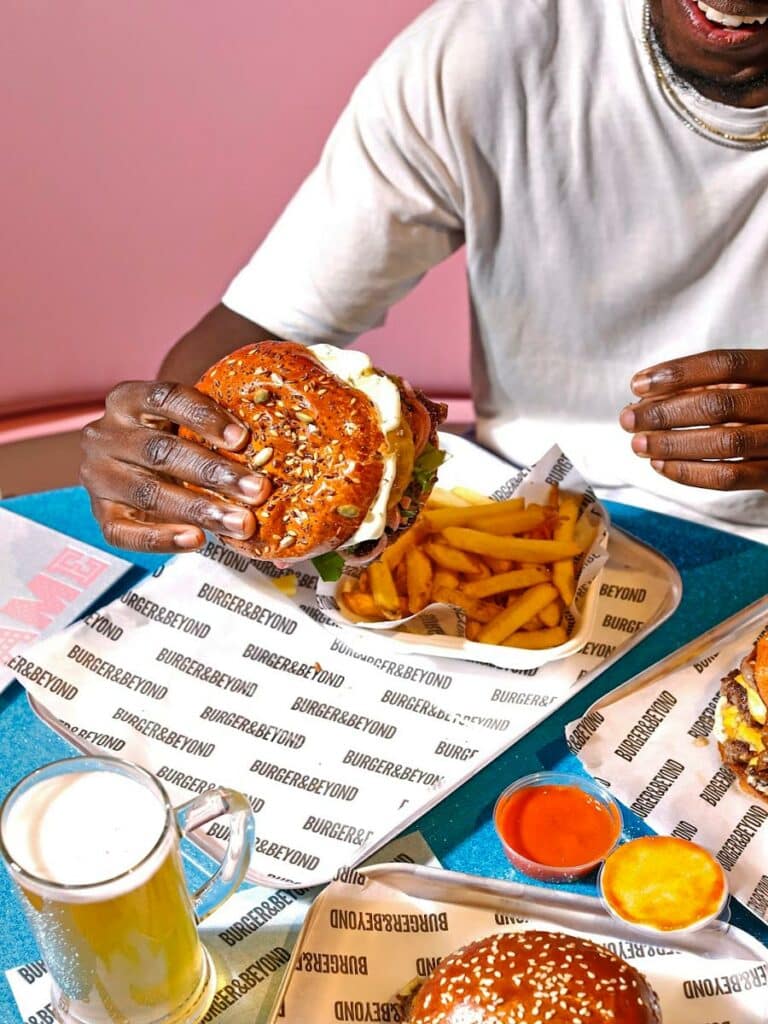 At Fairgame everything is levelled up. The fare here is more of a pop-up street-food market than burger vans doing not-sure-what-this-is-made-from-patties.
They've got the ever-spectacular Rudy's Pizza Napoletana firing up the ovens. That means dough made fresh daily and left to ferment. The end result: perfect crust.
The good people from Burger & Beyond are on hand to replace the burger vans, which is reason enough alone for us to head down there (gotta love those pimped-out tater tots).
Dos Mas are on hand with the Mexican fare. Tacos, snacks, churros and other elevated Mexican street food.
Now, part of Fairgame's concept is that it's a fairground for adults. And what do London's big kids like best? Booze.
They brought in award winning mixologist Ali Reynolds to do a menu of artisanal cocktails, adult slushies….
… and get this: Prossecco-infused candy floss.
Fairgame Canary Wharf: Practical Tips
When
Now! It's already open. Get yourself down there.
Where
25 – 35 Fisherman's Walk, Canary Wharf, London, E14 4DH
Tickets
You can get your tickets online right here. Prices range from £13 to £37 depending on how much food and booze you want, and include 75 mins of gameplay.
Fairgame Canary Wharf: Map