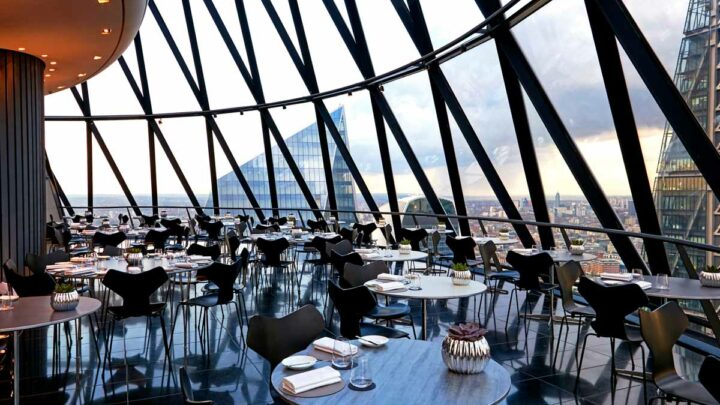 Liverpool Street's bar scene is surprisingly good. From secret cocktail bars to swanky rooftop joints, Liverpool Street and its surroundings are awash with a surprising number of cool drinking spots. These are the ones you shouldn't miss.
The Best Bars in Liverpool Street
Jin Bo Law
£££
Jin Bo Law may only have opened last year, but it quickly established itself as one of the coolest rooftop bars near Liverpool Street.
It's not hard to see why – their outdoor seating is a fabulous place to soak up views of the city, especially during the summer months.
That's before you get to the cocktails – Jin Bo Law's cocktail menu is packed with original concoctions that are expertly made. Try their High Life, a tasty combination of plum, lychee, and Prosecco, or their Old Tokyo Fashion with marmalade and cocoa nibs.
Iris Bar at The Gherkin
£££
The Iris Bar at The Gherkin is a London classic. The kind of place where you go when you want to sip champagne and elegant cocktails and gaze out over some of the best views from one of the most iconic buildings on London's skyline.
It's expensive – of course – with most cocktails hovering around the £16-£20 mark, but the views and the cocktails themselves are worth it.
Word from the wise: this place tends to get very popular, so it's a good idea to make reservations, especially at the weekends.
Queen of Hoxton
££
One of the best rooftop bars near Liverpool Street, Queen of Hoxton is a cheerful, eclectic place where you can chill out with friends and check out one of London's hottest DJs. It's one of Liverpool Street's most popular outdoor bars, so get there early if you want to get a prime seat.
Great cocktail choices include their Moet & Chandon slushies and Summer Punch, full of fresh blood orange, gin, and tart cranberry juice. They also offer mocktails and CBD-infused drinks along with a robust menu of both vegetarian and meaty fare.
Rake's Cafe Bar
££
Rake's Cafe Bar in the Andaz London hotel is one of the top cocktail bars in Liverpool Street, boasting a vast menu of traditional and signature drinks (and finger foods to keep things respectable).
The bar is something of a winner on looks alone – you might say it looks spectacular – and you'd be right. Brimming with jewel-toned stained glass windows and lush plants, it couldn't be further away from the stuffy hotel bars of days gone by.
Of course, this is East London, so there's a weekend brunch. Their waffles and burgers are spectacular, and you can opt for a "bottomless cocktail" brunch special.
PS: don't forget to check out the Andaz's secret Masonic temple once you're done.
WM Barker & Co
£££
WM Barker & Co. is Bishopsgate's best-hidden secret and easily one of the most eclectic and sophisticated cocktail bars near Liverpool Street.
Sporting an old-school style and ambience that simply oozes class, what truly makes it one of the best bars in Bishopsgate is the skilled mixologists that strut their stuff, shaking and serving every evening.
The menu is delightfully whimsical, with cocktails like Bird of Paradise, complete with raspberry puree and a splash of Aperol. Their passion fruit martini is exceptionally good as well. Just saying.
The Mayor of Scaredy Cat Town
£
One of the original London speakeasies, The Mayor of Scaredy Cat Town is still one of the coolest cocktail bars in Liverpool Street today.
Even if walking into a cocktail bar through a fridge and being quizzed on the secret password (it's "I came here to see the Mayor" by the way) doesn't have quite the surprise element it did a decade ago, there's still plenty to love.
Gain access and you'll find a kitsch, candlelit bar kitted out in vintage decor with a cocktail list that could keep you entertained all night (we say this from first-hand experience). Highlights of the menu include the Sencha Siesta with Blanco tequila and green tea syrup and the Flower Power with gin, vermouth, and egg white.
Simmon's
£
Simmon's bar in Liverpool Street is a cool spot to go for a fun and lively night. Where other bars in the area do swanky and high-end, Simmons does straight up raucous.
It all starts with the happy hour that runs between 3pm and 8pm every day.
It continues with the bar's signature cocktail teapots – large vats of cocktail that you really should share if you don't want the night to finish in tears.
The Ten Bells
£
The Ten Bells is one of the most historic pubs near Liverpool Street Station, famous for being Jack the Ripper's favourite watering hole and stalking ground.
Oh how times have changed. Today, you can visit and sip a signature cocktail in a chic and sophisticated pub-come-bar before taking a jaunt to explore Shoreditch's other offerings.
PS. The Negronis at The Ten Bells are rather exceptional – in case you wondered.
Discount Suit Company
££
Another stalwart on the Liverpool Street bar scene, the Discount Suit Company is a cool little speakeasy on Middlesex Street (which is also home to Petticoat Lane Market) made up to look like a cheap shop.
Venture inside and you'll discover a classic London drinking spot with a handsome bar and laid-back vibes.
Try the Baklava, a honey, orange, whiskey, and pistachio drink that's an elevated take on the classic dessert.
Dirty Martini Bishopsgate
£
Looking for a high-energy spot for some late-night drinks? Head to Dirty Martini on Bishopsgate where the party often goes on till the early hours. The brilliant happy hour makes it one of the cheaper places to drink in the area too. Their bottomless martini brunch is quite popular. In addition to the neverending martinis, you can sample their famous fried buttermilk chicken, mixed sliders, or vegetarian platter.
Liverpool Street Bars: Map
Looking for More Liverpool Street Guides?