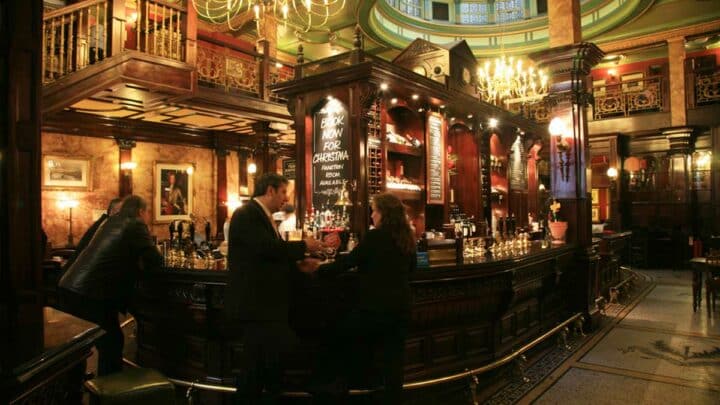 Looking for the top pubs in Pimlico? Here's our guide to all the best places for a pint in Pimlico.
Tucked away between the Thames, Victoria, and Westminster, Pimlico might just take the title for the cosiest area to grab a pint in London. And with some of the area's pubs dating back to the 19th-century – we're pretty sure you'll agree – they're worth a visit.
Whether you're in the mood for after-work drinks, a quick one-before-going-out drink, or even a cosy Sunday pint, these Pimlico boozers certainly hit the spot.
The Best Pubs in Pimlico
Cask Pub & Kitchen
Opened by a Pimlico local, Cask Pub & Kitchen set out to bring the British boozer into the 21st Century.
How exactly did they do that? By combining British hospitality with simple, well-cooked food and world-class beers.
Trust us when we say that the best thing on the menu is the burgers. Meat and free-range poultry are supplied by PJ Frankland and Sons, a local Pimlico butcher, and the cheese and bacon burger is stacked with dry-aged patties, smoked bacon all the relishes, and your choice of cheese – yes, please.
Sunday Funday is taken very seriously at this Pimlico pub. Every Sunday afternoon live music and good vibes fill the Cask Pub & Kitchen. It's the best time to head here for a few pints, tasty burgers and acoustic music – that should fight the Sunday scaries.
The Marquis of Westminster
Nestled amongst the Warwick Way enclave of pubs, The Marquis of Westminster is one of our faves in Pimlico.
Whether you fancy sliding into an intimate booth with your date or are meeting a big group of pals, this pub has got you covered. And then some.
The restaurant upstairs serves classic pub grub – the bangers and mash are a particular highlight, though you won't regret tucking into the beer-battered fish and chips either. Drinks-wise, expect a mix of sophisticated cocktails and pub favourites – beers, lagers, wines, spirits, the lot.
Queens Arms
If you're strolling along Warwick Way, we guarantee you won't be able to miss the cobalt blue-coloured Queen's Arms.
You wouldn't want to – this gastro pub in Pimlico is a bit of an institution and has been serving pints since 1846.
Downstairs you'll find an extensive selection of ales, craft beers and some very warm and welcoming service. Everything we love from a proper boozer.
Upstairs there's a dining room featuring traditional pub dining with local and regional produce on the menu – head here for a traditional Sunday lunch done right.
The Constitution
At the heart of the Pimlico community is The Constitution. A 19th-century pub that's been a Pimlico mainstay for years thanks to its friendly atmosphere and good pints.
Traditional pub classics are on the menu, with a few wild cards thrown in for good measure – the nachos being an excellent case in point. And if you're wanting to catch weekend football, you'll find all major sporting events shown here – settle in with a pint and unleash your competitive spirit.
Moo Gastro Pub
Moo Gastro Pub is not like other pubs. It's also an Argentinian steak and street-food joint.
We didn't know that was the combination that we needed, but it absolutely is.
Step inside and you'll be greeted by the coolest place to booze. With pinboards and festoon lighting, it's like Grandma's house got an industrial makeover. And her cupboards were stocked with beer.
We recommend tucking into a grass-fed Black Angus rare breed steak with a pint or two – what a combination. Moo Gastro Pub is a vibrant Pimlico hangout and you'll often find it gets busy here on an evening.
The St George's Tavern
Fancy visiting one of the city's first cabaret saloons? It's a no brainer. Head to The St George's Tavern, a unique pub steeped in history.
The history is a little weird actually. The pub was originally converted into an entertainment hub for the wealthy – though, today, everyone is welcome. This pub specialises in whisky and gin and you'll find inventive creations on the menu here.
If you're going to order food here, let it be the award-winning Steak and Nicholson's Pale Ale Pie – you won't be disappointed.
Pimlico Pubs: Map