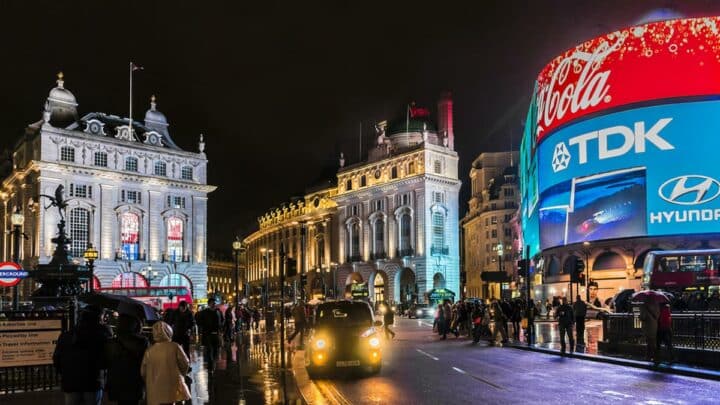 As Take a Moment returns, you can get your picture on London's most iconic advertising screens.
Picture this: you're walking through Piccadilly Circus and there, on those iconic big screens, is your very own face. Sounds too good to be true? Well, over the next few months, it could become a reality.
Art of London is presenting an exhibition called Take A Moment that will see black-and-white portraits of the public presented on the Piccadilly screens. You can apply here to have your picture go up too. All you'll need is a black-and-white selfie. It takes two minutes to upload.
Who Else is Doing This?
Well, thousands of other members of the general public. What's more, you're face will be up there with a bunch of celebs. The organisers have got photographer Ray Burmiston to do portraits of some famous folk who'll be up there on the big screen with you.
There are some pretty cool names on the list. Louis Theroux, Noel Fielding and Stephen Fry will all be up there, as will Kylie Minogue, Ricky Gervais and Idris Elba. Helena Bonham Carter too. The list goes on, you can see it in full on their website.
As well as being on the Piccadilly screens, the exhibition will run in The National Portrait Gallery from the 10th of September until the closing date on October 13th. That means you can also get your picture in one of the world's most prestigious galleries – Not a bad place to get your 15 minutes of fame.
So What's This All About?
The whole thing is in order to raise awareness about mental health issues. They hope that when you see the pictures up on the screens you'll be reminded to prioritise your mental health and, as the event's name suggests, take a moment.
Take A Moment 2023: Practical Information
Where: Piccadilly Circus
When: Until October 13th