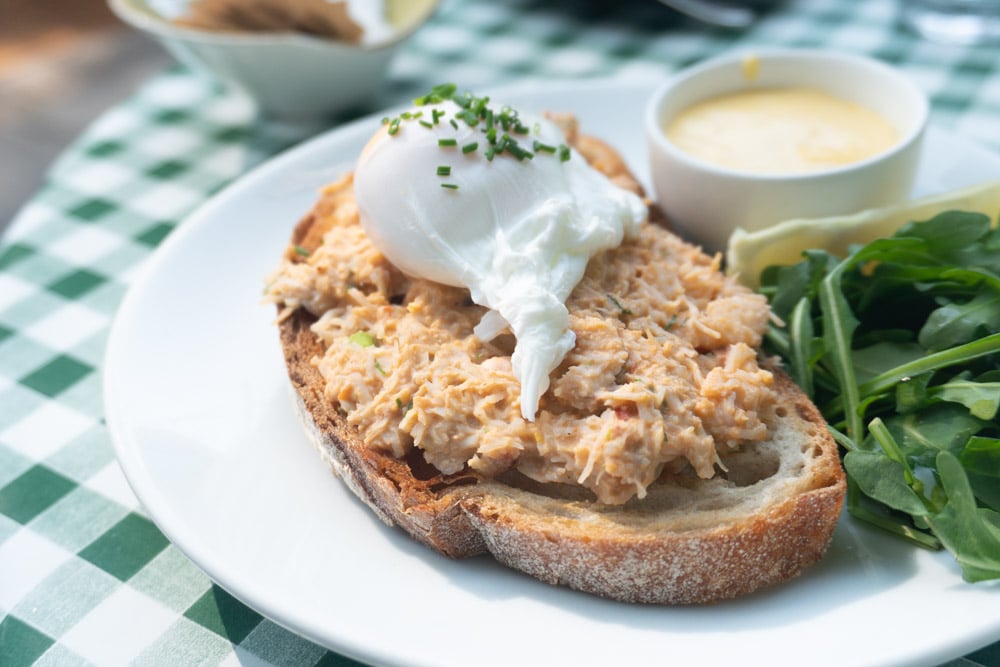 Primrose Hill is a London rarity – a neighbourhood filled with brilliant independent restaurants and places to eat. Looking for the best restaurants in Primrose Hill? These are the spots you shouldn't miss.
Best Restaurants in Primrose Hill
Greenberry
For many, brunch in Primrose Hill means one thing – Greenberry. Way back when, Primrose Hill actually went by the name of Greenberry and this cafe come restaurant has taken that neighbourhood history and brought it smack bang into the 21st century.
The breakfast and brunch menu is suitably extensive, with a full range of egg dishes and beyond. Try the crab on sourdough with hollandaise – you won't be disappointed.
Lunch and dinner are just as good: with suppers featuring dishes like Chalk stream trout with new potatoes and samphire and gnocchi with prawns, clams, and Datterini tomatoes.
Lemonia
Lemonia has been bringing fun, good vibes and ever-so-tasty traditional Greek food to Primrose Hill for over 40 years, so it's no surprise that they've got the formula down pretty pat by now.
Add one vast menu of hearty Greek dishes, ridiculously friendly (dare I say it – jovial) staff and a gorgeous vine-covered setting and you have Lemonia – the kind of neighbourhood restaurant everyone wishes they had just around the corner.
As for the food? All the Greek favourites – from Moussaka to Spanakopitta make an appearance on the menu, cooked to perfection in the cavernous kitchen.
Odette's
Odette's has long been one of the best restaurants in Primrose Hill – it celebrated its 40th anniversary in 2018 and is just as loved today as ever. Where other restaurants are ostentatiously flashy, Odette's is quietly brilliant. Guided by the hand of Chef Patron Bryn Williams, the menu showcases seasonal ingredients at their very best.
Simply-named dishes such as Stone Bass with Artichoke and Borlotti Beans and Leek with Potato and Truffle bely the depth of flavour and masterful execution that have kept diners returning to Odette's time and time again.
Michael Nadra
Spenny restaurant Michael Nadra opened its Primrose Hill branch all the way back in 2012 (the first is in Chiswick) – quickly winning over the local set with its classic-meets-modern cuisine. Dishes – almost too pretty to eat – land on your table, demanding admiration before you even lift a fork to tuck in.
Miso Black Cod, Argentinian Rib Eye Steak, Imam Bayildi – Nadra takes inspiration from global cuisines, bringing them to life in this sultry eatery.
Manna
Another long-time favourite – Manna – a small vegan restaurant in Primrose Hill has been serving inventively delicious meals to local residents for over fifty years. It's always been vegetarian, but went vegan in 2008, predating today's growing movement by well over a decade.
Executive chef and founder Robin Swallow brings a multi-ethnic menu of creative meals to the table. Reinterpretations like Organic Bangers and Mash – made with fennel and pumpkin seed sausages and Raw Tacos with lettuce leaf shells are loaded with flavour and leave little question about the restaurant's ongoing success.
Lume
Warm and cosy are words that sadly can't be applied to that many London eateries these days. In the rush for #pursuepretty and #thatsdarling, our appreciation for the visual sometimes comes at the cost of the warm feeling of a good meal with equally good wine in an unpretentious setting.
Think of Lume as the antithesis of all that. Sardinian wines, antipasti, pasta – it's Italian to the core – complete with a near fanatical obsession with quality and provenance that guarantees every meal is a winner.
La Collina
Authentic Northern Italian cuisine is harder to find in London than you might think – still, that's only part of the attraction of the popular La Collina.
Wife / husband duo Diana Rinaldo and Patrick Oberto take the helm of the food and front of house respectively – a winning combination that has seen the restaurant feature on many a best of London eats guide. It's refreshingly unpretentious, a joyful combination of fresh flavours, relaxed setting and vats of good wine.
Pasta is handmade and the basis of many starring dishes like the Orecchiette with Salsiccia and Broccoli and Homemade Pappardelle with Wild Mushrooms and Black Truffles. Meat, fish and desserts are equally good – just make sure you leave room for the Tiramisu.
Oka
Oka have several outposts around London. They seem to open up shop wherever there is a good scene of local restaurants doing good-quality cooking. That's probably because they sort of fit that category themselves.
Just because they're technically a chain doesn't mean they've lost all the soul that makes them special. The place still has the feel of a good neighbourhood restaurant and some great food on offer too.
That food would be Japanese. Robata grill and sushi plates being the main draw. They do have some pretty great tempura options that you should try a few of to set you up for the bigger feed too. Wash it all down with a cold Asahi and you're good to go.
Other Places to Eat in Primrose Hill
The Engineer
The Sunday roasts at The Engineer are something of a local legend in Primrose HIll. Hearty dishes line up alongside a stellar range of craft beers and a well-thought wine list for a knock-out meal.
The Little One
The name is accurate – this cute coffee shop is little. Still, it manages to dish out some of the best baked goods in Primrose Hill – not to mention the kind of coffee that puts an extra spring in your step. Count yourself lucky if you nab a seat.
Sam's Cafe
The newly-reopened Sam's Cafe is a neighbourhood cafe to the core. Started by lifelong local Sam Frears and Andrew O'Hagan, it only opened in its new premises at the end of August 2020.
Think of it as a greasy spoon… without the grease – a friendly combination of comfort, hearty dishes and stylish decor that's already established it as the go-to place to eat in Primrose Hill.
Ripe Kitchen
If you're after a good plate for brunch you'd do well to head over to Ripe Kitchen. You'll find a good menu of classic brunchy items: avocado on toast, scrambled eggs and smoked salmon etc.
All this good stuff is made from locally sourced ingredients and tastes super fresh. That philosophy carries itself onto a lunch menu of tasty sandwiches, baguettes and toasties that are also well worth a try.
Part of the reason we love Ripe's approach to quality ingredients is that it leaves us feeling healthy enough to indulge in one of the ludicrously yummy cakes they've got at the counter – those are not to be missed.
Practical Tips and Map for Exploring The Best Primrose Hill Restaurants
Small as it is, it's a rare day indeed that Primrose Hill doesn't see some serious footfall from locals and non-locals alike. Got your heart set on a particular spot? Make a reservation to avoid disappointment.
Primrose Hill is big on local neighbourhood eateries – most are completely independent (and totally brilliant). Don't go looking for big chains, you'll need to head to Camden for that.