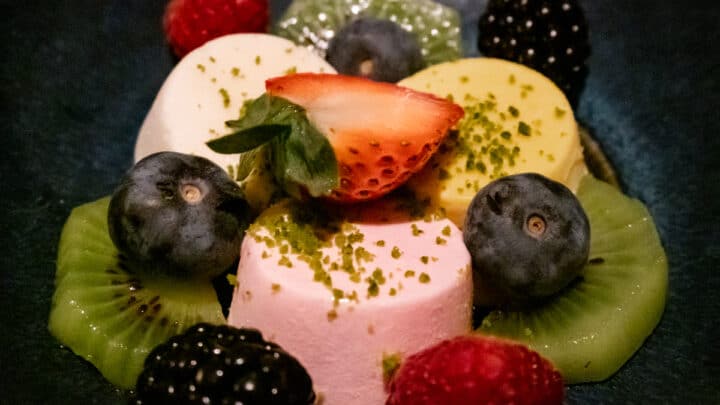 Plans. We need plans. Plans to look forward to after yet another year of staying home, breaking Netflix, and staring out the window at the rain.
Luckily, London always has something up its sleeve and this particular something comes under the guise of two simple words: Bombay Bustle.
We're still dreaming about our trip to Mayfair and Bombay Bustle – the restaurant promises a whole lotta flavour in their dishes.
And if you haven't already been… what are you waiting for?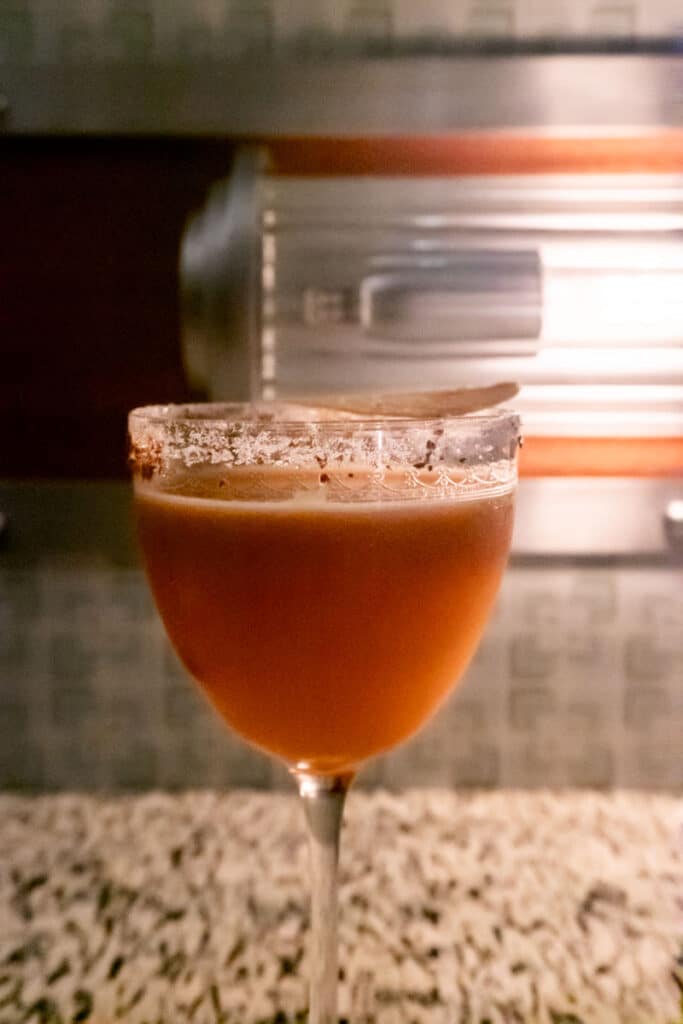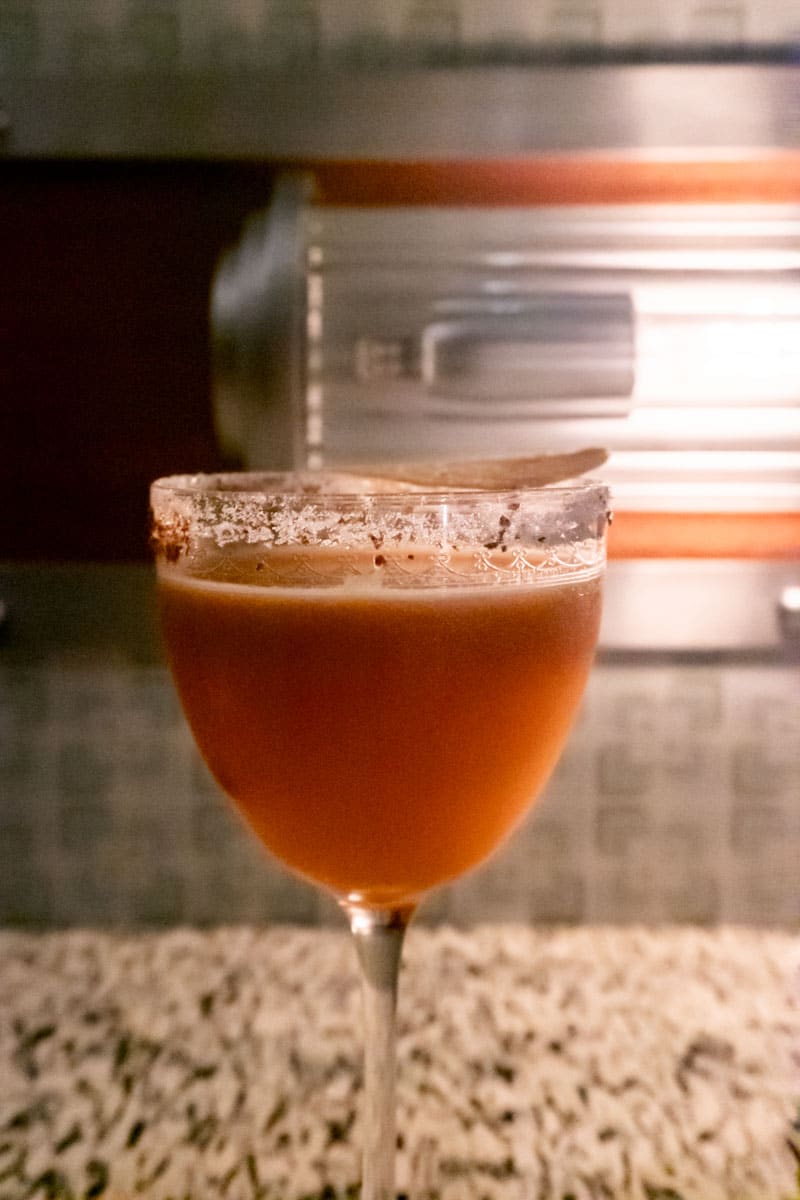 Bombay Bustle Mayfair – The Full Review
The Food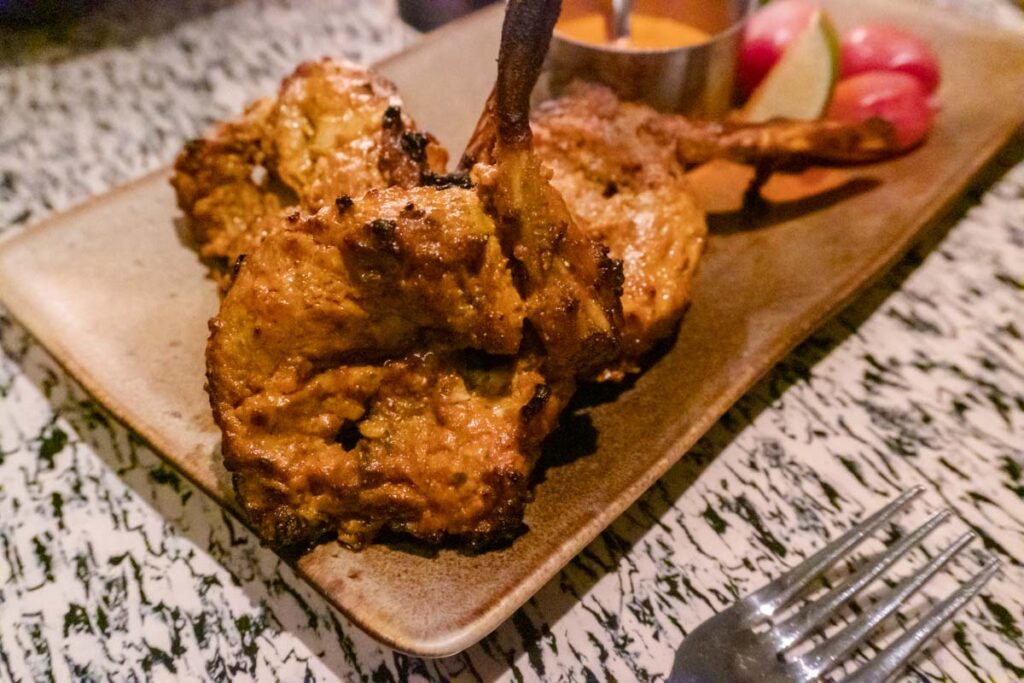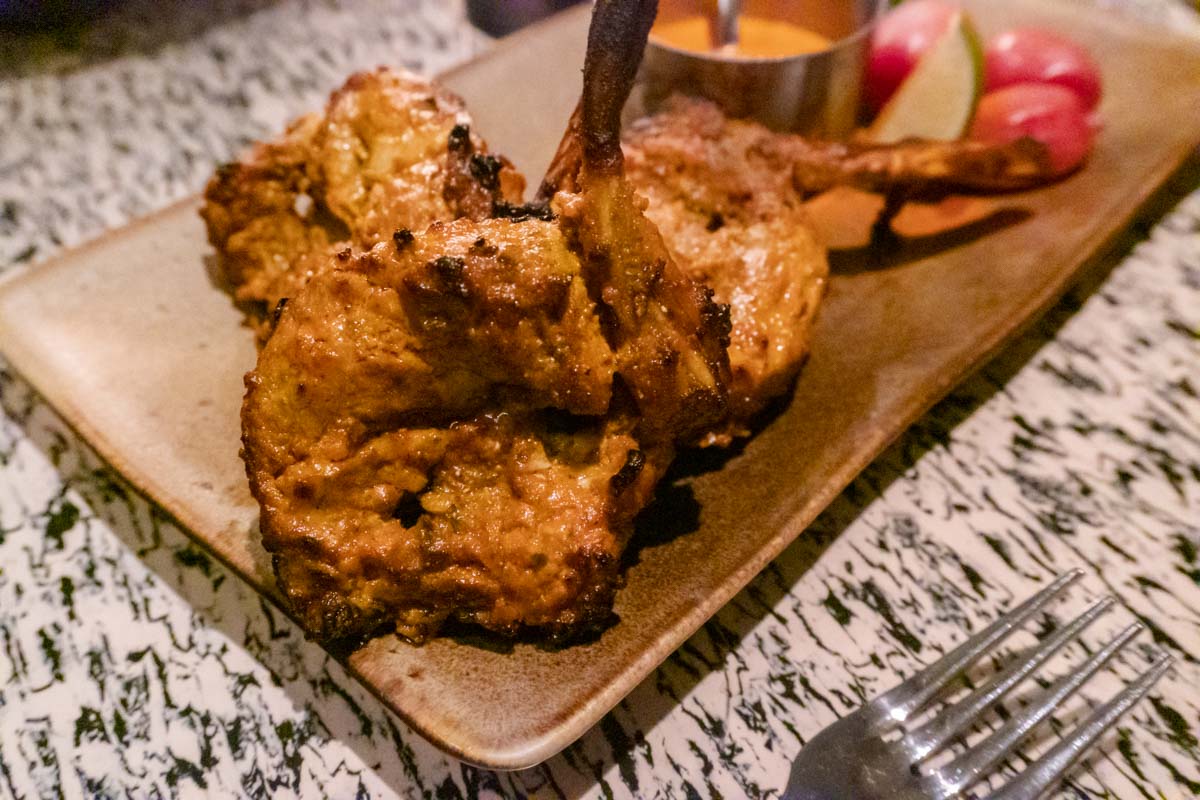 In case you didn't get it from the name and its central Mayfair location, Bombay Bustle is all about high-end Indian food.
Not the kind you mindlessly munch on whilst watching Strictly on a Saturday, rather the kind that makes you stop and appreciate the fact that great food is, in fact, a very good thing. At least, that's the thought that flitted through our minds many times during the course of dinner.
The fact that Bombay Bustle wins on all fronts shouldn't come as a surprise. India-born Executive Chef, Surender Mohan also doubles up in the same role at the acclaimed restaurant chain Jamavar – which also has a branch in London.
Co-founder Samyukta Nair spent her childhood between Mumbai and London living and breathing the hospitality industry (the family founded and owns the Leela Palace Hotels & Resorts Group). These are two people that, to put it bluntly, know their stuff.
The meal kicked off with a selection of millet and gram poppadoms and punchy chutneys that boded well… let's just say that it escalated pretty quickly after that. One minute we were popping a poppadom, light with a pleasantly earthy note thanks to the millet, the next found us staring down the barrel deciding which would be our last savoured bite.
It was the interlude, the whirlwind hour or two in between in which the magic really happened. During the course of those two hours, the chefs at Bombay Bustle graced our table with an exquisite line-up of dishes.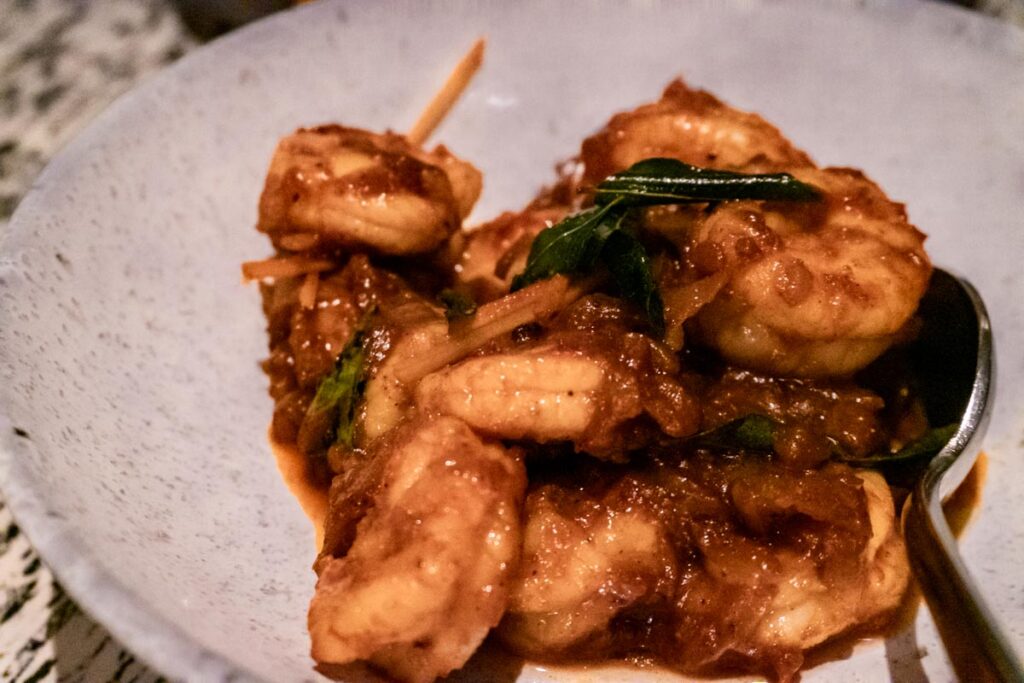 You know it's a stellar meal when it's impossible to even choose a highlight – Mohan sets the bar high from the first bite and keeps it there throughout.
Four starters appeared at our table: Adipoli Prawns, Rarah Keema Pao, Aloo Masala Dosa and Samosa Papdii Chat. The prawns, so plump they practically burst before you bite, the firm flesh a pleasant counter to the garlic-spiced sauce.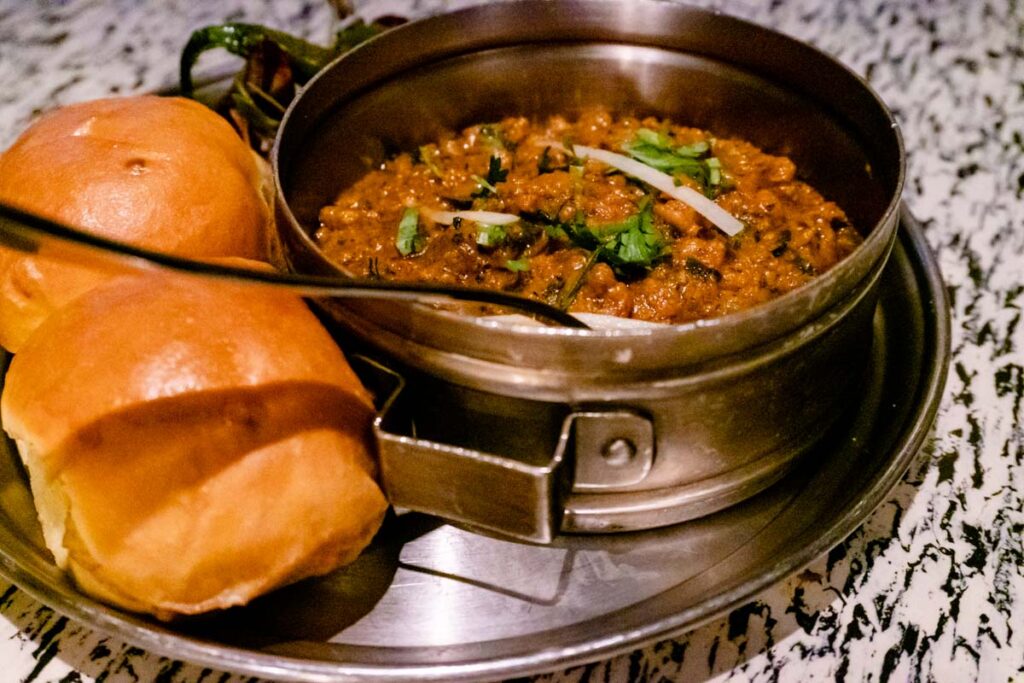 Of the others, it was the Rarah Keema Pao – spiced minced lamb with a slightly sweet and milky bread that got us talking.
The lamb, impressive enough on its own, simply transforms when scooped up with the pillowy bread. You would have gobbled it in the same greed-fuelled fashion too, don't even pretend otherwise.
Luckily, we were paying enough attention to leave room for the mains – it would have been a sad day indeed if we hadn't.
At the time of our visit, Bombay Bustle was rocking an additional pop-up menu thanks to a collaboration with other leading London chefs, each who'd created tandoor versions of their signature dishes. It was from this that we tried the Tandoor Wood Pigeon by Ivan Tisdall-Downes of Native.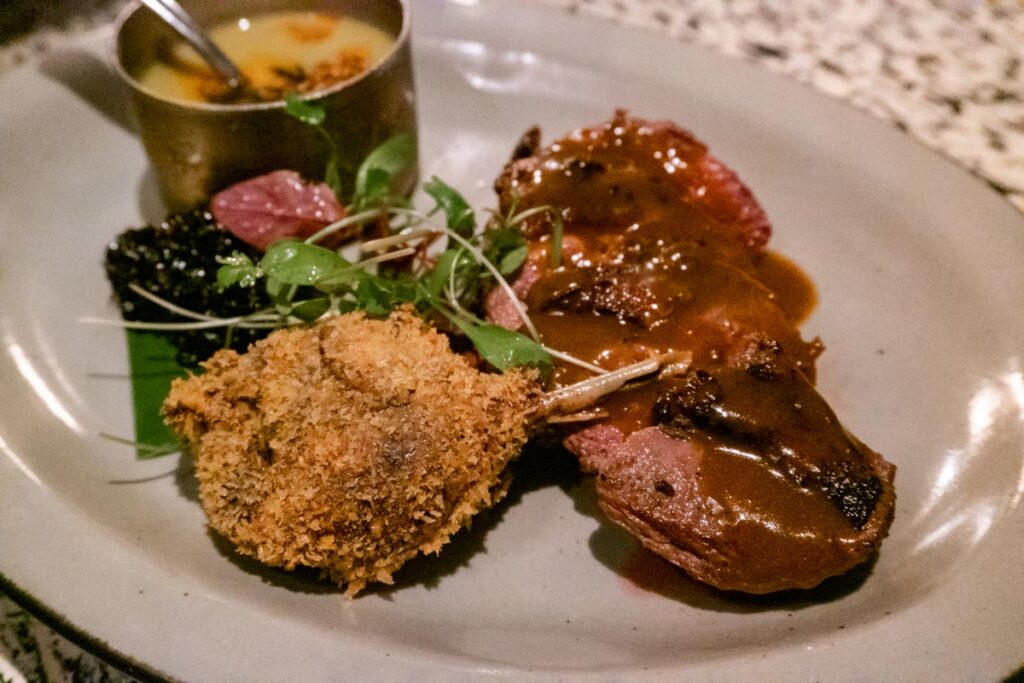 We tried four other dishes from the standard menu: Achari Lamb Chop cooked in the tandoor, Chicken Tikka Makhani, Gobhi Mutter and Dabba Daal – the latter a dark, unctuous slick of lentils topped with butter and fenugreek that we would walk a long distance in bare feet to try again.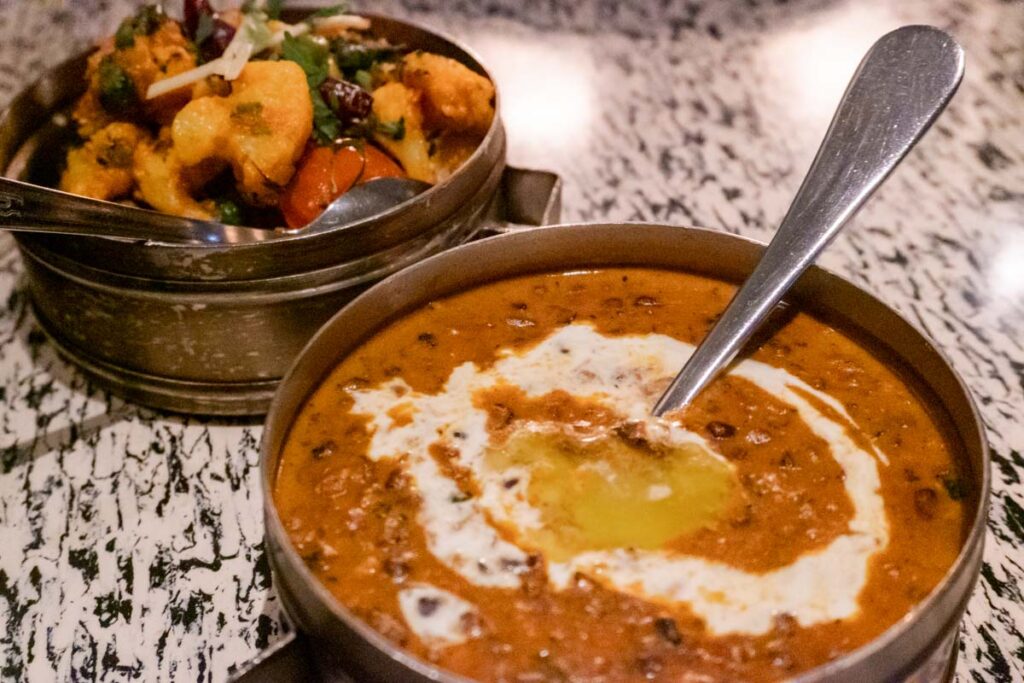 We'll level with you, the same was true of all the dishes. It was a non-stop party for the tastebuds – and not the kind you wake up regretting the morning after either.
Those of you doing a mental tot-up of what we'd tried thus far will understand why it was very difficult to brave dessert. Verdict on the kulfi? A delight. And visually, it certainly looked the part.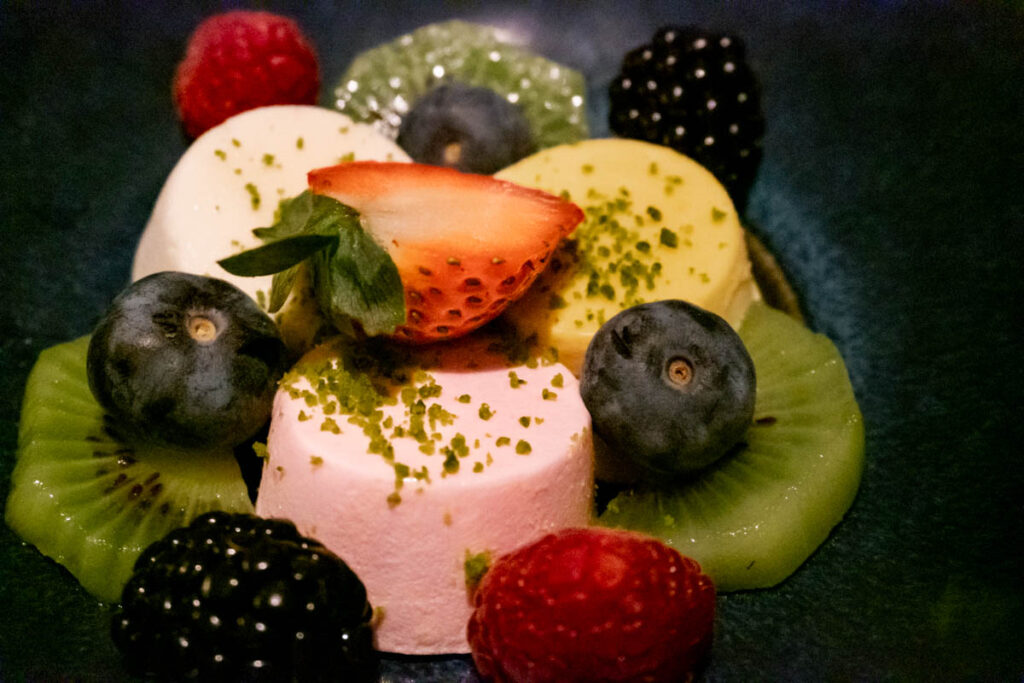 The Look
Glamour with a small g – the interior is inspired by luxury Bombay train carriages and looks every inch the part.
While Bombay Bustle doesn't quite have the same garish flair that can be found in Bandra Bhai (another gorgeous spot we really recommend), the understated charm is cosy and inviting.
Final Thoughts
The only thing left to add in this Bombay Bustle review is that it's a stellar Mayfair restaurant that ups the stakes when it comes to Indian food in London.
Go expecting to be impressed and they'll impress you even more.
Bombay Bustle Mayfair – Practical Information and Map
Price: £££
Address: 29 Maddox St, Mayfair, London W1S 2PA
Does Bombay Bustle offer Home Delivery?
Yes. If you're local, you can order online directly from Bombay Bustle – though we recommend dining in to really appreciate the restaurant's look and atmosphere.
Which Tube Station is Nearest Bombay Bustle Mayfair?
Oxford Circus Tube Station is a two-minute walk from Bombay Bustle.
Looking for More London Food Guides?
Bombay Bustle, Mayfair - The Full Review
Summary
Bombay Bustle is a stellar Mayfair restaurant that ups the stakes when it comes to Indian food in London. Go expecting to be impressed and they'll impress you even more.