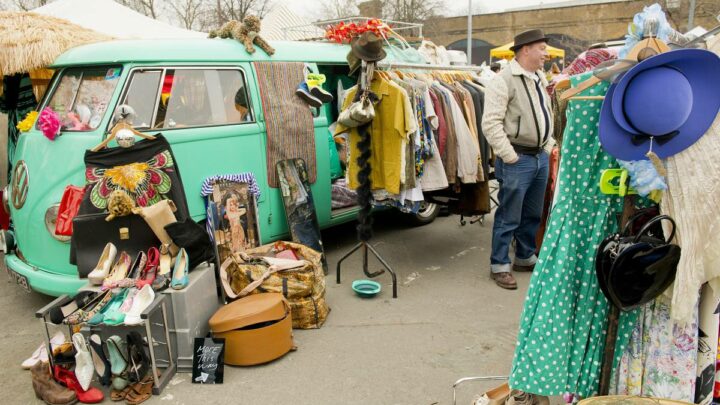 Looking for the ultimate bargain? These 10 car boots in London are exactly where you'll find the best thrifting gems.
However convenient online shopping might be, nothing quite beats the thrill of heading out of your home to search for and find, in most cases, more than you knew you wanted.
From forgotten antiques, priceless vintage clothing, second hand appliances, or tech to unique pieces of art, you can be sure to find all of this and more at a classic car boot sale – and London's full of 'em.
Ready to explore the best car boot sales London boasts?
Best Car Boot Sales in London
Battersea Boot
An ocean of bargains and deals is what awaits at Battersea Boot. One of London's best car boot sales on a Sunday, it's also one of the longest-running.
The best thing about Battersea? The gates only open at lunchtime, so you won't need to be the early bird to catch this worm. And at Battersea, the catching will be good, with sellers proving this time and again.
Expect anything and everything at this spot – after all, it's the most famous car boot sale London boasts for a reason.
Area: Battersea (South London)
Address: Harris Academy, 401 Battersea Park Road, SW11 5AP
Peckham Car Boot
Fashionistas will thrive at the Peckham Car Boot. Whether you're looking to bring back a fashion trend from a past decade or set a new one, this car boot sale in south London shouldn't be missed.
You can rest assured that you'll find something old and something new at Peckham, and between that most definitely, a multi-coloured coat or two.
Area: Peckham (South London)
Address: Harris Academy, 112 Peckham Rd, SE15 5DZ
Capital Car Boot
Ask any car boot sale enthusiast, and the Capital Car Boot sale is sure to be at the top of their list. Rightfully so, as shoppers can find literally anything and everything here.
Boasting indoor and outdoor pitches for eager sellers to boot from, few things, if anything, could stop the insanely fun and fruitful experience that is the Capital Car Boot sale.
Area: Pimlico
Address: The Pimlico Academy, Chichester Street Entrance, Lupus Street, Pimlico, SW1V 3AT
St Augustine's Car Boot Sale
St Augustine's Car Boot sale is second to none for diversity, and keeping with this theme, shoppers have been treated to all manner of low-priced treasures.
In its history, shoppers have bargained for clothing, jewellery, furniture, and even livestock. Cars can pitch from indoor and outdoor stands, and there is even a tea and cake shop for refuelling after those extra-long sprees.
Area: Maida Vale
Address: St Augustine's School, Kilburn Park Road, NW6 5SN
Hounslow Heath
Looking for a perfect example of a boot sale London frenzy? Hounslow Heath is the ticket. With stalls that showcase the standards, like clothing and secondhand furniture, this one has a bit of extra flair.
Hounslow is a token bits and bobs kind of car boot sale, with trinkets galore. Scouring the stalls is a feast for the eyes.
Area: Hounslow
Address: Staines Road, Hounslow, TW4 5DS
Northolt Indoor Car Boot Sale
An exclusively indoor boot sale in West London, Northolt has the advantage of being open come rain or shine, making it especially noteworthy. With more than 100 stalls, it's a delight for any shopper.
Variety is the spice of Northolt, with a trip that delivers surprises from retro clothing and furniture to epic and extravagant renaissance gowns – it's one of the best car boots in London.
Area: Northolt
Address: SKLPC Centre, West End Road, Northolt, UB5 6RE
Princess May
Every weekend, the Princess May car boot sale in North London draws crowds from all over. You'll be dazzled by a nearly-limitless choice of clothing and furniture stalls at Princess May.
With fashion taking first prize, you can quickly fill up any cupboard with the selection on offer – so be sure to empty up some space. You can be sure that you'll find an outfit for every occasion at this one.
Area: Stoke Newington
Address: Princess May School, Stoke Newington, London N16 8DF
Shepperton Car Boot
Shepperton is one of London's best Saturday car boot sales worth visiting. It might not have some of the other drawing points of others (market stalls, eateries), but it does have oodles of traditional charm.
Bargaining for the perfect price is the day's sport as soon as sellers open their boots to shoppers. In fact, you'll be hard-pressed to find a better spot for haggling than at Shepparton's indoor boot sale London.
Area: Shepperton
Address: New Road, Shepperton, TW17 0QQ
Denham Giant Car Boot Sale
Living up to its name, the car boot sale at Denham is enormous. This big car boot sale in London is host to thousands of sellers, making it a buyer's paradise.
We encourage you to venture into Denham and spend the day as the stalls at Denham sell everything from classic furniture to antique tools and hardware. It can be challenging to get through everything in one go, but winners never quit.
Area: Uxbridge
Address: Denham Ct Dr, Denham, Uxbridge, UB9 5PG
Crystal Palace Boot
For eclectic antique furniture, vintage jewellery, (sometimes) random paintings, and preloved books, there is no better car boot sale in east London than Crystal Palace Boot.
Make a day of it and spend the entire day floating around Crystal Palace. There are numerous pubs and restaurants around, so you won't have any reason to shop on an empty stomach. The nearby Crystal Palace park dinosaurs are great fun to spot, too.
Area: Bromley
Address: Crystal Palace Park, The Italian Terraces, Anerley Hill, Bromley, SE19 2BA
Practical Tips for Making the Most of London's Car Boots
Shop around. With the best car boots in London offering everything you could imagine, visiting two or three different boots is the best way to ensure your buying binge is successful.
Don't be afraid to haggle, but know when to stop. Many of the prices at a boot sale are very reasonable, but if you think they could be lower, talk to the seller and find the best deal.
London Car Boot Sales: Map
London Car Boot Sales: Looking For More Thrifty London Guides?